Apr 25 2016 5:15PM GMT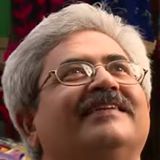 Profile: Jaideep Khanduja
Tags:
The eMedha Paradigm by Rakesh Misra is a must read book for Project Managers.
The eMedha Paradigm – A Project Manager's Billion Dollar Odyssey.
The book eMedha Paradigm gives Project Insights to Business, Project Teams and PMO.
The eMedha Paradigm by Rakesh Misra is not only a must read for project managers but for all stakeholders including management, project teams, and customer. It gives multidimensional and multi-directional insights on project management. /i received this book from the author in person and am thankful to get a chance to read it. In fact, I didn't know there is so crisp book available in the market on the subject. Rakesh is known to me for around a year now. We met first time in a meetup on water data management held by some NGO from Netherlands.


The book is quite crisp, as I mentioned above, and has been penned in an interesting manner through a fiction story. But this short novel covered in 140 odd pages has a lot of learning hidden in the story. The message is crisp and clear. I was hooked to the book the moment I started reading and had to put other things aside to finish it. That tells about the interesting way it has been presented. But as I said, the insights and learning on project management go hand in hand and thus makes it more grasping and engrossing. The story throws light on shortfalls in all directions covering all stakeholders be it the project team, project manager, quality, customer, or the management.
The eMedha Paradigm tells how management grabs a project and gives false commitments to the customer about delivery and quality. It also projects how a project manager is made scapegoat as a result of project failure because of many factors and with least fault from his side. It tells how body-shopping of developers and other team members can mar the momentum and tempo not only of the team members but also of the project. I came across a new term blame-storming in the story. There are always a lot of loopholes in a project and at times its failure or success depends the games played by top management. You will find Sanketh and Marco in top management. You will also find project managers like Kalpana who never give up and dive to the bottom of the sea to get the stock of the situation when a new project is handed over to her.
Overall, The eMedha Paradigm by Rakesh Misra is an interesting book written in a fabulous way. You must grab it and read it to know the reality behind the scene. Also in our real life whatever role we are assigned, project management is always associated with our jobs in one way or the other.