Jan 31 2019 9:41PM GMT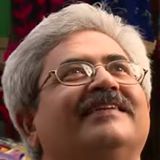 Profile: Jaideep Khanduja
Tags:
Now, this is what I call as real innovation and customer-focused innovation. Otherwise, a lot of organizations keep claiming a lot in the name of innovation but in actuality, that is of no use. ASUS launched the world's smallest notebooks in 13″, 14″, and 15″ segment named as Zenbook 13, Zenbook 14, and Zenbook 15. These are ultrathin having four-sided unique technology called "NanoEdge" displays. The new NumberPad is not at its usual place. It is uniquely and innovatively placed on the touchpad. So, now, the NumPad and touchpad are residing at the same location and the touch is intelligently recognized by the laptop whether it is intended for Numpad or touchpad. Effectively, the touchpad has become a multilayer model. It leaves a scope of better and larger keys and keyboard size increased significantly. It also enhances productivity and let the user work with a better pace and concentration.
The login in these zenbooks (world's smallest notebooks) is through a powerful 3D IT camera that works fine even in the low-light environment to recognize the face and allow the user to log in. There is an Ergolift hinge to raise keyboard at the rear only when you open the laptop to use. It actually helps in comfortable typing. Technically and design wise it also helps in improving the cooling and audio performance. It is powered by 8th Gen Intel Core CPUs along with GeoForce Graphic Cards. The laptop allows users to access gigabit Wi-Fi. These are just a few of the features. Actual revolution is in its design that is definitely mindful and user-centric. As a matter of fact, Zenbook 13 is smaller than an A4-size sheet. That is phenomenal. The numeric keypad is LED-illuminated. It gives a different kind of feel to the user.
Smallest Notebooks are the latest Zenbooks from Asus
The lightweight Zenbooks that are world's smallest notebooks are in reality a powerhouse with unmatched quality and design.