May 24 2016 11:31PM GMT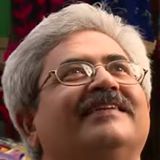 Profile: Jaideep Khanduja
Tags:
The demo zone at Nokia India Innovation Day was most lively with Nokia end-to-end Solutions being showcased. There were 8 segments and at each segment there technology and media enthusiasts to understand the innovative solutions being showcased. Here are the 8 Demos that were showcased: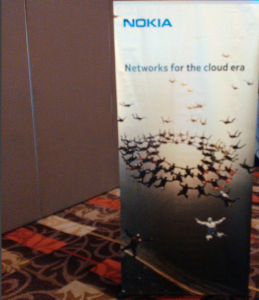 Being an expert in mobile networks, Nokia has built cloud-based, carrier-grade Wi-Fi solution that has a unique combination of deployment simplicity and gigabit wireless performance. The launch of Nokia AirScale Wi-Fi will empower mobile operators integrate seamlessly Wi-Fi with their existing networks of any kind to improvise customer experience and create new avenues for creating revenue streams. The solution also enables service providers without licensed spectrum to run a Wi-Fi service so as to take advantage of mobile edge computing and analytics thus delivering advanced context-based services.
Live tracking is possible with a high level of coverage of NB-IoT as compared to the conventional LTE-based solution (Cat.4 modem). NB-IoT is in process of getting standardized in the LTE specifications of 3GPP Rel. 13 (LTE-Advanced Pro). It showed possibility of deeper penetration with NB-IoT in rural and inbuilding structures.
Nokia end-to-end solutions are quite innovative
The demo segment showed how service providers can get advantage of newer technologies with the enablements of IoT-based business models. The project is based on connected service vehicle, smart bus shelter, smart university campus, and other smart buildings.
IoT Scale Monetize and Secure:
It showed scaling and upscaling of the networks creating horizontal solutions for IoT. The solution involving protect and assure network, apps, devices, and data is powerful enough to monetize connectivity and gradually expand services across IoT ecosystems thus taking it to a larger scale.
Network providers (Telcos, Community Broadband providers, Cable MSOs etc.) can take advantage of the residential gateway already existing in each home, whether a fiber ONT or DSL modem, by expanding their services into Connected Home/ Smart Home.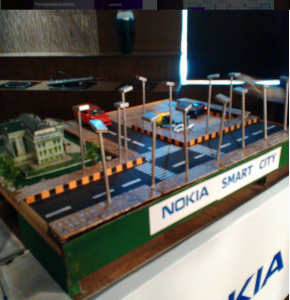 There were setups demonstrating Smart Parking, Smart Metering, and Smart Lighting. I would be taking these three in a separate post later.
Nokia Airscale Radio Access:
This is a next-gen solution from Nokia called AirScale Radio Access that goes beyond imagination as it has a capability of radically altering the way networks are designed. Operators who will be using Nokia Airscale Radio Access will be future ready including high-end requirements of IoT, Virtual Reality (VR), Augmented Reality (AR), Smart Factories and so on. This will also cater to the advanced technology requirements like Video streaming demanding extreme performance. A complete solution, and first of its kind, of Nokia AirScale Radio Access live, combined with 5G-ready air interface is being demonstrated at Mobile World Congress 2016.
This demo was about controlling remote segments of networks in a very different manner. The Nuage Networks by Nokia VNS Solution, software-defined network (SDN) goes in a steady manner across datacenters in private, public or mixed cloud environments thereby extending to remote locations anywhere.
Nokia end-to-end Solutions would be exciting when rolled out in live scenarios.