Mar 31 2019 9:48PM GMT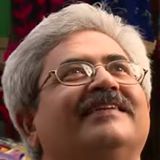 Profile: Jaideep Khanduja
Tags:
"A word 'unprecedented' seems too weak to convey just how much the dimensionless operational space of digital (r)evolution requires an instantaneous reaction."
"A central topic of my essays is cybersecurity.
A fundamental and delicate question at the heart of my work is: how to motivate my readers to want to learn more."
"People and organizations need to trust that their digital technologies are safe and secure; otherwise they won't embrace the digital transformation.
Digitalization and cybersecurity must evolve hand in hand."
"I advocate a Systems Thinking approach in educating our readers, followers, friends, business associates on digital transformation, emerging technologies and cybersecurity.
Systems thinking forever changed the way I think about the world and approach issues.
An open immeasurable non-linear system – the Cyber Space, where cyber threats and cybersecurity are two of many (to be defined) elements of this system."
"The discipline of systems thinking is more than just a collection of tools and methods.
Systems thinking is a philosophy and a methodology for understanding behavior of complex dynamic systems."
"Cybersecurity is becoming the most important security topic of the future – particularly in the age of digitalization."
"Why is cybersecurity so hard?
o It's not just a technical problem
o The rules of cyberspace are different from the physical world's
o Cybersecurity law, policy, and practice are not yet fully developed
o There's not enough manpower in the world to make sure networks are 100% secure 100% of the time, especially with the prevalence of a cloud-based infrastructure."
Ludmila Morozova-Buss
"With hope to create and scale globally an inclusive 'authors-publisher-readers' circle of wisdom and expertise; with channelled determination to gain understanding by carefully selecting the best information sources (Dis Moi où Cherche! Mais où?) and reading between the lines, multiplied by expressed interest for knowledge sharing by the industry experts, and as part of my 'Top Cyber News' extended roundtable series; I brought in one-of-a-kind 'Men on the Arena': Charles (Chuck) Brooks, Stewart Skomra, Mike Quindazzi, and Scott Schober to create a series of articles 'The Globality Quotient: Cybersecurity' published by Dennis J. Pitocco, BizCatalyst360 – an award-winning digital magazine.
My Articles:
The Globality Quotient: Cybersecurity
Cybersecurity – Prevention And Protection.
Cybersecurity – What is Ethical Hacking or a Hacker is a Hacker.
Cybersecurity "Hacked Again" & Women in Digital Universe
Women in Cybersecurity: Why Closing the Gender Gap is Critical via TechNative"