Aug 29 2019 9:30AM GMT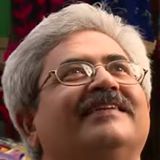 Profile: Jaideep Khanduja
Tags:
Kumar Vembu is a veteran entrepreneur. He has expertise in technology. Kumar is CEO and founder of GOFRUGAL. He wears multiple hats. He is an entrepreneur, investor farmer, yoga expert, and a lot more. Started his career with Qualcomm at San Diego. In 1995 he moved back to India to start his entrepreneurial journey. As a matter of fact, before starting his venture, he worked with large Telecom and networking companies like IITM, HCL, HP, and TeNet. While working, he was always striving to launch a world-class software product company in India and that is when he co-founded Zoho Corp with his brother Sridhar Vembu in 1995 and another company Delium in 2016. In between these two companies he launched GOFRUGAL in 2004 with a mission to make ERP easy and usable by all businesses of any size.
As of today, GOFRUGAL's multiple solutions are running successfully in more than 30000 brands across more than 40 business formats with a sole purpose to transform business operations digitally to gain better customer experience, higher sales thereby acquiring more customers. Let us learn more about GOFRUGAL. GOFRUGAL is a digital-first company. It was founded in 2004 with a singular goal of empowering retail, restaurant, and distribution businesses with the help of appropriate ERP tools that empowers them to achieve greater levels of profitability and efficiency. The key focus of all GOFRUGAL applications stays on customer experience and mobility because these two are the new drivers for the growth of any business of any capacity. That is how GOFRUGAL empowers businesses to go Digital to stay ahead of their competition and sustain enough agility to grow and succeed continuously.
Kumar Vembu
We shall be continuing about GOFRUGAL in the concluding post. There are many more interesting facts about this wonderful venture initiated by Kumar Vembu.