May 6 2018 6:05PM GMT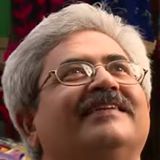 Profile: Jaideep Khanduja
Tags:
One of the hottest trends to emerge in the world of enterprise cloud computing is "multi-cloud data management," which, in a nutshell, is simply keeping track of data assets that reside across multiple data centers and cloud services. As enterprises increasingly move IT operations to the cloud, ensuring the security, availability, and performance of their applications and data becomes increasingly challenging. Today, I speak with Tom Critser, co-founder, and CEO of JetStream Software, about his company launch and cross-cloud data management platform.
Q. Please tell me about JetStream Software.
JetStream Software is a new company, but we have a software engineering team that has been together since 2010, and we've invested more than 200 developer-years in our core technology. This April, we announced the JetStream Cross-Cloud Data Management Platform. Our mission is to give cloud service providers (CSPs) and Fortune 500 enterprise cloud architects a better way to support workload migration, resource elasticity, and business continuity across multi-cloud and multi-data center infrastructures. Currently, our platform is designed to complement VMware cloud infrastructures including VMware Cloud Provider Partners (VCPPs) and VMware Cloud on AWS. We are headquartered in San Jose, California, with a second development center in Bangalore, India.
Q. How did the company get started?
Our three co-founders and much of the engineering team have been working together for a long time. Our first startup was FlashSoft Software, which developed software for storage IO acceleration. Our objective was to enable enterprise flash memory in a host server to handle IO operations for "hot data" and to deliver the performance of enterprise flash storage, but without replacing the existing storage of the enterprise. FlashSoft was acquired by SanDisk in 2012, and then SanDisk itself was acquired by Western Digital in 2016. At SanDisk, the team grew in size, and we collaborated closely with VMware to design the vSphere APIs for IO Filters framework, which is a key technology for our new company's cross-cloud data management platform. After Western Digital acquired SanDisk, we worked with Western Digital to establish JetStream Software as an independent company.
Q. Who is your ideal customer, and what problems are you solving for them?
Our ideal customer is a cloud service provider (CSP), serving enterprise customers, and in a similar way, the enterprise cloud architect. We address two key problems for these customers:
The first is to take friction out of the enterprise's migration of its on-premises virtual machines (VMs) and applications to the cloud. Enterprise cloud migration today is an expensive, hands-on operation, typically requiring a lot of professional services. There are new tools that help organizations plan their data migration and prepare configurations at the cloud destination, but getting huge volumes of enterprise data to the cloud with minimal disruption remains a challenge, and that's the problem we target.
The second problem we address is to help CSPs and private cloud operators deliver enterprise-grade resilience, availability, scalability, performance, and manageability, even across multiple data centers and services.
Q. You say the JetStream Cross-Cloud Data Management Platform provides "built for the cloud" data management capability. What exactly does this mean?
A lot of the technologies used in today's cloud data centers were originally designed for a single-owner, on-premises operation. But CSP operations are different, so legacy enterprise data management tools aren't always a perfect fit for the dynamics of cloud operations, such as efficiently managing resources across multi-tenant services, supporting dynamically changing workload demands, and providing mobility, agility, and recoverability across multi-site operations. Rather than trying to adapt legacy on-premises data management tools and methods to this strange new world, we built our platform from the ground up with these dynamics in mind.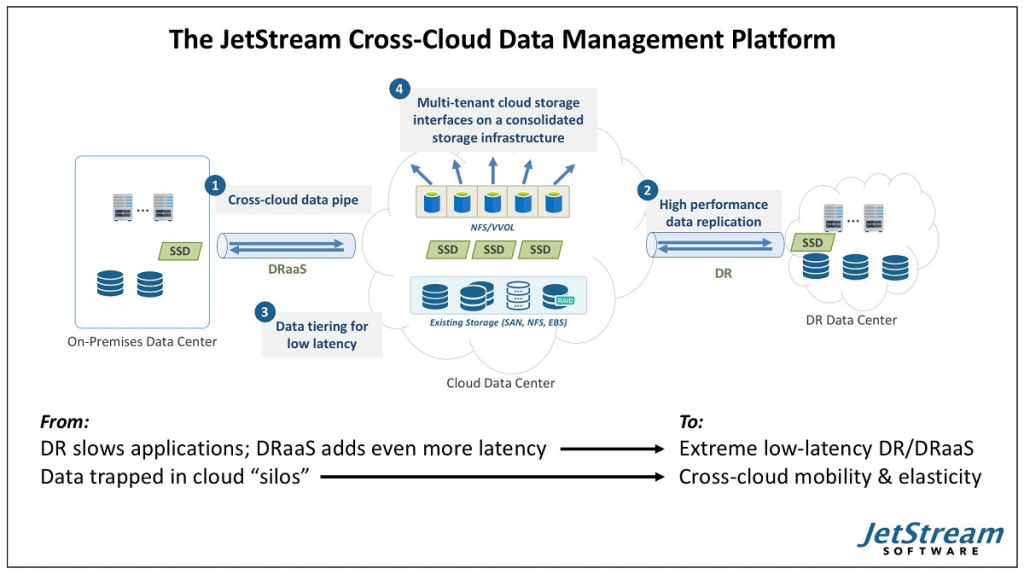 Q. Tell us more about the newest product on the platform, JetStream Migrate. What makes it unique?
JetStream Migrate is a software product that enables the live migration of virtual machines to a cloud destination. That means that the VMs and their applications continue to run on-premises while their data is being moved to the cloud destination. JetStream Migrate is the first data replication solution for cloud migration to run as an IO filter in VMware vSphere. This design gives the solution some unique capabilities:
It supports live migration of applications, even when their data is moved to the cloud via a physical data transport device.
It enables live migration without snapshots, which is much better for application performance.
It's fault tolerant, so if interrupted, the data replication process resumes from the point of interruption.
Because of the IO filter-based design, it's a lightweight application that runs seamlessly within a VMware-based data center.
It gives the administrator powerful capabilities, including the ability to accurately estimate the time required for data replication and the ability to automate many tasks.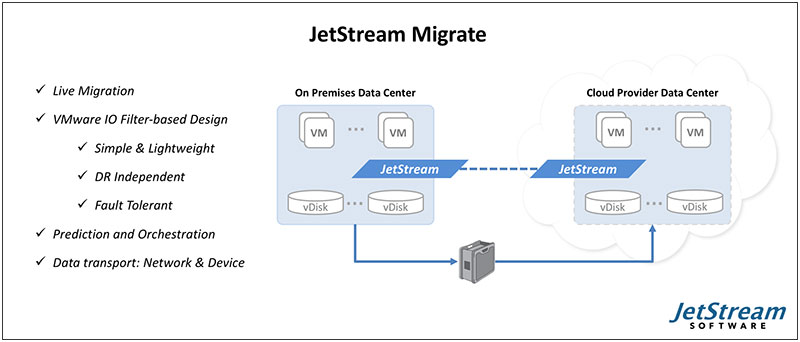 Q. There are many solutions for cloud migration, so when would an organization choose JetStream Migrate over other options?
It's important to note that JetStream Migrate is specifically focused on ensuring reliable data replication for live migration. It will typically be used in conjunction with other cross-cloud tools, such as VMware vRealize, vCenter and NSX. The technologies are complementary, and they each play an important role in a cloud migration project.
With respect to data replication specifically, the unique design of JetStream Migrate makes it especially useful when:
Live migration is required, but data will be transported to the cloud on a physical device.
The data migration network has insufficient or inconsistent latency or bandwidth.
The cloud destination is based on vSphere, but the CSP is not running the entire VMware Cloud stack.
A lightweight deployment is preferred, at the source, on the network or at the destination.
Network reliability concerns and high data ingest fees to make a fault-tolerant replication process preferable.
Q. You're launching with an impressive list of partners. Can you tell us how you're working with these partners and what about JetStream Software caught their attention?
Our team has been engaged with VMware for a long time. We previously worked as VMware's design partner for the development of the APIs for IO Filters framework, so we have been working with these APIs to integrate our products with VMware vSphere for years. Through our partnership with VMware, we're now also collaborating with Amazon to support the migration of VMs to the VMware Cloud on AWS.
Because of our history partnering with Dell, EMC, Cisco, IBM and HPE, we've also resumed and further developed our partnerships with those vendors, starting with the JetStream Accelerate product, which was familiar to our partners. And because all of these vendors are rapidly developing cloud solution portfolios, we're discussing our new solutions with them as well.
Q. JetStream Software appears to have deep technology credentials. What is your history working with enterprises and cloud service providers?
One of the unique advantages of our particular "startup" is that we're launching with a full development operation and a technology foundation representing over 200 developer-years of effort invested. We developed and supported a software solution that was deployed at thousands of data centers, both large and small. In doing so, we had a front-row seat to the transition from enterprises operating all-on-premises to the cloud, hybrid cloud, and cross-cloud operations.
Q. You've just officially launched the company and the platform with the newest product on the platform. What can we expect later this year?
Our JetStream Cross-Cloud Data Management Platform is maturing rapidly. The focus of our first product has been to remove the friction from cloud migration. Our releases in the second half of the year will bring similar advantages to cloud disaster recovery (DR) and cloud-based disaster recovery as a service (DRaaS).
###
About Tom Critser, Co-Founder and CEO, JetStream Software
Tom Critser has more than 20 years of experience growing and launching software companies. Previously, Tom was GM of Cloud Data Center Solutions at SanDisk. Tom was a member of the founding team of FlashSoft Software which was acquired by SanDisk in 2012. Prior to FlashSoft, Tom was VP of Worldwide Sales and Business Development at RNA Networks, the memory virtualization software company, which was acquired by Dell. Prior to RNA Networks, Tom was the VP of Worldwide Sales and Business Development at Infravio, the SOA management software company, which was acquired by Software AG. Tom graduated from Oregon State University with a BS degree in International Business and where he was a Pac-10 All-Academic Team member. For more information, please visit www.jetstreamsoft.com, @JetStreamSoft and www.linkedin.com/company/jetstream-software-inc/.