Jul 30 2016 9:50AM GMT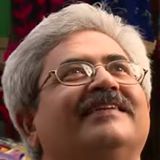 Profile: Jaideep Khanduja
Tags:
This is the third post in the series. We are interviewing Rohan Shravan, CEO, Notion Ink Design Labs. While the previous two posts are about his journey and learning, this post is about iamAble. iamAble is Able 10, the modern age tablet cum mini laptop. In fact, iamAble is for all professionals who don't want to compromise with their work on the move. It is for all time connectivity with the business and profession. While it is a great solution for corporate mobile teams, it is an equally good option for individual professionals. Hence the device fits for all professional world ecosystem.
6. What is the configuration of the Able? Who is the target audience?
We have spent a lot of time asking our Cain users on what is it that would want to improve. Most wanted more compute performance, storage, and laptop like experience. Able is a result of these studies. It has 4GB RAM, 64GB storage, hard keyboard with large trackpad, large 8100 mAh battery, full aluminium design for even better cooling, 2 FULL USB ports, micro USB charging capability, large number of inclination angles for the display, even stronger locking magnetic mechanism, metallic locks for durability, integrated 3G and 64BIT OS. Able is targeted towards people looking for second smaller but efficient computing machine, something on which can rely upon for their professional work.
7. What about its sturdiness, ruggedness etc.?
From Cain, we learned, that it is the keyboard and it's locking mechanism which needs more work. Able has 4 times the magnetic strength than Cain for Keyboard lock. The hinges on Keyboard are also metallic ensuring much longer life and limited abuse proof. The device can sustain daily abuse and Asahi scratch resistant glass makes daily usage comfortable.
iamAble is a revolution
8. What is Swap Warranty? How much time does it take to replace the faulty device with the new one?
We figured two things. First, if we have service centers for drop-ins of non-functional devices or those needing repairs, it is the user who has to spend the time to find the center and drop the device. Second, today electronics are so complex that literally nothing can be done unless device goes back to the factory.
So in SWAP warranty, our Customer Care Engineers work with the customer to understand the problem. Solve it through remote access. And when required issue a SWAP. In SWAP we first send a fresh unit to the customer and once the customer is happy, then we pick up the non-function unit. This ensures hassle free experience. It can take between 1 to 4 working days to get a SWAP device. This is the limitation of the Courier network in India, with things working out way faster in Metros. In general, it can take between 7 to 14 days in the case of Service Center based models.
The last post which will be last in the series will publish in the first week of August.