Oct 27 2017 12:00AM GMT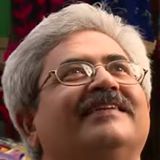 Profile: Jaideep Khanduja
Tags:
It is becoming a world of hyper-personalization on a mass scale. Mary Meeker brings internet report every year. And in her report, she brings a lot of interesting insights about India. We are not a desktop economy anymore. Mobility is the changing paradigm agent. Predictive support systems are becoming a reality. The process of discovery ascertains the cost in the healthcare industry while in the food industry it is not the case. Like, when you go to a restaurant you are able to guess the cost of food on the basis of its location, size, level etc. But the same is not the case when you go for a health checkup. You never know what may come up during diagnosis and how much that discovery may cost depending on the level of severity of disease discovered.
A recent study says that the advancement in medical technology will make people live for 150-200 years of age. But then who those people will be? That will create a wide gap on the basis of race, social status, etc. The trends are changing to cater to hyper-personalization. In that context, Simplification, seamless delivery, liquidation, etc. are few of the challenges for technology. Changes in processes have more to deal with changes in mindsets. There is a lot of data. Every company is sitting on piles of data. The key missing point is the person who joins the dots. Technology is growing very fast thereby creating a lot of scope for industries to take enough of leverage. Analytics is not only about buying a tool. It is rather a cultural issue. Management's vision plays a major role in this.
Hyper-Personalization Is The New Global Trend
Analytics is not an end to a journey. It is, in fact, beginning a new journey. In fact, when we talk about hyper-personalization it becomes more relevant.A data strategy is quite important. Somebody from an analytics company says merely capturing just name and mobile number of a customer will be worthless. In my opinion, that is more than enough in terms of providing you a lot of useful data only if you apply your brain and use various APIs. In fact, this can provide you with a person's lifestyle, family, friends, travel patterns, hobbies, and a lot more. The customer has always been a key to success of a business. Hyper-personalization is the catalyst to it.