May 31 2014 11:41PM GMT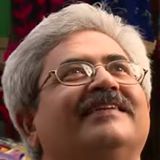 Profile: Jaideep Khanduja
Tags:
Recently am reading a book titled as The Devil's Gate: An Impossible Journey by Deepak Kripal. In this book there is a very interesting story about a dog who fell in love with a demon who was not as bad looking as other female demons. The demon also reciprocated and both decided to spend their life with each other. Meanwhile the father of demon decided to call all male demons to select the best among them to get his daughter married to him. Dog comes to know about it. He also decided to join the contest. the contest was to sing the best song and whosoever makes others dance to his tunes while singing a song of his choice would be eligible to marry demon girl in question.


The demon girl requests dog to not to join the party as she knew that dog is not at all a good singer and if he would sing there in the party, he might sing so bad that her father might get him killed there and then only. Dog agrees to it and promises that he will not come there – bade her goodbye – and both promise to remember each other forever, wherever they live and with whomsoever.
while the party is on and each demon is waiting for his turn to get the hand of girl demon by singing at his best, some got quite enthusiastic for the performance given by them and were quite hopeful. Suddenly the dog joins in and tells demon father that he wants to marry his daughter. Demon father gets very annoyed and warns dog that if he fails to sing best of all, he will be killed by his soldiers. Dog agrees, closes his eyes, and starts singing a love song keeping demon girl in his mind, but while singing keeping his eyes closed, he was almost sure that he will be dead by the end of his song.
Surprisingly when he opens his eyes, everyone is so mesmerized and dancing that he gets amazed. Demon father calls his daughter and marry her with the dog.
Just a signal to a Project Manager – if he has the same art of making all stakeholders of his project dance, on his mute tunes by singing at his best!