Oct 21 2019 10:26PM GMT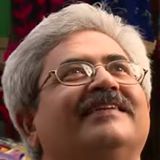 Profile: Jaideep Khanduja
Tags:
Around four decades ago we didn't have networking. There were standalone personal computers like one each in HR, purchase, finance, and so on. There were no laptops, no mobility. If finance needs some data from the PC in the HR, it had to move with the help of floppy disks. Individual computers, individual computing, processing, individual reports. Then came the concept of networking and centralized server for data and computing. Machines started talking to each other. Floppies were still needed but more for moving data to a computer out of the network or elsewhere. With this, organizations started relying more on computers and thus came business applications, CRM, ERP, etc. The need for data security and network security came into existence. Hubs changed to switches, switches changed to intelligent switches, routers came for connecting different networks, floppies changed to CDs, CDs to DVDs, and so on.
The whole game changed by then. The Internet was a revolution. So was the cloud. For the current generation mainframes, magnetic drums, magnetic tapes, data punch cards are all history. None of them have seen these. They are not into artificial intelligence, internet of things, analytics, Big Data, virtual reality, machine learning, etc. All of a sudden with the need for edge Computing aren't we rolling back. It's the edge data and edge Computing that is providing more relevant information to businesses. ERPs and CRMs are taking back seats. They are not hot anymore. They are per se there by default. But business needs have changed. What about the security and safety of edge devices. Computing, processing, encryption, how are these being handled at the edge? What about data from the edge to data servers? What about the risks of so many things happening at edge devices?
Edge Computing
Aren't we getting more exposed? More so with heterogeneous devices, mobility, BYOD, etc. What about the disaster recovery plans for an edge when edge devices and edge Computing is becoming the core lifeline of businesses? Is our focus shifting to wasteful activities or we are moving in the right direction? Is knowing the coordinates of a mobile device more important or its data? What about the change in the whole paradigm of coding and testing with edge Computing becoming prime. Are we landing in more troubled waters or heading to higher maturity levels. If so is the case, we are making machines so intelligent to perform proactive, predictive, and prescriptive analysis. Then if all intelligent work is going to be performed by machines, what will humans do? Is edge Computing an ultimate solution or it's just a stopgap?