---
September 26, 2007 11:18 AM
transparency and accountability
Channel 4's "Dispatches" documentary on Monday 24 September 2007, to which Computer Weekly contributed, questioned whether the guardian of public spending, the National Audit Office [NAO], is too close to some of the departments and agencies it audits.


RSS Feed

Email a friend
September 24, 2007 3:39 PM
accountability
,
IT projects
,
IT security
,
NPfIT
,
Project management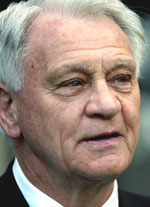 Details have emerged of an incident last year in which the electronic medical records of former England football manager
---
September 21, 2007 12:51 PM
transparency and accountability
A political documentary to be broadcast on Monday evening, 24 September, on Channel 4 was filmed in part at the offices of Computer Weekly. Continued »
---
September 21, 2007 12:15 PM
NPfIT
The amiable and knowledgeable Remon Gazal, IM&T director at Barnet and Chase Farm Hospitals NHS Trust, spent his last day at the trust yesterday (20 September 2007). He said he was leaving to get married in Australia. He has not yet decided on his next job. Computer Weekly interviewed him on...
---
---
September 18, 2007 6:08 PM
NPfIT
Mary Hawking writes: The only thing surprising about this incident is that anyone should be surprised! Ross Anderson [of the Cambridge...
---
---
---
September 18, 2007 7:00 AM
NPfIT
Jean Roberts,who leads the British Computer Society Health Informatics (HI) Forum Policy Group and sits on the general BCS Council, has given a personal reaction to the findings of the latest Wanless report. Derek Wanless, a founding father of the NHS's National Programme for IT, questioned in a...
---
September 17, 2007 9:23 PM
Comment and summary of highlights of a report on the Electronic Patient Record by the Health Committee of the House of Commons Comment As predicted, the Labour-dominated Health Committee...
---