---
October 3, 2007 2:35 PM
Teeny tiny shades. This housefly is sporting a pair of two-millimeter-wide eyeglasses, engineered with fast-pulse laser technology.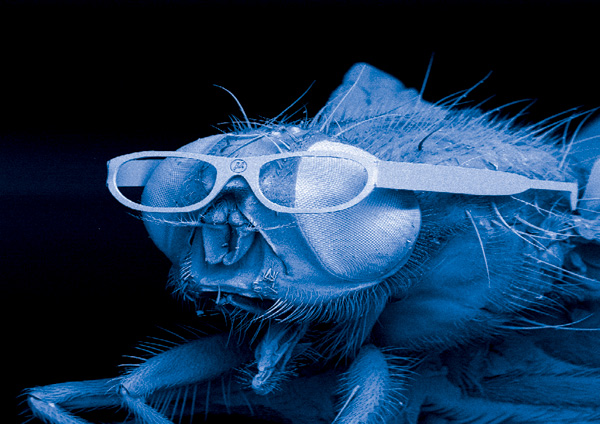 According the the Project on Emerging Nanotechnologies, there are now almost 600 consumer products made with nanotechnology, including computer processors by Intel and AMD, high capacity hard disk drives, battery pack systems and memory. Even the iPhone uses nanotech manufacturing. Got a minute? Browse the product list.
Photo courtesy of Micreon GmbH
October 2, 2007 5:15 PM
Who says the blogosphere is nothing but a hall of mirrors?
"Peggy Rouse of whatis.com read the entire draft and provided me with valuable feedback, particularly some early advice that led me to completely restructure the order of the chapters. Her team also wrote the book's glossary. Whatis.com was Wikipedia a decade before there was a Wikipedia. It is still an incredibly valuable source of technology knowledge."

Paul Gillin, The New Influencers / acknowledgements
From the Wall Street Journal review: Some two in five Internet users in the U.S. read blogs, according to a 2006 Pew survey, giving citizen-commentators the potential for more influence than ever.

How, then, should companies deal with the world of blogs, as well as podcasts, social-network sites such as Facebook and other "social media"?

That question is at the center of "The New Influencers," written by former Computerworld editor Paul Gillin.
---
---
October 2, 2007 12:41 PM
"Widgets have become the unexpected buzzword of 2007; just a few weeks ago I discussed how they can be used for marketers to disseminate information.But I'm realizing that this buzz is eerily similar to the buzz that surrounded desktop applications in the late '90s.

Desktop applications and embedded applications became hot — right up until they became overused and exploited. Basically they morphed into a nasty little term called "spyware…"

Cory Treffiletti, If Widgets Morph Into Spyware, Bad Things Could Happen
---
October 1, 2007 3:47 PM
"A very important aspect of XProc is that it will be a standard and have multiple (hopefully) interoperable implementations. This should pave the way for an explosion of applications of XML pipelines."

Erik Bruchez, XML pipelines: XPL and XProc
---
October 1, 2007 2:30 PM
"Vista has turned into the desktop operating system no one wants, and even Microsoft is beginning to get it. Today, I think of Vista as the zombie operating system. It stumbles around, and from a distance you might think it's alive, but close up it's the walking dead.

Steven J. Vaughan-Nichols, Night of the Living Vista
Stephen writes: There are many reasons why Vista is doing the zombie stumble. Microsoft has and continues to mislead customers about how much PC is really needed to run Vista. Even some of Windows' most loyal users are finding that its poor performance, lousy software support and pathetic driver support is too much to stomach. And, last but never ever least, if XP isn't broke, why "fix" it with Vista?

Now you might think some of this is legacy backlash. People don't like change. They'd rather use Windows 2000 than XP, Windows 98 SE than 2000,and Windows ME more than…well, OK, no one liked ME. But I've been through these cycles many times before. This is different… I can't think of a single reason to switch from XP to Vista. I'm not talking a good reason, I really mean any reason.
---
September 28, 2007 12:25 PM
"To tempt farmers in China into high-tech territory, Lenovo executives explain, they have tried to make their machine easy to use, cheap, and robust. But its key feature, they say, is its software, dubbed "Road to Riches," that helps peasants search for agricultural information that will boost business."

Peter Ford, Christian Science Monitor
ThinkPad? Think Lenovo.
Also think China. And software called Road to Riches. What a name!
Todd Crowell writes, "Lenovo has been working steadily to become China's first global brand. Two years ago, it changed its name from Legend to Lenovo (an invented word from Latin novo, meaning new) specifically because Legend was too common and already trademarked in the West.

In acquiring the IBM computer division, Lenovo gained the ThinkPad laptop and the ThinkCenter desktop, two of the best-known brands in the computer industry. Lenovo's strategy is to link its name with the better-known products, until they become synonymous in the customer's mind.

"There will be no doubt that ThinkPad is made by Lenovo, just like iPod is made by Apple," says Deepka Advani, Lenovo's senior vice president and director of marketing. The products will be produced under the IBM logo for five years. As the Lenovo brand becomes better known, the company will eventually drop the IBM logo and sell them as Lenovo brand ThinkPads and ThinkCenters.
---
September 27, 2007 2:24 PM
"As with any Hitachi announcement, this one comes with more than its fair share of misleading assertions and what I've come to refer to as "Hitachi Math" – a modernistic form of algebra that arrives at irreproducible results that also have the unique property of having absolutely no bearing on reality."

barry a. burke, the storage anarchist
---
September 27, 2007 12:00 PM
"The coming wave of online emergent business networks is the real Enterprise 2.0 story. The impact on a large company from using blogs, RSS and wikis is not significant when the real guts of the business is locked into legacy ERP, SCM and CRM systems."

Bernard Lunn, Read/WriteWeb.com
---
September 26, 2007 4:15 PM
---