---
November 15, 2007 12:06 AM
In a recent interview with BBC news, Gordon Moore said "Forty years ago, computers were in glass rooms tended to by a core of monks that knew how to do the proper incantations."
For your entertainment, the proper incantations:
[kml_flashembed movie="http://youtube.com/v/qMPcsDQPAHo" width="425" height="350" wmode="transparent" /]
November 14, 2007 9:38 PM
"This morning I received a message from TechTarget telling me that SearchWebServices.com is renaming itself to SearchSOA.com. According to TechTarget the move is in line with a shift of attitudes and efforts within the application development community. As I've written many times, SOA is not Web Services. This move is a signal that application developers are voting with their feet. I wish TechTarget well."

Frank Cohen, SOA and Web Services In The Development Community
---
November 14, 2007 9:13 PM
"Netscape abandoning the social news model could be looked at as 1) the first signs of the format's demise, or more likely 2) a return to less risk-taking at AOL as it struggles to define itself under new management."

Adario Strange, Netscape Ends Digg-Clone Social News Experiment
---
November 14, 2007 8:34 PM
 [kml_flashembed movie="http://www.youtube.com/v/9eFOotpUjqk" width="425" height="350" wmode="transparent" /]
"Well, this is one of the great blessings of the modern age – being always available. Or maybe it's not. I'm not sure."
Rudy Guilani, speaking to the National Rifle Association
---
November 14, 2007 12:55 PM
"AT&T is currently defending itself in federal court from allegations that it installed, on behalf of the National Security Agency, secret internet spying rooms in its domestic internet switching facilities."

Ryan Singel, AT&T Invents Programming Language for Mass Surveillance 
Ryan says:
Programs written in Hancock work by analyzing data as it flows into a data warehouse. That differentiates the language from traditional data-mining applications which tend to look for patterns in static databases.  A 2004 paper published in ACM Transactions on Programming Languages and Systems shows how Hancock code can sift calling card records, long distance calls, IP addresses and internet traffic dumps, and even track the physical movements of mobile phone customers as their signal moves from cell site to cell site. 
Anyone read Tryrannosaur Canyon by Doublas Preston? This is the second day I've had to say truth is stranger than fiction.
---
November 13, 2007 3:15 PM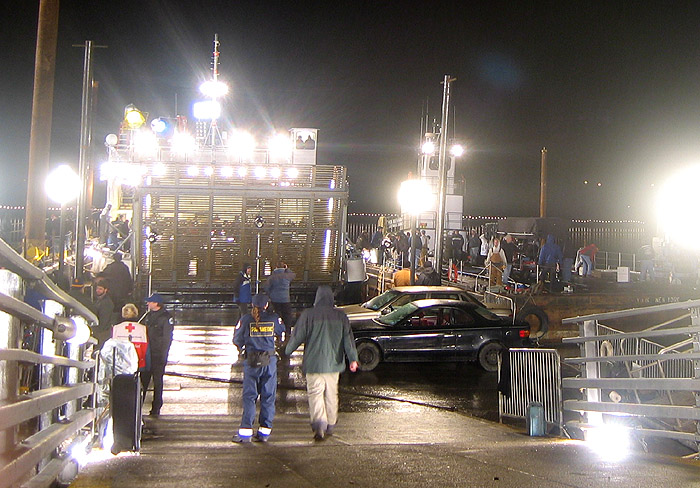 Flashback: December 12, 2004
"War of the Worlds is in it's second day of shooting in Athens NY. It snowed there last night but filming proceeded. The set was under lockdown in the tiny village."  (Garth Franklin, War of the Worlds Set Reports)
About this time three years ago, we were all excited about being picked to be in a little Steven Spielberg movie called War of the Worlds. The entire village of Athens, New York (town where I live) was transformed to a bustling Hollywood set for about two weeks as crews built a ferry slip, put in fake railroad tracks and brought in lights and generators.
To give you an idea of the scale of this transformation, Athens doesn't have a single traffic light. In fact you have to drive twenty minutes in either direction to find a traffic light.
The scene they were shooting was the fire train / ferry scene. For five nights from 5pm to 5am we ran down the street towards the ferry, stopped as an imaginary train wizzed by, expressed horror and screamed at the imaginary tripod that rose out of the imaginary mountain behind us.  We were pushed and shoved before being killed by an imaginary tripod as it rose out of the Hudson river and tipped over the ferry. It rained and snowed the entire five nights. I can't say it was fun.
When I finally saw the movie I was disappointed, but the first half of the movie — right up through the ferry scene —  was truly Speilberg-worthy. The lightening strikes and the fog horn sound of the tripod as it rose out of the street was scary stuff. In true science-fiction style, the tripods used a  known technology — high-power electromagnetic system (HPEMS) — to damage electrical devices and stop traffic.
The reason I'm taking this stroll down memory lane today is that Eureka Aarospace plans to offer police the ability to use HPEMS to disable or damage a criminal's vehicle. The sticking point? Narrowing the beam so that only the vehicle in question is disabled.
Sometimes truth is stranger than fiction.
---
November 13, 2007 12:59 PM
Ali and his team pulled out all the stops to investigate the efficacy of three aluminum helmet designs. Their conclusion?
It requires no stretch of the imagination to conclude that the current helmet craze is likely to have been propagated by the Government, possibly with the involvement of the FCC. We hope this report will encourage the paranoid community to develop improved helmet designs to avoid falling prey to these shortcomings.
Here's a TV interview with Ali Rahimi. I was struck by how seriously he approached this, although the interviewer was obviously having a good time. Ali clearly believes in the value of approaching everything he does from a scientific viewpoint.
Not convinced by Ali's findings? Not to worry. You can buy designer clothing at the EMF Safety Superstore. Pick up a pair or two of Finger Faraday Cage gloves for the holidays. It's the perfect gift for your favorite tin-foil hat relatives. Just don't tell them about the study.
---
November 13, 2007 3:44 AM
"About every three months this year there has been a mobile Linux initiative of some sort launched. It's a bit like the common cold. It keeps coming round and then we go back to business."

John Forsyth
The Open Handset Alliance is a consortium led by Google to develop open standards for mobile devices. In Darren Waters article, Symbian dismisses Google Android, John Forsyth, vice president of strategy at Symbian wonders whether developers will flock to Android. I think they will.
---
November 13, 2007 2:31 AM
The report says that two-thirds of the advertising experts IBM polled expect 20 percent of their advertising revenue to shift from impression-based to impact-based formats within three years.
Ummm….what does impact-based mean? And how the heck are we going to measure it?
---
November 13, 2007 2:04 AM
Some staffers who are putting in their notice are being escorted off campus immediately. Why? Because they've put in their notice to join Google.
Tim thinks the reason behind the quick mandatory exits are simply that Microsoft is afraid of losing more employees to Google if the person has a chance to stick around and talk up his new job.
---