---
January 18, 2008 3:52 PM
As more major Web players start to sign onto OpenID–and more casual Internet users start using the standard–there will inevitably be security concerns raised.

Since OpenID has no central repository for identity management, users can choose which sites they trust with their OpenIDs. But that doesn't mean they're going to always make the right decisions. Sometime in the not-so-distant future, an incident or two will likely surface that will call into question just what universal standards mean for privacy and personal security on the Web.

 Caroline McCarthy, Yahoo throws weight behind OpenID standard
---
January 17, 2008 11:21 PM

I am proud to present the January 2008 WhatIs.com Editor's Choice Award to the individual creators of the following data center tours. For those of you who like to look under the hood or peek behind the curtain, there's some good stuff here.
1. CyGem Ltd. Data Center
Jeff Moore takes us through one of his customer's facilities. He does a nice job pointing out the details.

2. Huawei Data Center
16,000 square meters of high tech real estate that could double as a set for Mission Impossible.

3. Inside NVIDIA's engine room
An interesting look behind the scenes at NVIDIA back in 2002. Joe Sura does a nice job hosting the tour.

4.CNBC's graphics SAN
Why did CNBC choose Apple? It's cost-efficient, of course!

5. Century College Kopp Center
This is a working lab where students hone their data center management skills.

6.Sun's Project Blackbox
Adam Yates gives a close-quarter tour of a data center in a shipping container.

7. Server room at the Sudbury Neutrino Observatory
The Neutrino Observatory, which closed its doors in November of 2006, is still analyzing data — looking for insight into the properties of neutrinos and the core of the sun.

8. Internetwire Communications
This short tour is narrated in German, but I think you'll be surprised how much you understand.

9. IBM data center in Second Life
This promo-tour explains how IBM is mapping real data centers to a virtual data center in Second Life to look at power solutions. IBM has 8 million square feet of data center space around the world, so lowering the electric bill is a big deal.

10. DRFortress
As I watched this tour, I wondered how a business like this will be affected by cloud computing. Will they be like the local hardware store after Home Depot comes to town?

---
January 17, 2008 9:21 PM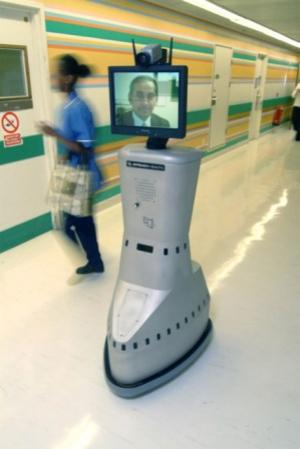 This remote presence robot allows doctors in different geographical locations to teleconference right by a patient's bedside. Real-time video allows for detailed viewing, examination and digital image capture of human anatomy, bedside monitors and equipment, EKG strips and light box images. The robot, made by InTouch Technologies,  has two-way cameras, microphones and other wireless technology, including joystick-controlled mobility.
---
January 17, 2008 8:30 PM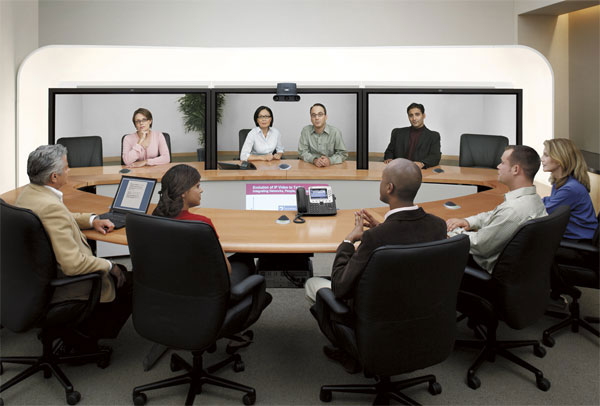 Both the HP Halo collaboration studio and the Cisco TelePresence Meeting solutions look a lot like a traditional conference rooms — except the people on the far side of the table are in another studio on the opposite side of the globe. Very Star Trek.
---
January 17, 2008 7:56 PM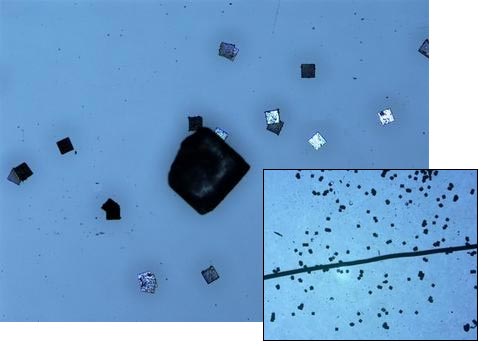 These RFID chips are made by Hitachi. The ones in blue have 128 bits of ROM and can store a 38-digit number. They are billed as being the smallest RFID chips and are 64 times smaller than the tiny chip you see on the person's finger (right). The black line you see in the middle photo is a strand of human hair. Hitachi reps have said they don't know what they're going to do with the tiniest chips, which are being called "RFID powder" for now. You can read more about the chips here.
---
January 17, 2008 7:36 PM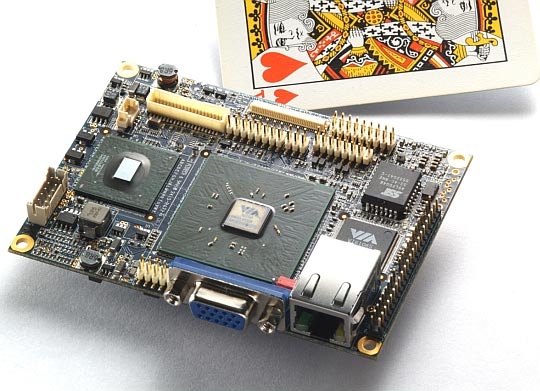 This is the world's smallest full-featured x86 motherboard. It's designed for ultra compact embedded PCs, gaming systems and appliances. It's made by VIA and it measures 10cm x 7.2cm. Here's a review.
---
January 17, 2008 7:26 PM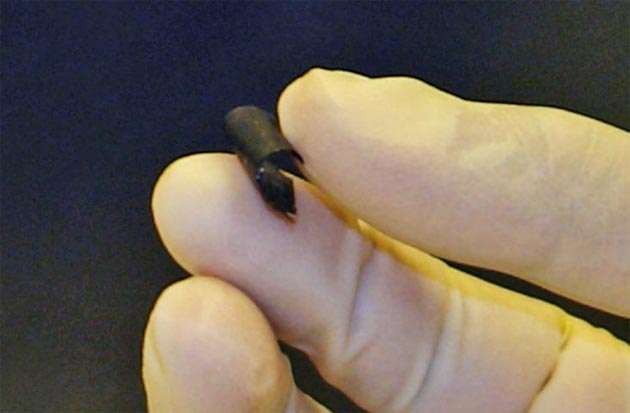 The new battery is a nano-composite paper made by growing carbon nanotubes on a silicon substrate and impregnating the gaps between the tubes with cellulose, which is essentially paper.

The carbon nanotubes act as electrodes allowing the device to conduct electricity while maintaining its flexibility. The cellulose means that it can be activated by the natural electrolytes found in bodily fluids like blood and sweat.

The design allows the battery to maintain its integrity despite being bent, folded or even cut into pieces.

Ian Williams, Boffins patent paper battery
---
January 17, 2008 3:19 PM
Its fast transfer rate and efficient protocol makes eSATA the highest performing external mainstream storage connection, Enhancing eSATA with power delivery will provide a new level of convenience to the designer and the end user. By eliminating the need for a separate power connection, customers can more easily expand their storage, making Serial ATA an even more attractive solution for mainstream storage applications.

Knut Grimsrud, SATA-IO president and Intel Fellow
Quoted in New eSATA technology to cut off the power cable
---
January 17, 2008 2:02 PM
The designers of the new mall worked out a plan to connect their heat pump system to the data center of a near by Telco facility. During the winter, the data center heats the mall and during the summer, the mall uses the heat generated by the server room to preheat a local hotel's water system.

kstroh, Selling Heat
Mercursenteret is a shopping mall established in an old telegraph building in Trondheim, Norway. The shopping mall is cooled and heated by a heat pump system. In the winter during the heating period, the heat pump uses the cooling distribution system of the telecommunication centre in the next-door building (Teknisk Telehus) as the heat source. In the summertime, the heat pump operates mainly for cooling. Excess heat from the heat pump system is sold to pre-heat sanitary water in a hotel in the neighbourhood. The seasonal performance factor is 3.5 for heating and 2.5 for cooling.
---