---
August 29, 2018 7:45 PM
Qlik is a software vendor specializing in data visualization, executive dashboards and self-service business intelligence products. Continued…
Quote of the Day
"At a high level, data discovery tools help organizations glean insight and value from data. Through visualizations, analytics and other basic capabilities, these products ensure business intelligence initiative success." – Bob Violino
Learning Center
Predictive analytics in education can flag troubled students
Predictive analytics in education may help administrators of the sprawling Loudoun County, Va., school district identify at-risk students and help them faster.
Qlik Sense vs. QlikView: How the two Qlik tools compare
On the question of Qlik Sense vs. QlikView, the differences between the two popular data visualization products are mostly minor.
Choosing the right data discovery platform for the enterprise
Visualizations, IT management, data sources and compliance features are just some considerations for businesses in the market for data discovery tools. Ultimately, business goals determine the best data discovery platform, so it's vital that the features deliver.
Mike Capone, Qlik CEO, says roadmap targets cloud, big data
Mike Capone, Qlik CEO, says the company's software is strong, but it must evolve to keep pace with changes in cloud computing, big data and cognitive computing.
BI vendors aim to ease visual data analysis by business users
GoodData and Periscope Data are the latest BI software vendors to add visual data analysis capabilities that enable business users to explore data sets and create data visualizations on their own.
Trending Terms
data visualization
executive dashboard
self-service analytics
in-memory analytics
data governance
data silo
Quiz Yourself
To remain effective, analytical processes must ________ fine-tuned.
A. constantly stay
B. stay constantly
Answer
---
August 27, 2018 7:29 PM
The Apple Device Enrollment Program (DEP) is an online service that automates the enrollment and configuration of Apple OS X and iOS devices in an organization's mobile device management software. Continued…
Quote of the Day
"Apple's Device Enrollment Program (DEP) simplifies the process for IT to enroll a new Apple device through automation…Unlike Apple's previous device management tools, DEP prevents users from removing devices from the program." – Kristen Gloss
Learning Center
Explore new iOS security features
Organizations can expect new iOS security features from Apple with the release of iOS 12. Learn how to make devices more secure and find out what other features already help with device management.
How Apple DEP works and why it's important
Apple's Device Enrollment Program can help organizations provide simpler device management. Learn how the Apple DEP made waves in endpoint management strategy.
Explore new options for Apple enterprise device management
Apple enterprise device management has been notoriously challenging. Learn about a few updates from Apple that may make the process easier from an IT admin's perspective.
Apple Device Enrollment Program expands, but IT wants more
The Apple Device Enrollment Program will support devices not bought from Apple or channel partners, a huge help for schools, SMBs, nonprofits and others.
Explore options for automatic device enrollment
The number of mobile devices is increasing, but so are options for device enrollment. IT can simplify the process by using programs from major mobile providers, such as Apple's DEP and Samsung's KME.
Trending Terms
OS X
mobile device management
enterprise mobility management
BYOD
enterprise app store
iOS
Quiz Yourself
Your Apple ID is the user name you use to _____ to iCloud, iTunes and the app store.
a. log in
b. login
Answer
---
August 24, 2018 7:24 PM
The DRY (don't repeat yourself) principle is a best practice in software development that recommends software engineers do something once, and only once. Continued…
Quote of the Day
"Most often, technical debt occurs in iterative application development environments when speed of release is valued more than high quality." — Jan Stafford
Learning Center
Five ways to reduce technical debt, rework costs in Agile, DevOps
Need to lower the cost of software development? Here are 5 steps to reduce technical debt.
Chaos engineering unearths IT deployments' dark debt
Technical debt is what you fix in the future — it's measurable and visible. Dark debt is only expressed through failure.
Security debt: Why you should pay attention
What's the biggest risk companies face as they accumulate security debt?
A comprehensive beginner's guide to DevOps for developers
The thought of diving into DevOps can be intimidating, particularly for beginners. Cameron McKenzie offers first-time advice on DevOps for developers.
Technical debt is not scary if you invest it well
Is the prospect of acquiring technical debt disturbing? Technical debt doesn't have to be scary as long as you are smart in acquiring it.
Trending Terms
technical debt
refactoring
sunk cost effect
uncertainty principle
Open Group Architecture Framework
Geek and Poke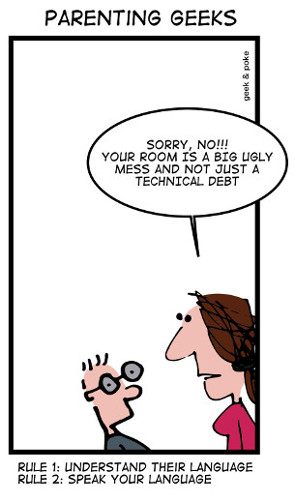 ---
August 23, 2018 5:18 PM
Exploratory testing is an approach to software assessment that integrates learning about the program that's being developed with plans for future testing. Continued…
Quote of the Day
"Exploratory testing takes application programmer roles into account, giving them the flexibility to test as they build." – Ryan Black
Learning Center
Learn the value of exploratory testing vs. scripted testing
In this episode of the Test and Release podcast, we dive into exploratory testing vs. scripted testing with Matt Heusser of Excelon Development. While each approach can be effective, these software testing methods can also supplement each other.
A QA team finds continuous testing benefits worth the effort
Find out which continuous testing benefits CloudBees utilizes internally to speed feedback and reduce defects in production. The process can benefit QA teams if they work effectively with the other parts of their organization.
An insider's guide to the AI and IoT testing process
The IoT testing process, including AI, is tricky, time-consuming and labor-intensive. QA testing company LogiGear shares lessons learned.
Why you should get on board with software testing trends
Not sure whether to dive into AI technologies or attend a DevOps conference? These software testing trends will improve near- and long-term skill sets.
Top continuous delivery benefits and how to get them
Continuous delivery benefits, such as small, fast releases and the ability to maneuver a quickly changing demand landscape, take the paradigm from a positive option to a business necessity.
Trending Terms
exploratory model
ad hoc testing
continuous software development
black box
end-to-end testing
model-based testing
Quiz Yourself
Treating testing as a ________ rather than something that should be done continuously throughout software development is a recipe for defective software.
A. phase
B. faze
Answer
---
August 22, 2018 5:15 PM
Container management software is a range of products for automating the creation, destruction, deployment and scaling of containers. Continued…
Quote of the Day
"Most container orchestration platforms have a number of exposed interfaces, some of which are designed for programmatic access via APIs, and others that are more traditional, web-based administrative or deployment consoles." – Dave Shackleford
Learning Center
Why container orchestration platforms risk data exposure
Container orchestration platforms have exposed interfaces, which creates the risk of data exposure and unauthorized access. Learn about the risks to container orchestration systems and why they exist.
The role of container management software in IT ops
With container management software, an organization can take advantage of containerization without overcomplicating its IT operations.
Assess and choose the right container management system
Selecting the right container management system will depend on what your organization needs — whether it's container software, orchestration or both of these.
Rounding up leading container management software in detail
Acquiring effective container management software is a complicated process. Read these comprehensive product descriptions to find the best vendor — or vendors.
Choose the right container deployment strategy and software
Buying container management software is a complex feat. Figure out the right strategy and the right software suite to achieve a solid container deployment.
Trending Terms
containerization
Kubernetes
Docker
stateful app
Azure Stack
Mesos
native cloud application
Quiz Yourself
In Kubernetes, a replication controller scales containers horizontally, ensuring there are more or ________ containers to meet the overall application's computing needs.
A. less
B. fewer
Answer
---
---
August 17, 2018 5:07 PM
Wear leveling is a process that is designed to extend the life of solid-state storage devices. Continued…
Quote of the Day
"Wear leveling can increase write amplification and potentially effect solid-state drive performance, depending on how it is implemented." – Robert Sheldon
Learning Center
Solid-state drive performance metrics go beyond latency, IOPS
Vendors base solid-state drive performance specs on IOPS and latency figures, but write amplification, SSD architecture and the storage controller are factors.
Key factors that affect NAND flash memory endurance
Several factors can shorten NAND flash memory durability, including some measures that vendors take to improve the life of their drives.
How are SSD garbage collection, wear leveling and TRIM different?
SSD garbage collection, wear leveling and TRIM are features used to give the speedy storage hardware a longer lifespan in your VMware shop.
Charge trap technology advantages for 3D NAND flash drives
Charge trap technology is being used more frequently in NAND flash SSDs and provides clear advantages. These cells are less likely to be damaged and leak electrons compared with floating gate cells. However, charge trap technology has its own set of reliability issues.
The ultimate guide to NAND flash technology
It's important for IT buyers and administrators to understand NAND flash technology. Layers, bits per cell and durability are all concerns.
Trending Terms
NAND flash memory
P/E cycle
solid-state storage
flash controller
TRIM
garbage collection
Quiz Yourself
If you don't _______ your data effectively, you risk losing it.
a. backup
b. back up
Answer
---
August 16, 2018 5:04 PM
3D XPoint is memory storage technology jointly developed by Intel and Micron Technology Inc. The two vendors have described the technology as filling a gap in the storage market between dynamic RAM (DRAM) and NAND flash. Continued…
Quote of the Day
"3D XPoint memory technology promises significantly lower latency and greater endurance than NAND flash memory, which has become prevalent in the data storage industry." – Carol Sliwa
Learning Center
Storage class memory advances could be a game-changer
As memory continues to outpace flash storage developments, advancements in storage class memory could be the answer to modern memory woes. Learn how SCM works and what it means for the future of computing.
NAND flash shortage end could lead to dramatic price drop
NAND flash shortage is on the verge of ending after two years. Chip prices could drop significantly, semiconductor analyst Jim Handy predicted at Flash Memory Summit.
Intel, Micron end 3D XPoint memory joint development
Intel and Micron plan to cease their joint development of ultrafast 3D XPoint memory technology in 2019, once they complete work on the second generation of their high-performance technology.
How NVMe technology will rock the enterprise storage boat
NVMe technology changes how storage connects to servers and moves storage closer to the CPU, reducing latency and improving performance. It has great promise, but what challenges will businesses face to adopt the new storage protocol?
The latest on emerging memory technology
Emerging memory technology aims to provide a single type of memory for both storage and computing. Nonvolatile techs will win the day.
Trending Terms
DRAM
NAND flash memory
phase-change memory
P/E cycle
non-volatile memory
DIMM
Quiz Yourself
This isn't a problem for most organizations today, but potential storage limits should ________ be considered when planning a new gateway deployment.
A. always
B. all ways
Answer
---
---