---
April 25, 2008 12:52 PM
[kml_flashembed movie="http://www.youtube.com/v/B_jllEvrOZQ" width="425" height="350" wmode="transparent" /]
Kind of cool!
April 25, 2008 12:44 PM
Essentially, the InPhase guys have built yet another WORM (write once, read many) optical drive. Yes, the 1.6 TB capacity is impressive, considering that the only recently has the new Blu-ray DVD-like format made it to market and the proposed dual-layer Blu-ray disks top out at ~50 GB. However, modern 52X CD-ROM drives have a random seek of ~90 milliseconds, significantly faster than the InPhase spec. for their drive.

Dossy, InPhase Technologies to publically demonstrate "Tapestry" holographic data storage drive
When I saw that Ivy had picked holographic disk drive as today's Word of the Day, I got all excited. Then Dossy brought me back to earth.
---
April 24, 2008 9:15 PM
I don't know which was more entertaining — Ballmer's spin — or laughing at how this Reuters headline was written for search engines.
Microsoft, by the way, has announced that the cut-off date for XP will be June 30.
---
April 23, 2008 1:03 PM
This collaboration between Windows Live Messenger and nine non-profit organizations has raised $1.3 million dollars so far. Every time a user starts a conversation using Windows Live Messenger, Microsoft shares a portion of the program's advertising revenue with one of the non-profit organizations.
[kml_flashembed movie="http://youtube.com/v/fHGlqr8Vll0" width="425" height="350" wmode="transparent" /]
---
April 23, 2008 12:20 PM
The report says that retail and distribution companies were most likely to block instant messaging, while financial companies were most likely to allow instant messaging ( but they monitor its use).
Ironically, I read the article above the very same day there were blogswarms about Apple adding an instant messaging application to the iPhone — and Microsoft announcing that their Windows Live Messenger campaign has raised $1.3 million so far.

Tom Newton from Smoothwall (they commissioned the report) says that as time goes on, business will have to change. He points out that while today's network administrators didn't grow up with instant messaging, today's kids are skipping right over email and using a combo of instant messaging and MySpace or Facebook to communicate with friends. I can't argue with that. It's that way in our house.
So here's my question: With a whole generation (think consumers) growing up using instant messaging, how come it's the only major communication service that isn't interoperable? And might that have something to do with business not "getting it?"
---
April 22, 2008 9:11 PM
Distributed computing is a highly unusual approach to indexing, but it's also consistent with Wikia's participatory model. Regardless of whether or not Wikia's search engine succeeds, the company's willingness to experiment with unconventional approaches could spur innovation and change the landscape of the search engine market.

Ryan Paul (July 2007), Wikia acquires Grub distributed search indexing system
It's been awhile since Jimmy Wales announced the purchase of Grub, a distributed search engine from LookSmart. I thought I'd stop by SearchWikia today and see how they're doing.
Guess what? They haven't seemed to have made much progress harnessing the wisdom of the crowds to improve search. The results are still awful. I picked something easy to query. "Oceanic six." (In case you're not a Lost fan, that's the name of the six people audience members already know were somehow rescued from the island. I thought it would be a gift.) Here's the garbage I got:
http://re.search.wikia.com/search#%20oceanic%20six
It comes back to the same conversation I keep having over and over again — why did Wikipedia work — and can its crowdsourcing success ever be repeated? Looks like the answer for distributed search is "not likely."
---
April 22, 2008 4:01 PM
Boy did Richard Koman get that right. He just forgot to mention that the biggest threat to Office is going to come from Microsoft itself.
Big hoopla this week about Albany, Microsoft's hybrid SaaS response to Google Docs. Microsoft is hoping that by bridging the gap between online Office and desktop Office, throwing in some "security and communication tools" and making the subscription good for three computers, users will pony up a monthly fee to access their Office apps from the cloud.
Monthly fee??? I think they're dreaming. Microsoft should be GIVING this service away to anyone with a desktop Office license. If anything, the idea of a monthly fee just makes Google Docs and OpenOffice more attractive.
---
April 22, 2008 1:11 PM
| | |
| --- | --- |
| | The photo is of Martin Cooper demonstrating the first portable cellular telephone on April 3, 1973. Yes, he's the guy we can all thank for inventing the cell phone. |
The phone he's holding is the classic Motorola Dynatac 8000. (DynaTAC is an accronym for Dynamic Adaptive Total Area Coverage.) The phone became available commercially on March 6, 1983 and only cost $3,995! Because it weighed almost two pounds, the phone quickly got the nickname "the brick."
A younger generation knows the phone as the "Zack Morris phone." Zack Morris was a teenage character on a U.S. TV show called "Saved by the Bell." The character, played by actor Mark-Paul Gosselaar, was frequently seen with his mobile phone.  Gosselaa recently made a guest appearance on the Jimmy Fallon late-night show and recreated his character.  (The show Saved by the Bell has a cult following.)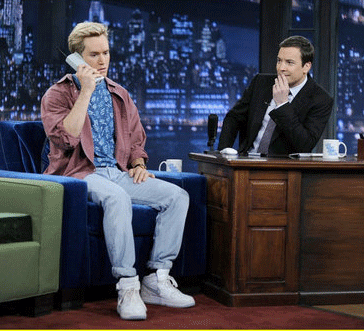 ---
April 21, 2008 5:22 PM
"15 years ago this month, Lou Gerstner arrived at IBM. When he got there, Gerstner found a company that literally didn't believe in its own future. The mainframe business — the core of IBM — was collapsing. Other business units were busy trying to turn themselves into stand-alone companies that could be spun off. The big blue ship was sinking, and everyone wanted off." 

Frank Hayes, Frankly Speaking: Microsoft's woes are like IBM's of old
Frank Hayes makes an interesting comparison between IBM in the early 80's and Microsoft today.
I remember the culture shock of those days. Signs appeared in offices: "The mainframe is dead." Project managers and programmers were frantic, pitching themselves to whoever held the purse strings. Life in Poughkeepsie, New York would never be the same.  Lifetime tenure at IBM was a thing of the past. People had to prove their worth each and every day. The shakeup was stressful, but it worked. It made the sleeping giant more agile.
Now who will do that for Microsoft?
---
April 21, 2008 1:18 PM
Jim Cicconi, AT&T's senior executive vice president-External and Legislative Affairs,  gave an interesting speech at the Westminster eForum on Web 2.0 last week.  First he got people's attention by saying that the Internet will reach full capacity by 2010 and we need to invest $130 billion to update the infrastructure.  Then he went on to say that private industry should be the fixer, not government.  I agree with him. 
"I think people agree why the Internet is successful. My personal view is that government has widely chosen to…keep a light touch and let innovators develop it. The reason I resist using the term 'Net neutrality' is that I don't think government intervention is the right way to do this kind of thing. I don't think government can anticipate these kinds of technical problems. Right now, I think Net neutrality is a solution in search of a problem."
---