---
July 1, 2008 11:09 AM
What started to get under my skin was the fact that I spent a lot of time writing XHTML, but serving it as text/html. Why? Because the servers to which I was publishing are configured similarly to 99% of the other servers powering the Internet.

Jonathan Christopher, Siding with HTML over XHTML, My Decision to Switch
June 30, 2008 8:12 PM
| | |
| --- | --- |
| | DIRECTIONS: These are real statements from real people discussing real technology in the blogosphere. I've removed one word from each quote. Can you still figure out what they're talking about? Click on the link to see if you're right! |
1. For most people, changing _________ is little bit of a pain in the ass.
What is Smackdown talking about?
2. According to a report released at Infosec 2008, nearly three quarters of businesses are blocking the use of free __________ applications.
What is Asavin Wattanajantra talking about?
3. One unfortunate habit Bill Gates has is constantly bringing his finger tips together high across his chest while speaking. This gesture makes him seem uncomfortable and is a reminiscent of The Simpson's __________.
What is Garr Reynolds talking about?
4. You have to hand it to the hit FOX reality series American Idol. It's putting _________ technology to maximum use, turning it into a giant cash machine.
What is Om Malik talking about?
5. __________ languages are like sewage plants: if the average user becomes aware of them, something has gone wrong.
What is Rupert Goodwins talking about?
6. Electronic theorists have been using the wrong pair of variables all these years–voltage and charge. The fundamental pair of variables is really __________ and charge.
What are they talking about?
7. I've seen videoconferencing vendors trying to upgrade their offerings with high-definition media and larger screens to compete with __________ technology. You can put wings on a pig and call it a bird, but it still won't fly.
What is Rupert Goodwins talking about?
8. It turns out the announcement isn't a new vaporware wireless technology, it's my favorite old vaporware wireless technology, __________.
What is Michael Mace talking about?
9. Facebook's real problem isn't privacy — it's __________.
What is Dave McClure talking about?
10. Years from now, we may come to realize that the defining characteristic of Web 2.0 wasn't gradients, bubbles and excessive use of JavaScript – it was a false belief in __________ content.
What is Ian Harris talking about?
---
June 30, 2008 12:17 PM
Which is correct?
Time Warner Cable, as well as Comcast, _____ experimenting with placing monthly limits on subscribers' online activity.
a. is
b. are
---
June 30, 2008 11:44 AM
In the early days of dial-up access, America Online and other providers offered tiered pricing, in part because audio and video were barely viable online. Consumers feared going over their allotted time and bristled at the idea that access to cyberspace was billed by the hour.

In 1996, when AOL started offering unlimited access plans, Internet use took off and the online world started moving to the center of people's daily lives.
Is Brian Stelter the only person who's writing about how we're going backwards with Internet metering? Everyone's acting like this is a new thing. It's an old thing, billed in a new way — gigabytes instead of minutes.
---
June 27, 2008 3:52 PM

Apparently there are still a lot of people who are trying to explain what Twitter is all about. WhatIs.com Associate Editor Alex Howard rounded up some of the A-list explanations, adding his own two cents to the conversation.
Here's mine.
What is Twitter? Twitter is the electronic equivalent of the white board you used to have on your dorm room door.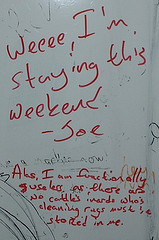 ---
June 26, 2008 8:05 PM
Nano enthusiasts see it as the next "platform technology" — one that will, like electricity or micro-computing, change the way we do almost everything.

Carole Bass, Nanotech: The Unknown Risks
Carole Bass provides a good overview of some of the dangers nanotech poses — she's not yelling fire, but she urges us to investigate any smoke.
---
June 26, 2008 5:53 PM
Dave: I always knew womens restrooms were nicer than what we guys got. Now I see they have server rooms in there too?!?!

Just Kelly: Damn! Our secret's out! Oh well. At least now you know why we all go in at once. LAN PARTY!!!
Alex Papadimoulis posted a good "sometimes life is stranger than fiction" story over at The Daily WTF.
It seems MacGyver got a job at Jen Frickell's company. The best comment of all was this one from a guy named Dave. His post? "Can that server room door be locked, or does any woman in the company have access to the servers?"
---
June 26, 2008 4:41 PM
"Still no moviemaker. I typed in movie. Nothing. I typed in movie maker. Nothing.

So I gave up and sent mail to Amir saying – where is this Moviemaker download? Does it exist?

So they told me that using the download page to download something was not something they anticipated."

Bill Gates, as quoted in Full text: An epic Bill Gates e-mail rant
I feel your pain, Bill. I wish I had seen this side of you earlier!
---
June 26, 2008 3:55 PM
Which one is correct? 
It's hard to believe that Bill Gates won't be working at Microsoft _____.
a. any more
b. anymore
---
June 26, 2008 3:11 PM
– Just wanted to share this one…I love it.
[kml_flashembed movie="http://www.youtube.com/v/L13N9gvu3Gs" width="425" height="350" wmode="transparent" /]
---