---
August 6, 2008 10:59 AM
Combining both the Service-oriented Vitality Index and the SoROI provides a much clearer picture of a company's SOA health.

The Service-oriented Vitality Index, or SoVI, is the ratio of revenue generated from a service (or services) over the last 12 months as compared with all other existing SOA revenue…

The SoROI is the cumulative before tax profits over "N" number of years from SOA-driven products divided by the cumulative product expenditures for that same period.

Jerry Smith, 10 Measures for Successful SOA Implementations
Jerry Smith does a nice job breaking down some of the issues involved in making a business case for SOA. How do you measure success? And how do you get everyone to agree on the metrics? Jerry suggests there are ten ways you can measure success. All of them make sense to me except for SoVI. I need to go read more about SoVI and SoROI. Are they legitimate metrics or are they just biz-tech voodoo?
August 5, 2008 11:56 AM
Just when everyone was expecting that all our software and services would move completely into the browser and off the desktop, a movement begins to bring services out of the browser and back onto the desktop.

Aseem Kishore, Web apps on your desktop
Pritesh Desai also does a really good job cutting through the clutter and explaining exactly what you're getting with Mozilla Prism.
Prism lets you create an web app for any web page by downloading a small extension called Prism. Then to make a web app simply go to that web page and then select Tools>Make a web app. Prism is more or less like creating a shortcut pointing to a url on Internet.
My first thought was "Who would want to use Prism?" Then it occurred to me that Prism would be very useful for low-tech desktop management. It would be a fairly easy way for network admins in elementary education, for instance, to provide access to particular web sites without giving students access to the entire Internet.
---
August 4, 2008 12:01 PM
Gzip is a method of compressing text that is sent from your server to the browser. In the same way that zipping a file reduces its download size, gzipping a webpage decreases the amount of data that has to be downloaded. A smaller download size means faster download speeds.

corbyboy, Optimise Your Pages for Faster Load Time
---
July 31, 2008 10:14 PM
The end result is that it is not a matter of if Knol will be spammed, but when it will happen and what form it will it take. Will it be SEO spammers using it to kick competitors out of the rankings? Will human plagiarists use the Adsense system to submit lifted content for the promise of high search results and ad revenue? Or will it be something else altogether?

Jonathan Bailey, Google Knol: The Future of Spam
---
July 31, 2008 6:30 PM
The search engine's launch was such a spectacular flameout that it may well go down as a verb. "What happened to that Eddie Murphy movie that was supposed to win him an Oscar?" "It came and went — it got totally Cuiled."

David Berkowitz, Do We Need Another…
There was tons of buzz this week — both in the media and in the office — about Cuil. The new search engine promised to index more sites than Google and it had some big industry names behind it. Everyone got all excited, hoping that Google finally had a real competitor. So what went wrong after the big reveal?
The engine works — it's just not Google. And remember, Google is the supreme ruler. We build out sites for Google. We live and die by changes in the Google algorithm. Competing with Google is serious business. Literally.
Here's how I knew that Cuil had disappointed and was already being dismissed. It hasn't even been a week and there are already Cuil jokes.
Think about it. Have you ever in your whole entire life heard a Google joke?
———————–
P.S.
David Berkowitz's quote made me laugh, but the thing I REALLY wondered when I heard about Cuil was this — what the heck were these brilliant people thinking when they named their engine Cuil?
NEW RULE: Never name your product something you need to tell people how to pronounce. For those of you new to the buzz-swarm, the word cuil is gaelic for knowledge and it's pronounced "cool."
---
July 31, 2008 10:10 AM
All development teams (read: more than one programmer) have to deal with integration builds. This is where you pull together all the bits and pieces that the different team members were working on, and check to see if you have a fully functioning product or a Frankenstein's monster.

Justin Gehtland, Continuous Integration with CruiseControl.NET and Draco.NET
Justin Gehtland is great teacher. (That's my highest compliment!)
---
July 30, 2008 12:09 PM
Jack Kelley designed the world's first mouse pad in 1969, when he worked at the Stanford Research Institute with Douglas Engelbart, inventor of the world's first computer mouse.

Kelley went on to work for Herman Miller Designs, where he and Robert Propst designed The Action Office System, the first flexible, modular office space.  We know Kelley and Propst's design as the office cubicle.
---
July 29, 2008 9:34 PM
| | |
| --- | --- |
| | Intel began to deemphasize the term UMPC in the Spring of 2008 and now prefers talking about "MID," the Mobile Internet Device. Most of Intel-based MIDs currently under development are merely a better realization of the original UMPC concept. |
MIDs aren't tied to a Microsoft OS, either.
---
---
July 28, 2008 1:55 PM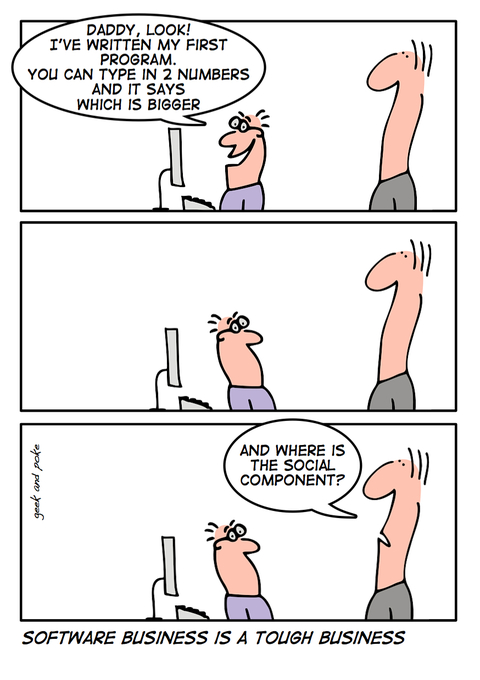 Thank you to Geek and Poke cartoons, Creative Commons License
---