---
September 6, 2018 4:31 PM
Hyper-converged software is a type of virtualization platform that turns a commodity server into a hyper-converged appliance that includes compute, storage and server virtualization in one box. Continued…
Quote of the Day
"Hyper-converged infrastructure software offers many of the same advantages of traditional hyper-converged systems, while greatly loosening the restrictions on hardware." – Brien Posey
Learning Center
Hyper-converged software: Eight things you need to know
Using hyper-converged software as the basis of a DIY HCI platform can bring great benefits to the right kind of IT operation. But before choosing to go down the self-built HCI path, you need to consider costs, support, and development and implementation times.
Hyper-converged infrastructure software aids IT flexibility
If you are worried about having to scale all components in your organization's HCI platform at the same time, hyper-converged infrastructure software might be the solution. Installing software on existing hardware can mean you can scale storage independent of compute.
Hypervisor software and your hyper-converged infrastructure
The hypervisor software in your organization's HCI system may not get as much attention as storage or compute, but it is just as important.
Seven hyper-converged software options for DIY HCI
Which hyper-converged software options are available to shops that already have hardware in place? Offerings from Atlantis, Maxta and VMware top the list.
HCI software platforms come with challenges, benefits
Fears of vendor lock-in prompt IT to evaluate HCI software-only options to offer greater flexibility, despite possible hardware compatibility concerns.
Trending Terms
server virtualization
storage provisioning
thin provisioning
hyper-converged appliance
data deduplication
replication
Quiz Yourself
_________ of the cost, we should seriously think about moving to a converged infrastructure.
A. Irregardless
B. Regardless
Answer
---
---
September 3, 2018 8:13 PM
A multi-cloud strategy is the use of two or more cloud computing services. Continued…
Quote of the Day
"Regardless of how many or which clouds you use in your multi-cloud strategy, one thing remains the same: It's all about protecting and managing data wherever it resides." – Dave Raffo
Learning Center
Who needs a multi-cloud environment and how best to deploy one
A multi-cloud environment isn't right for every business. But for those that need service reliability, data privacy and flexibility in the cloud services they use and cost-effective services, a multi-cloud approach might be the answer.
The best multi-cloud strategy is to just ignore the hype
A multi-cloud strategy is only useful if you have a clear understanding of what it means and the technical constraints to operate multiple IaaS clouds.
A multi-cloud strategy provides more options and headaches
Multi-cloud strategy has taken over the cloud conversation. It's no longer a matter of how to use the cloud, but rather how to play to the strengths of the various cloud service providers.
Don't let Kubernetes services stall a multi-cloud strategy
While managed Kubernetes services from AWS, Google and Microsoft have their perks, they aren't necessarily conducive to portability in a multi-cloud strategy. Certain third-party tools and deployment tips, however, offer a workaround.
Four situations where a multi-cloud strategy makes sense
A multi-cloud strategy is best for businesses needing to protect against data loss and ensure business continuity. It's also a good way to protect privacy, provide flexibility and optimize the whole cloud experience.
Trending Terms
IaaS
vendor lock-in
data sovereignty
availability zones
hybrid cloud
Quiz Yourself
Brokers must work closely with cloud providers, while also _________ their services to appeal to customers.
A. distinguishing
B. differentiating
Answer
---
August 30, 2018 8:09 PM
A low-code/no-code (LCNC) development platform is a visual integrated development environment (IDE) that allows citizen developers to drag-and-drop application components, connect them together and create a mobile or web app. Continued…
Quote of the Day
"A lot of low-code/no-code platforms allow you to get on and build an app but then if you want to take it further, you'll see users wanting to move to something else." – Ray Wang
Learning Center
No-code and low-code tools seek ways to stand out in a crowd
No-code and low-code platform providers differentiate their tools to woo users in a hot market. Companies such as Skuid have new templates or ready-made apps that users can customize, while Quick Base offers Kanban reports, and OutSystems plans to add AI to its tools.
Mitigate low-code/no-code platform security risks
Low-code/no-code platforms simplify app development, but also come with inherent security risks. Use these best practices to address these issues head-on.
Pros and cons of a low-code platform for mobile
A low-code platform is like a double-edged sword; it makes mobile app development easy — but it also makes development accessible to non-developers. Explore the advantages and challenges of this emerging development trend.
Low-code platform leaders for business users push usability, AI
A recent Forrester Research study spotlights Microsoft, AppSheet and Betty Blocks among a dozen low-code platform providers for business users who wish to create mobile applications without writing code. Low-code platforms have become popular tools to help companies overcome the developer talent gap.
No-code/low-code app development evolves from loathed to loved
Forward-thinking CIOs have turned a corner and come to use no-code/low-code app development tools for better business project success.
Trending Terms
citizen development
GUI
NoOps
build your own app
Scratch
mobile application development platform
Quiz Yourself
A citizen developer can help companies ________ to changing business needs by creating simple solutions with minimal involvement from IT.
A. adopt
B. adapt
Answer
---
August 29, 2018 7:45 PM
Qlik is a software vendor specializing in data visualization, executive dashboards and self-service business intelligence products. Continued…
Quote of the Day
"At a high level, data discovery tools help organizations glean insight and value from data. Through visualizations, analytics and other basic capabilities, these products ensure business intelligence initiative success." – Bob Violino
Learning Center
Predictive analytics in education can flag troubled students
Predictive analytics in education may help administrators of the sprawling Loudoun County, Va., school district identify at-risk students and help them faster.
Qlik Sense vs. QlikView: How the two Qlik tools compare
On the question of Qlik Sense vs. QlikView, the differences between the two popular data visualization products are mostly minor.
Choosing the right data discovery platform for the enterprise
Visualizations, IT management, data sources and compliance features are just some considerations for businesses in the market for data discovery tools. Ultimately, business goals determine the best data discovery platform, so it's vital that the features deliver.
Mike Capone, Qlik CEO, says roadmap targets cloud, big data
Mike Capone, Qlik CEO, says the company's software is strong, but it must evolve to keep pace with changes in cloud computing, big data and cognitive computing.
BI vendors aim to ease visual data analysis by business users
GoodData and Periscope Data are the latest BI software vendors to add visual data analysis capabilities that enable business users to explore data sets and create data visualizations on their own.
Trending Terms
data visualization
executive dashboard
self-service analytics
in-memory analytics
data governance
data silo
Quiz Yourself
To remain effective, analytical processes must ________ fine-tuned.
A. constantly stay
B. stay constantly
Answer
---
---
August 27, 2018 7:29 PM
The Apple Device Enrollment Program (DEP) is an online service that automates the enrollment and configuration of Apple OS X and iOS devices in an organization's mobile device management software. Continued…
Quote of the Day
"Apple's Device Enrollment Program (DEP) simplifies the process for IT to enroll a new Apple device through automation…Unlike Apple's previous device management tools, DEP prevents users from removing devices from the program." – Kristen Gloss
Learning Center
Explore new iOS security features
Organizations can expect new iOS security features from Apple with the release of iOS 12. Learn how to make devices more secure and find out what other features already help with device management.
How Apple DEP works and why it's important
Apple's Device Enrollment Program can help organizations provide simpler device management. Learn how the Apple DEP made waves in endpoint management strategy.
Explore new options for Apple enterprise device management
Apple enterprise device management has been notoriously challenging. Learn about a few updates from Apple that may make the process easier from an IT admin's perspective.
Apple Device Enrollment Program expands, but IT wants more
The Apple Device Enrollment Program will support devices not bought from Apple or channel partners, a huge help for schools, SMBs, nonprofits and others.
Explore options for automatic device enrollment
The number of mobile devices is increasing, but so are options for device enrollment. IT can simplify the process by using programs from major mobile providers, such as Apple's DEP and Samsung's KME.
Trending Terms
OS X
mobile device management
enterprise mobility management
BYOD
enterprise app store
iOS
Quiz Yourself
Your Apple ID is the user name you use to _____ to iCloud, iTunes and the app store.
a. log in
b. login
Answer
---
August 24, 2018 7:24 PM
The DRY (don't repeat yourself) principle is a best practice in software development that recommends software engineers do something once, and only once. Continued…
Quote of the Day
"Most often, technical debt occurs in iterative application development environments when speed of release is valued more than high quality." — Jan Stafford
Learning Center
Five ways to reduce technical debt, rework costs in Agile, DevOps
Need to lower the cost of software development? Here are 5 steps to reduce technical debt.
Chaos engineering unearths IT deployments' dark debt
Technical debt is what you fix in the future — it's measurable and visible. Dark debt is only expressed through failure.
Security debt: Why you should pay attention
What's the biggest risk companies face as they accumulate security debt?
A comprehensive beginner's guide to DevOps for developers
The thought of diving into DevOps can be intimidating, particularly for beginners. Cameron McKenzie offers first-time advice on DevOps for developers.
Technical debt is not scary if you invest it well
Is the prospect of acquiring technical debt disturbing? Technical debt doesn't have to be scary as long as you are smart in acquiring it.
Trending Terms
technical debt
refactoring
sunk cost effect
uncertainty principle
Open Group Architecture Framework
Geek and Poke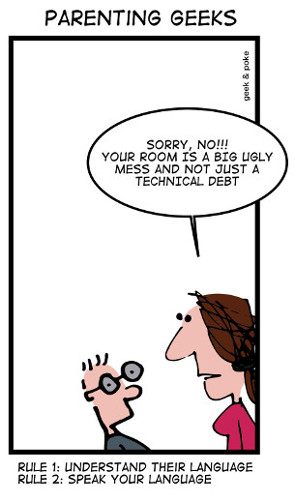 ---
August 23, 2018 5:18 PM
Exploratory testing is an approach to software assessment that integrates learning about the program that's being developed with plans for future testing. Continued…
Quote of the Day
"Exploratory testing takes application programmer roles into account, giving them the flexibility to test as they build." – Ryan Black
Learning Center
Learn the value of exploratory testing vs. scripted testing
In this episode of the Test and Release podcast, we dive into exploratory testing vs. scripted testing with Matt Heusser of Excelon Development. While each approach can be effective, these software testing methods can also supplement each other.
A QA team finds continuous testing benefits worth the effort
Find out which continuous testing benefits CloudBees utilizes internally to speed feedback and reduce defects in production. The process can benefit QA teams if they work effectively with the other parts of their organization.
An insider's guide to the AI and IoT testing process
The IoT testing process, including AI, is tricky, time-consuming and labor-intensive. QA testing company LogiGear shares lessons learned.
Why you should get on board with software testing trends
Not sure whether to dive into AI technologies or attend a DevOps conference? These software testing trends will improve near- and long-term skill sets.
Top continuous delivery benefits and how to get them
Continuous delivery benefits, such as small, fast releases and the ability to maneuver a quickly changing demand landscape, take the paradigm from a positive option to a business necessity.
Trending Terms
exploratory model
ad hoc testing
continuous software development
black box
end-to-end testing
model-based testing
Quiz Yourself
Treating testing as a ________ rather than something that should be done continuously throughout software development is a recipe for defective software.
A. phase
B. faze
Answer
---