---
July 20, 2008 12:39 PM
The storage admin now has a new use for the time freed up by fast-and-simple allocation: monitoring the use of the virtual provisioned devices and their supporting pools.

Barry Burke (The Storage Anarchist), 0.007: virtual provisioning catch-22
July 18, 2008 11:19 AM
The various iterations of the iPhone Configuration Utility could be successfully used in smaller, depot-style support environments, but the tools as currently structured lack the security and remote reach for large deployments to use effectively.

Andrew Garcia, Apple's iPhone Configuration Utility Disappoints
---
July 16, 2008 12:09 PM
The Silicon Alley Insider blog reported that Summize was acquired for an estimated $15 million in cash and Twitter stock. Are Twitter search ads next?

Mark Walsh, Twitter Buys Search Engine Summize
---
July 13, 2008 9:12 PM
Apple just launched K-12 on iTunes U (opens iTunes) that allows schools to use iTunes as a platform to distribute educational content.

Not quite sure why a school would find this easier than just posting the stuff on the web, but I do know Apple would love to get all those students spending even more time in iTunes.

Jon Robinson, Apple's iTunes U for K-12 Schools
I can't think of a single network administrator I know who would recommend putting iTunes on school computers.
---
July 13, 2008 8:07 PM
Removable flash applications, such as cards for cell phones, drive the bulk of today's NAND market.

NAND growth through 2012 will be driven by the computing segment, such as hybrid drives, and solid-state drives going into notebooks, UMPCs, servers, mobile and enterprise storage and data centers.
I had to look up the acronym UMPC. It stands for ultra-mobile personal computer.
---
July 13, 2008 6:59 PM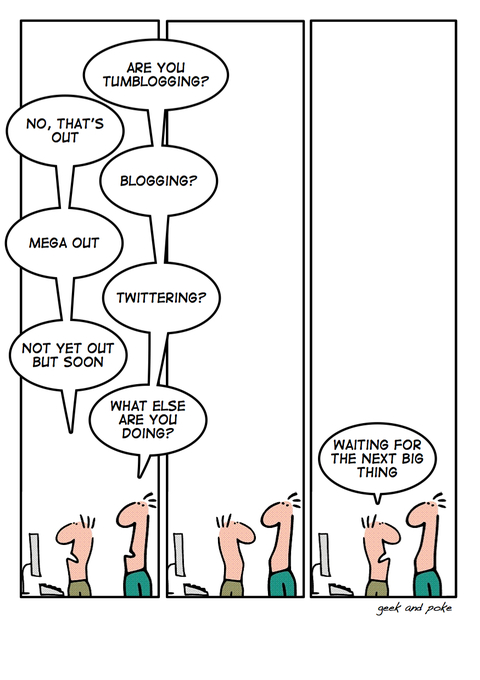 Reprint from Geek and Poke. Creative Commons License.
---
July 13, 2008 1:11 PM
If your business has any kind of web presence, this could be a great tool for you. Why? Your customers don't even need to launch a browser to find you. Your application, branded with your logo, could be sitting right on their desktop.

Kyle Claypool, Tech Tools: AdobeAIR Apps
I'm not so sure about Adobe AIR apps. I can clutter up my desktop quite nicely by myself. I've already ditched my gadgets and widgets. The AIR apps look pretty but I still think I'd rather go to a web page and keep my desktop for my own clutter. I must say, though, that Kyle's examples almost have me convinced to give it a try.
---
July 11, 2008 9:28 AM
Companies like Intel have a roadmap to reduce the size of circuits on the silicon wafer, down to about 10 nanometres – 10,000 times smaller than the width of a single human hair.

Darren Waters, Nano switch hints at future chips
The transistor, essentially an on/off switch, has been made using graphene, a two-dimensional material first discovered only four years ago.

Graphene is a single layer of graphite, which is found in the humble pencil.
---
---
---