---
July 28, 2008 10:56 AM
Many developers are sloppy about commenting their changes, and some may feel that commit messages are not needed. Either they consider the changes trivial, or they argue that you can just inspect the revision history to see what was changed. However, the revision history only shows what was actually changed, not what the programmer intended to do, or why the change was made.

Anders Sandvig, Best Practices for Version Control
July 27, 2008 1:55 PM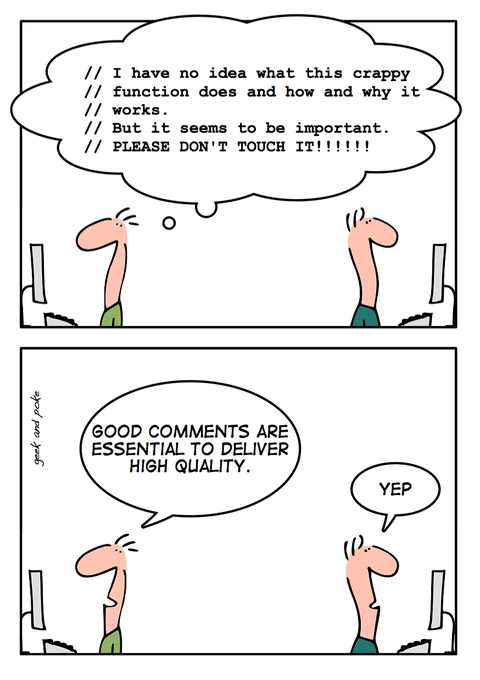 Thank you to Geek and Poke cartoons, Creative Commons License
---
July 26, 2008 12:16 PM
There's going to be an i-9/11 event, an event that demonstrates the instability of the Internet, and that inspires the government to a response.

 Lawrence Lessig, as quoted in Futurists: Feds to squash online freedom
---
July 25, 2008 2:19 PM
I came to work one day at MIT and the computer had been stolen, so I called DEC to break the news to them that this $30,000 computer that they'd lent me was gone. They thought this was the greatest thing that ever happened, because it turns out that I had in my possession the first computer small enough to be stolen!

Robert Metcalfe on the trials and tribulations of inventing Ethernet
Sometimes I forget how young the Internet is.  Here's an interesting video of Robert Metcalfe talking about "what's next."
[kml_flashembed movie="http://youtube.com/v/QZYyOtzbIHQ" width="425" height="350" wmode="transparent" /]
---
July 25, 2008 12:34 PM
Birthplace of Silicon Valley

This garage is the birthplace of the world's first high-technology region, "Silicon Valley."  The idea originated with Dr. Frederick Terman, a Stanford University professor who encouraged his students to start up their own electronics companies in the area instead of joining established firms in the East. The first two students to follow his advice were William R. Hewlett and David Packard, who in 1938 began developing their first product, an audio oscillator, in this garage.

California registered historical landmark no. 976
---
July 24, 2008 10:38 PM
Esquire magazine is putting a scrolling electronic paper display cover on 200,000 magazines this September. Some have called it a publicity stunt, but I think that's short-sighted. The real 'ooo and ahhh' is the effort that went into bringing the technology to the newstand. It's a baby step, but we're moving in the right direction. Remember when National Geographic put a holograph of an eagle on their cover? We didn't really think that all magazine covers would become holograms, did we? No. We just applauded the technology behind it. And rightly so. Just take a look at your Visa card — and then sit back and wait to see all the ways we figure out how to use electronic paper display technology.
---
July 24, 2008 6:22 PM
In a move apparently designed to reduce poor alignment and create strategic opportunity, Bausch & Lomb, the eye care company, has merged its customer service and information technology functions together under CIO Alan Farnsworth.

Michael Krigsman, Bausch & Lomb reduces IT boundaries
(Alan Farnsworth pictured left)
It's heeeerrrre.
Is this the first harbinger of what the future holds for CIOs around the world? Was Nicholas Carr right after all? Has IT become so integrated into business that the CIO not only doesn't have to have a technical background — he also has to have a second job within the company?
---
July 24, 2008 2:06 PM
If there's one thing you do not want to be on fire, it's your DNS server. Nothing makes a network go wobbly faster.

Dan Kaminsky, Here Comes The Cavalry
Recently, a significant threat to DNS, the system that translates names you can remember (such as www.doxpara.com) to numbers the Internet can route (66.240.226.139) was discovered, that would allow malicious people to impersonate almost any website on the Internet. Software companies across the industry have quietly collaborated to simultaneously release fixes for all affected name servers.
Dan has posted a very handy DNS Test Widget on his site that allows you to find out if the DNS server you use is vulnerable. On a totally unrelated note, I wonder what made him pick this photo for his blog?
---
July 23, 2008 11:13 PM
A new Harris Interactive study suggests 25 percent of users with mobile Internet access now use their devices to buy goods and services online with a credit card, and nearly one in five saying they would like to someday use cell phones as a "mobile wallet," where charges would be billed directly to their mobile accounts.

Gary Kim, Growing Interest in Mobile Transactions
Another recent study found that world-wide, Australians were the most suspicious of mobile transactions.  One Australian mobile provider even has five-factor authentication. 
Besides requiring the right internet log-in password, the user must also have a mobile phone which is registered with Qpay's system. Next is voice bio-metrics, which only recognizes the authorized user's voice. Additionally, automated random questions on personal details are posed to the user and would vary each time. Finally, the user must say a random word correctly.
---
July 23, 2008 7:28 PM
Security people are often the black-and-white kind of people that I can't
stand. I think the OpenBSD crowd is a bunch of masturbating monkeys, in
that they make such a big deal about concentrating on security to the
point where they pretty much admit that nothing else matters to them.

Linus Torvalds, in an email to the Linux kernel developer mailing list
The man has a way with words. Here's his explanation.
---