Nov 13 2007 3:15PM GMT

Profile: Margaret Rouse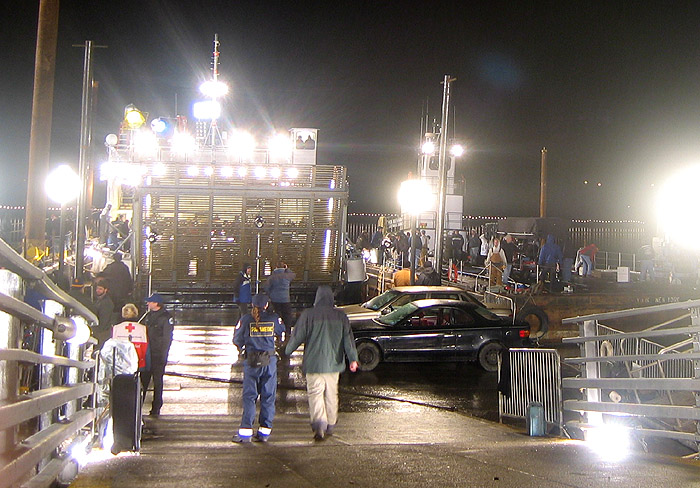 Flashback: December 12, 2004
"War of the Worlds is in it's second day of shooting in Athens NY. It snowed there last night but filming proceeded. The set was under lockdown in the tiny village."  (Garth Franklin, War of the Worlds Set Reports)
About this time three years ago, we were all excited about being picked to be in a little Steven Spielberg movie called War of the Worlds. The entire village of Athens, New York (town where I live) was transformed to a bustling Hollywood set for about two weeks as crews built a ferry slip, put in fake railroad tracks and brought in lights and generators.
To give you an idea of the scale of this transformation, Athens doesn't have a single traffic light. In fact you have to drive twenty minutes in either direction to find a traffic light.
The scene they were shooting was the fire train / ferry scene. For five nights from 5pm to 5am we ran down the street towards the ferry, stopped as an imaginary train wizzed by, expressed horror and screamed at the imaginary tripod that rose out of the imaginary mountain behind us.  We were pushed and shoved before being killed by an imaginary tripod as it rose out of the Hudson river and tipped over the ferry. It rained and snowed the entire five nights. I can't say it was fun.
When I finally saw the movie I was disappointed, but the first half of the movie — right up through the ferry scene —  was truly Speilberg-worthy. The lightening strikes and the fog horn sound of the tripod as it rose out of the street was scary stuff. In true science-fiction style, the tripods used a  known technology — high-power electromagnetic system (HPEMS) — to damage electrical devices and stop traffic.
The reason I'm taking this stroll down memory lane today is that Eureka Aarospace plans to offer police the ability to use HPEMS to disable or damage a criminal's vehicle. The sticking point? Narrowing the beam so that only the vehicle in question is disabled.
Sometimes truth is stranger than fiction.