---
November 14, 2012 10:13 AM
Xerox
As exclusively revealed on this blog last month Xerox is cutting its workforce.
A US website has reported that Xerox officials have confoirmed there will be about 2,500, cuts but does nt reveal any of the finer details apart from that the services arm will take the biggest hit.
This blog has already revealed a bit more. Computer Weekly understands the European services arm of Xerox is letting sales and pre sales teams go as well as the leadership in a bid to save $18m to contribute to an overall Xerox target of reducing costs by hundreds of millions of dollars.
A source that knows the situation said that Xerox is not going for growth in its European services business but wants to protect the business it already has.
Xerox's European services business includes IT outsourcing, financial services BPO and HR outsourcing.
November 13, 2012 12:17 PM
Cabinet office
,
cornwallcouncil
,
Universal Credit
Often when suppliers are called into the Cabinet Office it means bad news.
According to this article, Paul Pindar who is CEO of back office service provider Capita, had a nice experience when he last visited.
According to Reuters, this is what he had to say after meeting with the Cabinet Office. "One of the clear themes that came through was that we're now in the second half of the football match and the activity needs to kick off again."
Could the second half see the introduction of the new Indian winger? You know the one. Young, fast and still on a low salary.
Pindar said that the MoJ, MoD and local authorities are showing signs of being the best opportunities.
I am curious about what the government will outsource next in terms of IT? The Universal Credit looks like it might be turning into a bit of a disaster and there is controversy at local authorities that are planning to outsource, such as Cornwall council.
Should local government outsource services to private companies?
---
November 13, 2012 11:50 AM
Uncategorized
I recently wrote a feature about how BPO was changing and one of the factors that is making BPO more valuable is the ability to mine and analyses the massive volumes of data collected.
Businesses armed with this data translated into business metrics can use it strategically.
Accenture sent me some detail about this. The service giant said BPO providers and their clients are sitting on goldmines of data.
Accenture said the ability to tap into and analyse data about the functions and processes being outsourced can more predictably drive valuable business outcomes. According to its research, 42% of those found to be high performers – that get full business value from their BPO relationships –said analytics provided by the service provider is an important component of the BPO relationship, compared to just 28% of typical performers.

What value can analytics provide?
Accenture says,
"Applying analytics capabilities to large volumes of data can provide a single source for consistent, high-quality data about the performance of a process or function. This becomes a base layer of transactional data and information that organisations can work with faster and more efficiently – using analytics to deliver improvements in everything from finance to customer service to manufacturing.

"By analysing the performance of a process end to end, an outsourcing provider can discover where inefficiencies and risks lie and then work to drive time and waste out of the process and standardise wherever possible. Embedding analytics within the processes themselves can help make it easier to look beyond the immediate task or decision to understand the big picture.

"Analytics can generate additional insights by tracking data across different parts of the organisation. The integration of data sets from separate functions can optimise results or help balance apparently competing or contradictory objectives.

"BPO analytics can also offer distinctive value in helping companies mine and manage data – from the front office, the back office, or both–to generate innovations within a given industry or client relationship, or to improve time to market as a means for increasing revenue."
---
November 13, 2012 11:27 AM
India
,
Infosys
Nasscom, the association represents India's IT services industry, has had to reign in its software and services sales growth expectations this year as a result of European and US customers holding back spending.
The fact that companies offering low cost services are reducing their expectations in the current economic climate is a reflection about how bad things are.
Nasscom had previously predicted growth in software and services exports of between 11% and 14%. It now expect it to be around 11%. "For 2013, a year marked by significantly varied trends, the industry is expected to meet the lower-end of its growth guidance and at least achieve a double-digit growth," said Nasscom. Software and services revenues increases 14.9% in 2012 compared to 2011.
The big Indian suppliers, known as the SWITCH group (Satyam, Wipro, Infosys, TCS, Cognizant and HCL) will have to make do with barely growing by a double digit. With major cost cutting exercises in businesses and the public sector the low cost offerings from these suppliers is attractive, but things are so bad even the Indian suppliers are downgrading expectations.
I have recently interviewed some of the big Indian forms. They are certainly confident and are investing in broadening their offerings.
See this interview with Infosys last week.
Will the Indian suppliers emerge stronger than ever when the slowdown finally ends?
---
November 12, 2012 3:32 PM
Uncategorized
Professor Ilan Oshri at Loughborough School of Business has contributed this article to the blog. He recently set up the Centre for Global Sourcing and Services' (CGSS) at the university to do independent research on the trends and practices in global sourcing of IT and business services and to improve sourcing practices.
Here he gives his views on some of the choices facing businesses when outsourcing.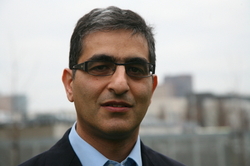 On-Shore, Nearshore or Offshore – Are You Sure?
By professor Ilan Oshri at Loughborough School of Business
"In 2011 the market for information technology (IT) outsourcing worldwide was reported to be $270 billion and for business process outsourcing (BPO), $165 billion. Recent estimates predict that between 2012 and 2014, ITO growth will be 5 to 8 per cent per annum and BPO growth 8 to 12 per cent per annum, with the BPO market size worldwide overtaking the ITO market.
Based on my research from 2011, over 50% of Fortune 250 global firms have offshored work by setting up their own subsidiaries to provide IT and business services from remote locations. And latest KPMG study indicated that since late 2011 investments in shared services have exceeded those made toward 3rd party outsourcing. No doubt that we are witnessing one of the most significant transformations in business in modern times: the disaggregation of the firm's value chain in particular in the area of information technology and business processes. What does this mean for many organisations?
Put simply (or maybe not): organisations can either outsource to a local vendor (domestic outsourcing), or to a near-shore vendor or perhaps to an offshore vendor. But firms can also set-up their own captive centres in a near-shore or an offshore location. And firms can also establish their captives as shared services by consolidating several functions into one centre. Confused? So are the many firms that are considering to embark on outsourcing or offshoring. Their favourite question has been: where and how I start my global sourcing journey?
Our extensive research into outsourcing and offshoring has attempted to offer some direction. As in any journey the very basic questions are probably the most important ones. Our most favourable question to client firms has always been: why would you like to outsource or offshore and what are you trying to achieve? Quite a few of the firms we have held conversations with about outsourcing have decided to outsource simply because other firms in their industry were doing so. Their strategy was 'if others are cutting costs through outsourcing, we should do so also'. Unfortunately, there are quite a few horror stories about outsourcing projects that have proven us that such a strategy is faulty.
Success in outsourcing is often the result of good preparation on both sides: the client firm and the vendor. Client firms should prepare their IT or business processes for outsourcing by clearly defining their expectations from such partnership while vendors should investigate and realize the client's level of readiness for outsourcing. Short cuts or over-confidence that things will be OK are just recipe for disaster. BskyB and EDS learned the hard way what they should not do in their outsourcing engagements!
The subsequent question is about the client firm's ability to manage vendors. While the potential cost saving is attractive and the promises to benefit from significant innovation made vendors often seem as an offer 'one cannot refuse', in reality much of the client's ability to appropriate value from its vendors depends on the strength of its own sourcing management capabilities. Clients with a thin ability to manage vendors might find themselves struggling to work with a single vendor, let alone trying to follow the current trend in which quite a few client firms put together a team of vendors with the hope to benefit from on-going competition between the vendors. Assuming that the client is capable of managing more than one vendor, the third question that pops to mind is: offshore, near-shore or onshore?
In the current economic climate it would be politically correct to pursue an onshore setting. By contracting with an onshore service provider, client firms keep and sometimes even create jobs in the UK. Such an arrangement might not offer the scale that many vendors developed offshore or even near-shore, allowing them to offer bigger cost savings to their clients. Also, by relying on onshore vendors, client firms might restrict their ability to access talent they are after. And with governments tightening their immigration law, vendors might be struggling to develop a viable business case for operations onshore.
So if not onshore, perhaps near-shore? Contracting with a near-shore vendor is an appealing proposition. Just imagine that your vendor is only an hour flight away, one hour time difference and some of its employees can even relate to your culture (say discuss last night's football match). Cost savings should be more significant than onshore and access to talent that can carry out various IT and business process activities such as programming and call centre operators, is relatively good; however, not as significant as they can be offshore. Also, access to talent is limited in scale in particular in the area of engineering. So what would you do if you have decided to outsource IT maintenance and software development? Consider Poland as a near-shore location for your IT operations or take the rather well travelled road to India?
If indeed offshoring is the more appealing value proposition for your business, our next question is: are you ready for the ride? Don't get us wrong. Many firms have successfully offshored to India and other Asian, African or South American countries. But embarking on such a journey requires you to realize the challenges you will facing and devise a plan to mitigate them, in most cases in a contingent manner. Some of the challenges are because of cultural differences while others are more operational. But all of them require attention as distance, time zone and culture differences will be posing significant challenges to you. If you find it hard to believe, ask Toad Anderson from the movie 'Outsourced'.
---
November 12, 2012 1:31 PM
Uncategorized
The UK will stop donating money to India in 2015. It is hard to believe that the UK still gives India about £200m a year when the country has a space programme.
But when it comes to being charitable to India many believe the UK government's immigration policy, which allows Indian IT firms to undercut UK workers, is more than enough.
India has a massive IT services industry and UK businesses are big customers.
Because these companies can use staff in India on lower salaries as their UK equivalents, it is difficult for UK IT workers to compete. Intra Company Transfers (ICTs) are workers that are brought to the UK from overseas to work on projects. They do not require a visa because the employer has a UK office.
There are rules on how much ICTs should be paid but the figures are set far too low. For example according to government figures an IT director can earn as little as £25,000. See this blog for more information. The accusation is that because of the ICT loophole UK IT workers are losing their jobs. As a result less tax is being paid and the UK is losing its IT skills pipeline.
And as the public sector looks to operate on a much lower budget the prospect of outsourcing en masse to offshore suppliers becomes ever more possible.
See this for details of the number of ICTs brought to the UK every year between 1997 and 2008. It shows the numbers by occupation and it clearly shows how IT workers, for which there are a few groups, are by far and away the biggest ICT users. The figures also reveal that India accounted for a massive chunk of ICTs in the period. See table below.
Work permits granted between 1997 and 2008 for certain IT roles.
Other IT occupation – 104,070
Computer engineer – 3,720
Computer programmer – 8,610
Software engineer – 62,165
System analyst – 26,800
Total 1,568,235
Of this over 300,000 were Intra Company Transfers and half were IT workers.
Intra Company Transfers in the UK between 1997 and 2008 by nationality
India -166,410
USA – 61,845
Japan – 20,625
Australia -12,570
Also see this link for lots of b log posts on the subject.
What do you think?
Should the UK government to more to protect IT professionals from low cost offshore labour?
---
November 12, 2012 11:21 AM
Uncategorized
I was sent some research about how IT departments within charities are focusing more on strategy and as a result are struggling to do their day to day role due to a shortage in resources.
The research from MSM Software of 100 IT managers, at charities, found that 92% believe the It department's role has changed to become more strategic over the last 12 months.
It also found that cash strapped charities have had to let people in the IT departments go. These have been non-strategic role which has left charities with a gaping hole.
So it seems charities and IT service providers are a match made in heaven.
I wonder if suppliers approach there charity customers in a different way to how they work with the private sector?
I know the big service providers walk on eggshells around public sector customers, although they still seem, in many cases, to make a mess of it. Whenever a story is published about money wasted by the government on IT there is a public backlash. People believe that suppliers are cashing in on government and wasting tax payers money.
I imagine suppliers have to be on their game when it comes to charities. If they mess up there the publicity would not be good.
---
November 9, 2012 3:05 PM
Uncategorized
IT suppliers are attempting to create heterogeneous stacks of services including BPO, applications and infrastructure as the cloud increases demand for joined up services.
I had a quick chat with Jean Louis Bravard today. He is a director at sourcing consultancy Burnt-Oak Partners. He was telling me that is what the suppliers are struggling to build and he said they are trying to be very nice to third party advisers because they want their stacks promoted.
The bad news for most suppliers Bravard does not think they are able to offer heterogeneous stacks. Not yet anyway.
He is pretty close to both suppliers and business so understands both sides. Before Burnt-Oak Partners he was global head of Financial Services at EDS. He also had a long career in financial services, including being CIO at JP Morgan in the early 1990s.
He gave examples of where some suppliers have to up their game. He said TCS for example needs to improve its BPO offering and Wipro its infrastructure services.
There is also an accelerating move into consultancy services from the major IT companies.
If you see what the likes of Infosys are doing it is clear that the big suppliers want to broaden what they offer existing customers and win new ones through investing in different specialities. See this interview with Infosys's global head of financial services.
He talks about Infosys boosting its platform as a service offerings as well as mobile. He also said the company is increasing its consultancy business. Fellow Indian suppliers Wipro and Cognizant are also investing in their consultancy arms.
With multi-sourcing almost a default strategy these days is this risky? Is it better to a Jack of all trades or a master of one?
What do you prefer?
---
November 9, 2012 12:17 PM
Diageo
,
Infosys
,
Lodestone
,
Outsourcing
BG Srinivas, global head of financial services at infosys, is an old friend of this blog. He has contributed with articles in the past and has provided feedback on the IT services sector trends.
The reason I call him an 'IT services rock star' is because he has had his career developed by Infosys' leadership institute. I recently interviewed its head Matt Barney who told me how they develop the "rock stars" of the IT services industry.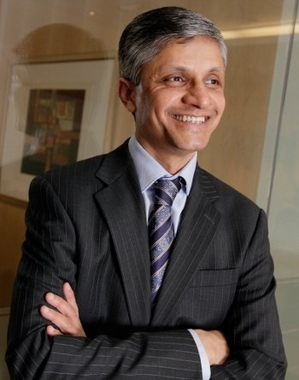 BG is one of them. He is currently global head of financial services at Infosys and also heads up Europe.
I caught up with him today to get his views of the current IT outsourcing sector and what Infosys is doing.
BG said the recession has driven customers to look for more flexible ways of paying for services. As a result there is interest from customers in Infosys platforms as service.
Infosys has a range of Edge products. These are platforms, delivered via a private cloud. They are desinged as a a service for a particular part of a business
For example they have an HR platform known as TalentEdge, Procurement Edge and a marketing system called BrandEdge.
Infosys will take the underlying technology being used by the customer and put its own intellectual property on top. Large customers include Pharmaceutical giant GlaxoSmithKline and beverages firm Diageo.
He said the consultancy layer of Infosys' business can sell these platforms. He talked about Infosys's acquisition of management consultancy Lodestone which gives it which will complement its SAP business.
He said Infosys can now offer its services to Lodestone's large SAP user customer base and try and sell Lodestone services into the Infosys customer base.
"The acquisition doubled our capability in management consultancy and we now have 30,000 people working in system integration and consultancy."
BG said that another IT trend Infosys is seeing from customers is enterprise mobility. Clients want to communicate with customers better through mobile devices, said BG and businesses want their workers to be more mobile. Infosys is developing applications for this.
Another area of focus is analytics. Customers want to use the masses of data they have. Infosys is using third party software to do the number crunching but has its own tools to help its customers interpret data.
Consulting accounts for about 30% of infosys's business globally and BG says the company wants this to be between 35% and 40%.
See BG's: Five predictions for outsourcing in 2012.
---
November 9, 2012 10:51 AM
Capgemini
,
consultant
In its results yesterday Capgemini announced that it is cutting its consulting rates by 2.2% and local processional services rates by 0.5%.
Is this a dangerous thing to do? Is it just a reaction to increased competition or an attempt to squeeze more revenues out of customer?
Robert Morgan, director at sourcing consultancy Burnt-Oak Partners says reducing consultancy prices could cause problems for Capgemini. "It is always a slippery slope and the prices can never be changed back. Also existing clients will return to try and negotiate a better price."
Capgemini took over Ernst & Young Consulting in 2000 to give it consulting expertise. Many other IT companies are doing the same thing.
For example in 1995 EDS acquired A.T. Kearny and IBM bought PwC Consulting in 2002. Atos and CSC are others that have acquired consultancies.
Then you have suppliers that are doing it themselves. Cognizant for example wants its business consultancy operation in Europe to emulate the growth rates of its IT services business. See this article I wrote about it.
An example of Cognizant's approach to consulting is a project known as The Future of Work, which is advising businesses on transforming their operations to meet new demands and harness social and technological changes. These include the fact that over a third of staff and customers of many businesses today are "Millennials" – people born in the 1980s. Other factors are globalisation, virtualisation, the cloud and social media.
In 2010 Wipro told me in May last year that it was investing in resources to help customers transform their businesses and that it was targeting senior staff at the big consultancies.
I met up with BG Srinivas of Infosys yesterday. He is global head of financial services and head up Europe at the Indian service provider. He told me one of the areas the company is trying to grow is in consultancy. "We can sell consultancy into our existing customers." The company bought a management consultancy recently, known as Lodestone, that specialises in SAP.
Robert Morgan said buying consultancies is really dangerous for IT companies unless they are culturally matched. He believes it is better to grow the businesses organically.
Mark Lewis, who heads up the outsourcing practice at law firm Berwin Leighton Painsner says IT outsourcers and consultancies are difficult to integrate. "There is incompatible DNA if you look at the acquisitions by outsourcing companies of the Big Four consultancies, e.g. Capgemini/EY Consulting, IBM/PwC and what happened to the consulting businesses afterwards."
Tell me what you think?
---