---
February 20, 2013 2:14 PM
Uncategorized
The organisation that represents Indian IT services firms Nasscom is predicting a recovery in demand for IT services exports.
Nasscom expects a recovery in sales growth with an increase by as much as 14% in the next 12 months. This represents a recovery after exports only grew about 10% last year compared with over 16% the previous 12 months.
Most of Nasscom members' exports are to the US and Europe.
But does this mean that European and US businesses are spending again or just that they are spending more with offshore suppliers to cut their costs?
The Nasscom report claims this is the result of growth in overall global spending driven by the adoption of disruptive technologies such as cloud computing, consumerisation of IT, mobile and big data.
What are your thoughts on the demand for IT services over the next year?
February 19, 2013 11:10 AM
Uncategorized
According to a global security study carried out by Trustwave 63% of data beaches are linked to outsourced IT system support.
The report says that outsourcing in itself is not necessarily risky but that bad decisions are being made. Part of the problem, according to Trustwave is that service providers do not necessarily view security as being as important as their customers.
"The third-party evaluation process tends to be focused on costs and service level agreements, without security being a real consideration," said John Yeo, Trustwave's European director.
John Worthy, technology partner at law firm Field Fisher Waterhouse, says when outsourcing IT CIOs should ensure security is bound into the contract, that the contract can be adjusted to reflect new developments in technology, and that security can be regularly monitored.
Read more about the Trustwave research: Bad outsourcing decisions cause 63% of data breaches
Let me know your views on outsourcing and security. Remember when you outsource you are not necessarily outsourcing risk.
---
February 19, 2013 9:22 AM
Uncategorized
David Cameron is over in India with cap in hand as part of a taskforce to strengthen ties between the UK and Indian economies. With the huge growth being experienced in India it is wise to be friends. It won't be long before the UK is getting aid from India at this rate.
There is an interesting development in regard to cyber-security. The UK and India are going to work together on shoring up India's cyber defences in the light of potential threat from China. There is a benefit for UK government offshoring because the government will be happy to send data to be processed in India as part of its offshoring of services.
According to a Guardian article: "Britain also hopes to benefit from the initiative by ensuring that vital data belonging to millions of Britons stored in India will be adequately protected."
Another development saw the UK introduce a fast-track visa, which allows senior executives at large Indian firms to get a visa to visit the UK in one day. This will encourage potential investment.
---
February 18, 2013 2:29 PM
Uncategorized
I have written quite a few articles about business automation software in the past.
It seems that Intellect is now promoting the technology and embarking on a drive to help UK businesses understand the benefits.
Business process automation is all about the use of software robots to reduce the cost in time and money carrying out common business processes. Manual triggers are being replaced by software which integrates disparate systems to enable an end to end business process. Costs are saved by the reduced need for people.
This is being spoken of as a replacement for bodies offshore. For example UK mobile operator 02 took up automation software and as a result greatly reduced its reliance on offshore workers.  Better news for UK workers is that by automating work you actually create UK jobs.
IT suppliers organisation Intellect is, through a campaign, trying to increase understanding of automation amongst UK businesses. It says automation is greatly under-utilised in the UK.
Intellect says that if a company that offshores back office processes automates them with software it will not only require fewer offshore workers but will also need more UK staff to manage the robots. For example 02 is cited as reducing its offshore headcount by 50 through automation software while at the same time creating 15 UK jobs.
There are broadly two kinds of automation software I write about. These are back office automation as mentioned above and then there is IT automation. Because IT infrastructures are largely the same at all businesses regardless of industry, there is great potential for using standardised tools to automate IT tasks. This will enable IT workers to focus on transformational jobs.
I spoke to the UK head at IT automation software maker IPSoft and he reckons offshore IT suppliers will be doomed unless they harness automation software and change their business modes.
What do you think about automation software?
---
February 13, 2013 1:05 PM
Uncategorized
As I have written quite a few blogs about nearshoring IT to Eastern and Central Europe I thought this contribution from a nearshore firm would be interesting to share. It is a mini-report on nearshoring to Central and Easter Europe.
It is good to get the views of somebody working in the industry in the region being reported on.
Close Enough, But Far Enough
The Central and Eastern Europe's IT Outsourcing Market
By Chris Piskorski at Poland based IT services firm PGS Software
"A tale of the 21st century hero, who had outsourced his own job to China, while keeping most of his salary, has recently put outsourcing in the spotlight. While companies have been transferring their jobs abroad ever since ancient Romans decided it was better to do most of their agriculture in regions where labor was cheaper (like Egypt), this case marks a brave new chapter in the history of outsourcing.
Why am I mentioning it? Probably because it shows us that outsourcing landscape changes rapidly.

One of those changes is the growing importance of outsourcing to Central and Eastern Europe (CEE). Just one country of this region – Poland – saw its technology outsourcing business grow by 20% annually since 2008.
There are many reasons for this. The costs of outsourcing to traditional locations, such as China and India, exploded in recent years. To give you just one example: according to this article, in 2005 companies from US could save close to 50% manufacturing their wares in China, including taxes and transport costs. Due to rising salaries and appreciation of Yuan, in 2012 they could only save 18%, and many chose to move production back to their own country. And by 2015 manufacturing in China will be just 9% cheaper than stateside!
Remember – we're talking about unskilled and semi-skilled labor. The price of Chinese IT outsourcing grows even faster, and is starting to match the costs of many CEE countries.
With smaller price differences, all the other small benefits start to work in favor of CEE. Central European countries are technologically-minded, with strong average English skills. They share a similar work culture to people from US and Western Europe. They're just about far enough to get your outsourcing a bit cheaper and just about close enough to save you from 3AM business calls. They're easy to get along with, and that's much more important, than it sounds, as many offshored projects fail due to simple communication issues or cultural misunderstandings.
There are many other smaller conveniences related to outsourcing in CEE. You can save quite a bit on business flights. Legal and financial issues are much simpler, as many of those countries are EU members. CEE also has multiple cities with higher education facilities and good infrastructure, where real estate is affordable.
The European supply and demand gap
Still, the data that paints the brightest future for Eastern European IT outsourcing market is the raw comparison of supply and demand.
Even though employment in IT sectors of western EU rose from 2.25 million in 1995, to almost 5 million today, it's still growing and creating demand that can't be met by local workforce supply. A study founded by the European Commission of Enterprise and Industry paints a picture of upcoming deficiencies of IT workforce in old EU countries.

As seen in this comparison, by 2015 top six job markets of EU alone will need 250 000 extra employees with IT skills. This does not account for the needs of all the smaller markets or companies from US and other regions of the world.
Where will they find a quarter of millions of skilled workers? Mostly in Central and Eastern Europe. The data from 2012 shows that companies from Germany, UK, Austria, Norway, Sweden and Netherlands most frequently opted to move their services to nearshore locations, rather than somewhere offshore.
What's also interesting, is the resurgence of the so-called backsourcing. A rising number of EU companies that have outsourced their processes offshore, choose to return to nearshore markets, pumping up the Eastern outsourcing sector even further.
Education
One important reason of this outsourcing push is a huge, untapped reserve of well-educated, affordable workforce in CEE countries.
While Communist governments left the Eastern bloc in political and economic disarray that lasted all through the 90's, and is sometimes felt to this day, they also created a legacy of well-developed technological universities that were quick to embrace the system change. When faced with hardships of their job markets, young people in CEE countries chose to pursue further education more often than their peers in Western countries.
Pearson plc, an education company that compares the Global Index of Cognitive Skills and Educational Attainment in 39 developed nations, confirms strong educational position of the CEE region. Many CEE countries show better student test scores and graduation rates than their richer Western partners.

Most notably:
• Poland ranks 14 (ahead of Germany and United States)
• Slovakia ranks 19 (ahead of Sweden)
• Czech Republic ranks 22 (ahead of Austria and Italy)
Costs
As we've already established, salaries are another important driving factor that helps the CEE outsourcing grow. The average gross monthly salaries in CEE range from $379 (Ukraine) to $1222 (Czech Republic). By comparison, the average monthly salaries in top European job markets start at $2589 (Italy) and go all the way up to $4932 (United Kingdom).

According to data gathered directly from hundreds of professionals by Payscale, a company that specializes in real wage comparisons, the median of net salaries of Software Developers in February 2013 was as follows:

And, for comparison, here's the data from three other major outsourcing destinations:



As mentioned at the beginning of this article, costs in many traditionally cheap outsourcing locations are no longer that competitive. In particular, China now offers similar costs to CEE, mostly due to growing life standards and huge demand.

Country profiles
Let's take a look at specific countries, and their unique strengths, according to a series of reports published at the end of 2012 by Jones Lang Lasalle company.
Poland
Poland is currently the leading market for outsourcing in Central and Eastern Europe. Current es timations state there are 375 Business Process Outsourcing, IT Outsourcing and R&D centers of major foreign companies in Poland. Those include IBM, Google, HP, Microsoft, Nokia-Siemens, Motorola, HSBC, Xerox, Fujitsu, Symantec, Samsung, General Electric – and many more.
Last month, the number of outsourced BPO workers alone rose to 100 000, and according to Lasalle report, the Polish outsourcing market is growing at an average rate of 20% per year. Many ventures that started as one-man enterprises changed into leading polish companies. For example, a popular polish nearshore development and IT outsourcing provider PGS Software, rose from three developers at the beginning of 2005 to over two hundred in 2012.

Of course, outsourcing is still only a part of the healthy Polish IT sector. The number of local companies is also on the rise, and many of their products have achieved a global success. A good example of this trend is an IVONA software package – while not exactly a household name, this text-to-speech solution was used in many popular consumer devices. Most notably, it powers the text-to-speech capabilities of Amazon's Kindle Fire. Recently, Amazon decided to acquire IVO Software, but there are many other Polish companies with unique solutions waiting to be discovered.
Poland is also an important spot for "AAA" games development. A Wrocław-based developer Techland (of Dead Island fame) and Warsaw-based CD Project RED (creators of Witcher, Witcher 2, and upcoming Cyberpunk 2077) lead the charge into the next generation of video games, with multiple titles announced for new gaming platforms coming from Sony and Microsoft in 2013.
Some things to consider when outsourcing in Poland:
• It is the largest outsourcing destination in CEE region.
• Salaries of IT specialists are approximately 50% lower than in western EU countries, and one of the lowest in CEE region.
• Poland joined EU in 2004. Since then, it managed to adopt many crucial EU norms and legal procedures. It also maintains a healthy, growing economy .
• Twelve international airports connect all major cities to business hubs all around the globe.
Czech Republic

Another good choice in Central and Eastern Europe, Czech Republic is characterized by its excellent infrastructure, close proximity to Germany and Austria, robust economy and a well-educated workforce. Companies that maintain a significant outsourcing presence in Czech Republic include IBM, Accenture, DHL, Sun Microsystems, Exxon Mobil and Siemens.
The local IT market also gave birth to some shining stars that can vouch for proficiency of Czech developers. AVG Technologies, producers of the famous free AVG Internet Security Suite, are an example of a Czech developer who made it big time in the consumer market. There are also good examples of successes in B2B space, like Logos, a company that provides technological solutions for T-Mobile, DHL, and Skoda.
Some things to consider when outsourcing in Czech Republic:
• According to TripAdvisor rankings, Prague is the most attractive CEE city to visit. Czech Republic also earned the highest score of the region in the quality of life metric prepared for IMD World Competitiveness Yearbook.
• Czech Republic is a member of EU since 2004, with a friendly and transparent business environment and a growing economy.
• Excellent infrastructure with good land and air connections to Western Europe.
Romania
The third of our profiled countries, Romania, is a relatively recent addition to the EU, but it's also a quick-riser with some unique selling points. Most important are low outsourcing costs and cheap properties. Apart from big investments from Adobe, IBM, Oracle, Intel, Accenture and EA Games, Romania also has a lively start-up culture. In 2011, three of its startups were counted by the British Telegraph among top 100 emerging technology businesses in Europe.
Some things to consider when outsourcing in Romania:
• It's the seventh largest country in EU with one of the lowest labor and property costs.
• Bucharest, a capital of Romania with population close to 1.7 million, is an important Customer Service and Business Processes outsourcing hub.
• The economy is projected to grow by 2.7% in 2014, and by 3.5% in 2015.
• Major infrastructure upgrades in recent years.
Runner-ups
Some other possible outsourcing locations in CEE include Ukraine that managed to increase its IT outsourcing sector tenfold since 2001, Slovakia with its range of incentives for foreign companies, and Hungary with its transparent business environment that ranks 26th globally.
They are all a valid choice, picked by many major companies. To learn more about them, I highly encourage you to read appropriate reports.
Top CEE cities for your outsourcing needs
The choice of a specific location is just as important as the choice of a country. So which cities in CEE are potentially best for business? According to Tholons report for year 2013, Central and Eastern Europe contains 14 cities out of 100 best worldwide locations for outsourcing. One of those is in the very top 10, beating such household names as Shanghai, Beijing, Kalkota or Bangkok.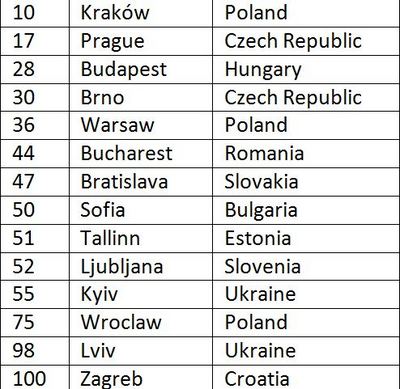 As you can see form the table above, Polish cities are in the lead, occupying three spots in the global chart. Czech Republic and Ukraine come in second with two notable locations.
The rest of popular Eastern European countries have one major outsourcing center. What's very important, is that most of the 14 cities lay in close proximity, no more than 1000 km from each other.
Together, they form a pulsating core of the Central and Eastern European IT outsourcing market.
Summary
In 2012, the IT Outsourcing sector grew approximately by 2.1% (source: Gartner). The projected compound annual growth rate from 2012 through 2016 is valued at 5.9%. This data, when coupled with a slow move from the increasingly expensive far-East outsourcing locations to CEE, paints a bright future for the region.
With nearshore outsourcing described as one of the top trends of 2013, the outlook for CEE remains strong. It might be a good time for any business to secure a CEE outsourcing partner.
I heard Prague is very nice this time of the year, so when visiting, be sure to have a svíčková na smetaně on your way to the hrad. Or maybe you prefer some pierogi on the Wrocław market square?
This might just make your mind."
Also read:
Agile software development demand could put nearshore IT in the spotlight
Are nearshore suppliers the best low cost option for agile software development?
Vampire IT service workers that tell you as it is.
Why more businesses are nearshoring in Eastern Europe
---
February 12, 2013 12:35 PM
Uncategorized
The government is set to introduce new rules to help it better understand the kind of tricks its suppliers are using to reduce their tax bills. It seems that the Cabinet Office will announce some new rules this week which might mean suppliers have to reveal all to them.
But what will this achieve. Surely they will have to change the taxation rules if they are to get the suppliers to pay more tax. I say this because unless the suppliers are breaking the law the only thing they can do is change the law.
For example Accenture says the reason it has not paid much tax in recent years is because it has not made much UK profit as a result of losses associated with its failed NHS patient records deal.
I am sure most suppliers have genuine reasons, that fall within the rules, for not paying much tax. Perhaps it might reveal who the baddies are. Maybe some are flouting the law completely while others are pushing the boundaries with the offshoring of profits.
But could it just be that the UK tax system is full of holes and needs to be re-vamped?
If the government changes the way it taxes companies I am sure it will face huge pressure from business.
So this could just be a publicity stunt that ends up achieving nothing.
---
February 11, 2013 10:29 AM
Uncategorized
As you know Barnet Council's massive outsourcing program, known as One Barnet, is being challenged by a local resident and the High Court is getting involved.
Here is the view s of Mark Lewis, who heads up the outsourcing practice at law firm Berwin Leighton Paisner.
By Mark Lewis
"There really hasn't been anything like it before. Yes, about a year ago, just before the ceremonial pens were being pulled out to ink the contract, we had Edinburgh City Council's decision to withdraw from a massive street works to white collar services outsourcing to MITIE (2,000 staff in TUPE scope). That was a political decision, caused by a rebellion on the Council by its Labour councillors.
This time, we have plenty of political fury directed at the London Borough of Barnet and its decision to sign a massive, long term, multi-service outsourcing deal with Capita. A quick search online will reveal the many groups and individuals who oppose the outsourcing decision. But here, with Maria Nash, we have a legal challenge. And the problem with legal challenges is that, if they are successful, they create legal precedents. Even if they fail, they attract much publicity.
That's the least of it. The thing about legal precedents is that, once set, they may be good for lawyers, but they are very bad news for those ministers, councillors and their officials who have to be brave enough to take unpopular – and potentially unlawful – decisions that will be challenged through the courts. So if Maria Nash, Barnet resident and fierce opponent of the whopping great outsourcing planned by her local council, wins she and her supporters could well bring to a halt the wave of outsourcings currently going through procurement processes up and down the UK, and all those being planned. Even if those deals aren't halted, they will be delayed, pending the outcome of the Nash case. Whoever wins the first round, you can be sure it will go the next. This one could easily go all the way to the Supreme Court. Either way, whoever wins, it will be bad to catastrophic for public sector outsourcers, their shareholders and government ministers.
So, what are the odds on Maria Nash winning? From here, hard to say. But we have been told that she has been given leave bring a judicial review against Barnet's decision to let this outsourcing contract to Capita. This initial legal process is not a stroll in the park: it is designed precisely to filter out unworthy cases. So we must assume she has a case worth bringing – in other words, one that seems to be properly grounded in law, rather than politics.
As reported, the Nash case is that the proposed Capita outsourcing is unlawful. Why? Because Barnet failed to consult widely enough on its decisions, failed to meet its statutory public sector equality obligations and because the decisions are based on 'grossly inadequate assessments of the relative merits and risks involved and hence are unreasonable and amount to a breach of its fiduciary duty'. In other words, it is claimed that there are both procedural and actual illegalities in the decisions Barnet has so far reached to outsource these services to Capita. On the fiduciary duty claim, it goes that local councils have a general a duty of trust to their residents and council taxpayers. Can they breach that trust by outsourcing a whole range of services over the long term? And the public sector equality obligation argument is probably the most controversial and 'political' of the grounds for this legal challenge. It runs like this: local authorities have a statutory duty to treat their residents equally and fairly in the provision of their services. As far as we can tell, Maria Nash claims that, as a local resident, she is dependent on a range of local social services necessary to enable her to live her life decently, and that the decision to outsource on this scale and over the 10-year term would on the balance of probabilities result in those social services being withdrawn or largely curtailed, either immediately or over the foreseeable term of the outsourcing. So, she says, if that is right, she will be unable to lead a decent life and face being treated unequally, in breach of the council's duties.
Cases like Maria Nash's don't come around very often – perhaps once a generation. They may or may not be politically motivated. But this one does seem to be grounded in law. That's why it will be so worrying for public sector outsourcers and their shareholders. And come to think of it, for local councils up and down the UK and, ultimately, central government. Why central government? If a precedent is set, it will not be long before the decisions of ministers could be challenged on similar grounds, or at least exposed politically as causing local authorities to outsource, because that's all they have left after swingeing central government cuts.
Let's see."
---
February 8, 2013 11:13 AM
Uncategorized
I have been blogging recently about the impact offshoring is having on the UK IT skills base. I have had some comments from people working in IT. These views are often the most telling.
Below is a comment left by a reader on the issue. It describes one side of the debate very clearly whether you agree or not.
the reason I highlight this is an invitation to people that argue that outsourcing does not contribute to skills shortage to give their views,
"As long as I T companies can find Indian I T workers with basic level skills, who are willing to work in the UK for very low wages and a visa, there will be no skills shortage as such. Maybe very poor skills, but as these visa chasers get skilled up at the expense of the initial clients, they will then look for other jobs and companies that will renew their visas. They will of course look for other Indian friendly companies to work for. The I T industry has imported its own cancer that will eat it from within. Having worked in the industry for many years, I suspect it will be many years before the country wakes up to having sold out UK jobs and an industry, just like it did manufacturing."
Also read:
Are students flocking to study computer science degrees lambs to the slaughter or are they making the right choice?
Digital skills shortage is hitting employers
Restrict IT offshoring and prevent immanent skills shortage
Please fill in the poll below.
Do you think offshoring IT work will create a skills shortage in the UK?
---
February 7, 2013 3:18 PM
Uncategorized
I caught up with the European boss of the combined Mahindra Satyam and Tech Mahindra Business, Vikram Nair.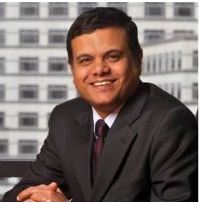 It was good to get an update form the company that was on its knees in 2009 after former chairman B Ramalinga Raju resigned and confessed to inflating the company's financial figures to the tune of $1bn.
The company, was one of the country's shining IT services, would have collapsed had it not been acquired by another Indian company in the form of specialist telecoms supplier Tech Mahindra later in 2009.
The company now runs as one despite the Tech Mahindra and Mahindra Satyam names. "We are one in all but name," says Nair. It is close to changing to a single name. Perhaps the Satyam name will be gone forever. This would be a shame as I have lots of memories about writing about the firm which actually had a great reputation until the fraud scandal hit.
And the company is doing well now. Its latest results $329m, which was 14% higher than the same period last year and 10% more than the previous quarter. It made a profit of $69m, which was 49% higher than the same quarter a year ago and 12% higher than the previous quarter. It is now India's sixth biggest, with about 86,000 staff.
But what is different about the company and why is it in a better position now than prior to the fraud scandal?
Nair says the great advantage of the combination of Satyam and Tech Mahindra is the ability to cross sell and up-sell. He says the company is now far more profitable because it sells more services into customers. Mahindra Satyam's biggest business is software services such as the implementation and support of ERP and BI software, whereas Tech Mahindra has lots of telecoms customers. The company is now selling across both sets of customers.
But it is not just about sharing customers but also skills.
Nair says another benefit of the merger with Tech Mahindra is the fact that it is now part of the Mahindra Mahindra conglomerate, which is huge in manufacturing. This has given Mahindra Satyam success to knowledge about the manufacturing sector. Mahindra Mahindra is big in the automotive airline and farm, equipment manufacturing industries.
This has helped Mahindra Satyam improve its business in the manufacturing sector by offering them more appropriate software services, says Nair.
He said for example if a car manufacture wants to automate a process the company can tap internal knowledge to help them create the software.
One of the interesting differences between Mahindra Satyam/Tech Mahindra and other big Indian service providers is the fact that its European business is as big as its US business. Each accounts for about 40% of its revenues. The other big Indian players have much bigger US businesses than European.
---
February 6, 2013 12:27 PM
Uncategorized
I sometimes forget that Dell has an IT investment arm. In 2009 it bought Indian IT services firm Perot Systems for £2.4bn.
And let's face it the big hardware firms that have acquired services firms have not done too well of late. We all know about the car crash that is HP's acquisition of EDS and the $7bn downgrade. And Xerox hasn't done much better with its ACS acquisition.
But in November 2010 Dell did say it will grow services through acquisition. So perhaps going private will mean it can invest in a few more acquisitions?
Now that Dell is private it will be interesting to see how it invests in services. With the PC market tough and shareholders to please Dell has probably held back investments. But it can now invest for long term gain by spending money on IT services. Perhaps another acquisition?
Dell made some brave claims to me at the beginning of 2010 about the opportunity for its services business following its acquisition of Perot Systems.
Dell claims:
"1 – The IT industry remains fragmented with only 4 companies offering a set of integrated service offerings (IBM, HP, Fujitsu, and now Dell).

2 – Dell is powerfully positioned as one of the 10 largest IT services providers.
Industry comment: "In terms of pure services turnover maybe number 15-20 worldwide."
3 – From a customer point of view, we know IT budgets are pressured, and customers want technology that offers best value solutions.
4 – We want to help organisations innovate and focus on strategic objectives while spending less on routine IT management."
This is why Dell says it bought Perot:
1 – Dell became an IT leader through highly efficient built-to-order solutions.
2 – Now, we want to do the same thing in services, reducing complexity and driving out inefficiencies across the service and support lifecycle.
3 – We believe that the new Dell Services (Dell's legacy services organisation combined with Perot Systems – which we acquired last November) is big enough to be credible, yet nimble enough to lead a transformation in the services industry."
This is what Dell says about the merged services organisation:
1 – We are a $7.5bn global services organisation with more than 42,000 employees.
2 – The organisation generates approximately three-quarters of its revenue from infrastructure and related support services 18% from applications and consulting services, and 7% from business process services.

3 – We serve the entire spectrum of potential clients, from large organisations to consumers.
4 – We see the combination of our solutions and teams creating enhanced growth opportunities through cross-selling opportunities as well as being presented the opportunity to participate in a broader range of sales activities
5 – This is a very exciting time and we're stronger together
6 – We can fill out capabilities that neither company owned by itself
7 – Qualify for more RFPs and win more deals

8 – Sell more products and services at existing accounts."
This is what Dell claims to do?
1 – In addition to scale, the components that now form Dell Services have a comprehensive range of complementary strengths … and a consistent history of creating an award-winning customer experience.
2 – Together, the companies support nearly 15 million systems and manage over two million seats
3 – Consistently, Dell Perot Systems has ranked number one as healthcare IT contractor and number one by KLAS for Clinical Implementation Services
4 – The combination of solutions and teams from each company creates growth opportunities through cross-selling, but even more significantly presents the opportunity to participate in a broader range of sales activities.
5 – Dell Services offer best-in-class suite of intelligent, end-to-end services and business solutions to reduce IT complexity and lower costs
6 – From our knowledge of industry requirements, we then tailor industry-specific solutions that solve business problems and deliver the best value for the resources invested.
7 – The strength of our combined business model rests in several areas:
– Intense customer focus – committed to top customer success
– Domain knowledge – Industry expertise in healthcare, government, and large enterprise is a competitive advantage that allows us to add long-term value through industry-focused solutions
– Breadth of services – Integrated technologies, IT and business services, and industry-specific consulting are combined to create services that transform organizations
– Global delivery model – Modular services delivery put customers in control, allowing them to select only what they need, which means lower cost for customers
– Recurring revenue – Over $13 billion in annuity-like revenues."
So lots to digest there but I haven't heard much from Dell Services about the businesses it is doing.
Also read:
Dell plans acquisitions to expand global services
Who will Dell buy in services push?
Don't act like outsourcing services is something new, says Dell
---