---
November 26, 2015 11:20 AM
Chrome
,
Google
,
Web development
Google has hosted its Chrome Dev Summit 2015 to an audience of what appears to be a select few, with minimal press openings.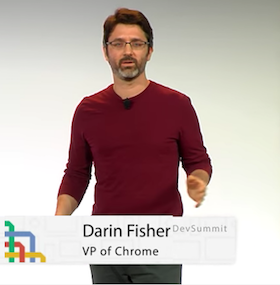 RSS Feed

Email a friend
April 18, 2015 3:30 PM
Data
,
Database
,
Real time
,
Web development
RethinkDB is an open-source scalable database for what its makers call "the real time web", but what does real time data supply mean in terms of the way web-centric applications function today?
---
January 12, 2015 9:32 AM
Django
,
Web development
The open source focused DjangoCon Europe 2015 conference and exhibition has been rescheduled within the same working week to avoid a clash with touring dates set by boy band One Direction.
---
July 29, 2013 7:42 AM
Application Lifecycle Management
,
Open source
,
Open source security
,
Web development
Online (Dropbox-style) storage company Spideroak has detailed news of its Crypton open source data security project.
---
November 21, 2011 6:59 PM
mozilla
,
Open source
,
Web development
The Mozilla Foundation has held its annual gathering of the clans in London this November in what the organisation has called a "three-ring circus of innovation" -- the theme for this year: media, freedom and the web. Mozilla wants to use these events as "brainstorming platforms for open web...
---
August 17, 2011 11:01 AM
W3C
,
Web design
,
Web development
The World Wide Web Consortium (W3C) has a mission statement. OK, it's an About Us paragraph, but you get the point. It reads as follows... "The World Wide Web Consortium (W3C) is an international community where Member organisations, a full-time staff, and the public work together to develop web...
---