---
October 25, 2017 1:51 PM
Ubuntu
Canonical has announced the release of the Ubuntu 17.10 operating system featuring a new GNOME desktop on Wayland and new versions of KDE, MATE and Budgie to suit a range of tastes. The firm says that version 17.10 brings Kubernetes 1.8 for...
April 22, 2016 10:08 AM
Ubuntu
Canonical will release Ubuntu 16.04 LTS on 21st April, but is it all good news?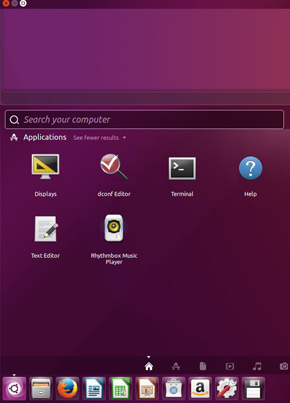 ---
December 16, 2013 8:47 AM
Google
,
Linux
,
Ubuntu
Linux is making impressive inroads (sorry) in the field of in-vehicle infotainment (IVI), the automobile technology we use to group navigation, entertainment, location-based services, external connectivity to social media and even radio usage.
---
March 25, 2013 8:27 AM
China
,
Open source
,
Ubuntu
China has embarked upon a five-year plan to encourage the use of open source operating systems and software. To facilitate this initiative, China is working to build a home-grown Chinese developed version of Canonical's Ubuntu to be labeled Ubuntu Kylin. NOTE: Unconfirmed reports...
---
January 3, 2013 9:59 AM
Canonical
,
Linux
,
Mobile
,
Open source
,
Ubuntu
The London and Isle of Man headquartered company that oversees commercially supported services for the Linux-based Ubuntu operating system has confirmed that a smartphone interface has been produced that will offer PC capability when docked. The new 'mobile Ubuntu' will use all four edges of the...
---
August 21, 2012 9:21 AM
Canonical
,
Open source
,
Ubuntu
Ubuntu One referrals is a way to earn free cloud storage up to 20GB by "simply spreading the word" and inviting family and friends to join Ubuntu One. NOTE: It's actually not as "simple" as it could be, but it is possible. Users can now see a referrals invite link in their Ubuntu...
---
August 2, 2012 1:31 PM
Canonical
,
Open source
,
Ubuntu
Having just spent the last 36 hours with my head in Ubuntu Server 12.04 I think I have my Ubuntu radar about as fully tuned as is humanly possible right now. Analysing Ubuntu Server 12.04 is a pleasant enough experience, the free and open source operating system's commercial parent Canonical has...
---
May 9, 2012 9:09 AM
Dell
,
Developer
,
Open source
,
Ubuntu
Dell is aiming to boldly go where no cosmonaut or programmer has gone before and build an open source laptop designed specifically for developers. Project Sputnik is a six-month effort based on Ubuntu 12.04 and Dell's XPS13 laptop. According to Dell's developer blogger
---
April 27, 2012 9:53 AM
Canonical
,
IBM
,
Linux
,
Red Hat
,
SUSE
,
Ubuntu
IBM took its time to release its new PowerLinux systems and solutions series and with good reason; the company wanted to host the cream of the enterprise-grade Linux crop on its shiny new black boxes. What are these units? IBM PowerLinux systems are intended to... "exploit the cost efficiency of...
---
April 13, 2012 12:15 PM
Canonical
,
Cloud Computing
,
Open source
,
OpenStack
,
Rackspace
,
Ubuntu
The OpenStack open source cloud operating system project has this month blinged over to its fifth version known affectionately as the "Essex" release. Essex is said to be the first fully-functional version of OpenStack to ship with its dashboard management portal and identity authentication...
---