---
June 2, 2014 9:25 AM
DevOps
,
Hadoop
,
logfile
,
logs
,
Testing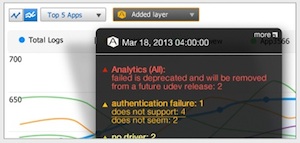 The heady world of server log analysis kicks up another gear this week with new products proffered...
December 20, 2012 10:03 AM
Open source
,
Testing
Open source programmers are being offered a Selenium-based free cloud testing service from application testing company Sauce Labs. The Sauce Free Open Source Software accounts (simply known as "Open Sauce") is a new programme designed to give developers free and unlimited use of the Sauce Labs...
---
March 20, 2012 9:12 AM
Open source
,
Rackspace
,
Testing
Rackspace has been building what is arguably a reasonably respectable pedigree in open source technologies. It was summer of 2010 that the company partnered with NASA to launch the open source cloud computing operating system OpenStack. Built to compete with VMware's vSphere and Microsoft's Azure,...
---
October 17, 2011 9:49 AM
Open source
,
Software development
,
Student
,
Testing
A bit of semi-random open source software searching is generally beneficial for the soul and spirit at least once a month. My most recent expedition in this vein led me to find Mantra, an open source browser-based security framework for penetration testing and security assessments. Mantra then, or...
---
January 19, 2011 5:18 PM
Open source
,
Testing
Open source software testing provider PushToTest has posted a blog on its website entitled The Whole Enchilada - Test Orchestration, The Missing Link?

The company is suggesting that the open source community's ability...
---