---
July 24, 2015 9:49 AM
ObjectRocket
,
Open source
,
Rackspace
The company known for its 'fanatical' approach to managed cloud services support, Rackspace, has added managed Elasticsearch technology to its cadre. More specifically, Rackspace's managed database platform ObjectRocket is expanding its database service portfolio to include fully-managed instances...
June 1, 2015 11:59 AM
ObjectRocket
,
Open source
,
Rackspace
This week sees MongoDB World 2015 (#mongodbworld ) held in New York. In case you need reminding, MongoDB is an open source NoSQL cross-platform document-oriented database company favouring dynamic schemas. Also in attendance and only second to Teradata in its sponsorship of this event is...
---
July 1, 2014 7:51 AM
Rackspace
,
Virtual Reality
Rackspace's involvement with OpenStack and CERN at the Large Hadron Collider surfaced again late last month when the cloud hosting provider staged a London-based gathering to discuss what, when and where its cloud hosting intelligence is being deployed.
---
June 2, 2014 7:32 PM
cloud
,
NASA
,
Open source
,
OpenStack
,
Rackspace
True open source cloud aficionados know their subject matter back to front; they know the history of cloud, the history of open cloud standards and (most of all) they know the history of OpenStack.
---
March 13, 2014 9:23 AM
Big Data
,
cloud
,
EMC
,
Rackspace
Rackspace describes itself as the 'open cloud' company no less. Open enough then to host a cloud-enriched big data breakfast in London this month.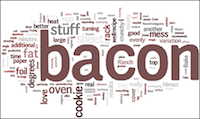 ---
February 5, 2014 9:16 AM
Rackspace
NOTE: Read to the end for the payoff on the title punch line, it might just surprise you. Progressive technology firms are known for their practice of formalising (formalizing if you're in 'the valley' area) their innovation policies. Google famously used its Pareto-derived 80:20...
---
January 23, 2014 7:26 AM
MongoDB
,
Rackspace
Rackspace is now set to offer its NoSQL MongoDB Database-as-a-Service (DBaaS) from the firm's UK datacentre. Acquired from (and still known as) ObjectRocket, this open source-based MongoDB is built on hardware optimised specifically for
---
December 10, 2013 10:29 AM
Analytics
,
Big Data
,
cloud
,
Data Management
,
Database
,
Rackspace
What the hell is happening with big data then? It's the end of 2013 and big data (as a piece of terminology) has been around for somewhere around a decade and a half. The etymology and origins of the term big data are sketchy -- and that in itself may speak volumes i.e. the industry is so fond of...
---
February 27, 2013 12:43 PM
MongoDB
,
Rackspace
Rackspace has been on a shopping spree and made a move to expand its open cloud platform by acquiring ObjectRocket, a MongoDB database as a service (DBaaS) provider. NOTE: MongoDB (from "humongous") is a scalable, high-performance, open source NoSQL database written in C++ and...
---
February 20, 2013 8:43 AM
Rackspace
Open cloud company Rackspace has appointed an open source industry guru to its VP of intellectual property position. While the Computer Weekly Open Source Insider blog does not typically cover appointments, Van Lindberg (no missing first name) has been named by the American Bar Association Journal...
---