---
July 5, 2010 12:04 PM
Cloud Computing
,
Networking
,
Open source
,
Security
,
Virtualisation
While much debate still circles around the terms open source, virtualisation and cloud computing, there are signs that some of these arguably still-nascent technologies are starting to gain a stronger foothold within the IT departments of European businesses.
July 2, 2010 1:59 PM
Adobe
,
Eclipse
,
Flash
,
Linux
,
Open source
I for one have not come across Adobe's open source portal until today, so I thought I would peek inside and take a look to see if there are any tasty morsels immediately apparent.
---
June 30, 2010 11:37 AM
Open source
,
Server administration
,
visibility
News today from the open source world includes details of the Open Source Monitoring Conference to be held in Nuremberg in October of this year.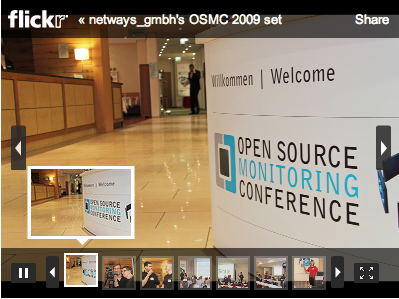 ---
---
---
June 18, 2010 9:59 AM
Cloud Computing
,
exhibition
,
Open source
The technology industry seems to love a conference and an exhibition doesn't it? Symposia of all kind litter our calendars and we're usually spoilt for choice. Next week's show (which I almost attended but will track from the comfort of my office) is the
---
June 17, 2010 6:37 PM
Applications
,
Code
,
Open source
,
Security
Software-as-a-Service (SaaS) security vendor Veracode has conducted a real world survey, sampling billions of lines of code across various types of applications (including open source) and has flagged up some substantial differences between the security levels of open source software and...
---
June 11, 2010 12:19 PM
aquisitions
,
Intellectual property
,
Open source
,
Wikis
The software application development community tends to use the summer months to host various events, exhibitions, symposia and community gatherings of all kinds. I for one am looking forward to attending a couple of these including Sybase TechWave,...
---
---
June 7, 2010 10:03 AM
Cloud Computing
,
Mobile
,
Open source
While there still seems to be some consternation and confusion among many IT departments as to exactly where cloud computing based services will ultimately be of most use, the unusually named open source cloud provider Funambol is firmly of the belief that rich media over mobile devices holds...
---