---
December 16, 2013 8:47 AM
Google
,
Linux
,
Ubuntu
Linux is making impressive inroads (sorry) in the field of in-vehicle infotainment (IVI), the automobile technology we use to group navigation, entertainment, location-based services, external connectivity to social media and even radio usage.


RSS Feed

Email a friend
December 4, 2013 7:17 AM
Database
,
NoSQL
,
Open source
,
Red Hat
You know a true technologist is behind a website when its NEWS section is solely devoted to those media outlets that have written about it, rather than it being populated with a splattering of press releases. This purist approach can be seen on the web pages of
---
November 15, 2013 9:28 AM
CA
,
IBM
,
Linux
Linux on the server has been respected and regarded in technology circles for many years now. One of the main reasons for this is that Linux is argued to be especially competent at handling "many processes at once", something Windows has traditionally not done quite so well. Windows configuration...
---
October 23, 2013 4:07 PM
Open source
,
SAP
,
SUSE
Open source software company SUSE has chosen this week of all weeks to announce the availability of the newest SUSE Linux Enterprise Server for SAP Applications software, based on SUSE Linux Enterprise 11 Service Pack 3. This week also happens to be SAP TechEd 2013, so, wild coincidence? No of...
---
October 21, 2013 3:42 PM
cloud
,
Hypervisor
,
Open source
,
SUSE
This is a guest post for the Computer Weekly Open Source Insider blog written by Pete Chadwick, senior product manager for cloud Infrastructure at SUSE. Tech titans & hypervisors
---
September 27, 2013 9:14 AM
IBM
,
Linux
The secret to Linux is hardware, really? Well you might think that this is so if you look at Who writes Linux, anyway? Intel is right up there in the number #2 spot and much of that...
---
September 20, 2013 1:57 PM
Linux
The Linux Foundation gets personal again this month with the release of its annual "Who Writes Linux" development report.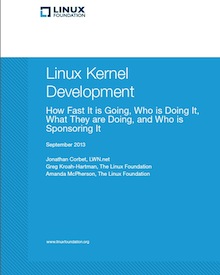 0 Comments

RSS Feed

Email a friend
---
August 1, 2013 11:30 AM
IBM
,
Linux
,
Servers
IBM's latest PowerLinux server arrives this week along with new software and middleware for big data, analytics and Java applications in open cloud environments. If you're a tree hugging server lover this is quite nice news in its own right. More interesting perhaps is that this box ships with...
---
July 4, 2013 11:03 AM
Fedora
,
Linux
,
Open source
The Red Hat sponsored Fedora Project has announced the Fedora 19 fully functional free of charge Linux operating system code-named "Schrödinger's Cat". "In this release, the Fedora Project community has absolutely demonstrated that agility matters," said Robyn Bergeron, Fedora Project...
---
May 23, 2013 7:17 PM
Fedora
,
Pidora
,
Red Hat
The Raspberry Pi mini-computer is to be served with new "Pidora" build of Fedora packaged for ARMv6 architecture. NOTE: Fedora is a free and open source Linux-based operating system sponsored by Red Hat -- it is typically classed as the second-most...
---