---
May 26, 2016 11:01 AM
Ansible
,
DevOps
,
Red Hat
Red Hat bought Ansible back in Oct 2015 to augment its 'IT automation' tooling, particularly with regards to pumping its DevOps capabilities… and as a welcome adjunct to its existing base of hybrid management portfolio tools. All that automation effort is what vendors in this space like...
May 24, 2016 11:05 AM
DevOps
DevOps should be an all-powerful omniscient being that extends its all-seeing eye into every crevice of our programming universe to control the hearts and minds of every data engineer and developer on the planet. Okay, maybe that's a bit much, lets start again. JFrog thinks that omniscient...
---
July 10, 2014 8:25 AM
DevOps
,
Open source
DevOps has (arguably) a lot of guff, fluff and puff attached to it right now. We're still not sure if this portmanteau-propelled "coming together" of two core technology disciplines is really one new perfectly formed beast. Is it Ops that have gotten good at Dev... and so progressed onwards (Ed -...
---
June 2, 2014 9:25 AM
DevOps
,
Hadoop
,
logfile
,
logs
,
Testing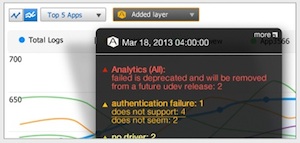 The heady world of server log analysis kicks up another gear this week with new products proffered...
---
March 27, 2014 9:32 AM
DevOps
The 'developer' and 'operations' DevOps role is now an official part of the tech industry nomenclature. The number of permanent and officially recognised DevOps Engineer posts in the UK has jumped 347% in the past two years. This news comes alongside the discovery that 'DevOps Engineer' has...
---
November 18, 2013 10:22 AM
Chef
,
DevOps
,
Opscode
There's a small problem with DevOps; for some at least... DevOps is just a bit too much Ops and not quite enough Dev. It looks good on paper and the "blending" of software application development and systems operations team functions into the spiritual portmanteau that is DevOps should be good...
---
November 22, 2012 5:47 AM
Developer
,
DevOps
,
Operations
The rise of social enterprise tools intended to facilitate workplace collaboration have naturally impacted the software application development function in terms of user interconnectivity and integration. Specifically here we see the popularised term "DevOps" coming to the fore. Used to express...
---
October 13, 2011 2:27 PM
Developers
,
DevOps
,
Open source
,
Ubuntu
Ubuntu 11.10 is available as of 2pm this afternoon for free public download. Canonical, the company that backs the open source operating system and provides commercially positioned support services for it, has suggested that this release will feature "management and orchestration tools" that DevOps...
---