---
May 7, 2014 3:52 PM
cloud
,
EMC
Yes of course there are innumerable briefing documents, opinion pieces, white papers and deep-dive analysis offerings available to try and provide us with the advice we need on cloud migration. We are now, thankfully, mostly beyond the point where we need to discuss the relative benefits of hybrid...
April 29, 2014 2:21 PM
cloud
,
Open source
Technology analysts talk a lot. It is therefore extremely rare to find one single paragraph that sums up the state of open standards based software application development coming from a tech analyst. Chris Marsh at Yankee Group is different, he tells it like it is. The Computer Weekly Open...
---
March 13, 2014 9:23 AM
Big Data
,
cloud
,
EMC
,
Rackspace
Rackspace describes itself as the 'open cloud' company no less. Open enough then to host a cloud-enriched big data breakfast in London this month.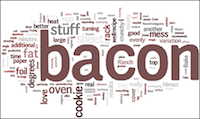 ---
February 28, 2014 9:44 AM
benchmark
,
cloud
Benchmarks are worthless right? Or is it the case that 75,000 live OpenStack virtual machines can't be wrong? Gone are the days of benchmarking one Pentium processor performance compared to the last... and come to think of it, Apple has not pushed benchmarking as a key selling point in years and...
---
January 21, 2014 11:55 AM
cloud
,
Hypervisor
,
Management
Automated Capacity Control software company CiRBA has announced it's version 8 iteration with support for Microsoft Hyper-V. So what? Well this is quite an (arguably) interesting tangent to the developer cloud management arena -- with so much cloud news today focused...
---
January 6, 2014 1:32 PM
cloud
,
Fedora
,
Red Hat
The Red Hat sponsored Fedora open source Linux-based operating system has reached version 20, code-named "Heisenbug". According to (please excuse, but this was most direct source) Wikipedia -- Heisenbug is a computer programming jargon term for a software bug that seems to disappear or alter its...
---
December 19, 2013 3:24 PM
cloud
,
Open source
,
Red Hat
Open technologies in the cloud arena will align in 2014 and create what will become known in the de facto lingua franca of IT-speak as the Business-Driven Cloud (BDC). The business-driven cloud (let's drop the CAPS) will come about due to the integration of "business rules" and cloud management...
---
December 18, 2013 10:52 AM
Android
,
Box
,
cloud
,
images
,
Tablet
Box is getting extra robotic on Android. With everyone from Tesco to LIDL to Dave's Bargain Basement Cash 'n' Carry of Peckham Rye selling tablets right now, the market for lower cost digital slabs is hotter than ever. BBC news reported this...
---
December 10, 2013 10:29 AM
Analytics
,
Big Data
,
cloud
,
Data Management
,
Database
,
Rackspace
What the hell is happening with big data then? It's the end of 2013 and big data (as a piece of terminology) has been around for somewhere around a decade and a half. The etymology and origins of the term big data are sketchy -- and that in itself may speak volumes i.e. the industry is so fond of...
---
November 20, 2013 11:34 AM
cloud
,
Intel
Intel has been getting its hands dirty inside the mechanics of both cloud construction and software application development. This is nothing new, the firm does this all the time; but this is the Intel that you won't be seeing on the pre-Christmas TV advertisements with its consumer-facing messages...
---