---
March 28, 2014 10:22 AM
Big Data
,
Zettaset
What is real time data anyway? As you will know, in computing terms we talk about real time processing (or perhaps "computer responsiveness") as being that level of compute power and speed such that users PERCIEVE that the systems they use are operating at the same speed as human (or indeed...
March 21, 2014 7:09 PM
EDS
,
NoSQL
,
PostgreSQL
This is a guest post for Computer Weekly Open Source Insider written by
---
March 13, 2014 9:23 AM
Big Data
,
cloud
,
EMC
,
Rackspace
Rackspace describes itself as the 'open cloud' company no less. Open enough then to host a cloud-enriched big data breakfast in London this month.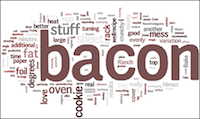 ---
February 14, 2014 12:38 PM
Hadoop
The technology industry spin machine council has met and the findings of the committee agree that -- scaremongering around whether Hadoop can translate to mainstream adoption is worth a punt on a story or two. It is a bit of a recurring trend.
---
December 10, 2013 10:29 AM
Analytics
,
Big Data
,
cloud
,
Data Management
,
Database
,
Rackspace
What the hell is happening with big data then? It's the end of 2013 and big data (as a piece of terminology) has been around for somewhere around a decade and a half. The etymology and origins of the term big data are sketchy -- and that in itself may speak volumes i.e. the industry is so fond of...
---
December 4, 2013 7:17 AM
Database
,
NoSQL
,
Open source
,
Red Hat
You know a true technologist is behind a website when its NEWS section is solely devoted to those media outlets that have written about it, rather than it being populated with a splattering of press releases. This purist approach can be seen on the web pages of
---
November 27, 2013 7:06 PM
DataStax
,
NoSQL
,
Software
There is lots of interest in NoSQL these days -- at the very least from venture capital firms that are throwing money at the potential leaders in the market like MongoDB, Couchbase and DataStax. However, while there are some case studies detailing enterprises making use of this new technology, the...
---
November 13, 2013 5:37 PM
Basho
,
NoSQL
,
Open source
,
RIAK
Data vendors love to push towards the upper echelons of the enterprise space as much as possible, this means they (or their marketing departments at least) often fall foul of using the term operational simplicity with far too much gay abandon. But please, what the hell does operational simplicity...
---
October 17, 2013 5:08 PM
NoSQL
The NoSQL Search Roadshow arrives in London next month on November 20th targeted at software developers, data managers, IT architects and technical ambassadors.
---
March 6, 2013 10:01 AM
Analytics
,
Big Data
,
Open source
Industry analysis suggests that Google handles as many as two million pieces of data every minute. Combine this "fact" with the challenge of managing a transactional workload with big data complexity riddled right through its centre and you can see why data analysis and both macro- and micro-level...
---