---
April 18, 2019 8:44 AM
The Computer Weekly Open Source Insider team is running Ubuntu.
More specifically, we're running Ubuntu 19.04 on an originally Windows-empowered Lenovo laptop as a dual boot.
NOTE: Incidentally, this is an altogether joyous experience… although the BIOS boot screen defaults to Ubuntu startup if you fail to choose between Windows and Ubuntu, which seems ever so slightly cheeky given that Ubuntu was invited in as a guest… put it down to open source fervour… although the boot options are obviously very easy to edit in the BIOS itself.
Ubuntu 19.04
So what of Ubuntu 19.04 then?
Canonical says this version of the OS is all about open infrastructure, developer desktop and IoT.
"The open-source-first on Ubuntu movement in telco, finance and media has spread to other sectors. From the public cloud to the private data center to the edge appliance or cluster, open source has become the reference for efficiency and innovation. Ubuntu 19.04 includes the leading projects to underpin that transition, and the developer tooling to accelerate the applications for those domains" said Mark Shuttleworth, CEO of Canonical.
Ubuntu 19.04 integrates recent updates from open infrastructure projects including OpenStack, Kubernetes, and Ceph – with advanced life-cycle management for multi-cloud and on-prem operations – from bare metal, VMware and OpenStack to every major public cloud.
Optimised Ubuntu Server 19.04 and Minimal Ubuntu 19.04 images are available on all major public clouds.
Amazon published Greengrass for IoT on Ubuntu, as well as launching the AWS DeepRacer developer-centric model for autonomous ground vehicle community development, also running Ubuntu.
The Edge X stack and a range of industrial control capabilities are now available for integration on Ubuntu based devices, with long term security updates.
Developer productivity
Microsoft Visual Studio Code joined the list of developer tools published as snaps including IntelliJ, pyCharm, Postman and microK8s. AI, machine learning and data science platforms continue to prefer Ubuntu for rapid adoption and fast project iterations.
In Ubuntu 19.04, multiple instances of the same snap can be installed for CI/CD, testing or phased rollouts. For example, two versions of a database or two versions of the golang compiler can be installed at the same time. Snap epochs control when and how data migration happens between major version upgrades.
More than 2,000 independent software publishers now distribute their applications to Linux desktops, appliances and cloud VMs through the snap store, growing 30% since October 2018.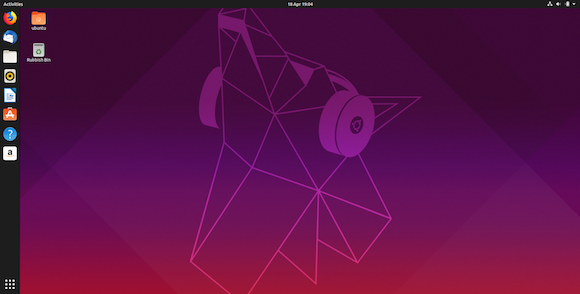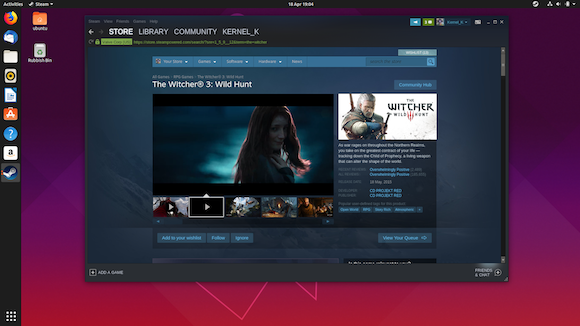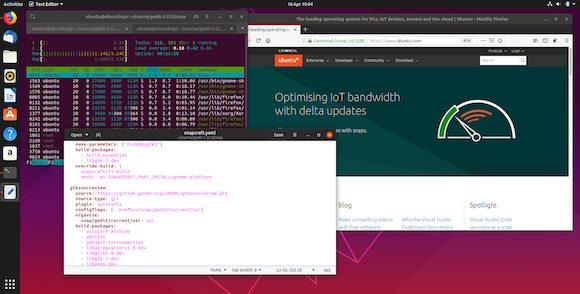 April 17, 2019 10:39 AM
The Computer Weekly Open Source Insider team spoke to Deepak Giridharagopal this week in his role as CTO at Puppet in an attempt to examine the true nature of open source openness.
As defined in clear terms here, Puppet is an open source systems management tool for centralising and automating configuration management tasks relating to both hardware and software.
Giridharagopal argues that the 'open' part of open source doesn't just refer to making the code physically available to the masses.
After all, anyone can just publish some code online and dump out the results of their project… whether they are amazing innovations, unnecessary forks or flaky half-baked ideas.
What he wants us to remember is that best open source projects are the ones that have communities built around them.
It would appear then, that effectively participating in open source communities requires skills beyond just cranking out code all day long.
Open fundamantals
"[Factors such as] empathy, diplomacy, conflict resolution, being able to deliver constructive criticism and effective evangelism of your opinions are hugely important. These traits are helpful not only to navigate all the elbowing open source environments might involve; they also foster a welcoming, diverse and collaborative culture. Without the ability to interact and empathise with others, debate in a way that is not abrasive… and effectively advocate for your opinions and ideas (let alone your code), you won't be able to build a healthy, long-lasting project," said Giridharagopal.
Recognising that our industry is full of 'brilliant jerks' [Ed: I think he meant 'geeks' not 'jerks' right?], Giridharagopal says these talented developers might produce great code, but are often terrible at working with others.
"They can be hostile to other contributors, mock those who don't deliver code up to 'their standards', or denigrate the value of non-code contributions (e.g. documentation or user experience improvements). Sadly, there are many popular open source projects that gleefully harbour brilliant geeks. However, those projects succeed in spite of, not because of, their tolerance of abrasive behaviour," said Giridharagopal.
Community spirit
Giridharagopal concludes by saying that open source adoption shows no signs of abating.
Thus, he thinks, collaboration skills are no longer optional for those who wish to build new open source communities, or effectively participate in existing ones.
Better communities, after all, produce better software.
---
April 16, 2019 9:32 AM
The Computer Weekly Developer Network and Open Source Insider team are off the nation's capitol (we said capitol, not capital… it's Washington DC) to witness the goings on at DataStax Accelerate.
But before we get to the event, let's sit back and remind ourselves who and what DataStax actually is.
In the past, we have called DataStax a data platform provider — the company would no doubt more expansively refer to itself as: a provider of a hybrid cloud database built on Apache Cassandra.
In more granular terms, DataStax technologies exist to provide an always-on active-everywhere distributed hybrid cloud database built on Apache Cassandra for real-time applications at scale.
According to the firm's official descriptor, DataStax Enterprise helps developers exploit hybrid and multi-cloud environments via a seamless data layer that eliminates the issues that typically come with deploying applications across multiple on-premises datacentres and/or multiple public clouds.
So… all of that said then, DataStax often styles itself not as a database company, not as a programming company… but as a data developer company (not it's official branding, just our interpretation)… and previous interviews with the company's 'solutions architect/vanguard' Patrick Callaghan are linked here.
Pedal to the (bare) metal
Putting the pedal to the (bare) metal [cloud server] then… well, they did call it DataStax Accelerate after all… the event is held May 21-23 in Washington D.C. and will feature more than 60 speakers from the international brand customers including Conde Nast, DreamWorks, Facebook, Home Depot, Instagram, T-Mobile, Verizon, Walgreens and Yelp.
There will also be hands-on labs, an application bootcamp, free Apache Cassandra certifications and a drone race.
Yeah DataStax, Conde Nast customer stories are (probably) lovely… but you had us application bootcamp and drone race.
Keynotes will include addresses from DataStax CEO Billy Bosworth (Accelerating Development in a Cloud World) and DataStax co-founder and CTO Jonathan Ellis (Five Ways DataStax Is Building a Better Cassandra), plus also Apache Cassandra Project Chair Nate McCall (Apache Cassandra – The Road to 4.0).
"From the hands-on bootcamp to the first-ever DataStax Certifications on Apache Cassandra, Accelerate is the best opportunity for developers to learn from each other and from the engineers that build Apache Cassandra and DataStax," said DataStax CMO Cate Lochead. "We have speaker line up that spans DBAs, architects and executives from global brands like Walgreens, Dreamworks, Netflix, T-Mobile and more. DataStax Accelerate is for anyone who is serious about endlessly scalable, game-changing applications in hybrid cloud."
Stax Awards
As part of this event, the company will also host its inaugural Stax Awards (aka the Staxie), to recognise customers.
To qualify for the 2019 awards, companies must be active DataStax Enterprise, DataStax Distribution of Apache Cassandra and/or DataStax Managed Cloud customers.
The judging panel for the awards includes various journalists and analysts, including (ah hem)… myself.
"We're thrilled to kick off the inaugural Stax Awards to recognise the business results and innovations that our customers are achieving with DataStax," said Steve Rowland, EVP and president at DataStax. "We encourage all DataStax customers to enter what's sure to be a fun and exciting competition for many years to come."
Awards will be given in the following categories:
The Best Use of DataStax in a Hybrid/Multi-Cloud Environment Award recognizes companies that have deployed DataStax Enterprise across multiple cloud providers or in a hybrid cloud environment.
The Modern Applications Powered by DataStax Award showcases companies that are building transformative applications—apps that are always-on, contextual, real time, distributed and scalable – on top of DataStax.
The Promising Innovation Award highlights customers that are planning innovative projects that fundamentally transform the way their companies leverage data in a mission-critical way.
The event hashtag is #DataStaxAccelerate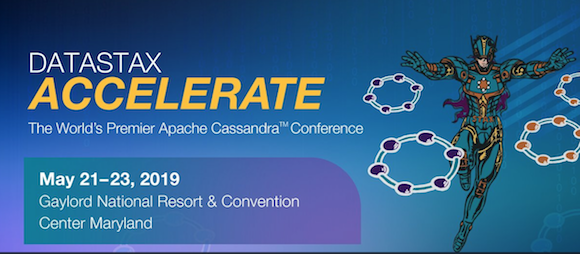 ---
April 3, 2019 12:19 PM
Elastic is a search company — it is the creator of the Elastic Stack (Elasticsearch, Kibana, Beats and Logstash) — that is focused on making real time data usable at scale for search, logging, security and analytics use cases.
The company's Elastic Maps provides a way for end users to explore and analyse 'diverse' enterprise data in the context of real world location/proximity.
Given the proportion of digital start-ups and services that have drawn much of their value from combining data with location (Uber, Tinder, delivery, travel and hotel booking services etc.) — it's not too hard to argue that there is growth in this space.
The company has recently release Elastic Maps, an application for visual exploration and analysis of geospatial data in Kibana — an open source data visualization plugin for Elasticsearch.
According to Elastic, location or geotagged data is becoming increasingly prevalent with the rise of sensor and telemetry technology. Almost every instrumented service or connected device is designed to emit some kind of location signal — latitude/longitude coordinates, place identifiers like city, country, and postal codes, or other markers like IP address that can be used to extract a location signal.
Elastic Maps gives data analysts a way to visually explore all this location data on a map, alongside other dimensions and variables in their data.
"Geospatial data is a key part of many of our use-cases, and we have invested heavily in making it faster and easier over the years," said Shay Banon, founder and CEO of Elastic. "We're super excited to release Elastic Maps, a new solution that leverages our existing query capabilities and provides a more powerful, interactive, and customizable visualization layer, supporting multiple layers, zooming into individual documents and more."
Elastic Maps supports the ability to layer data from different sources in a single map. For example, data developers and data analysts can overlay weather patterns and flight traffic in the same view to see the impact of weather conditions on flight paths in real time.
Or, users can embed promotions and sales data in the same map to analyse the impact of a promotion across retail locations.
Elastic Maps includes out-of-the-box access to the Elastic Maps Service, providing pre-configured vector layers and base layer maps. More experienced analysts also have the option to add their own custom vector shapes, tile map services, or web map services as layers, allowing them to truly make Maps their own.
Elastic Maps is launching as a beta feature in Elastic Stack version 6.7 and ships in the free default distribution.
Users can try it by either downloading the Elastic Stack or spinning up a cluster in Elasticsearch Service on Elastic Cloud.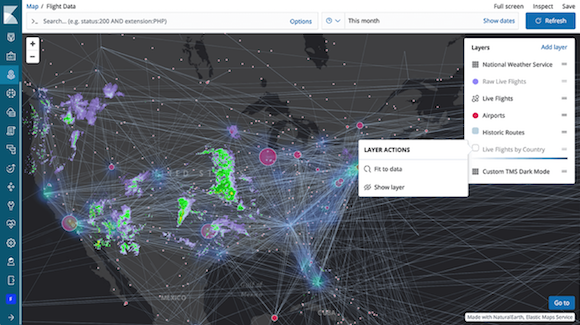 ---
April 3, 2019 12:16 PM
Enterprise Linux company SUSE loves Linux, obviously.
As Linux lives so prevalently and prolifically in the server rooms of so many cloud datacentres, the firm has worked to develop technologies designed to help those datacentres become software-defined.
A software-defined datacentre being one that relies upon programmable elements of code that control, shape and manage many of the network actions that we might (perhaps 10-years ago, certainly 20-years ago) have relied upon dedicated highly specialised hardware for.
In a software-defined network, a network engineer or administrator can shape traffic from a centralised control console without having to touch individual switches in the network.
Why all the software-defined contextualisation?
Because SUSE says that enterprises are now accepting the software-defined is the way to go… if not perhaps quite a full de facto standard, SUSE still says that customers are now looking to move beyond the software-defined datacentre to also embrace edge and cloud computing in a wider context…
… it is, if you will, an edge to core to cloud play that we're seeing here.
"Because our customers have a growing need for computing solutions that span the edge to the core data center to the cloud, SUSE must be able to deploy and manage seamlessly across these computing models, unencumbered by technology boundaries," said Thomas Di Giacomo, SUSE president of engineering, product and innovation.
Di Giacomo looks fondly back upon the fact that SUSE has been delivering enterprise-grade Linux for more than 25 years now.
Given this timeframe, he says that it's only natural that the company now expands to cover the entire range of customer needs for both software-defined infrastructure and application delivery.
SUSE to create, deploy and manage applications and workloads on premises as well as in hybrid and multi-cloud environments – and it does so with an open source first and container-first technology approach.
In terms of roadmap developments, the company notes that SUSE Cloud Application Platform 1.4 will be available this month. This will be the first software distribution to introduce a Cloud Foundry Application Runtime in an entirely Kubernetes-native architecture via Project Eirini.
Project Eirini
NOTE: Project Eirini is an incubating effort within the Cloud Foundry Foundation enabling pluggable scheduling for the Cloud Foundry Application Runtime. Operators can choose between Diego/Garden or Kubernetes to orchestrate application container instances. The goal is to provide the option of reusing an existing Kubernetes cluster infrastructure to host applications deployed by CFAR.
Project Eirini allows users to take greater advantage of the widely adopted Kubernetes container scheduler and deepens integration of Kubernetes and Cloud Foundry. It also allows developers to use either Kubernetes or Cloud Foundry Diego as their container scheduler. Whichever is used, the developer experience is the same.
"There is immense value in commercial distributions using new architecture and projects early because it enables us to get feedback from the upstream community," says Chip Childers, CTO, Cloud Foundry Foundation. "We're thrilled that end users will be able to try out SUSE Cloud Application Platform 1.4, which offers the Cloud Foundry Application Runtime in a Kubernetes-native architecture via Project Eirini, and comment back on the upstream version."
Other updates
So SUSE now highlights increased multi-cloud flexibility with new support for Google Kubernetes Engine (GKE), Google's managed Kubernetes service. This expanded support for multi-cloud environments extends the options to use the platform in public clouds (Amazon EKS, Azure AKS or GKE), on-premises with SUSE CaaS Platform, or as a multi-cloud combination.
SUSE's latest enterprise-ready OpenStack Cloud platform will also be available in April as SUSE OpenStack Cloud 9. It is the first release to integrate a selection of SUSE OpenStack Cloud and HPE OpenStack technology into one, single-branded release.
Based on OpenStack Rocky, SUSE OpenStack Cloud 9 helps simplify post-deployment cloud operations using the new Cloud Lifecycle Manager day-two user interface – it also helps transition to SUSE OpenStack Cloud from HPE Helion OpenStack.
One final open source project to mention: SUSE OpenStack Cloud 9 simplifies the transition of traditional workloads through enhanced support for OpenStack Ironic.
Isn't it (project) Ironic?
NOTE: For the record, OpenStack bare metal provisioning a.k.a Ironic is an integrated OpenStack program which aims to provision bare metal machines instead of virtual machines, forked from the Nova baremetal driver — it is best thought of as a bare metal hypervisor API and a set of plugins which interact with the bare metal hypervisors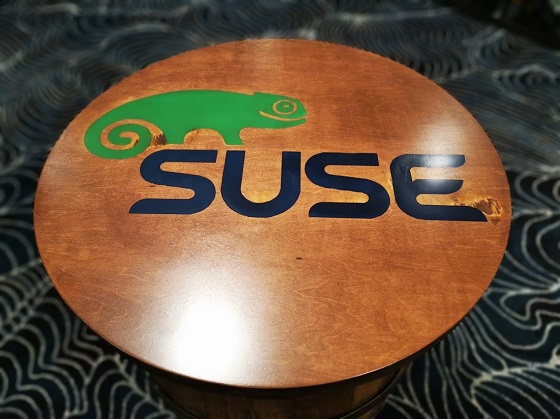 ---
April 3, 2019 11:34 AM
The Computer Weekly Open Source Insider team this month spoke to Rafael Laguna, CEO of Open-Xchange on the 'four commandments' to follow when choosing a service provider.
With a heavy emphasis on open platforms and open tools, Laguna's four commandments stem from his experience gained working at Open-Xchange (OX), where the company develops open source communications software for telcos and ISPs.
Open-Xchange's successes include the Dovecot IMAP server for email, which has five million live servers worldwide and upwards of 2 billion users.
Laguna insists that open source solutions offer enterprises and SMBs the opportunity to ensure long term independence and data sovereignty — he 'strongly believes' in the following 'four commandments" to follow when choosing a service provider.
Laguna writes as follows…
1. Choice
The service should be available from more than one provider
If a service is only available from a single provider, the market is monopolised and users are severely restricted in their freedom to choose a service based on trust. Even if a provider is deemed trustworthy today, this can change over time – the user must have other options to turn to if they feel they can no longer trust their current provider.
Not to mention the fact that an increase in the number of providers is associated with healthy market competition, thus better innovation and opportunities for economic growth.
2. Portability
Users should be able to move their data between providers.
Moving from one service to another usually necessitates that the data held by that service is also moved. When services are based on open standards – like mail or files are – data portability can be relatively easy.
But already, proprietary messaging services are making it difficult, or even impossible, to transfer messaging histories to another service.
Even worse are cloud services with proprietary data formats that render the data useless, when it is opened by alternative software or services. This simply serves to lock the user in and create a 'Hotel California' scenario, where you can check out any time you like… but you can never leave.
3. Democracy
Anybody should be able to become a service provider, at any time
Whilst cloud-based service providers are popular and useful today, this may well change over time and an organisation may decide to become its own provider by in-sourcing the service or running a private cloud.
This is only possible if the software of the cloud service is available to the user.
4. Availability
The software and source code of the service should be publicly available
If the software is open source, users can look at the code and make up their own minds on whether to trust that service or not.
Furthermore, everyone can access and audit the code. This degree of transparency is a key benefit of all open source projects.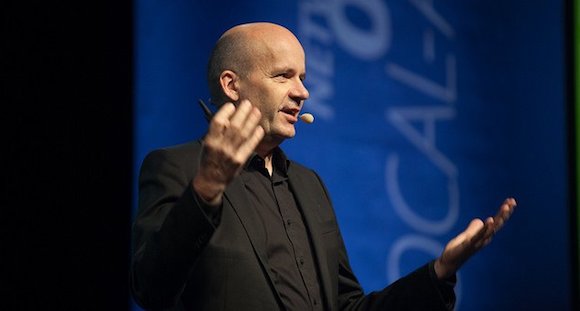 ---
April 2, 2019 5:37 PM
As one would naturally expect at an annual convention, SUSE saved up a few partner, product, platform type announcements to break at its SUSECON show this week.
Among the positive push proclamations made at SUSECON 19 was news of support for 2nd Generation Intel Xeon scalable processors, formerly code named 'Cascade Lake'.
This news follows news detailing SUSE's status as the first enterprise Linux optimised for Intel Optane DC persistent memory with SAP HANA workloads earlier this year.
SUSE president of engineering, product and innovation Thomas Di Giacomo has said that this connection will help organizations embrace hybrid and multi-cloud as well as on-premises environments.
Persistent memory
Intel says its persistent memory technology will spark new applications for data access and storage, with in-memory database solutions being just one application.
Persistent memory (also sometimes called PM, or PMEM… and sometimes known as storage class memory) is a solid-state high-performance byte-addressable memory device that resides on a memory bus so that it can enjoy the 'luxury' of DRAM-like access to data.
The byte-addressable element means that programs can access their data structures 'in place' i.e. at the location that they exist. What really makes persistent memory stand out is that it's fast enough to access directly from the processor without having to stop to perform the block Input/Output (I/O) for traditional storage.
Intel's Andy Rudoff describes persistent memory here and delves into why there's so much activity around it in the industry lately.
Alper Ilkbahar, vice president and general manager of datacenter memory and storage solutions at Intel has said that his firm is focused on data-centric transformation by 'disrupting the memory and storage hierarchy', no less.
Going large (instances) on SAP HANA
Also in major partner news, SUSE has noted the availability of the first enterprise Linux image for SAP HANA 'Large Instances' on Microsoft Azure. We are told that the SUSE Linux Enterprise Server for SAP Applications image on Azure provides consistent build and management capabilities on Azure.
SUSE is working with Microsoft and the community to deliver enterprise-grade Linux and other solutions that enable customers to create, deploy and manage workloads anywhere with exceptional service, value and flexibility.
"This is a customer-driven solution jointly developed with Microsoft to provide the advanced high availability and storage security for SAP HANA Large Instances that customers need," said Daniel Nelson, vice president of Products and Solutions for SUSE.
Nelson says that SUSE is delivering an SAP-certified platform for Azure that is pre-configured and able to make customers productive faster.
How big is a large instance?
SAP HANA Large Instances on Azure are purpose-built hardware configurations for SAP HANA workloads that require memory sizes larger than 0.5 TB.
SUSE is collaborating with Microsoft to support mission-critical workloads for SAP HANA environments up to 60TB in size with the stability and reliability of SUSE Linux Enterprise Server for SAP Applications.
KY Srinivasan, general manager, OSS at Microsoft Corp., said, "Our joint customers are using SUSE Linux Enterprise Server for SAP Applications as the underlying operating system to ensure a reliable platform that is validated on Azure Large Instances. It represents the innovation that marks our long relationship as we continue to work together to provide solutions that meet demanding enterprise customer requirements."
As noted here, despite SUSE's open openness, SUSE spans other proprietary world and so SUSE Linux Enterprise is in fact the leading Linux platform for SAP HANA, SAP NetWeaver and SAP S/4HANA solutions – it aims to provide optimised performance and reduced downtime as well as faster SAP landscape deployments.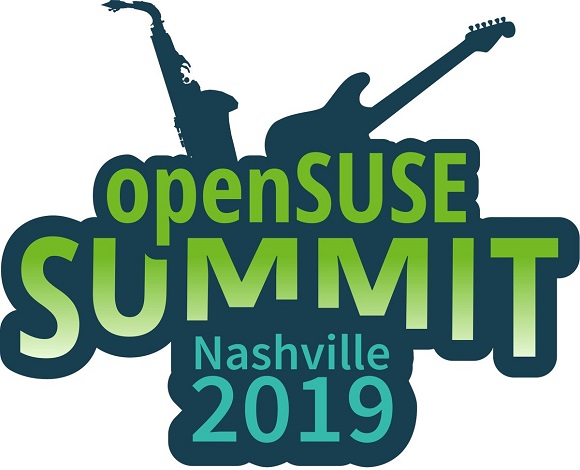 ---
April 2, 2019 4:17 PM
Open source Ruby and Erlang based configuration management tool company Chef has now committed to develop all of its software as open source software under the Apache 2.0 license.
Open open open… yet always with a nod to commercial enterprise grade, the company balanced its open announcement with the introduction of a new commercial distribution, the Chef Enterprise Automation Stack.
Commercial yes, but Chef Enterprise Automation Stack is built from the same open source code.
Chef says it welcomes any use of its open source projects for any purpose (in alignment with the four freedoms of FOSS) and welcomes future contributions.
The freedom to run the program as you wish, for any purpose.
The freedom to study how the program works and change it so it does your computing as you wish — access to the source code is a precondition for this.
The freedom to redistribute copies so you can help others.
The freedom to distribute copies of your modified versions to others  — by doing this you can give the whole community a chance to benefit from your changes — and, again, access to the source code is a precondition for this.
These new developments are hoped to streamline procurement, deployment and use of Chef products including Chef Infra (formerly Chef), Chef InSpec, Chef Habitat, Chef Automate and Chef Workstation.
"Moving all of our code to open source stays true to the philosophy that Chef was founded on, that a community of collaborators with the ongoing ability to create software for their shared purpose is good for all," said Adam Jacob, founder and board member of Chef. "The value of that collaboration lies in the software and everyone should have access to make what they want from it."
The Chef Enterprise Automation Stack will unify previously distinct solutions — Chef Automate, Chef Infra, Chef InSpec, Chef Habitat and Chef Workstation.
The company aims to help firms to express infrastructure, security policies and application lifecycle as code.
This software is intended to help users to manage heterogeneous, complex environments and applications — and, crucially, it claims to eliminate the need to re-write applications for the cloud and enables comprehensive portability across any public or private platforms or services.

---
April 2, 2019 4:12 PM
The Computer Weekly Developer Network and Open Source Insider team is digging into four days of open source goodness at SUSECON.
SUSE these days describes itself as a provider of enterprise-grade open source software-defined infrastructure and a set of application delivery tools.
As SUSE regional director for EMEA West region Matt Eckersall has already told Computer Weekly, SUSECON is not just dedicated to SUSE enterprise-class Linux, the event also opens its focus to OpenStack, Ceph storage, Kubernetes, openATTIC, Cloud Foundry plus a range of other open source (and some proprietary) projects.
Proprietary projects include SAP HANA — SUSE reminds us that its SuSE Linux Enterprise Server (SLES) was the first operating system for SAP HANA and the organisation insists that it remains a co-innovation partner for solutions such as SAP S/4HANA, SAP Cloud Platform, SAP Data Hub and other elements in the total SAP arsenal.
Day zero
As is the trend these days, SUSECON doesn't start on day one, it starts on day zero.
SUSE CEO Nils Brauckmann spoke to press during the day zero kickoff at 9am on April Fools' day… with what he promised to be fully open, honest and true statements.
"Those of you that don't know us will be surprised at how open we really are," said Brauckmann.
Brauckmann underlined the assertion that the company's recent move to its independent privately owned status runs in line with the firm's ambition to become the largest independent open source company.
He also noted that with an increased level of growth in software-defined infrastructures, there will be more focus on SUSE application delivery solutions in the coming weeks, months and years.
"We plan to remain committed to open open source. This is meant to not just describe how we develop and license our source code… it's about how we work with partners and customers to create a culture of mixed innovation in mixed cross-platform multi-cloud environments," said Brauckmann.
Brauckmann says that SUSE will now grow with a mix of organic and non-organic (i.e. acquisitions) style developments. The CEO pointed to enterprise tech growth areas the gravitate towards cloud and datacenter solutions along with the growing need for hybrid and multi-cloud solutions, application delivery, containerisation and microservices.
Overview of product news…
We will dig into SUSECON's major product news elements individually, but as an overview of what platform developments were announced, the following summary provides an overview:
SUSE Cloud Application Platform 1.4 will be available this April 2019 — it is the first software distribution to introduce a Cloud Foundry application runtime in an entirely Kubernetes-native architecture.
SUSE is now a Kubernetes Certified Service Provider — a development that the company says will see it provide support and service to IT shops using SUSE Cloud Application Platform and SUSE CaaS Platform application delivery products.
In partner news, the company notes that, "SUSE announced the availability of the first enterprise Linux image for SAP HANA Large Instances on Microsoft Azure. The SUSE Linux Enterprise Server for SAP Applications image on Azure provides an improved customer experience by offering consistent build and management capabilities on Azure."
SUSE's latest enterprise-ready OpenStack Cloud platform will also be available in April as SUSE OpenStack Cloud 9. Based on OpenStack Rocky, SUSE OpenStack Cloud 9 is the first release to integrate the best of SUSE OpenStack Cloud and HPE OpenStack technology into one, single-branded release.
… and finally, the company unveiled support for 2nd Generation Intel Xeon Scalable processors, formerly codenamed 'Cascade Lake', following on the heels of becoming the first enterprise Linux optimised for Intel Optane DC persistent memory with SAP HANA workloads earlier this year.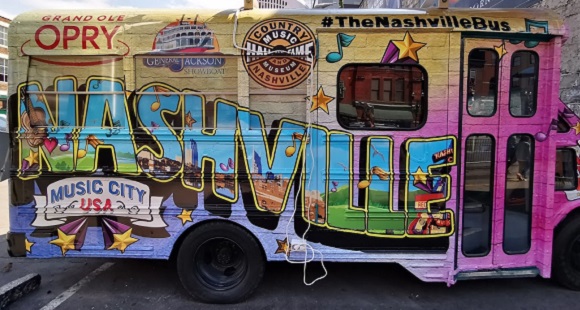 ---
March 27, 2019 7:38 AM
Not at all a question of parts unknown, more a case of parts where some are better known than others.
The Apache Software Foundation (ASF)'s Jim Jagielski and Sally Khudairi have detailed 20 major milestones that exist under the auspicious auspices of the ASF today.
Without detailing every project (and the ASF holds stewardship over 350 community-led projects and initiatives) and repeating the entire story linked above… we'll tour a handful in celebration of the fact that the ASF passed its 20th Anniversary on 26 March 2019.
It would be tough not to mention Apache HTTP Server. This is most popular open source HTTP server on the planet — it provides a secure and extensible server that provides HTTP services observing the latest HTTP standards.
Serving operating systems including UNIX, Microsoft Windows and Mac OS/X, the Apache HTTP Server played a key role in the initial growth of the World Wide Web.
Further down the Apache way
The Apache Incubator serves as the entry path for projects and codebases wishing to officially become part of the efforts at The Apache Software Foundation. All code donations from external organisations and existing external projects go through the incubation process to ensure all donations are in accordance with the ASF legal standards.
Apache Maven is a build automation tool that helps Java developers build and release software. Maven streamlines continuous builds, integration, testing and delivery processes with a central repository and plug-in ecosystem.
Apache Ignite is used for transactional, analytical and streaming workloads at petabyte scale for the likes of American Airlines, ING, Yahoo Japan and others on premises, on cloud platforms, or in hybrid environments. Apache Ignite's in-memory data fabric provides an in-memory data grid, compute grid, streaming, and acceleration solutions.
Deep in Apache territory
Apache Edgent (currently incubating) is focused on the boom of IoT – personal assistants, smart phones, smart homes, connected cars, Industry 4.0 and beyond. You want 'empowered edge' in open source… this is where to look.
Apache Daffodil (incubating) is also growing.
According to Jagielski and Khudairi, "Governments handle massive amounts of complex and legacy data across security boundaries every day. In order for such data to be consumed, it must be inspected for correctness and sanitized of malicious data. Whilst traditional inspection methods are often proprietary, incomplete, and poorly maintained, Apache Daffodil streamlines the process with an open source implementation of the Data Format Description Language specification (DFDL) that fully describes a wide array of complex and legacy file formats down to the bit level."
The ASF also has Enterprise Resource Planning (ERP) in the shape of Apache OFBiz. Apache SIS stands for Spatial Information System for the development of standards-based interoperable geospatial applications.
Apache Syncope manages digital identity data in enterprise applications and environments to handle user information such as username, password, first name, last name, email address, etc.
Apache Cordova is the developer tool used to build cross-platform, cross-device mobile apps using a Write-Once-Run-Anywhere solution, which enabling developers to create a single app that will appear the same across multiple mobile device platforms.
The ASF says that the 'commercially-friendly and permissive' Apache License v2.0 has become an open source industry standard.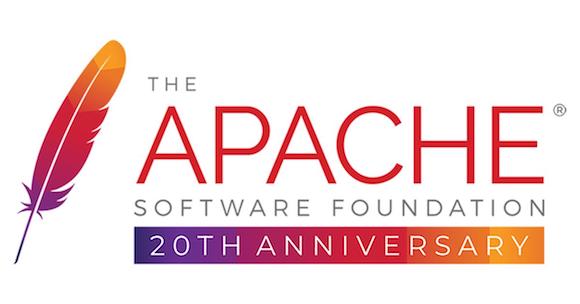 ---