---
October 31, 2014 5:47 PM
Uncategorized
TIBCO stages its annual global convention next week - what used to be called TUCON is now called TIBCO NOW. Yes, we preferred the old name too.


RSS Feed

Email a friend
October 23, 2014 1:34 PM
Uncategorized
Don't be disappointed, Jive Software's new WorkType Finder is not a personality test says the firm's exec VP Elisa Steele. We increasingly analyse our lifestyle today (especially so given the rise of the so-called Internet of Things) to calculate where we can digitise, automate and bring...
---
October 18, 2014 9:14 PM
Uncategorized
Intel has released what it says is 'the first' suite of tools for the development of native applications across architectures, operating systems and integrated development environments (IDE.)
---
October 15, 2014 3:49 PM
Uncategorized
Platfora has lots to say this week by golly. Platfora who? Okay yes, sorry, we haven't spoken about this firm much yet -- the company is a big data analytics specialist and its software works in tandem with the open-source software framework Apache Hadoop. The technology proposition here is the...
---
October 9, 2014 7:44 PM
Uncategorized
Pentaho has released version 5.2 of its core Business Analytics product this week at the firm's inaugural PentahoWorld 2014 event.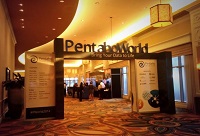 ---
---
October 9, 2014 1:28 PM
Uncategorized
The first ever PentahoWorld conference was staged this week in Orlando, Florida. Given the preponderance of so many long in the tooth tech events these days, it's nice to see how a firm with open source founding like Pentaho would structure a gathering of some 400 or so attendees - the audience...
---