Jun 24 2013 5:29PM GMT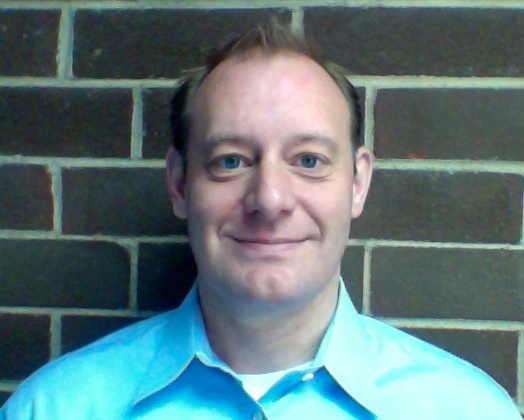 Profile: Aaron Delp
Disclaimer – This is a live blog from the CloudStack Collab Conference. Might have a bunch of errors in formatting, etc.  I'm just typing as fast as I can.  Also, I work for Citrix and I focus on CloudPlatform, the commercial version of CloudStack.  Just want to be up front with everyone
Chip Childers (Vice President at Apache over CloudStack) is up talking State of CloudStack: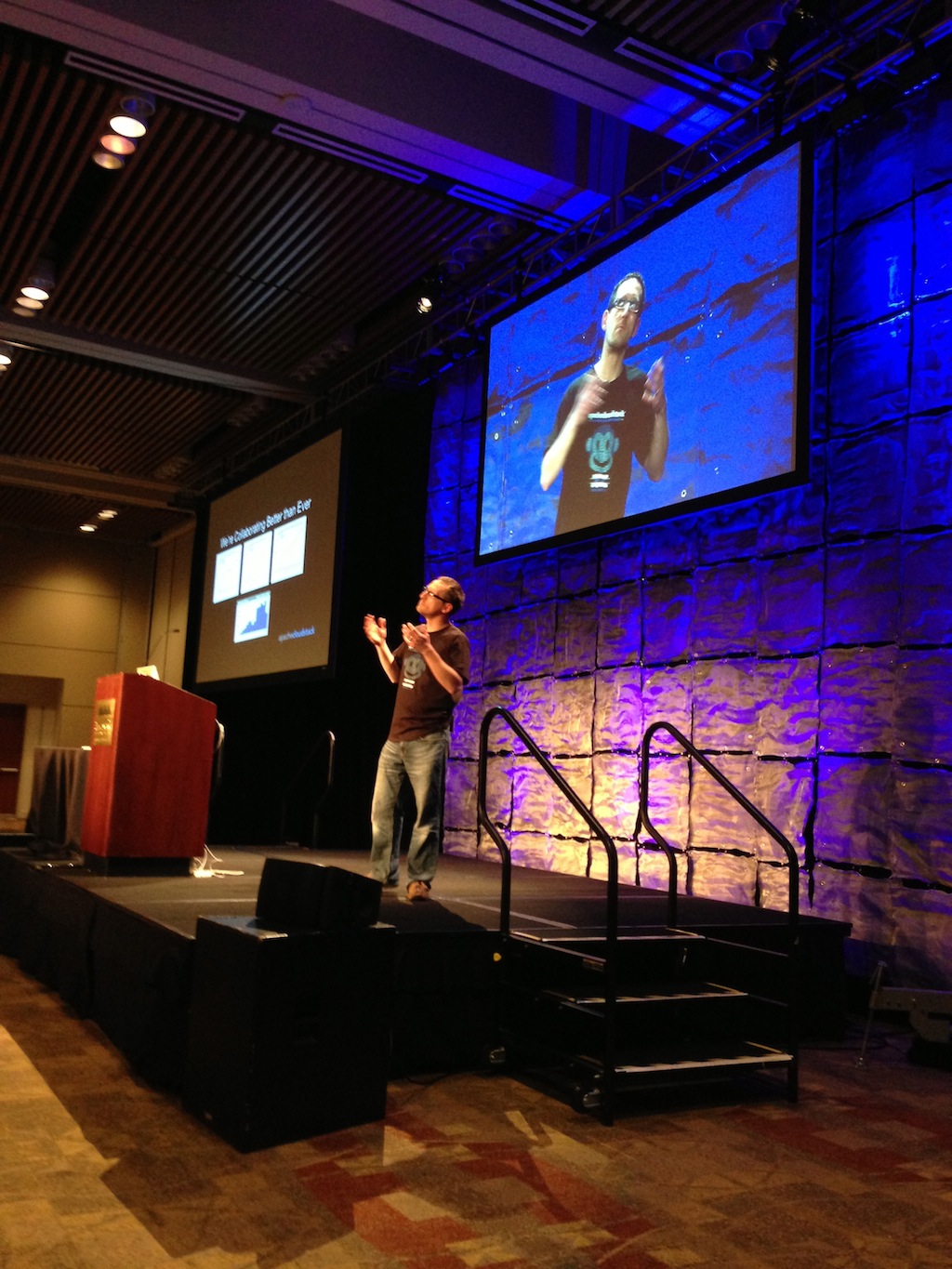 CloudStack is an Apache Top Level Project! – This was achieved in less than 1 year from entering incubator, amazing for a project of this size

Over 18,000 code commits by hundreds of developers, 2.5 million lines of code!
4.1.0 released – architecture improvements, 20 new features, 24 improvements, 155 bug fixes, helped 2.x users with upgrade path to 4.1
Working on educating others: CloudStack University Initiative, Google Summer of Code, Apache CloudStack Training Courses (by ShapeBlue)
Two CloudStack books have been published
Users Groups have formed around the world (London, Bangalore, Japan, New York City, San Francisco)
Chip is now talking Japan CloudStack User Group (JCSUG) – hundreds of members across multiple cities, divide and conquer strategy for releases, translation of documents, working on an OSS cloud certification
In Summary – How is the community doing?  We're stronger than ever, and growing rapidly
Over 270 CloudStack operators in production
Both the users and developers mailing lists are going up in parallel, it means operations and development go hand in hand
Where is CloudStack Focus – support for traditional and cloud-era workloads, flexible deployment options
Infrastructure is a means to an end. That end is the applications!  Our job is to make everything easy to consume!
Up Next: Gene Kim – Author of the Phoenix Project: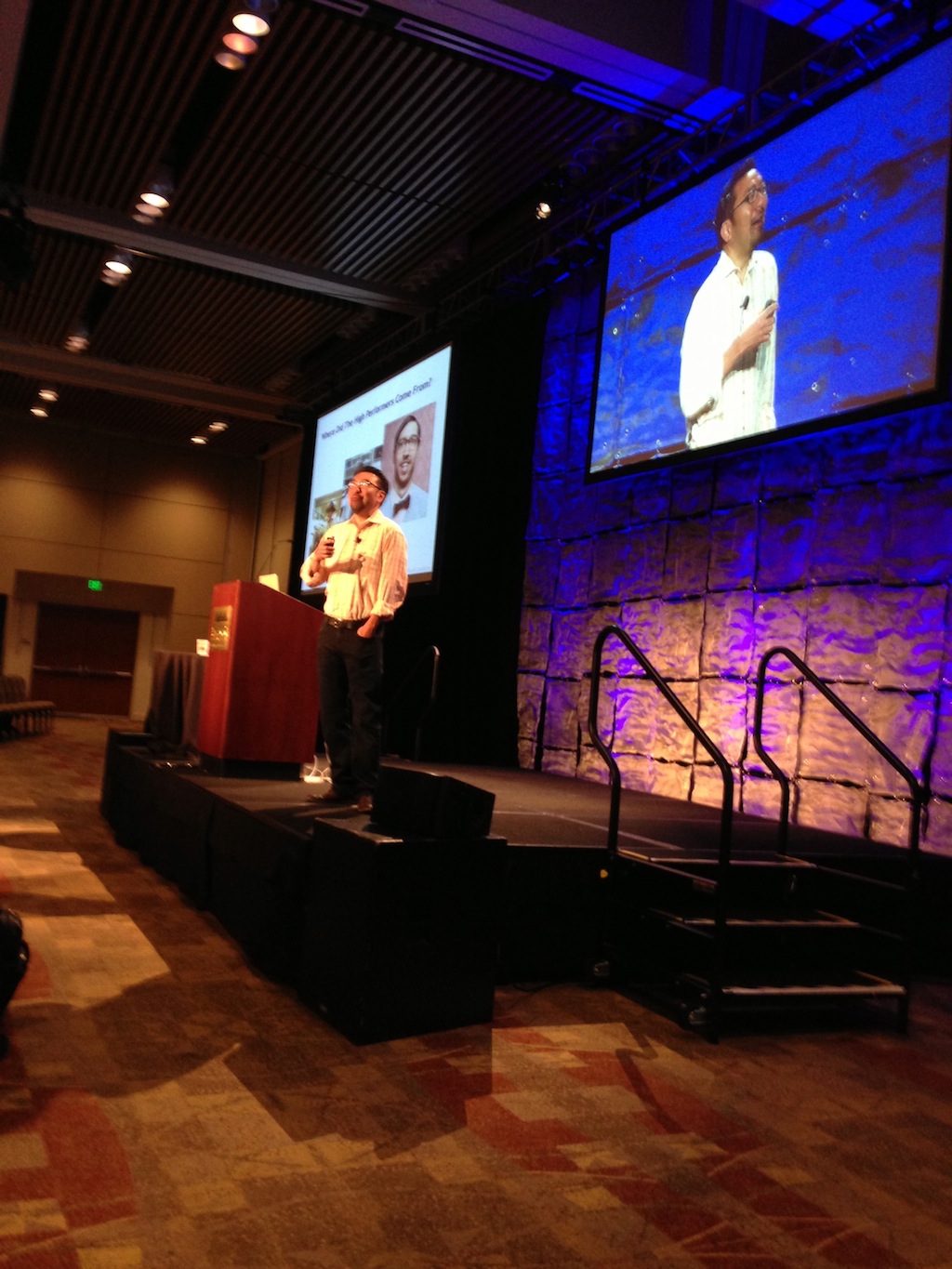 Gene talking intro to dev and ops and histories in IT organizations

What happened with the downward spiral of IT?  How did we get here?
Talking roles of Project Managers, Developers, and Operations and the roles
We got here by an over promise, then promise bigger in next release, generation of technical debt
This debt creates a war between Dev and Ops over time
What about Security in all of this??  No one ever brings them in to the end.  It's a bit like showing up at the end of the buffet and there is nothing left.  The rates of burnout in security is up there with first responders, medical professions, and other high burnout professions where you are always "downstream" from the failures with no hand in the solutions
95% of all capital projects have an IT component, 50% of all capital spending is technology related! (sorry for the bad picture)
Dev and Ops think like this – Classic slide!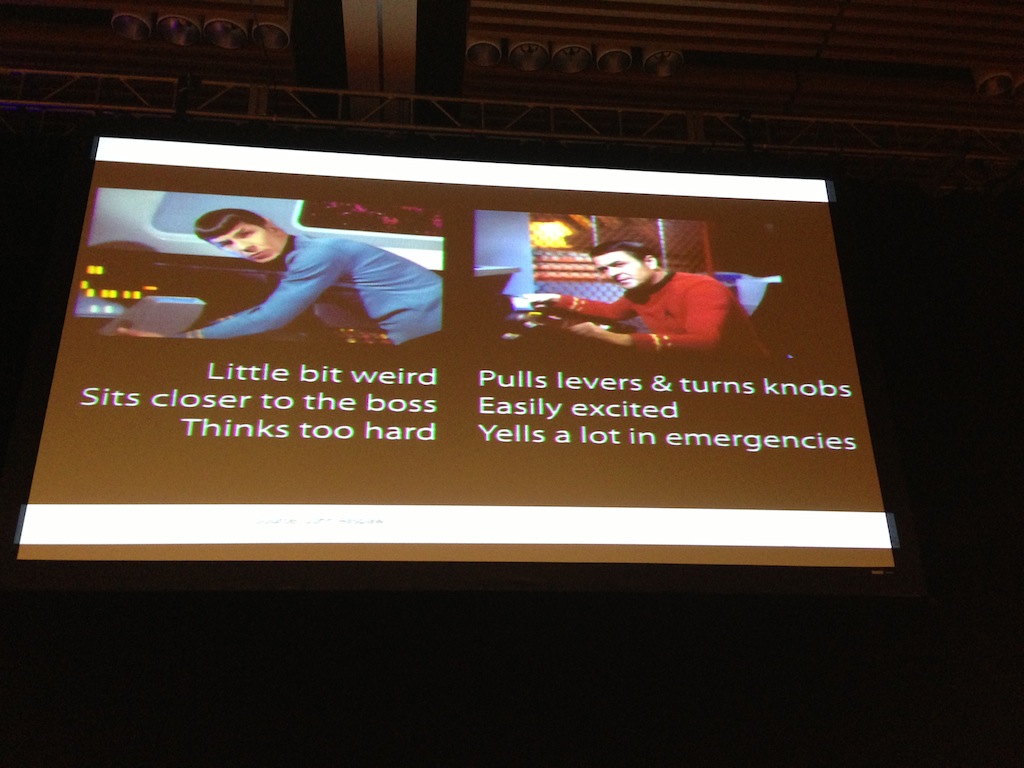 And this is what happens to the security folks!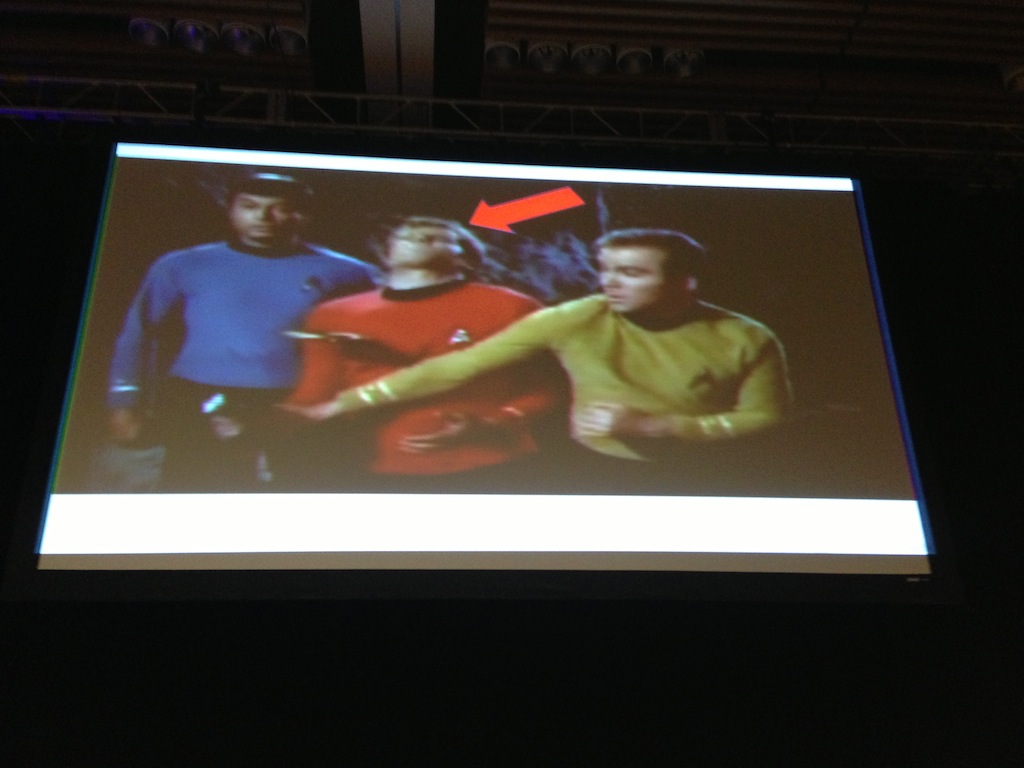 Take Amazon for example – deployment every 11 seconds on average (bunch more stats here, amazing!)
What do high performing dev-ops teams do? 30x more frequent deployments, 8000x faster cycle time at 2x the success rate, 12x faster MTTR
The Phoenix Project was inspired by The Goal.  80's manufacturing is today's technology flow
The First Way: Flow (going from Dev to Ops)
Ask yourself (or a friend) what is the lead time for changes?  Is that measured in minutes, hours, days, weeks, months, quarters??
We have development environment where deployments hurt. Because it is painful, no one looks forward to it.
To solve this, make development environments available early in the process – goal at the end of each sprint, code must be working in the environment it runs in
How to achieve high performance: 89% are using infrastructure version control & %82 are using automated code deployments
Outcomes from the First Way: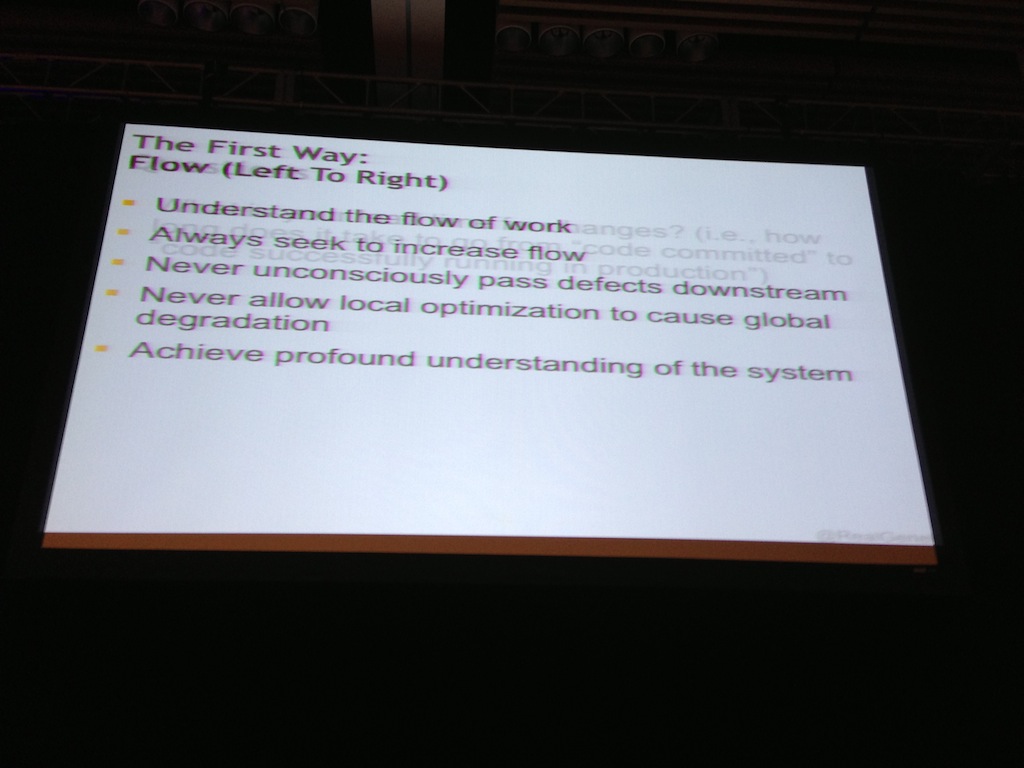 The Second Way: Amplify Feedback Loops
Feedback loops are the key to improvement – the more efficient the loop, the more likely it will make a difference
Fix problems right there to prevent the generation of technical debt
Creates quality at the source
The concept of "hygiene" in development and operations, how well it work with others. Puppies are cute but poop on the floor.
Integration into Continuous Delivery – The days of change management meetings are gone!
What does this lead too: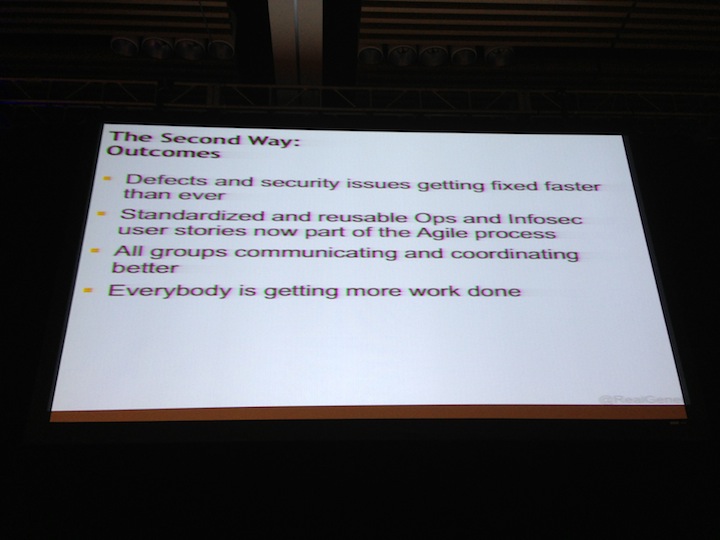 The Third Way: Culture of Continual Experimentation and Learning
Just because we have done something one way for 25 years doesn't mean we have to keep doing it
We need to fail fast and learn from our mistakes
Sports Athlete: It is always better to practice 15 minutes a day than to practice once a week for 3 hours
Adrian Cockcroft quote – Do painful things more frequently!
Testing of code needs to happen in-line, it can't wait until the end anymore!
Need to fous on technical debt over time – if not it will eventually be ALL you do!
Intuit for example – They did 165 experiments in the three months during tax season – why? Increased conversion of the website by 50%, they generated more business when they needed it the most
Repetition matters: You have to practice all the time to get better, if not a downward spiral develops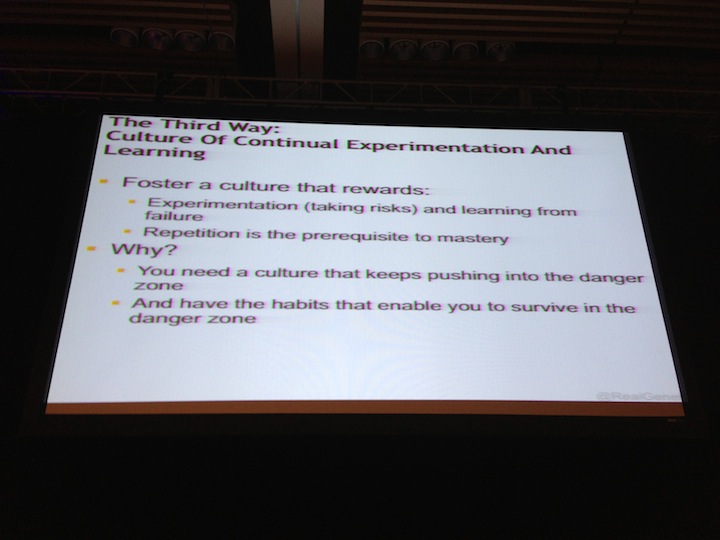 In summary – Go get the book, Gene is always awesome and it is an exciting time in our industry!