---
August 10, 2009 5:49 PM
Have you ever noticed that the root of the word "fired" is contained within Mike ZaFIRovski's name?
Nortel answered the prayers of many of its channel partners today when it announced the inevitable. CEO Zafirovski is out.
Nortel put out a press release today announcing changes to its management team, board of directors and organizational structure.
Citing the sale of Nortel's CDMA/LTE business to Ericsson, its agreement to sell its enterprise division to Avaya and the "successful reorganization" of Nortel's other business units into standalone entities that it can sell off easily, Harry Pearce, Nortel's board chairman said now is "a logical departure point" for Zafirovski. Not exactly a Mission Accomplished banner. But Pearce did have some nice things to say about the man who stood side-by-side with him during the biggest corporate collapse in the IT industry since the Dot-Com bubble burst nearly a decade ago.
Mike came to Nortel to transform this company. He made great progress on many fronts including addressing significant accounting and related legal issues; improving the quality of Nortel products and the company's cost structure.  His ambitious vision helped shift the economic center of the company from legacy to growth investments.  It was unfortunate the transformation was derailed by a deteriorating economic climate and the company's legacy cost structure. The operating improvements and strategic investments made during his tenure significantly contributed to the fact that Nortel's businesses are so attractive to potential buyers today.
With that said, Pearce is out as chair of Nortel's board. In fact, the board of directors is being chopped down from nine members to three. The three remaining board members will be John A. MacNaughton, Jalynn H. Bennett and David Richardson. Richardson will serve as the chair.
According to Richardson's bio, he is a corporate accounting veteran with deep connections to Ernst & Young, Nortel's bankruptcy monitor.  Since retiring from Ernst & Young as the managing partner of the firm's corporate finance practice in 2002, Richardson has sat on a few corporate boards. He's a the former chairman of the board of directors of Ernst and Young's Canadian operation. He is currently the chairman of the board for Air Canada and is he also serves on the board (and chairs the audit committee) for ACE Aviation Holdings Inc, which owns Air Canada.
No CEO has been named to replace Zafirovski. Instead, most of Nortel's remaining business units will report to Chief Restructuring Officer Pavi Binning. Nortel's mergers and acquisitions teams will continue to report to Chief Strategy Officer George Riedel. A core "Corporate Group" has been established which will be responsible for the management of ongoing restructuring activities. It will be led by John Doolittle, Nortel's now former treasurer.
All of these executives will report to the reduced board of directors, Ernst & Young and a new U.S. principal officer, who will run the Nortel companies who are currently in U.S. Chapter 11 proceedings. This principal officer hasn't been named.
July 30, 2009 9:30 PM
Online Media Daily reported last week that a recent study has shown evidence of a link between brands' social media efforts and revenue growth. According to author Mark Walsh:
The new research from social media platform Wetpaint and digital consulting firm Altimeter Group found that companies with the highest levels of social media activity on average increased revenues by 18% in the last 12 months, while the least active saw sales drop 6% over that period.
This should come as good news for channel partners who have begun to explore social media outlets such as Twitter, blogs and Facebook to enhance their sales and marketing efforts.
As I reported earlier this month, channel partners haven't gone whole hog on social networking, but many are experiencing success in using LinkedIn. But it's not just about putting your resume online. As David Ito, product development manager at Logos, a Cisco partner in Westlake, Ohio, explained, "Anyone who puts the time in to learn how to use LinkedIn has an advantage over just using it for connections. It's not just saying, 'Hey, link in with me.' That's what everyone was doing a year ago."
Alan Hoffman wrote in the New Jersey business review today about how a deeper look at LinkedIn yields results for professionals, supporting Ito's point.
Hoffman provided seven tips about how you can make the most of LinkedIn. These tips include things like "doing your homework" and "hyping yourself (subtly)" — all pretty commonsense, but perhaps of help if you are just starting out building your channel company's social media efforts on LinkedIn.
---
July 20, 2009 4:01 PM
Avaya announced today that it will seek to buy Nortel Enterprise Solutions for $475 million. In the deal, Avaya would acquire Nortel's voice, data and government systems businesses. Due to bankruptcy laws, other entities will be allowed to bid on the company later this year before any deal is sealed.
In its announcement of the deal, Avaya sent out signals that Nortel's channel partners are a central focus of the transaction. Quoted in the press release, Avaya CEO Kevin Kennedy said, "The addition of Nortel Enterprise Solutions will increase Avaya's global scale, expand our channel partner network, and strengthen our world-class portfolio of products and services." (Emphasis is mine.)
The press release also has supporting quotes from a couple of major telecoms, who resell Nortel gear. No doubt this is an attempt to send a signal to other Nortel partners that Avaya is committed to them.
The press release first quotes Stephane Boisvert, president of Bell Business Markets, the business communications division of Bell Canada and a major reseller of Avaya and Nortel. "Bell was the first major service provider to standardize on both Avaya and Nortel IP telephony solutions, and we are confident Avaya will continue to provide partners and customers with innovative business communications technologies and responsive customer support going forward.
Hanif Lalani, CEO of BT Global Services said in the release that BT plans to expand its channel relationship with Avaya globally over the next year and that the Nortel acquisition will strength this expansion plan.
Historically, Avaya's reputation in the channel partner community isn't exactly sterling. Carol Giles Neslund, Avaya's vice president for the North American channel, recently told me her company is aware that it has a reputation among resellers for being difficult to do business with. She said Avaya is working aggressively to change that. Avaya's growth strategy is focused centrally on building out its channel and recruiting Nortel partners has been a key part of that strategy.  Neslund told us that Avaya has recruited seven of Nortel's ten largest partners since late last year.
I hope to get someone from Avaya on the phone toda to talk about the channel and also to talk about what the company's plans are for Nortel's data networking business, since Avaya isnt' exactly known for being in that market.
---
July 10, 2009 7:39 PM
This week on SearchNetworkingChannel.com, I wrote about how channel partners are using social networking sites. Most of the partners I interviewed were at least experimenting with social media, but said that they weren't ready to invest much time or money in it, because they hadn't yet seen dramatic results. That being said, everyone I spoke with had some positive things to say about social media — especially about LinkedIn — and reported having been able to discover new leads, deepen existing relationships, engage in some form of online collaboration, or find more information about their vendors or prospective leads through a social networking forum.
There's a lot of hype right now surrounding the topic of social networking, though, with countless pundits extolling the benefits of social media (and countless trade publications warning against making yourself look like a jerk online). Every day you hear about another vendor launching a new social media partner portal. (Not to mention the journalists and bloggers like me, regurgitating this information!)
Heather Clancy blogged about this topic in a post titled "Creating channel social business networks is not a trivial investment." She provides some very clear and sane advice that cuts through the hype. First, she outlines her concern that vendors building private social networks especially for their channel partners will need to have a lot of patience and persistence to make these communities work. She points out many of the challenges these closed communities may face.
Finally, Clancy gives some practical advice for vendors as far as how to actually make closed partner social networks a success.
They could be used to create a way for your channel account managers and field teams to interact more seamlessly with partners in their geography. Why limit the "closed" network to your partners? In fact you shouldn't. This might be a great way for them to be more in touch with teams across your company, to stay in closer step with deals that are in the works or be alerted about local activity that might be of mutual interest.
Systems engineers could contribute real-world insight into real-world problems. In some cases, social business networks are already being used as a collaboration tool for product development. As a real example, I'll point you to the case of Chordiant Software, which uses a platform from Jive.
Success stories (and therefore best practices information) can be shared by your channel marketing team, especially in the form of video. In the brief experiments I've done with some of SWOT's clients, I've found that the right video (in the form of a partner testimonial) usually gets more attention than written version of same.
By adding the right information widgets in the form of RSS feeds, you can all stay on top of competitive threats or developments.
Clancy concludes by saying that she thinks "every high-tech vendor SHOULD be evaluating a social networking or broader social media strategy," but cautions that they may be better off using a proven platform, like LinkedIn, rather than trying to build their own. If the partners I interviewed are representative of the VAR and integrator community, vendors who follow Clancy's advice and bring their social media efforts to a place where partners are already hanging out may fare better than those who try to do their own thing.
---
July 7, 2009 4:06 PM
Last night the marketing organization at HP ProCurve inadvertently copied us into an email exchange about an upcoming tactical response to an unpublicized channel campaign by Cisco.
According to the email, Cisco has instructed its VARS to match any price ProCurve offers. Cisco hasn't publicized this program, so not all Cisco customers know about it.
Apparently ProCurve will embrace Cisco's tactic.  The company plans to publicize Cisco's price-matching scheme to everyone. Why? As the email states: "…if every Cisco customer knew they could get Cisco products at the same price as ProCurve products, this would accomplish two things: make customers more familiar with ProCurve (they'd have to call us in order for us to make them an offer) and spread the Cisco sales team thin by having them respond to every customer asking them to match ProCurve offer (and lose money in the process)."
The leaked email seems to indicate that ProCurve plans to officially announce this move next week. ProCurve partners should expect to start hearing from Cisco customers soon. It wouldn't hurt to do a little extra marketing so that Cisco customers in your region know where to go for a ProCurve price quote.
This news out of ProCurve follows an internal Cisco memo leaked last week, which details a significant internal reorganization of Cisco's sales and channel-facing teams.
---
June 30, 2009 5:14 PM
Cisco Systems announced this week its new Cisco Certified Architect (CCA) program. This new elite certification is meant to sit above Cisco's CCIE and CCDE certifications and comes with a price tag of $15,000. Cisco channel partners, particularly those who are going after large accounts, might want to have someone on staff with a CCA. However, the certification will be highly elite and rare for now – Cisco only expects to certify a few dozen individuals over the next few years.
Zeus Kerravala, group vice president at Yankee Group, told me the CCA will eventually become a differentiator in the channel community.
"In order for some consulting firms to bid projects, you have to have X number of CCIE's on staff," he said. "Once this [CCA] has been out there a couple years you'll start to see it included in RFPs, too."
---
June 22, 2009 4:08 PM
Nortel partners who haven't already started hedging their bets might want to do so now.  While announcing that it had sold its wireless carrier infrastructure division at a bargain basement price today, Nortel also admitted that it will sell off its remaining assets.
Nortel competitors, such as Avaya, have been aggressively recruiting Nortel partners in recent months. You can expect that recruitment to ratchet up, especially if one of Nortel's competitors acquires a Nortel business unit. After all, who knows Nortel's customers better than its partners?
Also, if someone like Avaya or Siemens-Enterasys buys Nortel's enterprise division, the buyer will certainly have plans to move those customers onto its own products sooner or later. That vendor will want channel partners who are familiar with its own products and Nortel's products. Such expertise will be valuable as vendors look to help enterprises transition away from Nortel to their own products.
---
June 19, 2009 10:16 PM
This week in a column on No Jitter, Yankee Group analyst Zeus Kerravala discussed that by building its managed services offerings, Cisco may be taking business away from its channel partners. Kerravala outlined some of the grumbling he'd heard from partners during and since the Cisco Partner Summit earlier this month, and then tried to distinguish fact from FUD.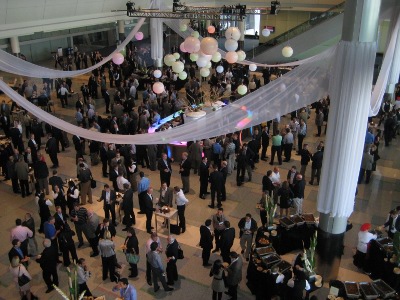 As I read the piece, I found myself wondering where Kerravala found these disgruntled partners. I also attended the Partner Summit, and search as I might for disgruntled attendees, the large majority of partners I met had nothing but praise and optimism for the networking giant. At worst, they were mildly skeptical. At one point, I even spoke with an integrator who enthusiastically chirped, "we've been drinking the Cisco Kool-Aid for years now, and we have no complaints!"
Well, that's what happens when you drink the Kool-Aid!
Apparently, it's not just Cisco. My NetworkingChannel predecessor, Rivka Little, had a similar experience at the Juniper Networks J-Partner Summit in May. She'd searched for a differing opinion at the conference — some dissenting partner to counter the vendor's hoopla and give her a reality check (or at least, to add some color to her reports). Let's face it, it's no fun to write a story that says everybody agrees. Without raking the muck, it's at least good to see a couple sides to an issue.
But Little had the same problem I did at Cisco: Nearly every partner she met was full of reverence for their host. Maybe it's the bananas foster station, or the free gadgets, or the martinis. It's not until weeks later that the skepticism, the grumbling, and the "growing rifts" begin to emerge. As Little put it, "you have to wait until they have the shrimp cocktail in the rear view mirror" before partners' doubts about the vendors come out.
So I'm wondering: Are we journalists and analysts just muckrakers, looking for or even instigating dissent where there isn't any? Or are the vendors doing a really excellent PR job — or putting something in the shrimp cocktail?
---
June 19, 2009 10:16 PM
In the world of smart grid technology, we're starting to see the formation of a David and Goliath confrontation.
Silver Spring Networks, a start-up whose core strength is building network interface cards that connect smart meters in homes and businesses with the network infrastructure of utlities, has been doing fairly well. And it looks to be doing even better now that the U.S. Department of Energy has outlined plans to disburse $5.7 billion in federal stimulus funds on smart grid initiatives across the country.  In April FPL Group, a Florida Utility, announced plans for a $200 million rollout of one million smart meters in the Miami area. The key vendors in the deal include GE, Cisco and Silver Spring. If successful, FPL will roll out the smart meters to the rest of its 4.5 million customers. That's a lot of business for Silver Spring. Then this month Com Ed, Chicago's electric utility, announced its own smart grid pilot and chose GE and Silver Spring for the project.
Meanwhile, Cisco has aggressively expanded its smart grid plans. Last month Cisco told me it plans to take a four-pronged approach to attacking the smart grid market and winning some stimulus dollars for itself (and hopefully some channel partners). It will be rolling out products in four categories:
Transmission and distribution networks, where energy is produced and distributed.
Neighborhood area networks, where energy is distributed locally to homes and businesses.
Home and business energy management products, such as products that intelligently manage the consumption of energy within a building.
Data infrastructure to manage all of the above.
Although back in April Cisco and Silver Spring were part of the same deal with FPL, the two companies will increasingly compete head to head, it seems. This month North Carolina-based utility Duke Energy announced a new deal with Cisco for its own smart grid project.  As Katie Fehrenbacker of earth2tech.com wrote, this deal illustrates the shift in Cisco's smart grid strategy that I outlined above. In the FPL deal, Cisco was focused on the consumer side of smart grids. This Duke Energy deal encroaches on Silver Spring's territory on the utility side.
Silver Spring has undoubtedly recognized this threat and it is taking steps to counter Cisco's moves.  Late last week Greentechmedia.com reported that Silver Spring had hired away Judy Lin, vice president of Cisco's Ethernet Switching Technology Group. I haven't seen any official confirmation of this report yet, but just last month Lin was quoted in a San Francisco Chronicle story about Cisco's foray into the smart grid market.  Less than 30 days later reports surface that she has been hired by a rival start-up.  Clearly, Silver Spring is looking to beef up its Ethernet capabilities as it prepares to compete head to head with a company that dominates so many markets, from switching and routing to unified communications, wireless networking and video conferencing.
VARs and system integrators who are looking to build a smart grid practice will probably see Cisco as a natural partner, but Silver Spring might be a good prospect as well.
---
June 10, 2009 9:19 PM
Driving home from the Cisco Partner Summit last Tuesday, Elaine Hom and I happened to catch a WebEx promotion on the radio. The announcer asked baseball fans to go to a WebEx site that had been set up for them to collaborate about their favorite baseball team. One lucky user would be sent to the ballpark of their choice.
I said something along the lines of, "Uh, collaborate? About sports? Without a lot of unison clapping, chanting and beer?!" I knew Cisco (which acquired WebEx and its collaboration platform early last year) had been reaching pretty far into consumer markets, but this just seemed preposterous.
But Elaine brought up the fact that WebEx and Cisco TelePresence also feature prominently on episodes of 24. On the hit Fox show, which Cisco sponsors, the company's products have been used to secure a pardon and host a secure teleconference — all with lives on the line, of course.
It makes for good drama, sure — but the product placement strategy seemed, well, more whimsy than strategy to Elaine and me. So when I had the opportunity at last Wednesday's press conference, I asked Cisco CEO John Chambers what the deal was. Did Cisco really think there were enough technology decision makers watching 24 to make the product placement count? Or was Cisco trying to make itself a household word — and if so, can TelePresence really make it as a consumer play?
Chambers, with his usual charisma, said that it's a little of both. "How does it capture your imagination?" Chambers said. "We can bring that into your home where you can watch sporting events along with your friends." He said that collaboration technologies "have the ability to completely change the way you live, learn, work and play," so there's definitely a consumer angle going on here. He pointed out that Cisco's acquisition of Flip video camera maker, PureDigital, was also part of this strategy.
Regardless, Chambers said, CEOs with whom he met universally commented on hearing product mentions on 24.
Also present at the conference was Cisco's Executive Vice President of Worldwide Operations, Robert Lloyd. Lloyd said: "You can't separate what you see as a consumer technology today from what you want to use in the enterprise — you just need a hardened version. I think the actual product placement strategies with Jack Bauer saving the world, are that you see business leaders say 'why can't I do that at work?'"
Chambers added, "We obviously will move telepresence into the home within the next 12 months."
Clearly, Cisco is unafraid of taking on the consumer market in ways that seem challenging, even futuristic. As Shamus McGillicuddy wrote in The Network Hub in January, it seems that Cisco is branching out into everything. Check out the Cyberdyne video in that blog post. When the narrator says, "Our goal: Complete domination of global communications," it's hard not to draw a parallel between Cisco and Cyberdyne.
While Cisco's ambitions seem much less potentially sinister, it does make one wonder how far they really will go. As Chambers said, "We plant seeds. The ones that are growing well, we run very fast [to cultivate]. And the ones that aren't, we never tell you about."
---