---
December 21, 2009 5:58 PM

Profile: Jessica Scarpati
Unified communications vendor Avaya is relinquishing sales of its Avaya-branded headsets to their original equipment manufacturer, Plantronics, which in turn is funneling it over to its channel partners.
According to Plantronic's announcement today:
Avaya will transition from delivering Avaya-branded headsets manufactured by Plantronics in February 2010. Customers will then purchase Plantronics-branded headsets designed for Avaya telephony solutions directly from Plantronics' extensive channel of distributors and business partners. This is a global action; however, Avaya Germany will continue to purchase headsets directly from Plantronics. The transition will simplify purchase processes for customers while maintaining world-class service and support.
While severing one part of the relationship, Plantronics says the two vendors are intertwining in another way:
Plantronics' broad portfolio of headsets are Avaya-certified and provide immediate connectivity and advanced call control functionality with Avaya's solutions. Additionally, Plantronics and Avaya will jointly introduce future voice solutions that take advantage of Avaya's suite of collaboration applications and tools to provide a new level of communication intelligence to customers.

The relationship will focus on the following areas:

• Technology – Tight integration of Avaya product APIs into Plantronics audio solutions. Several new products from Plantronics for Avaya Unified Communications and Avaya Contact Centers will be announced in 2010.
• Marketing – Avaya and Plantronics will collaborate on integrated UC and CC marketing campaigns in 2010 to channel partners and end users.
Is this a losing deal for Avaya VARs who counted on those contact center sales? Share your thoughts.
December 2, 2009 8:22 PM
Cisco and HP have been in a hot war for more than a year now, with Cisco launching its Unified Computing System as a competitor to HP's server business and HP building up its ProCurve brand as the top networking rival to Cisco.  This new rivalry has had plenty of implications for channel partners, many of whom do business with both companies. For instance, Cisco started pushing partners to match HP ProCurve's lower prices in key deals. And HP picked up networking refugee 3Com specifically to beef up ProCurve, a move that is sure to have plenty of fallout for VARs as ProCurve integrates 3Com's products into its portfolio.
There is a new meme emerging from this newly charged rivalry: VARs will find themselves caught in the crossfire. Unnamed VARs are telling the media that they are being asked to choose one side or the other, something that wouldn't sit well with channel partners who want customers to think of them as trusted advisers, not vendor flunkies.  As one anonymous partner told CRN recently: "We should not be lined up by vendors, but by the unique needs of our customers. That is who we serve. We have to embrace the notion that our bread is provided by our customers."
Can HP or Cisco really pressure partners to fall in line with one of them or the other? What would that pressure look like? And how would you respond? We'd like to know.
---
November 17, 2009 8:05 PM
Riverbed Technology is in talks to buy rival WAN optimization vendor Expand Networks for $30-$40 million, according to Globes Online, an Israeli business news site (Expand lists Roseland, N.J., as a corporate headquarters, but it is very much an Israeli company, with most of its employees in Tel Aviv and the majority of its most senior executives Israeli. So naturally an Israeli business site would have the inside scoop here). The site notes that Expand has spoken to many potential suitors. Don't be surprised if Cisco, Juniper or F5 tries to head Riverbed off here and try to grab Expand's technology.
If the Riverbed-Expand deal happens, Riverbed and Expand partners should watch carefully how Riverbed incorporates Expand's technology into its product portfolio. Certainly Riverbed would prioritize the integration of Expand's remote and virtual desktop acceleration capabilities into its Steelhead appliances.
Riverbed might also try to integrate Expand's vision for software-only WAN optimization appliances. Riverbed's approach focuses more on having physical boxes between each location, although its Steelhead Mobile technology has departed from this vision, allowing enterprises to deploy acceleration software on end user devices.
This deal would mark further consolidation in the WAN optimization market. Expand, itself, snatched up software-only WAN optimization vendor NetPriva in 2008. Another WAN optimization rival, Blue Coat Networks, bought Packeteer, a WAN optimization and traffic prioritization vendor in 2008. Furthermore, Riverbed has been open to expanding its business through acquisition recently, acquiring network performance monitoring and network behavioral analysis vendor Mazu Networks last January.
Analyst firms Gartner and Forrester Research consider Riverbed and Expand both as technology leaders in the WAN optimization market. While Riverbed boasts strong brand recognition, a broad range of acceleration techniques (including encrypted MAPI, CIFS and HTTPS), its has lacked a strong story in virtual desktop infrastructure (such as RDP and Citrix).
Meanwhile Expand has long specialized in Citrix and RDP acceleration. Expand's biggest challenge has been achieving profitability. The company has raised more than $80 million in venture capital, and yet Riverbed is kicking the tires at $40 million. If
---
November 12, 2009 5:58 PM
There's no question that HP's $2.7 billion acquisition of 3Com is all about H3C. As Rivka Little, editor of SearchNetworking.com noted, 3Com's H3C brand has a very strong foothold in China, and 3Com has found some success in pushing this newish networking brand out of Asia and into Europe and Latin America. HP's go-to-market power combined with H3C's Chinese-engineered high end networking portfolio could present finally a formidable networking dueling partner for Cisco.
H3C was originally a joint venture venture between 3Com and Chinese telecom networking vendor Huawei. 3Com bought out Huawei a couple years ago, and relaunched H3C as its enterprise networking brand last May.  H3C gave 3Com the technology it needed to succeed in the enterprise networking space again. It just needed a sales channel in North America to get back to where it wanted to be.
That is something that has eluded 3Com. As the Daily Finance blog noted, 3Com has a weak sales channel with almost no enterprise IT VARs in North America.   It mostly abandoned the enterprise networking market abruptly in 2000, essentially abandoning a large number of VARs at the same time. 3Com's move was a strategic response to the Internet bubble's burst and the rise of Cisco. Regardless of what you think of that move, there is no question that 3Com has tried and failed to re-enter the enterprise space a few times since. H3C probably represents its best effort yet.
While 3Com has muddled along, HP has been busy building up its own ProCurve networking business. ProCurve has been growing rapidly, with a strong network edge product line and good penetration into the midmarket enterprise space. But ProCurve has not yet developed a winning strategy for data center core-to-edge switching and routing, something essential to competing for large enterprise business with Cisco. 3Com's H3C products could give it the technology it needs.
ProCurve's channel partners will be a key ingredient to HP's 3Com deal having an impact outside of China. No doubt HP will do everything it can to make this work for partners. HP and 3Com are already having internal discussion about how to integrate the two companies. If and when the merger is approved, ProCurve VARs should expect a big rollout of new sales incentives, training and partnership opportunities built around the newly acquired products.
This will be a good opportunity for ProCurve partners to compete more directly head-to-head with Cisco, both in the midmarket and in the enterprise. ProCurve VARs should find themselves more able to compete for data center networking deals in particular, where 3Com's H3C products show a lot of promise.
But ProCurve partners should also watch carefully to see how deal shakes up parts of the ProCurve business that have been so successful for VARs. For instance, what brand will HP move forward with in networking? ProCurve, 3Com, H3C? I think VARs will hope HP sticks with ProCurve, which has has a good name these days.
Also, what will happen to the ProCurve unlimited lifetime warranty? ProCurve customers love that warranty because it reduces total cost of ownership tremendously. Will it extend to the 3Com product line? Will HP be able to afford lifetime warranties on such a broad line of products? Will it pull back the warranty on the ProCurve product line to any extent?
VARs should also watch closely to see which products are phased out as a result of the merger. 3Com's Tipping Point network security brand is superior to a lot of comparable HP offerings, so we may see some HP security products phased out. Overlap in the network infrastructure product portfolios is not as extensive, but some switches could be phased out.
Both 3Com and HP ProCurve also heavily tout their open, standards-based approach to networking, but there will still be a great deal of product integration work to do. If customers are going to install both 3Com and ProCurve products in their networks, they will expect the two product groups to work together seamlessly with one management interface. ProCurve did a good job of integrated the wireless LAN products of Colubris after HP bought that company more than a year ago, so that's a good sign. But VARs need to keep an eye on how this proceeds.
---
November 10, 2009 8:26 PM

Profile: ElaineHom
At the Cisco Partner Summit back in June, the word of the week was "collaboration."  Cisco seems to be delivering on that promise to partners, as the networking giant announces this week its new collaboration push — hosted email.
Granted, Cisco hasn't released too many details about how partners can profit, or even a partner program for this new offering. But it has announced the availability of new hosted email WebEx Mail in the U.S. and Canada.
---
November 6, 2009 10:51 PM
Not long after I wrote about opportunities for selling wireless LAN managed services opportunities for networking VARs, Aruba Networks launched an software-as-a-service (SaaS) version of its AirWave Management Platform. Aruba bought last year AirWave, a cross-vendor wireless LAN management software company.
With its new AirWave OnDemand product, Aruba is offering a cloud-based instance of the software to network managers. The SaaS-based product can manage any vendor's wireless LAN infrastructure, just like the on-premise verison. Aruba's WLAN controllers will now ship with a free VPN license that automatically creates a secure VPN tunnel from its controllers to Aruba's co-location data centers that house SaaS instances of AirWave. Enterprises with non-Aruba gear will have a couple of option for tunneling back to AirWave OnDemand.
Bryan Wargo, general manager of Aruba's AirWave business, said this new SaaS product will create a couple of new business opportunities for VARs.
First of all, the AirWave OnDemand product will be subscription-based and won't require any on-premise hardware, removing capital outlays from the transaction and allow VARs to sell the product to customers as a lower-cost operational expense. Aruba is offering AirWave OnDemand at $10 per month for each wireless LAN device managed by the product (inlcuding controllerrs, routers and access points).
Wargo also said VARs will have the option of building managed services on top of the AirWave OnDemand platform. For instance, a VAR could offer to manage a customer's wireless LAN via AirWave OnDemand from its own NOC. The VAR could maintain dedicated network admins in the NOC who could use AirWave OnDemand to manage the wireless LANs of multiple clients and multiple vendors' hardware.
"The idea is for them being a trusted VAR partner who can run a wireless network for a low monthly fee," Wargo said.
---
November 2, 2009 10:02 PM
SearchNetworkingChannel.com took a few minutes to chat with Jim Kunzer, MCSE, of MCC Technology during the Ingram Micro VentureTech Network Fall 2009 Invitational in Denver. Kunzer discusses his company and the benefits of attending VTN in this video.
[kml_flashembed movie="http://www.youtube.com/v/0aB06elIDP8" width="425" height="350" wmode="transparent" /]
---
October 30, 2009 10:04 PM
SearchNetworkingChannel.com talks with Common Knowledge Technology managing partner Luke Wignall to get his perspective on VentureTech Network Fall 09 Invitational. Wignall points out that VTN is like "jet fuel" to his business and talks about valuable data learned out of which they can build a strategy.
[kml_flashembed movie="http://www.youtube.com/v/zEoJBastl3c" width="425" height="350" wmode="transparent" /]
---
October 28, 2009 6:09 AM
In this three-minute video, Barb Darrow of SearchITChannel.com talks with Donald Nokes, president of channel partner company NetCenergy, at the Ingram Micro channel partner VentureTech Fall 2009 Invitational in Denver, CO. Nokes explains how his business has gained from VTN membership and attendance, and discusses Ingram's Business Intelligence portal announcement.
[kml_flashembed movie="http://www.youtube.com/v/HhTxWD9Q5d4" width="425" height="350" wmode="transparent" /]
---
October 26, 2009 5:23 PM
Often technology keynote addresses attempt to inspire, but very few leave the audience ready to run onto the field and tackle their competition. Leave it to legendary Notre Dame football coach Lou Holtz to get a room full of channel partners into a huddle and charge them up for game day.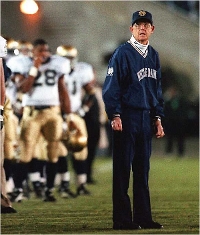 Holtz inspired attendees of the Fall '09 VTN Invitational in Denver during his keynote address this morning, which focused on leadership and the values that make relationships and organizations excel. Major points included having the right attitude, having a passion to win, focusing on your purpose, having a dream, and forging good relationships.
"So many times we focus on the problems that we don't see the great opportunity," Holtz said of haivng the right attitude. To illustrate having the right attitude, he described a shoe salesman in Africa. One salesman would write back from Africa that there was no point in taking business there because nobody was wearing shoes. Another salesman (with the better attitude) would say, "Nobody is wearing any shoes; this is a tremendous opportunity!"
Holtz also relayed several anecdotes about how he inspired success for the Notre Dame football team and how he had accomplished the majority of things he set out to experience in his life, including jumping out of an airplane. "Don't go through life and be a spectator," Holtz said.
Other bits of inspirational wisdom included Holtz's acronym, "WIN: What's Important Now," and his three rules, which apply equally to football, technology leadership, and life in general:
Do right (and avoid doing what's wrong). If you do right, people are going to trust you.
Do everything to the best of your ability. Don't lower your standards. This will let people (your customers) know that you are committed to excellence.
Always show people you care. Say "here I am, how can I help you," instead of "here I am, pay attention to me."
Holtz pointed out that the marks of a person you admire and respect will always be that you trust them, you know they are committed to excellence, and you know that they care about you. Anyone you have a problem with will fail at least one of those three requirements.
---