Mar 30 2008 1:53PM GMT

Profile: SusanFogarty
Tags: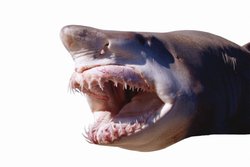 Just when you thought it was safe to go into the NOC….da, dum….da, dum….that's when SHARKFEST sneaks up on you.
Actually, SHARKFEST is an event about protocol analysis, an activity we at SearchNetworking highly recommend to make you safer, in networking terms, at least. The use of protocol and network analyzers can not only root out problems in network performance but also discover all kinds of nasty security holes and potential vulnerabilities in your network. The conference is put on for developers and users of the open source network analyzer Wireshark (formerly known as Ethereal). If you live or plan to be in the Mountain View, Calif., area this week, SHARKFEST will be held at Foothill College today through April 2.
What's really exciting for the Wireshark folks is that the keynote speaker on Tuesday is Dr. Vinton Cerf, a man regarded by many as one of the Fathers of the Internet. Cerf now serves as vice president and chief Internet evangelist for Google (but, hey, we all have to eat, right?), chairman of the board of ICANN and honorary chairman of the IPv6 Forum. According to the SHARKFEST agenda, Vint will be talking about "non-discriminatory network service."
In a press release, Gerald Combs, Wireshark creator and director of open source projects at CACE Technologies, co-sponsor of the event, said, "Dr. Cerf's presence at SHARKFEST '08 is an amazing testament to the importance of the open source movement and the Wireshark project." I have to agree. Although Vint's role at Google is "evangelist," you don't see him speaking often to IT audiences, so his presence is quite a coup. I hope the attendees think of some tough questions to challenge him.
So SHARKFEST has a lot going for it. 1.) It has a very cool name (despite the hyper-capitalization). 2.) It has the Father of the Internet. 3.) It has my all-time favorite IT speaker in the whole world: Laura Chappell. She'll be giving sessions on trace file analysis, TCP/IP resolution processes, network forensics, cool security tools, and case studies about solving network performace issues with WireShark.
Laura is the founder of Wireshark University and the Protocol Analysis Institute. She has trained thousands of network and security administrators, saved hundreds of companies from ruin and embarrassment, and worked extensively with government agencies to safeguard networks and improve security measures.
If you have not seen Laura Chappell in action, you do not know what you're missing. Not only is she funny and energetic and a riveting speaker, but she will show you things you can find out about your network that you never thought were possible. All with very simple, mostly free, tools. She's so neat that Disney has optioned a script tentatively called "Mother of Invention" based on her life.