---
February 1, 2008 11:52 PM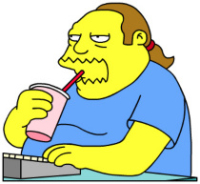 For more than a year, I've been hearing a lot of buzz about the concept of the "new" networking pro from networking vendors and pundits alike. The idea is, in a nutshell, that the old-school network guy spent his time thinking about network plumbing — connectivity, throughput, and Layer 3 hardware. Our publisher likens this guy to the Comic Book Guy from the Simpsons. (Don't you work with at least one IT guy who looks a bit like that, after all?)
At the other end of the spectrum is the "new" networking pro, who is supposed to look like the guy below, in the suit. This person takes into account evolving technologies and network convergence. His concerns go beyond just plumbing; he concentrates on maximizing bandwidth, optimizing application and WAN performance; he troubleshoots a network that must accommodate voice and video traffic. The new networking pro realizes that he isn't operating in a silo, but must cooperate (and, increasingly, share responsibilities and tools) with the security, voice, and data center staff.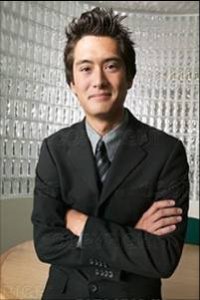 Last week, two of the major network vendors — Cisco and Juniper — launched new switch offerings that are very much attuned to the "new" network pro.
Cisco's Nexus 7000 super-switch may sound like it's all about increased throughput, but perhaps the greater benefit, one which appeals to our new network pro, is that it is designed to eliminate redundant connectivity by allowing for converged Fibre Channel and Ethernet networks. And Cisco's strategy, according to Doug Gourlay, senior director of marketing for Data Center Solutions at Cisco, is all about new network trends like convergence and virtualization (as quoted from an article by Shamus McGillicuddy).
Gourlay said Cisco has recognized several drivers that are leading higher-density data centers to turn to the network for help in improving operations. First is a "new class" of applications, such as voice and video, which consume significantly more bandwidth. The second driver is server virtualization. When you consolidate 10 virtual servers onto one physical server, that single box now deals with the aggregate bandwidth demands of the 10 servers. The third driver is Input-Output consolidation.
Similarly, Juniper's new switches — the EX 3200, the EX 4200 and the EX 8200 — appeal to the network performance-minded enterprise, with their emphasis on uptime and reliability. As quoted in an article by Michael Morisy, Eddie Minkill, executive vice president of Juniper's worldwide field operations, says that the view of the network as "plumbing" is outdated because consumers and businesses expect instant responses and more and more communications are carried through IP.
So the vendors and the pundits have their ducks in a row, but I wonder whether real-world network pros are getting in line. Surely these new switch offerings bode well for network reliability and productivity — but whenever I talk to actual people who are down in the IT trenches, I hear again and again that a) they would like to implement new technology, but instead spend more time keeping old stuff running and b) they don't have time to think about anything besides putting out fires. (Maybe disgruntled IT pros are more verbal about this stuff.)
This skepticism isn't unique. In the same article about Juniper's new switch, Morisy writes that Jim Metzler, vice president of Sanibel, Fla.-based consultancy Ashton, Metzler & Associates, was doubtful about the current market for the powerful switch:
"I don't know who they are going to appeal to," he said, adding that most enterprises are not prioritizing carrier-grade robustness and millisecond latency. A few major exceptions exist, particularly in the financial sector, but he disagreed with the assertion that enterprises see the difference between 5 and 4 9's of uptime as a critical tool in keeping customers.

"Is it good technology? Absolutely," Metzler said. The problem is that people will not switch simply to use good technology, or even better technology, when what they have works, and Metzler said Juniper has found a solution for a problem people do not currently have. If the EX Series is to become a success, he said, a better marketing strategy must be implemented that could focus on cost reduction or other, more enterprise-focused problems.
Ultimately, I think that defining the network pro according to any stereotype is going to prove inaccurate, but the successful IT person may be the one who can look beyond their departmental silo and embrace "new" networking concepts like mobility and application performance. For that to happen, though, network pros may have to find a way to prevent those fires from happening in the first place.
February 1, 2008 6:22 PM
Juniper's Michael Peachey, senior product marketing manager, points out some of the major features — including an LCD screen, hot-swappable fans and user-replacable batteries — of the newly-launched EX 4200 series network switch.
---
January 30, 2008 5:26 PM
Before even having time to digest, let alone write about, yesterday's Juniper announcement that the company was entering the switching market, we received two responses to it from two competitors. It sounds like switch manufacturers feel crowded enough with Cisco's dominance and aren't happy about another big name entering the fray. But they might raise some valid points. Does Juniper not "gets the enterprise," as some critics have charged? I also wonder if they were expecting this warm a reception from their new competitors. See excerpts after the jump.
---
January 21, 2008 8:09 PM

Profile: Shamus McGillicuddy
AT&T has added the iPhone as a device option for its enterprise wireless plans. On the surface of things, this is big news for iPhone fans who are waiting for the enterprise to welcome the device.
I haven't seen an official announcement from AT&T about their iPhone enterprise offerings. So far, only the above link with feature and pricing options has turned up. But from what I can gather, this is more of a sales channel move than a product offering. This news won't make IT managers feel warm and fuzzy towards the iPhone. Only accountants will be smiling.
No, this news doesn't mean the iPhone is suddenly an enterprise-ready mobile device. All the concerns that Forrester Research voiced last month about its suitability for business use still apply. There is still no support for push email or third-party applications. Security is still a big problem, too, with no support for data encryption and no capability to remotely lock or erase lost devices. And the absence of a removable battery will still be a headache for road warriors.
This news is really about the accountants. It will now be easier for end users to request a device because your company's accountants now have a direct channel for buying the iPhones and paying for the plans centrally instead of compensating individual users for deals they make on their own with AT&T.
---
January 18, 2008 4:34 PM
This week I read survey results showing IT priorities in 2008, and was surprised to see how much the top IT priorities involved the network. So I did a little research.

The following article focuses on the network worker's priorities alone: Disaster recovery, convergence and security top 2008 networking to-do lists. Putting these articles side-by-side made me see that very few priorities differed. The top priority for both networking and IT managers, for example, was disaster recovery. What was even more interesting was that even though the networking survey included questions on typical networking topics (i.e., routing, security, wireless, etc.) disaster recovery and data center topics came up very high in the results.
According to the IT manager questionnaire, almost half of IT managers surveyed plan to renovate and/or build a new data center (shown in the figure below):
Figure 1 — Lots of new data centers: In 2008, will you build or renovate a new data center?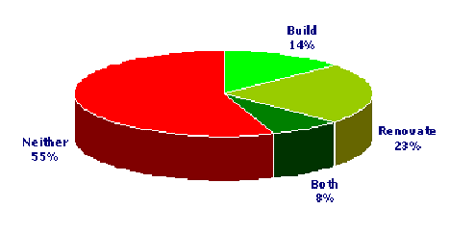 So what might these data center changes have to do with the network? Below, you can see that 50% of those who plan to build/renovate a data center are incorporating new networking technology:
Figure 2: New technologies coming to new data centers
Will your new data center contain new technology?
(Respondents able to select more than one response.)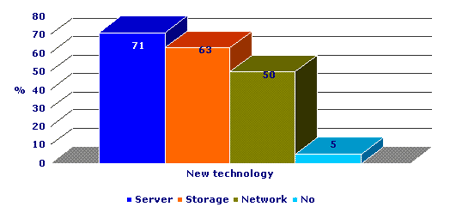 There's a reason why so many people are making this change. Schlack says "New data center construction is a response to the need for more capacity but also for better disaster recovery capabilities and better use of energy."
These changes must surely be a result, too, of the outmoded architecture in place. News Writer Michael Morisy's found that the average age of a data center is 18 to 20 years old, which is to say that cooling and other mechanisms are grossly out of date. Even half that time ago the data center looked and behaved quite differently.
In Cooling a blade server, networking infrastructure expert Carrie Higbie explains: "Ten years ago, data centers consisted primarily of a mainframe and maybe a few PC servers. This is far different than what is in a data center today. We have Cisco 6500 series switches or maybe Force10, Extreme or Foundry switches — whatever the manufacturer, they are probably large chassis-based switches unless you are a smaller enterprise. While power was probably added, cooling may not have been."
For better or for worse, a lot of money this year is being put toward data center overhauling. "Despite the large capital expenditures involved," Morisy says, "upgrading these antiquated facilities begins to make more sense." We aren't relying on the same information that came out 20 years ago to get us through today, so why would we try to rely on architecture long passed its due date?
Are you happy with where these priorities lie? Perhaps network workers are finally being heard (and understood) and the money is finally going to the right place. On the other hand, maybe these expenditures are costing more than just money. Are you seeing negative or positive effects from this change, and do you see changes in the data center directly affecting your network?
---
January 17, 2008 11:28 PM
Bridget Botelho has an interesting post on the DataCenter.com ServerSpecs blog about a recent story from Reuters covering a sys admin sentenced to 30 months in prison after his plot to wipe out his pharmacy benefit management company's servers with a logic bomb — out of fear he was about to lose his job.
Network managers spend a lot of time protecting the network from common insider user threats such as sharing sensitive data over P2P or careless use of public wireless networks… (see Five common insider threats and how to mitigate them as an example). But who protects the network from trusted IT pros who do something irresponsible or intentionally harmful?
I don't like it (but find it fascinating) when geeks perpetuate negative stereotypes about geeks — for example, the story of Hans Reiser, the Linux visionary accused of murdering his wife. In Reiser's case, he didn't use technology as his weapon, he used it as his defense: The "geek defense," or "I'm a geek; I'm socially inept, but that doesn't make me a murderer."
I once knew a boy who hacked into a library's computer network through a public terminal (this was back in the green text-on-a-black screen days) just to impress a girl. He sent all the terminals in the library into some kind of diagnostic that would tie them up for hours, and the girl was not amused. His reasoning seemed to be that if he was smart enough to do that and the library staff was dumb enough not to prevent him, then they deserved what they got.
I suspect that boy's attitude was shared by the logic bombing sys admin, and tends to be common among disgruntled computer geeks everywhere. And it is probably perpetuated every day by the kinds of non-IT co-workers who say things like, "I don't care how it works, just fix it." So maybe the moral of the story is: Be nice to your IT guy, because you never know if he's an evil genius with a chip on his shoulder (or a misguided impulse to impress a girl).
---
January 15, 2008 2:49 AM
When we left Dave, he had discovered an interesting room full of forgotten computers…

> View all our IT Guy cartoons on SearchNetworking.com.
---
January 4, 2008 10:04 PM
Troubleshooting wireless connectivity is often about fixing the physical issues first. Although we like to think that "going wireless" means there are no wires involved, anyone in networking knows that this is not at all the case. To quote Neil Schubert at last year's Mobile Wireless World conference "there are a lot of wires in wireless."
Wireless access seems so complicated at times that when a wireless connectivity issue occurs, our brains skip right past the simple steps and jump into the world of other possibilities: Am I getting a DoS attack? Do I need to replace my wireless card? Did somebody in the kitchen turn on a microwave? But the first step to take is to start with the most obvious and simplest task. As much as we hate to ask if everything is plugged in as a helpdesk administrator, we should get accustomed to asking ourselves that same question — is everything plugged in?
Case in point, wireless networking expert Lisa Phifer resolved one user's connectivity problem after learning that the user had a loose wire inside the desktop. And it's not hard to see how that might have happened in these pictures: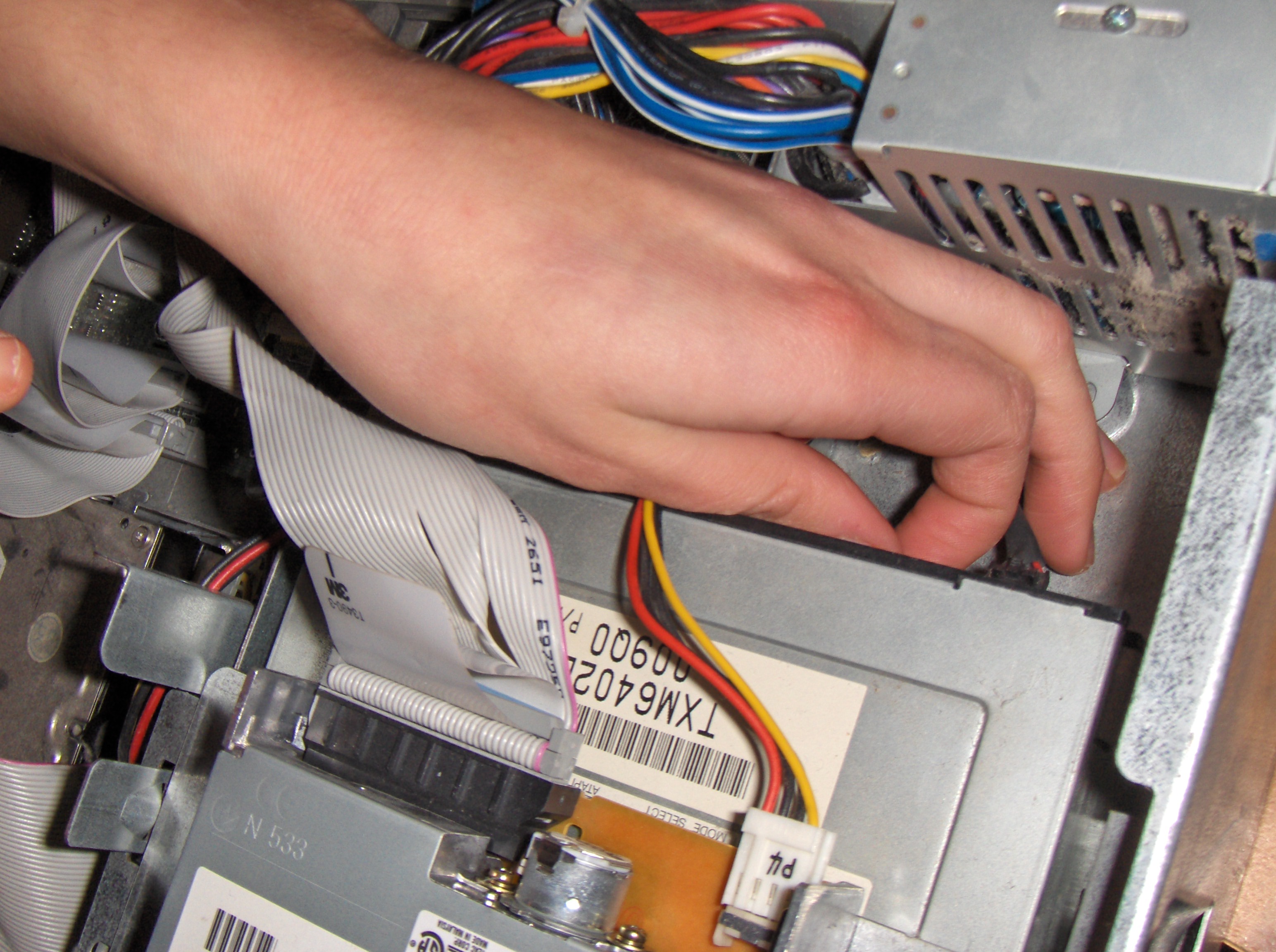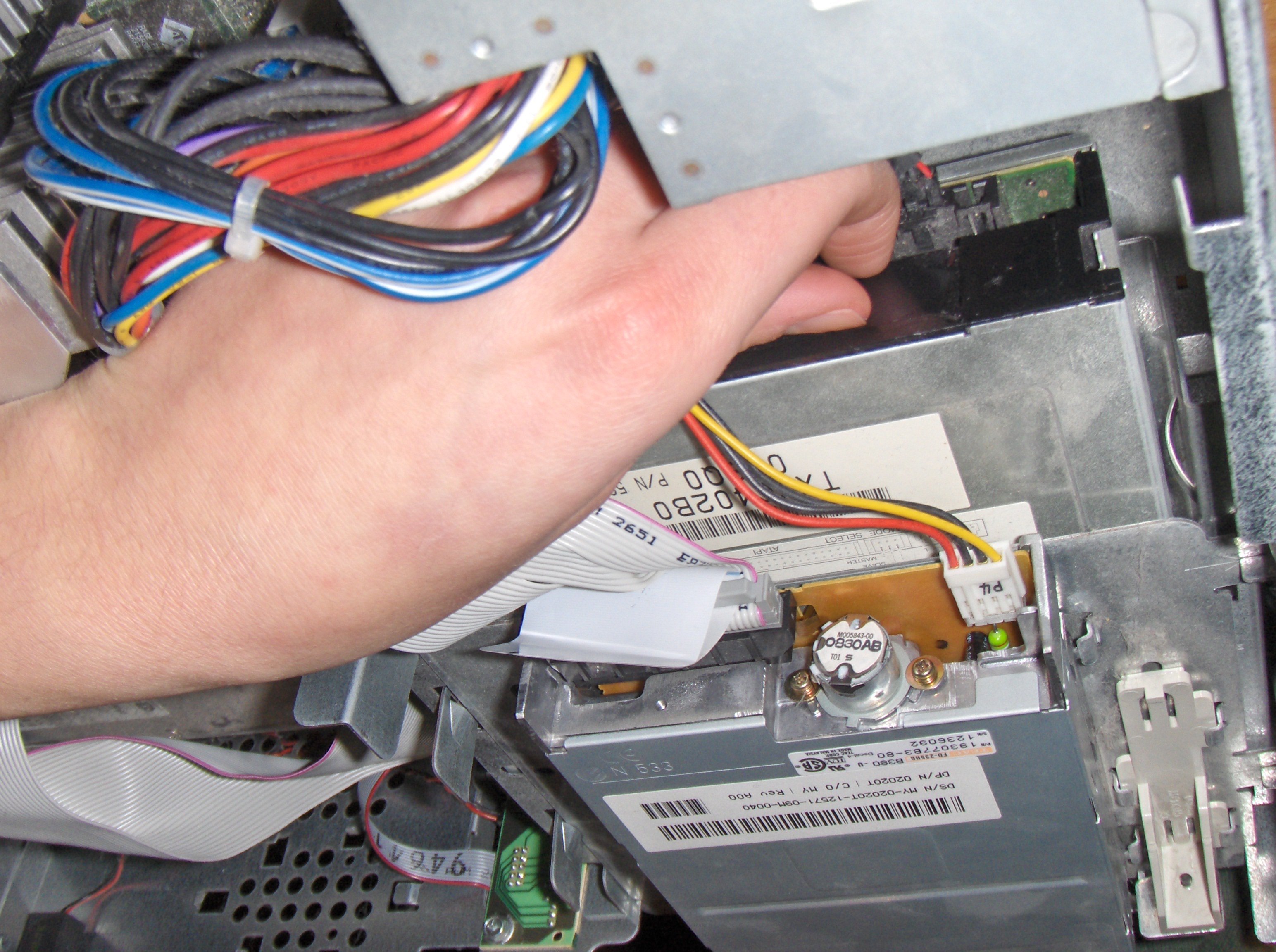 As you can see, hands are much larger than much of the technology we work on. And to offer more perspective, my hands (in the pictures to the left) are much smaller than most other people's.
So in the event we have to crack open a desktop or replace a network card, be mindful of what your hands are knocking against. Before you check network configurations and replace hardware that might be faulty when troubleshooting wireless connectivity, check to see if everything is connected. This simple procedure can be a real time (and money) saver when tracking down connectivity issues.
For more extensive information on wireless troubleshooting, view Lisa Phifer's expert response or check out SearchNetworking.com's Wireless Troubleshooting Guide. Xfce's Notes from the mousepad also mentions this Ubuntu Wireless Troubleshooting Guide.
P.S. Let me know if you have a way of reaching into spaces you're otherwise unable to.
---
December 19, 2007 4:09 PM
A few weeks ago, I asked our readers to tell me the number one networking issue you'd like to learn more about in the new year. It was no surprise that "security" appeared again and again in the comments, but I thought it was interesting how many people wanted to learn more about wireless network security. That really shouldn't be a surprise, given that the increased demand for mobility and flexibility is driving up the number of wireless deployments, and subsequently, the need for wireless security.
Rest assured that SearchNetworking has planned lots of wireless security coverage for 2008. But in the meantime, (if you don't mind a little plug) I'll point out a couple resources that are available to you now:
The Advanced Network Workshop, "Integrating Networking and Security — Wireless Security" features a podcast, webcast and tip by wireless networking expert Lisa Phifer.
There were a few other themes that stood out amongst the comments. For starters, it sounds like the majority of readers are using Cisco products and want to learn more about those, or about networking heterogeneous environments in which Cisco hardware sits side-by-side with other vendors' products. Keeping with the network security theme, some readers wanted to learn more about Cisco security and security automation.
A couple of people mentioned that they would like to learn more about implementing VoIP for SMBs. I would point you toward this brand new guide on SearchCIO.com to learn more about VoIP in SMBs: VoIP's midmarket play.
Some of the themes we'd pegged for 2008 coverage already came up, including IPv6, virtualization, and MPLS. Watch this space (and SearchNetworking.com) for more tips and advice on those topics in the coming months.
And now for the winners of our feedback contest:
Thanks to everyone for your comments!

---
December 5, 2007 1:47 AM

Profile: SusanFogarty
Cisco announced tonight that it has a new CTO. She is a woman, and she has one of the coolest names on the planet: Padmasree Warrior. Warrior was formerly CTO of Motorola. She worked at Motorola for 23 years, and, when named CTO in January 2003, became Motorola's first female executive vice president.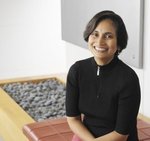 Warrior was the creator of the Motorola-hosted blog, "Bits at the Edge," which was unfortunately but understandably shut off at her resignation this week. The blog was extremely insightful and read avidly by technology enthusiasts around the globe. In it, Warrior examined technical innovations from sometimes surprising angles and mused about the effects they would have on their respective industries and on the people who used them.
Cisco is a smart company and already has a blog post up from Warrior in its heretofore lackluster corporate blog, The Platform. She writes a fairly generic welcome piece about how Cisco is poised to take on "the next wave of Internet evolution" and she is happy to be joining them. Let's hope that she's just testing the waters and that Cisco provides her with a true "platform" and free rein to explore and interact with users and customers about issues and concerns that really matter to them.
---