---
January 17, 2008 11:28 PM
Bridget Botelho has an interesting post on the DataCenter.com ServerSpecs blog about a recent story from Reuters covering a sys admin sentenced to 30 months in prison after his plot to wipe out his pharmacy benefit management company's servers with a logic bomb — out of fear he was about to lose his job.
Network managers spend a lot of time protecting the network from common insider user threats such as sharing sensitive data over P2P or careless use of public wireless networks… (see Five common insider threats and how to mitigate them as an example). But who protects the network from trusted IT pros who do something irresponsible or intentionally harmful?
I don't like it (but find it fascinating) when geeks perpetuate negative stereotypes about geeks — for example, the story of Hans Reiser, the Linux visionary accused of murdering his wife. In Reiser's case, he didn't use technology as his weapon, he used it as his defense: The "geek defense," or "I'm a geek; I'm socially inept, but that doesn't make me a murderer."
I once knew a boy who hacked into a library's computer network through a public terminal (this was back in the green text-on-a-black screen days) just to impress a girl. He sent all the terminals in the library into some kind of diagnostic that would tie them up for hours, and the girl was not amused. His reasoning seemed to be that if he was smart enough to do that and the library staff was dumb enough not to prevent him, then they deserved what they got.
I suspect that boy's attitude was shared by the logic bombing sys admin, and tends to be common among disgruntled computer geeks everywhere. And it is probably perpetuated every day by the kinds of non-IT co-workers who say things like, "I don't care how it works, just fix it." So maybe the moral of the story is: Be nice to your IT guy, because you never know if he's an evil genius with a chip on his shoulder (or a misguided impulse to impress a girl).
January 15, 2008 2:49 AM
When we left Dave, he had discovered an interesting room full of forgotten computers…

> View all our IT Guy cartoons on SearchNetworking.com.
---
January 4, 2008 10:04 PM
Troubleshooting wireless connectivity is often about fixing the physical issues first. Although we like to think that "going wireless" means there are no wires involved, anyone in networking knows that this is not at all the case. To quote Neil Schubert at last year's Mobile Wireless World conference "there are a lot of wires in wireless."
Wireless access seems so complicated at times that when a wireless connectivity issue occurs, our brains skip right past the simple steps and jump into the world of other possibilities: Am I getting a DoS attack? Do I need to replace my wireless card? Did somebody in the kitchen turn on a microwave? But the first step to take is to start with the most obvious and simplest task. As much as we hate to ask if everything is plugged in as a helpdesk administrator, we should get accustomed to asking ourselves that same question — is everything plugged in?
Case in point, wireless networking expert Lisa Phifer resolved one user's connectivity problem after learning that the user had a loose wire inside the desktop. And it's not hard to see how that might have happened in these pictures: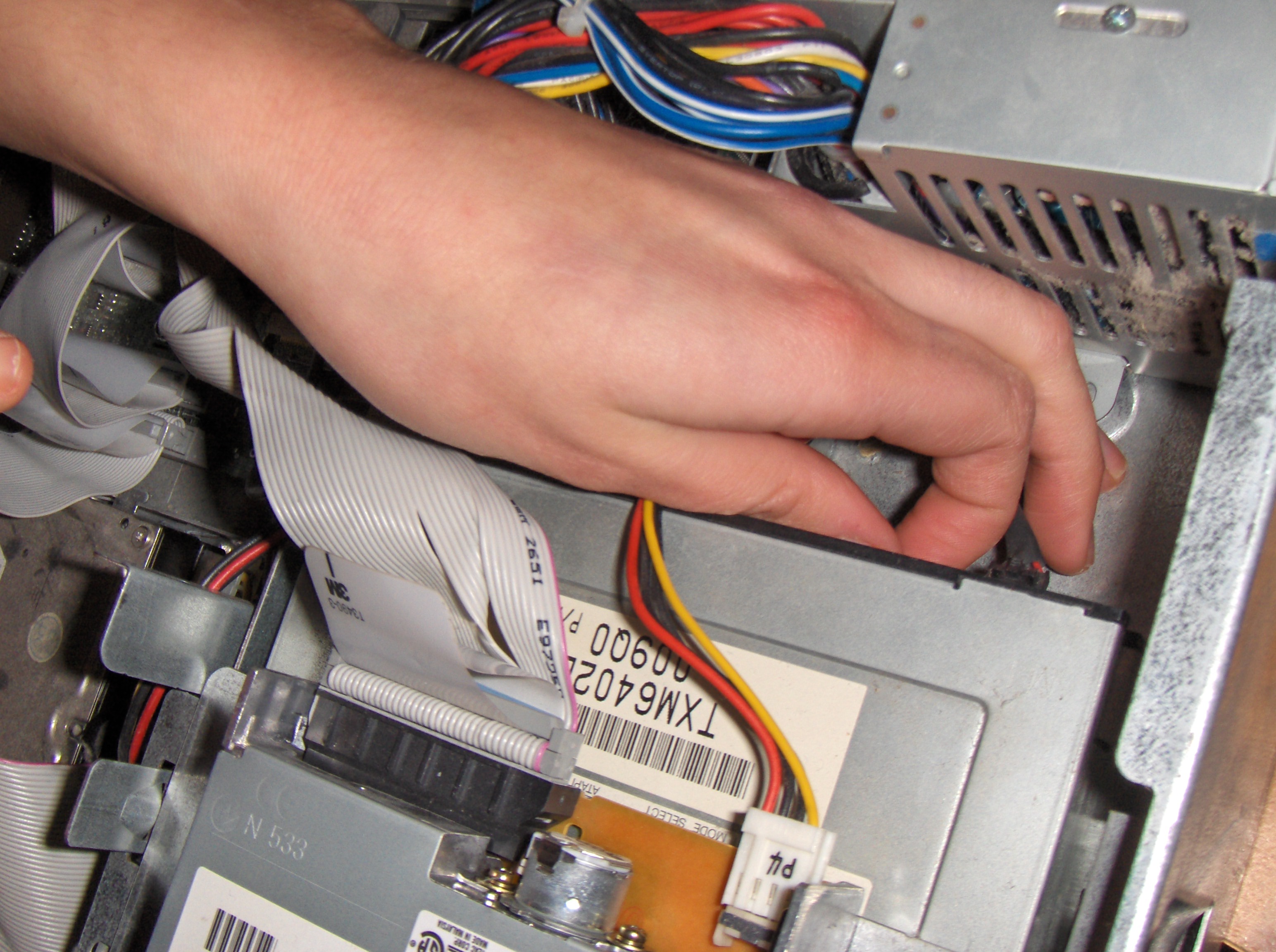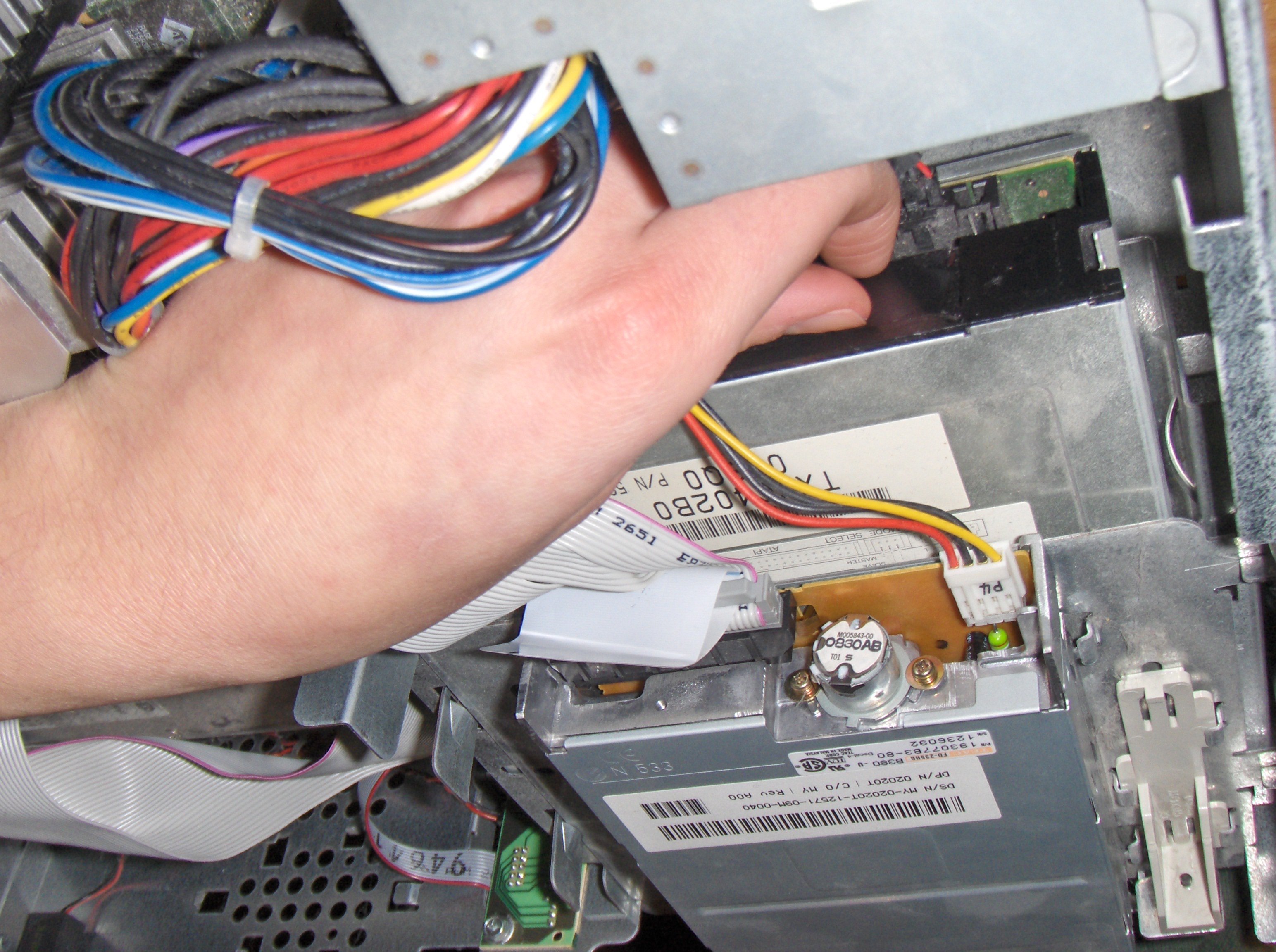 As you can see, hands are much larger than much of the technology we work on. And to offer more perspective, my hands (in the pictures to the left) are much smaller than most other people's.
So in the event we have to crack open a desktop or replace a network card, be mindful of what your hands are knocking against. Before you check network configurations and replace hardware that might be faulty when troubleshooting wireless connectivity, check to see if everything is connected. This simple procedure can be a real time (and money) saver when tracking down connectivity issues.
For more extensive information on wireless troubleshooting, view Lisa Phifer's expert response or check out SearchNetworking.com's Wireless Troubleshooting Guide. Xfce's Notes from the mousepad also mentions this Ubuntu Wireless Troubleshooting Guide.
P.S. Let me know if you have a way of reaching into spaces you're otherwise unable to.
---
December 19, 2007 4:09 PM
A few weeks ago, I asked our readers to tell me the number one networking issue you'd like to learn more about in the new year. It was no surprise that "security" appeared again and again in the comments, but I thought it was interesting how many people wanted to learn more about wireless network security. That really shouldn't be a surprise, given that the increased demand for mobility and flexibility is driving up the number of wireless deployments, and subsequently, the need for wireless security.
Rest assured that SearchNetworking has planned lots of wireless security coverage for 2008. But in the meantime, (if you don't mind a little plug) I'll point out a couple resources that are available to you now:
The Advanced Network Workshop, "Integrating Networking and Security — Wireless Security" features a podcast, webcast and tip by wireless networking expert Lisa Phifer.
There were a few other themes that stood out amongst the comments. For starters, it sounds like the majority of readers are using Cisco products and want to learn more about those, or about networking heterogeneous environments in which Cisco hardware sits side-by-side with other vendors' products. Keeping with the network security theme, some readers wanted to learn more about Cisco security and security automation.
A couple of people mentioned that they would like to learn more about implementing VoIP for SMBs. I would point you toward this brand new guide on SearchCIO.com to learn more about VoIP in SMBs: VoIP's midmarket play.
Some of the themes we'd pegged for 2008 coverage already came up, including IPv6, virtualization, and MPLS. Watch this space (and SearchNetworking.com) for more tips and advice on those topics in the coming months.
And now for the winners of our feedback contest:
Thanks to everyone for your comments!

---
December 5, 2007 1:47 AM

Profile: SusanFogarty
Cisco announced tonight that it has a new CTO. She is a woman, and she has one of the coolest names on the planet: Padmasree Warrior. Warrior was formerly CTO of Motorola. She worked at Motorola for 23 years, and, when named CTO in January 2003, became Motorola's first female executive vice president.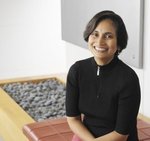 Warrior was the creator of the Motorola-hosted blog, "Bits at the Edge," which was unfortunately but understandably shut off at her resignation this week. The blog was extremely insightful and read avidly by technology enthusiasts around the globe. In it, Warrior examined technical innovations from sometimes surprising angles and mused about the effects they would have on their respective industries and on the people who used them.
Cisco is a smart company and already has a blog post up from Warrior in its heretofore lackluster corporate blog, The Platform. She writes a fairly generic welcome piece about how Cisco is poised to take on "the next wave of Internet evolution" and she is happy to be joining them. Let's hope that she's just testing the waters and that Cisco provides her with a true "platform" and free rein to explore and interact with users and customers about issues and concerns that really matter to them.
---
November 30, 2007 11:16 PM
You really can't call mobile phones "phones" anymore, what with all the Web 2.0 applications springing up, such as FaceBook for BlackBerrys. These phones, or devices, have really become more like miniature computers, and this shift has its benefits and drawbacks.
I'm not suggesting the technology itself is a problem; what I mean is that users have to change the way they think about their devices. Even calling these devices "smartphones" does the products some disservice by keeping "phone" in the name. Sure, the device looks similar to a phone and it has voice capabilities, but that doesn't mean a user can think it is merely a phone.
What happens is that users may often practice the same disregard for their mobile device that they would their old cellular phone, like leaving it in their hotel room or cab, or wherever you've lost a phone before. (I've had the strange misfortune of dropping mine into a bowl of soup.)
When we lose mobile devices, it presents a very real threat for enterprises: whatever corporate information is stored in the device can be compromised. It may not be the end of the world (depending on what mobile security precautions you've put in place beforehand), but treating a mobile device like a phone can cost a company.
The conundrum at the other end of the spectrum lies in thinking your mobile device is a computer. I know people don't use these two words interchangeably or have a sudden relapse and think their computer is a phone. What I mean is that we want to do all the computer-esque actions on our devices — such as typing — and this is physically impossible. In this way, a handheld is very much like a spork: A spork saves you the trouble of carrying a fork and a spoon, but fails to really fork your meal or contain liquids; a mobile device brings portability to network data, but seriously lacks keyboard functionality and ergonomic earpieces (they're about as comfortable as pressing a brick to your head).
I find a lot of irony in the fact that we want, and still try, to type on our handhelds. Logically, whatever we're typing on must expanse the length of our two hands across — and this optimal typing size (we'll say 11″x4″) could never fit into the palms of our hands. How will a handheld contain something at least twice the size of the hand (and fit into a pocket or purse)?
There are some remedies for the situation: foldout keyboards, for example — but having this extra piece of equipment does bulk up your load. Unless you have the deep pockets of a trench coat (which I've seen many a techie wear) it's inconvenient to bring a foldout keyboard with you everywhere. QWERTY keys on smartphones work faster than traditional touch-dial phones, but typing with thumbs severely sacrifices the speed you get out of typing with all 10 fingers. Let's not forget voice recognition software either; it has come a long way and might be the best solution for this problem.
If you've had no issues with the form factor of your mobile device, by all means, stop me now. There are plenty of wish-list gadgets out there that work great. But if you're struggling like the rest of us, I'm all ears to your horror story or solution. Maybe we're stuck for now — until someone invents an inflatable keyboard.
---
November 28, 2007 12:18 AM
Maybe you are hoping to catch up on some networking know-how before the new year… or perhaps you could use a free gift for that special geek on your holiday gift list. Either way, I'd like to help. Thanks to the friendly elves at Cisco Press, we have a big stack of networking books to give away! Here are a few examples: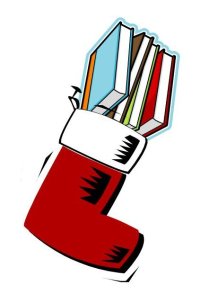 CCNP BSCI Portable Command Guide by Scott Empson
CCNA Portable Command Guide second edition by Scott Empson
LAN Switch Security: What Hackers Know About Your Switches by Eric Vyncke and Christopher Paggen, CCIE No. 2659
End-to-End Network Security: Defense-in-Depth by Omar Santos
If you'd like a chance to win one of these books, all you need to do is comment on this post and tell us the number one networking issue you'd like to learn more about in 2008, and post your comment before 8:00 a.m. EST December 10. Don't forget to include an email address where we can reach you (and you can email us separately if you are worried about spammers, but don't forget to include your ITKE ID so we'll know you posted)! We'll pick winners at random and keep sending books (chosen at random) 'til we run out. (Unfortunately, we can only ship within the U.S., but we'd still like to hear from our international readers.)
We can't guarantee you'll get the book before Dec. 25, but we'll do our best.  Good luck, and thanks in advance for your input!
---
November 16, 2007 8:20 PM
The first time I talked to Cisco about the networking vendor's foray into digital signage, I was a bit confused. Why would the largest enterprise networking vendor want to jump into an area targeted at consumers, especially something as futuristic as digital signage, which boils down to essentially an electronic or digital advertising screen like you would see in Times Square, displaying video content that can be changed on the fly without physically changing the sign itself? It's similar to something seen in Minority Report or Back to the Future II.
For example, digital images could be changed depending on the consumers who are in close proximity to the sign. So, if you're attending a punk rock convention, digital signs in the area could feature a mohawked teen snarling at you to promote a certain product, event or service. Similarly, say that same convention center hosts a video game convention, those signs could quickly, easily and cheaply be switched up to feature Ms. Pac Man or Link staring you in the face. Those advertisements would be sent to the sign via IP video.
To me, it sounded like a deviation from Cisco's core competence of routing and switching.
But recently I had a chat with Rick Sizemore, chief strategy officer for MultiMedia Intelligence for a SearchNetworking.com story. Sizemore, an expert on digital signage and other next generation mediums, broke it down for me. He pointed to several strategic moves Cisco has made in the IP video arena that, coupled with Cisco's networking expertise, makes the vendor a top competitor in the digital signage and interactive advertising spaces.
I'm not exactly sure how companies are going to leverage all of this next-generation technology, or how Cisco is going to build on its digital signage and IP video plans to make it a viable revenue-generating medium for those companies. But if Sizemore's discoveries and predictions ring true, which they have so far, it won't be long before we're greeted in an airport or a shopping mall with advertising and signage that can target us specifically.
---
November 15, 2007 9:59 PM
We talk a lot about the importance of mobile device management, but outside my job as an editor on a networking site, it's not something I think about that often. Until, three days ago, I misplaced my cell phone.
It took me one day to figure out that the phone wasn't actually plugged into the charger at home or hiding under the seat in my car. On the second day, I became annoyed that I didn't have my contacts and started to worry that the phone fell out somewhere on the pavement. By the third day, I was becoming somewhat frantic, imagining someone was calling all their relatives in another country and I'd be stuck with the charges, or prank-calling my friends and business associates. Although, I have to admit, the prospect of buying a new phone was actually a bit exciting.
This is my personal and somewhat decrepit flip phone; the "wireless" line on my business card is a bit misleading and my paranoia over losing is a bit exaggerated. But had I actually lost a corporate mobile device, I can only begin to imagine the very real threats such a loss could imply: The cost of device replacement, the lost productivity due to a misplaced contact list, and the possibility that a malicious outsider or competitor could have access to sensitive data.
I just listened to a SearchMobileComputing.com podcast on this very topic, called "Controlling Risks and Costs for Better Security." The podcast covered eight mobile security risks that can be countered using effective mobile device management. The author, Simon Forge (of Ptak, Noel and Associates) goes beyond just the challenge of managing corporate mobile devices and explains some ways to do it; he also hints at management systems that take the responsibility away from the employee/end user and return it to the network manager.
I know that if I was a network manager, I would want to have a plan to cope with an errant mobile device. And as an end user, if I had anything more powerful than a basic cell phone, I wouldn't mind someone else shouldering the burden of responsibility for mobile data security.
On the bright side, I shoved aside a stack of papers today and found my phone right on top of my desk. Too bad they don't make a management system for that!
---
November 1, 2007 9:34 PM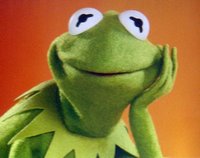 Boston recently held a "hazardous materials drop-off day," when residents of the city could take their half-empty cans of varnish and paint thinner, car batteries and the like for proper disposal at a certified facility. Unfortunately, we had to wait in line for almost an hour — in our cars — to drop off the materials. One has to wonder how much gasoline was burned and how much pollution was released into the environment in the interest of preventing pollution from the paint cans we disposed of.
I'm pretty much an average Joe when it comes to helping the environment: I recycle; I don't support fur farming or deforestation or poaching. I'd like to do more, but I draw the line where my creature comforts start to be compromised. Although I have to say that I spend most of the long Boston winter wrapped in blankets because we keep our heat down — although that's primarily a financial concern before an environmental one.
Corporate IT is pretty much the same when it comes to the environment, I suspect. While nobody wants to tear down an old-growth forest to erect their colossal data center (or maybe I'm wrong about that, having never visited the Pacific Northwest myself?), in today's always-on, high-availability world, businesses have to put their bottom line before other concerns. Conservation sounds nice, but try telling that to an angry customer who can't access his data because you've shut off your backup power supply and experienced a server failure.
The network eats a lot of power. Gary Audin, president of network consulting firm Delphi Inc., recently discussed this issue with our news editor, Andrew Hickey, in a two-part interview that covers both the device drain on power and how to convince upper management to go green.
The challenge of delivering high availability while cutting costs and conserving energy is before us. Is your company considering any "green" initiatives? What's the most radical compromise you've made on behalf of the environment? Send me an email or post your comments below.
---