---
May 5, 2008 7:04 PM
In this video, Cahit Akin, PhD and CEO of Mushroom Networks tells me about Mushroom's broadband bonding device, the "Truffle," and explains the significance of the company's name.
May 5, 2008 5:32 PM
When I flew to Las Vegas last week for Interop 2008, I never imagined that I'd be wearing one of the most coveted pieces of bling in the poker-playing world. But here I am, wearing one of the two bracelets poker pro Mark Seif. won at the 2005 World Series of Poker. (That's Mark on the right)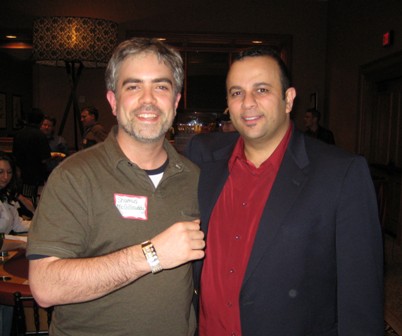 Usually when I go to a conference, all I do is work, work and work. I spend all day holding meetings and attending sessions and I spend all night writing. But every once in awhile I manage to mix in some fun.
Naturally I was excited when the PR firm Voce Communications invited me to a Texas hold 'em poker tournament at Interop in Las Vegas. The tournament, sponsored by Barracuda Networks and NetIQ, was set up to give the two vendors a chance to schmooze with a bunch of analysts and journalists over a friendly game of cards.
The tournament prize (an iPhone) didn't excite me as much as the opportunity to play a meaningful game of cards without any money on the line. I love playing poker, but I always seem to lose money when I play in Vegas. So this was a nice alternative. And since I'm a fan of poker on television, I was also thrilled to meet Mark Seif, a poker pro who you'll see on ESPN's World Series coverage and on the Travel Channel's World Poker Tour. Mark was there to give the 30 or so players in the room a tutorial on how to play no-limit Texas Hold 'Em. Then he was available to offer tips to players in crucial situations throughout the night.
I figured I had a good chance to win because I do pretty well when I play poker with friends. Yeah, I was feeling pretty good about my chances. And early on I felt like I was make the right moves. In one of my first hands, I was dealt a 9 and a 7. A few players limped into the pot by calling. I was the big blind so I just checked with my weak hand. When the flop came down 4-9-4, I decided to bet with my top pair. Two players (both NetIQ employees, I believe), raised me big time. I was left sitting there, wondering what they could have. Mark asked me if I wanted his advice. Since players could only ask him for advice once during the tournament, I told him I'd save his advice for later in the evening. I eventually folded. Mark grabbed my cards and looked at them. "Good fold," he whispered from across the table. It was a thrill to get the thumbs up on a fold from such a great poker player. And he was right. My opponents turned over pocket queens and pocket tens. They both would have obliterated me.
Despite that smart laydown, I struggled to stay alive throughout the rest of the night. I won a couple hands to build up my chip stack early, but the rapid escalation of the blinds really cut into my money. When I was dealt an Ace-Queen of hearts late in the evening I decided to move all-in with my dwindling stack of chips. Larry Howard, vice president of Infonetics Research called me. He was holding an Ace, too, with a lower kicker (an eight, if I recall correctly). Although an Ace came down on the flop, Larry paired his kicker on the river to knock me out. I finished in ninth place. Larry went on to win the tournament so I can at least seek solace in the fact that I was knocked out by the champion.
I must say it was a thrill to meet Mark Seif, who was a very friendly guy. As a pro, he's used to playing cards with millions on the line. One would think spending the evening with a bunch of IT journalists and analysts would be a bore for him. But he was having a good time. He even let me and my SearchNetworking.com colleagues Amy Kucharik and Sue Fogarty wear his priceless World Series of Poker bracelets.
Here are Amy and Sue with Mark. Amy lasted the longest out of all the TechTarget/SearchNetworking folks.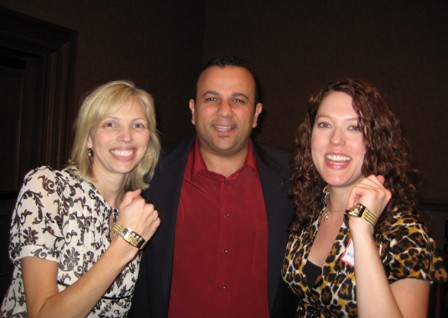 And here we all are, joined by Dana Brundage of SearchWindowsSecurity.com. Dana and I were knocked out in the same hand by Larry Howard. That guy is a shark!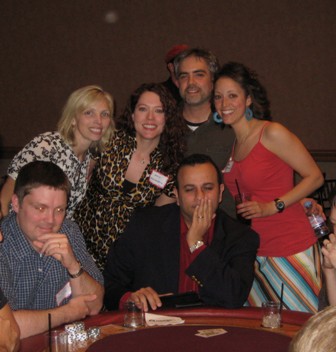 ---
May 5, 2008 5:23 PM
At Interop, I sat down with PacketTrap CEO Steve Goodman, who showed me PacketTrap's network management console and talked about the company's philosophy of integrating disparate tools.
---
---
May 4, 2008 2:34 AM
At Interop Las Vegas 2008, I talked with the Ethernet Alliance and their University White Paper Challenge Winner Francisco Blanquicet, a PHD student at University of South Florida. In this video he explains the topic of his winning white paper, "PAUSE Power Cycle: A new backwards compatible method to reduce energy of Ethernet switches." (Sorry about the quality… I'm working on it.)
---
May 2, 2008 5:20 AM
One of the more entertaining exhibits on the Interop Las Vegas 2008 show floor this year was Mazu's "MacGyver Challenge," which pitted attendees against timed puzzles which could be solved with the help of the "Mazu Profiler." Mazu tweaked some kids' games to represent network problems. MacGyver sported a great mullet. Check it out.
---
May 1, 2008 10:22 PM
I flew back from Interop this morning, and my head is swimming from all there was to see and try to comprehend. One thing, however, is crystal clear: Today, networking is about a lot more than the network. When the hot topics at networking's biggest conference are virtualization, application performance and green computing, it's probably wise to start looking into new realms of technology, even if your current position doesn't require it. Thing are bound to change quickly, and you may be in for more than you bargained for.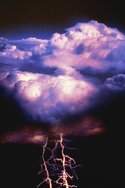 Dr. Jim Metzler warned attendees during the "Managing and Controlling Application Performance" session on Tuesday that in the next five years the combination of application acceleration, virtualization, and service oriented architecture will create a perfect storm. He said the resulting complexity of technologies may be something we are unable to manage. That's quite an unsettling thought, especially coming from Jim, who may be the most influential expert in network and applications management today.
Taking a brighter view, other experts and vendors referred to the network and its new role as the "application delivery network" and emphasized the need for IT professionals that understand all aspects of delivering applications from end to end. These new application delivery specialists are most likely to come from a networking background, they agreed, because they have the knowledge of the complex infrastructure already in place.
So is the glass half empty or half full? Or maybe we just need to build an ark to weather the perfect storm. As Burton Group analyst Eric Siegel quipped to me at the end of the Metzler session, "You know what my plan is? In five years, I'm just going to retire!" If only we could all do that…
---
April 30, 2008 6:37 AM
At the beginning of Interop this week, Motorola announced that North American investment plans in WLAN technology looks to be strong in 2008. The wireless technology vendor, which recently announced plans to spin off its ailing mobile devices business, sponsored a Web-based survey of 550 North American decision-makers about their WLAN spending plans.
You can see the survey results in this PDF file on Motorola's web site. Indeed 56% of companies intend to increase their spending on WLAN technology over the next 12 months. Only 4% plan to cut their spending. This is surprising, given how shaky the economy is right now.
Motorola is showcasing its "all-wireless" enterprise concept at Interop this week. The company is demonstrating how its new line of mesh-enabled, 802.11n wireless LAN technologies and its high-powered point-to-point wireless technologies can be used to network a multi-location campus with wireless technology. Motorola appears to be one of the pioneers in this area. If the market for WLAN does stay strong, we could see some interesting deployments this year. I'm hoping to write up a case study or two on this soon.
---
April 24, 2008 9:45 PM
Next week the SearchNetworking team will be reporting to you from Interop in Las Vegas. If my email inbox is any indication, there's a lot going on at the show this year. I've received at least 500 emails over the last three weeks from vendors who desperately want me to tell you their stories.
There's only so much ink in my pen, so you won't hear all those stories. I apologize for that. But we'll be bringing you as many interesting bits of news on this show as we can.
As a favor to you, our readers, we've reached out to some of the experts who will be speaking at Interop this year to get their insight on what to expect from the show. I caught up with Anne Skamarock, research director at Focus Consulting, who will be taking the stage several times to talk about virtualization. I asked her to tell us what to look for on the virtualization front at Interop.
Tessa Parmenter chatted with wireless networking expert Lisa Phifer about WLAN topics at Interop, Kate Dostart talked mobile apps and devices with Farpoint Group's Craig Mathias, and Kara Gattine tracked down Burton Group's Paul DeBeasi and picked his brain about enterprise wireless deployments.
We hope this whets your appetite for Interop news. We'll be publishing news, blog posts and video from this show. Keep an eye on our Interop Las Vegas 2008 special news coverage page for all the news that's fit to print.
---
April 22, 2008 12:55 PM
One half gallon of my favorite mint chocolate chip ice cream, with chunks of fair trade dark chocolate and no fake green coloring, from the family-owned organic dairy farm in my town: $7.99. Dolce & Gabbana bamboo fiber blouse that looks so cute on Cameron Diaz in Us magazine: $260. SkyStream 3.7 residential windmill, producing 400 KWh of electricity per month with 12 mph average winds: $12,000. Knowing that you're doing all you can to make ecologically responsible decisions and saving the planet from incinerating to dust before your great-grandchildren are born: Priceless.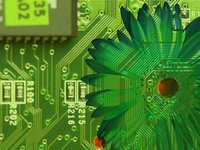 I confess I am a tree-hugger at heart. And while I would like to get completely behind the green movement and drive a hybrid car, renovate my house in sustainable materials, and buy only organic food, I just can't afford it. Unfortunately, "green" has become big business for some companies selling cosmetics, clothing, and food — and blindly buying those products without needing them harms the environment more than it helps. So I pick and choose things I think are most important when it comes to spending money and try to concentrate on conservation and savings instead. I recycle everything I can, try to minimize driving, and wear a lot of sweaters so I can keep the heat low.
In IT, the same principles apply. Vendors are pushing green initiatives down your throat for the sake of having green initiatives. You need to consider the options carefully, so the editors at SearchNetworking.com have produced a special report on green networking to help you do just that.
You'll find several articles on saving money and power, including How green is my network? — A look at the cost-savings benefit of green IT, in which columnist Rich Ptak takes a very pragmatic (and a tad anti-tree-hugger, IMHO) approach to analyzing your equipment and usage and finding ways to make smart upgrades that can save dollars in the long run, depending on your specific needs. You'll also find several great articles detailing which types of routers, switches and PoE equipment use the least amount of energy.
In addition, the report features sections on selling green IT to your executive team and the benefits of unified communications for green initiatives. To get a running start on going green in your own network, you can also download the pdf Craft a green IT action plan.
And don't miss the podcast on recycling and energy saving techniques for mobile devices, which includes tips on saving battery life as well as how to recycle old devices and computer equipment, a perennial issue in IT.
So celebrate Earth Day today by visiting the green networking special report. We hope it will put you on the path to saving money, saving energy and saving the planet, all at once.
---