---
July 2, 2008 4:39 PM
We knew the economy was bad, but did Cisco really have to drop their impressive medallions for plastic plaques?
Arden Packeer, CCIE 20716, blogged the run up to his CCIE: Routing & Switching exam, posting tutorials and regular progress updates as he went. After months of preparation, he posted that he was "deliriously happy" when he finally passed.
Two days ago, when he received his certification by mail, those feelings were slightly less warm:
Seriously, Cisco, the new CCIE Plaques suck!

We pay $1400 a pop for the Exam (not to mention countless hours of blood sweat and tears), surely Cisco can make the prize at the end a little better than this!
Compare Arden's plaque: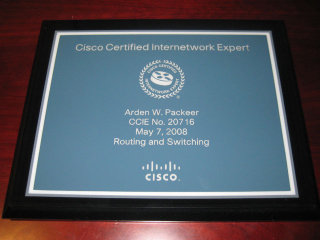 and the older medallion style, courtesy Greg Ferro's blog, Ethereal Mind: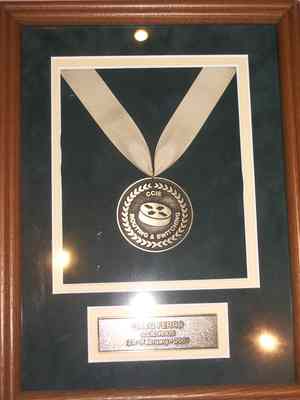 We can sympathize with Arden, but apparently he's a few years too late to rock the medallion. We asked Peter Koht, who works with Learning@Cisco's public relations, if the older models were still available, and this was his response:
Hi Michael,

According to the folks I asked over at Cisco, the original CCIE award/plaque was a medallion at the
end of a ribbon in a shadow box format.

This was retired out at least 5 years ago and replaced with the plaque, which is on it's second iteration.

The medallion is no longer offered.

Hope that helps

Best,
Peter
Sorry Arden, but maybe a petition can get Cisco to change their mind. Think of all the great publicity certifications would get if people started wearing their medallions when they went out? Maybe there could even be some product placement with Mr. T: Imagine him adding some CCIE bling and shouting, "I pity the fool who don't know Cisco." I think it could be a win-win all around, and would help give those hard-working Cisco studs the recognition they deserve.
Further Reading:
July 1, 2008 8:18 PM
I just happened to be sitting next to an Ipswitch representative on my flight from Boston to Orlando last week for Cisco Networkers, so I decided to stop by their booth and take a look at their network monitoring and management product, WhatsUpGold. I apologize in advance for the video quality, but I think you can still get an idea of what the tools look like and what it's designed to accomplish.
---
June 30, 2008 6:15 PM
I can't resist a networking/comic book analogy, so I taped this booth demo from SolarWinds at Cisco Networkers. "Head Geek" Josh Stephens talks about how nonessential traffic — such as the Hulk movie trailer — can make network engineers very angry, and how the latest SolarWinds Orion release can help keep that traffic in check. He also describes SolarWinds' community portal, Thwack.
---
June 27, 2008 5:29 PM
It's pretty clear that Cisco is serious about the principles of connectivity and collaboration put forth during Networkers. I just got back from Orlando and discovered both a Twitter and a Facebook connection invitation from two different Cisco employees. I also don't think I've ever sent or received so many text messages in my life as during the conference. But more on that later.
I wanted to write a little about Cisco CTO Padmasree Warrior's keynote address, which took place Wednesday. Warrior opened by recounting the legend of how, while taking a bath, Archimedes invented his method for measuring the volume of an irregularly shaped object. Supposedly, the great mathematician had to come up with a way to measure the purity of a golden crown, and realized during his bath that submerged bodies displace an amount of water equal to their volume. Then, versions of the legend claim, Archimedes leapt from the tub and ran naked through the streets, shouting "Eureka! I have found it!"
Warrior went on to explain that while we can't discount this idea of the lone genius having a sudden spark of inspiration, she believes that "ideas get stronger when shared" and that collaborative, collective genius is the way humanity will persist.
She also talked about a phrase she has coined, "brainforming," which is her take on brainstorming. Without getting very specific about how technology would enable brainforming, Warrior explained that in brainforming, we start to select ideas while we collect them. Collaboration, she said, should be a culture, not a function, and is going to become a persistent global conversation.
Of course, innovation and collaboration aren't worth much without execution, and Warrior emphasized that in her keynote as well, saying "I strongly believe that without execution, there is no vision." Her words echoed those of another great inventor, Thomas Edison, who once said that "Genius is one percent inspiration, ninety-nine percent perspiration."
Now, I have to admit that I'm a fan of the genius in the bathtub idea, and don't put too much stock in group intelligence. We all have seen the unfortunate products of "design by committee," which seem all too prevalent in both computer software and business culture — ideas that lack focus, products that are needlessly complex, unproductive meetings that only spawn more meetings, and so on.
I was thinking about the example of Linux creator Linus Torvalds this morning. On one hand, Torvalds basically came up with Linux one day in his bedroom in Finland — supporting the "bathtub" model of genius. On the other hand, Linux didn't become what it is today until Torvalds put the fledgling OS out there and let the open source development community hack away — supporting the collaborative model.
I discussed Warrior's keynote with two attendees: Brad Fox, a network manager and security engineer at Black & Decker, and Peter Perreault, senior network engineer at Tullett Prebon (a financial inter-dealer broker). Peter put things into perspective by saying that even if there's a lightbulb going on for the guy in the bathtub, great ideas are always built on the shoulders of giants — so collaboration technology, at its best, perhaps gives that genius a larger pool of giants to draw from.
Brad said, "Just don't take your laptop in the bathtub."
---
June 25, 2008 5:01 AM
Cisco chairman and CEO John Chambers welcomed attendees of Cisco Live 2008 (a.k.a. Cisco Networkers) at his keynote address in Orlando Tuesday morning with the message that the network will become the platform for all communication, and that Cisco will be the leader in providing the connectivity.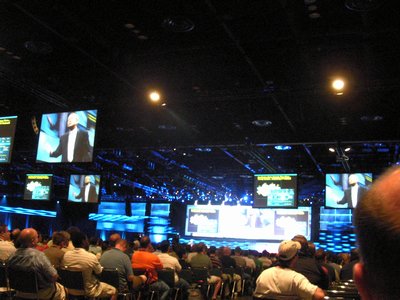 After an opening segment with loud music, colored lights and 11 screens displaying attendees' favorite sports teams (on which they "collaborated" via text message), Chambers got down to talking about Cisco's ability to stay abreast of market transitions. He explained that Cisco will leverage their position as the market leader to facilitate "any device, any content" communications and collaboration, which he sees as the market transition that is happening now.
Major components of this collaboration scenario, according to Chambers, are social networking and video — in fact, he said that "visual networking is the future." But Chambers said Cisco plans to add vision to social networking, putting structure behind Web 2.0-type tools like Twitter or Facebook (he alluded to the way "kids" use social networking tools here), validating their use as business tools.
A highlight of the session was the demonstration of WebEx Connect and how Cisco's latest and greatest collaboration technology (brought about by Cisco's recent WebEx acquisition) will enable us to communicate differently. Jim Grubb — jokingly dubbed "chief demonstration officer" — joined Chambers on stage for the demo. They showed off one-touch meeting functionality and something called "casting," which I captured in this short video.
Chambers reiterated the theme of his March VoiceCon keynote that the focus of online video collaboration (a.k.a. telepresence) is not only about cutting down on travel costs or "going green" by reducing associated emissions, but also, and more importantly, about changing business models to increase productivity.
As proof that Cisco is eating their own dog food (so to speak), Chambers gave some statistics about the growth of social networking use at Cisco, including blogs, wikis, discussion forums, and something called C-Vision, which he said was like "YouTube for the Enterprise." (Later in the day, Chambers also answered user questions online in Second Life, underscoring his company's interest in using social networking tools for business. Somewhat ironically, a glitch in the program made Chambers' avatar's virtual pants render as sort of an "image loading" error message.)
Other prominent themes of the keynote were Cisco's focus on innovation, as evidenced in their I-Prize program, and on virtualization — not just in the data center or server, Chambers said, "virtualization in everything you do." An example of this was Cisco's virtual launch of their ASR 1000 product.
Of course, I'm always skeptical, and wondered whether the network having to deliver all communications is really going to be such a good thing. One, there's the increased reliance on technology — which, let's face it, no matter how good Cisco makes the product, can still fail. Two, there's the problem of user integrity; virtual tools only work really well when users take the time to create fully-fleshed out profiles and enter all their contact information — and social networking tools enable the delivery of not just productivity, but lots of twittering about our cats, poking and ROTFLing. Then again, I'm not so sure that's completely different from real life collaboration.
---
June 25, 2008 4:07 AM
Wall Street's buzz about a possible Cisco-EMC marriage faded this afternoon when Cisco Systems CEO John Chambers sat down with the press for a round table discussion during his company's annual customer conference, Cisco Live. When asked whether Cisco would be acquiring a storage vendor, Chambers immediately shot down the idea, saying he couldln't see a way for his company to differentiate itself in the storage hardware market.
"The margins aren't good in storage devices," Chambers added. He said prefers more modest acquisitions, companies with a large staff of engineers that's about to take a a new product to market, for instance.
Last month, some Wall Street analysts and journalists had speculated that an EMC acquisition by Cisco might make some sense for the company, but it looks like simple wishful thinking at this point.
Chambers also revealed that Cisco is currently evaluating its potential for growth in the consumer technology market. He said Ned Hooper, senior vice president of corporate development and the consumer and small business group, owes him a plan for consumer brand development within the next 12 months.
Chambers said Cisco's current consumer play sits at around $3.5 billion ($1 billion in business from its consumer wireless router Linksys brand and $2.5 billion from its Scientific Atlanta set-top box business). He said Hooper, who is known as a merger & acquisition guru at Cisco, is evaluating whether Cisco can push its consumer business to $10 billion.
Since Chambers also revealed that he envisions consumer adoption of Cisco's TelePresence technology to take off once the company can offer a $10,000 price point for a home solution, a $10 billion consumer business might not be out of the question.
---
June 18, 2008 7:43 PM
To be a player in the mobile device or network appliance game, having an open platform is a must, according to MLB.com CEO Robert Bowman at the Mobile & Wireless World conference keynote last week.
In a closed device platform, content providers have to go through a carrier to get to the pipe to get to their consumers. In an open device platform, the content providers go straight to the pipe which goes to their consumers — and this eliminates the middle man.
Take the two most popular enterprise and consumer devices right now: the BlackBerry and the iPhone. It's not a mistake that they're popular. Bowman explained that the "iPhone and BlackBerry are considered the most open devices," and that plays a factor in which devices will live longer.
In addition to a longer shelf-life, these devices also have the potential for greater market penetration in coming years. According to Bowman, by 2013, 3G phone penetration will rise from 9% to 27% in the U.S.
Along with this, average revenue per user (ARPU) for data will rise 21% to 75% in the next five years — so after your kid graduates high school, you'll no longer be talking on your device; texting will take over the majority of your communication.
As mobile devices grow stronger in their coverage and market share, they'll grow proportionately in the stronghold of our lives.
"How many times do you think you will look at this device?" Bowman asked, holding up a gleaming BlackBerry to his audience. It's shiny; it's aesthetically pleasing…
"It's like your watch," he explains: It will catch your eye, so you'll look down at it. You'll be bored, so you'll look down at it. When someone asks you what time it is, you'll have to look back down at it even though you've just looked at it because you didn't think to read it…and this is how it will be with your BlackBerry he says.
The BlackBerry will be something you will look at 500 times a day," Bowman calculated.
Think of all that face value time you'll have with your device! I can only imagine what Craig Raine (author of "A Martian Sends A Postcard Home") would have to say about our phones now:
"In homes [briefcases?], a haunted apparatus sleeps,
that snores [lights up??] when you pick it up.

If the ghost cries, they carry it
to their lips and soothe it to sleep

with sounds. And yet, they wake it up
deliberately, by tickling with a finger. "
---
June 17, 2008 11:10 PM
After all the money you've diverted from your (enterprise's) coffers, don't you deserve a little something back? I mean, your requisition orders must pay the salaries of at least a few marketing types, sales types, and even a few engineers, so a kick back is the least they could give you.
Well, you've got your chance as Cisco continues moving from providing dumb pipes to selling services and solutions. BusinessWeek has the scoop on Cisco's I-Prize contest, which will award $250,000 to a team of innovators and entrepreneurs for their idea, with up to $10 million in funding set aside to potentially staff, develop, and market a business based on the idea.
If you're sick of ho-hum tasks and pointy-haired bosses, this could be your ticket out. And while entries are closed for this year's contest, there's always next year or one of dozens of similar contests, as Business Week reports:
Cisco's innovation contest is one of at least a dozen corporate-sponsored competitions that have cropped up in recent years, all aimed at developing and rewarding innovation. Microsoft (MSFT), for instance, annually awards its $25,000 Imagine Cup to a student team that best uses technology to solve a real-world problem. Using money to reward technological innovation is hardly novel; historians say one of the first innovation prizes dates to 1714, when the British government offered £20,000 to the person who could devise a method for determining a ship's longitude. (The prize was officially awarded 59 years later.)
Hey, if a Canadian steamfitter and a German student assistant can make it to finalist status, what's stopping you? If you're not quite ready for that 180 degree career change, there are other opportunities to give your networking career a jolt.
One quick method: Enter to win Cisco Press' CCNA Official Exam Certification Library. We've got 10 copies to give away to 10 lucky readers. See contest details for a chance to win.
Internetwork Expert is sponsoring a Real CCIE's, Real People 2008 Scholarship, where the winners (one U.S. and one international award will be given) will receive:
CCIE Self-Paced End-to-End Program
Complete CCIE Rack Rental package compliments of Graded Labs
Onsite Bootcamp of the recipients choice (including airfare, hotel, provisions, and ground transportation).
Not bad, but hurry up: The contest is over in 3 days!
Further Reading:
---
June 10, 2008 6:50 PM
The enterprise must prepare for the 'millenials,' or Generation Y as they are often known, according to a report from 60 Minutes. This was a theme echoed by President and Chief Executive Officer of Advanced Media LP at MLB.com (the Major League Baseball website) Robert Bowman in his keynote speech at Computer World's 2008 Mobile & Wireless World conference on Monday.
He began the topic by presenting a statistic gathered by Chetan Sharma Consulting: Only 20% average revenue per user (ARPU) come from data plans on users' phones.
"Right now, people are still reluctant to move to data plans," Bowman said. But he suspects that the 20% ARPU will switch completely five or so years down the road; instead only 20% ARPU will come from voice and the remaining 80% ARPU will come from data.
As anyone knows, data plans are much more expensive than straight voice plans, so why is he so certain these statistics will swap? According to Nielsen NetRatings, broadband held only 8% ARPU in 2000 compared with 92% ARPU of narrowband users. Eight years later, 87% of users choose broadband over narrowband — and the reason? You get to have more faster; the ease of use and what users expect to own far outweigh the additional cost of broadband. The same, Bowman says, can be expected for people to switch from voice to data.
Still need more convincing? As a representative of the current 20%, Bowman explained why data was more important than voice: Anyone who knows him, he said, will know that if they have something urgent to say, they will send him a text message so that he can see it immediately. This cuts out an extra step of having to call his voice mail and listen to a message. Anyone who leaves him a voice mail knows that they will just have to wait.
The fact also remains that for younger generations, text is and has been the preferred method of messaging. Take his own teenage children for example, as Bowman did in his keynote: "Everyone who has a kid knows how they use a phone; it's all data… My daughter only used her phone [for voice] to call us to pick her up."
Even in the Developing a Global Wireless Infrastructure session today, Vice President of Information Services at UPS Mark Hillbush said that his daughter only had one contact in her phone for voice. "One contact," he said "in two years! The sad part was that I don't even think I was the contact in her phone."
This goes to show, Bowman said, that the way children consume data and get entertainment is completely different than adults generations above them. The way they communicate using technology will evolve new applications, new devices and change the way we work in the world.
In my mind, what the enterprise has to prepare for are rapid advancements in technology. If you think new devices weren't being created rapidly enough, I believe having Generation Y enter the workforce will zoom technology up the quadratic curve.
---
June 9, 2008 9:59 PM
Last week I took a "tech tour" of Boston's TD BankNorth Garden, home of the Boston Celtics. The tour, which took place hours before Game 1 of the 2008 NBA Finals, demonstrated how the NBA uses Lenovo tablet laptops to tracks statistics and scores during games.
Aside from the tour, Lenovo also provided me with a press pass that allowed me to stick for the game. So full disclosure here: I got to see a very exciting basketaball game for taking this tour. The story I wrote about how the NBA uses Lenovo's laptops can be found on SearchMobileComputing.com.
Watching the Celtics and the Lakers in the NBA Finals was a great privilege. It was definitely one of the most exciting experiences I've ever had. But I did do some work while I was at the Garden. Really I did!
I shot some video of the demonstrations the NBA and the Celtics put on for me and other IT journalists. I thought I'd share them with you here.
Here we have Stephen Hellmuth, NBA executive vice president for operations and technology, giving an overview of what his team does on technology side to support NBA games.
Here is Jay Wessel, vice president of technology for the Boston Celtics, describing how wireless technology helps the NBA keep the game clock more accurate.
And finally, here is Wessel talking about how the NBA uses Lenovo laptops to keep score and log statistics.
---