---
October 20, 2008 10:03 PM
Have you been eyeing Cisco's TelePresence ever since Vice President Noah Daniels and Russian President Suvarov squared off over one in 24, Season 6?
Well now's your chance to re-enact your favorite moments, as Cisco begins renting TelePresence rooms to the general public. There will be over 100 rooms to choose from by the end of 2009, Reuters reported, so you and your 24 play pals will have plenty of spaces to choose from, and price points vary from $299 to $899 depending on the size of the room.
Considering TelePresence rooms (and they really are whole rooms, with everything from the carpeting to the tables to the angle of the HD TV's pre-determined) can run $300,000 to install, a few hundred dollars an hour isn't a bad deal, particular if travel expenses can be cut down several thousand while big wigs meet virtually instead of globe-trotting around the world (it's also easier on the environment). And while Cisco's plans were fairly modest for deployments, focusing on the global 500, this could help push the technology out to a much broader base.
Cisco is also supposedly touting telepresence as an option to bring together people together for distance weddings and births, according to Network World's Cisco Subnet, but I'm a wee bit skeptical this will develop into a serious market … Do people really want to give birth in a sterile business suite? Maybe one of the lower end, less "total" solutions is more feasible here, but we doubt a whole lot of wedding parties will want to cram into a suite in the Pierre Hotel, however seamless the experience.
October 16, 2008 9:07 PM
Just in time for fall foliage season, ABI Research has published its evaluation of the "greenness" of network equipment vendors and their switches (free registration required to view this).
Cisco was rated the greenest company of all, followed by Nortel and HP ProCurve. However, Nortel has the greenest switches.
ABI rated vendors based on how environmentally friendly each vendors' switches are in combination with each company's own internal green initiatives. No doubt, Cisco's much publicized effort to cut corporate travel by promoting the use of TelePresence within the company was a big factor in its position at the top of ABI's list.
However, ABI noted that for enterprises looking to buy the greenest switches on the market, Nortel is the top choice.
ABI evaluated switches by rating capacity per power consumed while also considering valued-added green features each switch vendor offers. The ABI ratings also gave weight to testing results from independent third parties.
Other top green vendors were 3Com (4th place), Alcatel-Lucent (5th place) and Enterasys Networks (6th place).
---
October 7, 2008 6:47 PM
If you are a network engineer or network architect, you're a wanted man or woman. At least for now.
Gartner has published some selected findings from its annual IT market compensation study. In it's new publication, "CIO Alert: Jobs and Skills Topping the Difficult-to-Recruit-For List in the U.S.", Gartner identified network engineer and network architect as thefourth and fifth most difficult positions to fill. And it's only getting harder for them to find you.
The percentage of CIOs who said network engineers are very difficult to extremely difficult to find rose from 14.1% in 2006 abd 16.6% in 2007 to 20.3% in 2008.
The demand for network architects has fluctuated a little more. About 18.2% of CIOs said they had a very to extremely difficult time finding engineers in 2006. That number sank to 15.2% in 2007 and then shot back up to 19.8% in 2008.
The only jobs which are harder to fill are enterprise architect, database administrator and ERP programmer/analyst.
Now I know what many of you are thinking. With the economy hurtling towards some sort of apocalypse, will any company be in a position to hire anyone in 2008 or 2009? Gartner does mention in its research note that IT recruitment continues to be a top challenge for IT organizations even in current economic conditions. Of course, this survey data was collected in February, before people starting use the term "the worst economic crisis since the Great Depression" on a daily basis. At least network engineers and architects have a little bit of an advantage over security analysts and bsuiness analysts and… COBOL programmers.
---
October 3, 2008 9:33 PM
Do you ever think about the time an end user spends staring at his or her computer while waiting for the network to process a request? It can be frustrating to watch that animated hourglass cursor every time you open up an application.
It might take just 15 or 20 seconds for a user too execute something in a networked application, but over the course of time all these little delays can really add up.
IT services company Dimension Data recently surveyed 957 knowledge workers and 267 IT decision makers around the world about network performance frustration. The firm found that the average user spend about two hours per month waiting for network-induced delays.
Those delays include
35 minutes per month waiting for network logins.
25 minutes per month waiting to access email.
23 minutes per moth waiting for file transfers.
Think about this. Two hours per month adds up to one full day a year. Multiply that by 1,000 employees and your company could be losing tens of thousands of dollars per year in productivity.
Not only that, but users will be less likely to use certain applications that regularly experience network delays.. Then a company finds itself having invested thousands in a new application that no one wants to use.
And you think it's hard to calculate ROI for investments in your network?
---
October 2, 2008 8:18 PM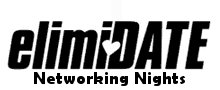 So shockingly it's not every WLAN vendor's dream to be swept off their feet by a big, strong wired networking vendor. Some are pretty happy being independent! And they'll even say that as rumors swirl around otherwise!
The Financial Times reported that Juniper was on the prowl for a WLAN counterpart, and named and unnamed analysts predicted Meru and Aruba were the likely targets.
Nonsense! blogged Chris Silva from Forrester. Juniper's ready to acquire, but Aruba is too expensive, and Meru is kinda funny but who knows.
Well, Aruba e-mailed us back to make it fairly clear they're not interested in Juniper, either. Maybe they're playing hard to get? Maybe they're protecting a tender heart? Who knows, but this is what Mike Tennefoss, Aruba's head of strategic marketing, had to say:
As we enter the next wave of networking, an inflection point marked by the pending final ratification of 802.11n, innovative technology will be required to build converged security, mobility and wireless solutions. Aruba has assembled a world-class team focused on this objective, and we believe our work will be best accomplished as an independent company.
Before Juniper gets too heart-broken, though, they might still find a match. Minutes before calling it a night yesterday, I got a call on my cell phone from Rachna Ahlawat, Meru's vice president of strategic marketing.
"There is enough going on and enough customers who believe in us and invest us to keep us busy," she said.
That being said, how would Meru like to be swept of their feet?
"We are open to all different options as the company goes forward," Rachna said. IPO or acquisition, it matters not, she said, because the company was not designed for one or another exit strategy.
So maybe Juniper does still have a shot at love after all.
For more on the acquisition possibilities, and how the economy might affect them, read on about Juniper's WLAN acquisition ambitions on SearchNetworking.com
---
October 1, 2008 8:10 PM
The financial crisis that the United State is mired in is starting to feel like a never-ending earthquake. The ground is shaking beneath all of us and we're wondering when it will end.
Watching Wall Street go into a meltdown is probably especially unnerving to the IT vendors who provide the infrastructure to companies that have ceased to exist, such as Lehman Brothers.
Bloomberg reported recently that IT spending by financial firms could decline by $4.3 billion next year, the lowest level since 2000. Does anyone remember the year 2000? That was the year the dot-com bubble burst, sending the IT sector into a long tailspin. Everyone has horror stories to tell about those years of companies closing their doors, IT pros losing their jobs and stock options going up in smoke.
The merger of Merrill Lynch and Bank of America alone will result in nearly $2 billion in IT spending cuts. Since that deal went down, JP Morgan Chase & Co. has bought out Washington Mutual and Citigroup bought out Wachovia's banking operations, which will surely cut into tech spending in this market even further.
Some of the bigger vendors on the market should be able to weather this storm. According to Bloomberg, Cisco System derives just 3% of its revenue from the financial sector. Other smaller vendors are probably more exposed than that. Now more than ever, when shopping for new technology or managing existing vendors, it's important to know how financially sound they are.
---
October 1, 2008 5:41 PM

Profile: Tessa Parmenter
SearchNetworking.com's very own security expert, Michael Gregg, has written another book: Build Your Own Security Lab: A Field Guide for Network Testing.
This how-to book not only gives you real-world scenarios you'll actually be able to relate to, but the materials you'll need to create your own test lab: It comes with a CD-ROM featuring security and hacking tools as well as open source tools, demo software, and a bootable version of Linux.
As security should never be last on the network administrator's task list — we want to give our readers an opportunity to win this book for free. We have 10 copies of Michael Gregg's book to give away to IT professionals in the United States. (Sorry, we cannot ship books outside the country.) Just go to our Build Your Own Security Lab giveaway two-question survey, and tell us if you've ethically hacked your network. Submitting your response will enter your name into our random drawing which will be held on November 1st. This means you have until the end of October to submit your entry.
If you miss your chance to enter, or don't win a copy — never fear! You can still download Chapter 9 of Build Your Own Security Lab, Securing Wireless Systems — which starts you off with basic wireless know-how and goes on to explain how to ethically hack and secure your wireless systems with various networking tools. Since we all live different lifestyles, this chapter is downloadable as a PDF or as a podcast for when you're on the go.
Do you like this offer? Let us know — or feel free to suggest any other books you're on the lookout for that we could help you get for free.
---
September 30, 2008 2:07 PM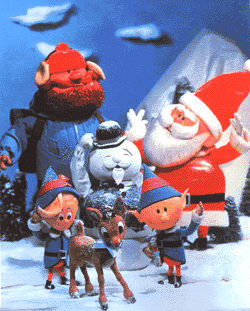 Christmas is coming a little early this year (don't you hate how it creeps up on you?) for Aruba customers. The WLAN equipment company announced the availability of their Adaptive Radio Management (ARM) 2.0 controller software, which can give Aruba mixed-mode Wi-Fi networks a significant boost by better optimizing how and when data is sent. In some tests conducted by Craig Mathias at the Farpoint Group, total throughput was up by as much as 200% in some scenarios (being vendor sponsored and all, take these "ideal scenarios" with a grain of salt).
The update is free to customers with existing support contracts, and also includes improvements on how the network handles "chattery" clients and how it deals with co-channel interference.
Further Reading:
---
September 30, 2008 2:03 PM
Vendor A: "Busy enough for you?"
Vendor B: "Packed in here."
–Two empty vendor booths
There's nothing quite like Vegas, I was told, right before tromping off to Interop New York, and boy were they right. No MacGyver. No high-stakes (or low-stakes, for that matter) poker with the stars. And really, not many announcements. As Rivka Little blogged, going there made you wonder if trade shows are dead, although the Fashion Coterie trade show right next door seemed to be booming (with better swag, too!).
Strangely, one of the biggest presences was RIM, pushing their PBX interoperability as well as showing off some shiny new Bolds. I have to admit, seeing them In Real Life really made me appreciate the upgrade in screen quality over their predecessors. We watched some movie trailers, and I was surprised that they were actually watchable as opposed to the almost farcical activity of watching video on a Curve.
RIM also had David Yach, their CTO of software, give an Interop keynote and lined him up for a series of interviews about the future and philosophy of BlackBerry software.
Cisco, it seems, isn't quite so enthusiastic, as Rivka quoted one Cisco exec: "We don't do these tradeshows the way we used to. Cisco does a lot of it virtually now. And we use our own technology like telepresence to meet with people. Folks are crunched to travel."
And the ones that do make it there? Occasionally sidelined.
Security: What does your company make?
Cisco Executive: EVERYTHING.
–Outside Fashion Coterie trade show floor
The feelings, alas, were not mutual.
Clacker: Oh my God, we missed it!
Fashionista: What are you talking about?
Clacker (with growing horror): We missed the show! These guys are definitely not in fashion!
–Outside of Interop trade show floor
Further Reading:
Thanks to Rivka Little for the overheard tips! Got more? Send them in to mmorisy at techtarget
---
September 22, 2008 5:45 PM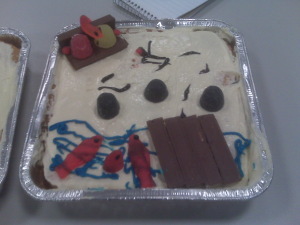 Ahoy! Just in time for our Talk like a Pirate Day blog post (what's a weekend late among old salts?), we hear tales of treachery and triumph, of bold moves and dastardly deeds.
First, matey, is the tale of Cisco's Jabber acquisition. Why would the world's dominant networking gear provider buy a second-tier IM platform? While you may not actually know anyone who uses Jabber, the Extensible Messaging and Presence Protocol (XMPP) Jabber is based on has seen quite a few fans, not the least of which is Google which has embraced the protocol for its Google Talk instant messaging platform.
As Cisco continues to make good on their promise to put structure behind Web 2.0-type tools, Jabber is a good place to start: A widely accepted IM standard heartily approved by the geek crowd which also gives enterprises the control they want. And some are also seeing it as a shot against frenemies Google and Microsoft, like the National Business Review's summary:
IM gains more respectability with the announcement over the weekend that networking giant Cisco will buy Jabber, whose software allows users of rival freebie IM programmes, such as Apple's iChat, Google's Talk, Microsoft Windows Messenger and Yahoo Messenger, to interact with each other, plus send messages to commercial grade programmes such as Microsoft's Office Communications Server.
The article title was even more direct: Cisco guns for Google, Microsoft with Jabber buy.
On a more swashbuckling note, Aruba's taking aim at Motorola, counter-suing the company for patent infringement:
"The first asserted patent was assumed by Aruba in March 2008 as part of its acquisition of AirWave Wireless Inc., while the second asserted patent was issued to Aruba in May 2008," the company said, adding that it is seeking a permanent injunction against use of its patented technologies as well as monetary damages.
The WLAN market is treacherous waters, as we've reported before, so we don't expect this back and forth end until one or the other goes to Davy Jones locker.
Image: SearchNetworking's belated Talk like a Pirate Day cake.
---