---
February 26, 2009 9:38 PM
The intersection between geek culture and hip hop has a long, vibrant history and has brought us many cherished pop culture moments.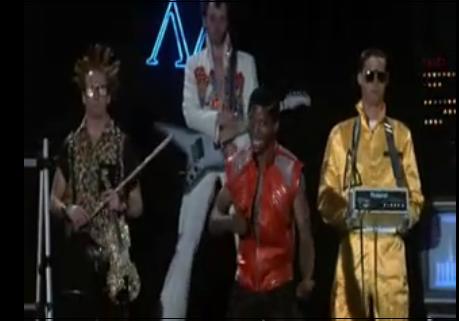 Back in the 1984, there was Reveng of the Nerds. Who can forget the triumphant scene when the boys of Lambda Lambda Lambda clinched a victory at the Adams College homecoming carnival competition by wowing the crowd with a nerd rap with front man Lamar Latrell?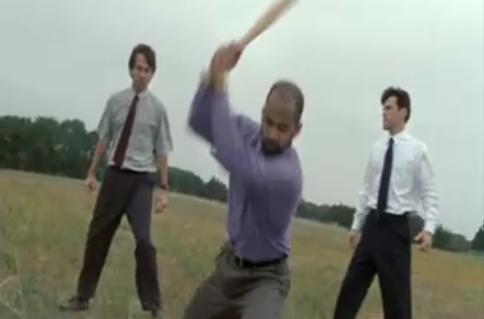 Then in 1999, we had Office Space. In a brilliant scene that seemed inspired by a John Singleton movie, Peter Gibbons and his co-conspirators gather in an open field with an HP Laserjet printer and let out all their TPS report fury, stomping, smashing and punching the printer into oblivion, all while the rap song "Still" by the Geto Boys eggs them on. Also we have the scene earlier in the film where Michael Bolton is stuck in traffic, singing along with another Geto Boys song.
Then two years ago we had Weird Al Yankovic's masterful parody "White & Nerdy," featuring a cameo from Donny Osmond.  The scene in the back alley where he buys a VHS bootleg of the Star Wars Holiday Special is priceless.
As much as I love Weird Al's hip hop homage to geek culture, NetApp has taken things to a whole new level. I gotta give a hat tip to Beth Pariseau over at our sister blog Storage Soup for this one.  In this YouTube clip from NetApp that spoofs the climactic rap battle scene in the film 8 Mile with Eminem, two rappers, named for storage rivals NetApp and EMC, clash with each other for hip hop storage supremacy, tossing out classic lines like "It's obvious you've got stage fright/Couldn't save a text file with a gigabyte." It's not as funny as some classic moments from the past, but the quality of the rhyming and rapping deserves some special recognition.
Update: Amy Kucharik pointed out that any history of the intersection of geek culture and hip hop is incomplete without a reference to nerdcore hip hop master MC Frontalot. And I have to agree. Take a look at this video for "It is Pitch Black," an excellent homage to Zork, the text-based role playing game from the eighties that I have cherished memories of playing on an Apple IIc.
February 25, 2009 3:49 PM

Profile: Michael Morisy
What happens when you take a grizzled network admin and drop him in the wilds of Texas? I'm not sure either, exactly, but NetQoS put up a Man vs. Wild spoof featuring Cisco routers and NetFlow grub. Bear Grylls he's not … but then again, I hear Bear himself needs off-screen assistance when he's trying to keep 5 9's of LAN uptime. I've included a clip of the real deal after the jump, for your grub comparison.
---
February 25, 2009 3:47 PM
Belden, which bought wireless LAN vendor Trapeze Networks last year, is trying to open up a new sales channel for wireless infrastructure. The company announced exclusive distribution agreements for Trapeze WLAN products with Graybar and Anixter International, two of the leading distributors of network cabling in the world.
When Belden purchased Trapeze some experts were left scratching their heads about the deal. Belden is a leading manufacturer of cabling and other signal transmission technology. Many analysts have been predicting consolidation in the WLAN market, but they were expecting switch vendors like Juniper and Foundry to do the buying as networking vendors looked to build out a unified wired and wireless product strategy. HP ProCurve's acquisition of Colubris seemed to fit in with this trend. Just look at a company like Cisco, which can sell its switches and WLAN access points to the same people. It makes sense from a marketing perspective.
But Belden is trying something completely different with Trapeze, and it will be interesting to see how it plays out. Graybar and Anixtar already sell Belden cables, and now Belden is trying to expand those relationships through Trapeze.
Belden is hoping that when companies are designing the basic infrastructure of a new building, such as network cabling and power, they will also design wireless infrastructure at that stage as well. If this happens, it would make sense for companies to buy their cabling and wireless technology from the same distributor as they prepare to build a new building.
---
February 23, 2009 7:48 PM
And you thought you were underwater with your mortgage?
Back in 2000 Nortel bought application delivery switching vendor Alteon for about $6 billion in an effort to keep pace with rival Cisco. Nine years later, Nortel is bankrupt and it is trying to sell off assets as it restructures itself. Nortel announced last week that Radware was buying the asseets of the Alteon business, but neither company announced the value of the deal. Today the Ottawa Citizen published the numbers, based on a filing in U.S. bankruptcy court.  Radware will pay Nortel around $17.5 million. That's less than 3% of what Nortel originally paid for the company.
---
February 23, 2009 7:38 PM
One of the circling vultures has finally picked some of the juiciest meat of the bones of Nortel.  Israeli company Radware, an application delivery networking vendor, announced that it has agreed to buy Nortel's Layer 4-7 appplication delivery switching business for an undisclosed sum. In the transaction Nortel is basically selling off the assets of Alteon WebSystems, a company it purchased nine years ago.
Nortel bought Alteon in 2000 for $6 billion in an effort to keep pace with Cisco, which had bought a competing company,  ArrowPoint Communications, just months prior for $5.7 billion.
Nortel is currently restructuring itself under Chapter 11 bankruptcy protection. According to U.S. bankruptcy law, the sale must be conducted at auction, so other companies have an opportunity to best Radware's offer before the sale is finalized.
In its announcement of the deal, Radware said the Alteon products would be sold under the brand Radware Alteon. The company announced that it would offer a five-year support plan on Alteon products to ease the worries of existing Alteon customers. Radware plans to hire some of Nortel's employees, it said.
Other vendors in the application delivery space have been trying to capitalize on the uncertainty surrounding Nortel and its Alteon line. For instance, F5 Networks announced plans to offer up to $9,000 worth of credit to companies that agree to trade in their Alteon switches for F5's competing Big-IP switches.
If consummated, Radware's acquisition of Nortel's Alteon business will solidify its position as a strong competitor to F5, Cisco and Citrix in the application delivery networking market.
---
February 18, 2009 6:34 PM
What would the data center vendor market look like today if Carly Fiorina hadn't been ousted as CEO of HP back in 2005? Under her leadership, HP maintained a cozy detente with Cisco. The two mega-companies happily engaged data center customers together.  Cisco sold them switches and routers. HP sold them servers, storage and management software. And HP's networking division, ProCurve, was consigned to operate in a relative backwater, carving out a solid niche with a pipeline into the SMB networking market.
Current HP CEO Mark Hurd has changed things up. First he named Marius Haas, a rising star at HP who had spent the previous four years overseeing the absorption of HP acquisitions, as ProCurve's new senior vice president and general manager. Then Hurd and Haas snapped up the well-regarded wireless LAN vendor Colubris, giving ProCurve instant WLAN cred. Before the Colubris deal, ProCurve's WLAN strategy was built upon an OEM partnership with Motorola.
Word soon came down from above. The incentives that HP had long offered to sales representatives who sold Cisco gear along with HP servers and storage were off the table. ProCurve products were the new priority.
Then last month ProCurve announced its first purpose-built data center switches. ProCurve executives made it clear while briefing reporters and analysts about these new switches that the incentives HP sales reps had for selling Cisco products were long gone. HP would be bringing the full might of its data center presence to bear on its ProCurve strategy. Enterprises could now expect HP sales engineers to offer packages of HP servers, storage, switches, software and services. Quite a proposition.
Of course, none of this has been happening in a vacuum. Cisco hasn't been sitting still. For a couple years now, Cisco has made it clear that it intends to conquer all things data center as well. It has invested more than $1 billion in rolling out its new Nexus switch line. It has unleashed a barrage of new data center management software and services, labeled Data Center 3.0. And rumors continue to buzz about "California," Cisco's much anticipated entry into the blade server market.
So what happens next? It's safe to say this battle will result in some acquisitions as each company tries to add some weapons to its arsenal.  Allan Leinwand at GigaOM recently suggested a whole bunch of acquisition targets for HP.  For instance, he suggested that HP snap up Arista Networks, Blade Network Technologies, or Force10 Networks in order to beef up its 10/100 gigabit Ethernet portfolio. For storage optimization, he suggested someone like DataDomain.  He said HP should expand into WAN optimization and application delivery, by picking up someone like Blue Coat Systems or Zeus Technology. He also suggested HP target one of the emerging cloud computing specialists.
Meanwhile, Ashlee Vance at the New York Times blogged that Cisco is hoarding cash, leading many to speculate that a flurry of acquisitions is on the horizon.  Vance says that Cisco CEO John Chambers is looking to strike next in the consumer electronics market with the $30 billion in cash it has on hand right now. But enterprise vendors are also rumored targets. Given Cisco's strong investment in expanding its data center footprint, I think it will spend some of that money on vendors who will help it make war on HP. The EMC rumors just won't go away, for instance. Last year I heard some whispers that Cisco might make a smaller deal for network management software vendor SolarWinds, but I haven't heard much about such a deal lately. I've seen speculation that Cisco might also target VMware, which it already owns a small stake in. That would be a huge deal, but why would EMC sell it? VMware is a big performer for it. Cisco might buy EMC just so it can have VMware, but the price would be steep.
Once the dust settles over the acquisition blitz, what happens next? I just read a great blog post by Christopher Hoff (hat tip to IDC's Abner Germanow) which offers a great overview on where all of this is going. For instance, Cisco isn't really getting into the server business, he says.  Instead, the so-called blade server Cisco is rumored to be working on is a natural outgrowth of the convergence of computing, where storage, servers and switches are becoming more tightly integrated into one infrastructure that supports virtualization and cloud computing.  He writes:
My point is that what Cisco is building is the natural by-product of converged technologies with an approach that deserves attention.  It *is* unified computing.  It's a solution that includes integrated capabilities that otherwise customers would be responsible for piecing together themselves…and that's one of the biggest problems we have with disruptive innovation today: integration.
I imagine HP plans to travel down this road as well. Indeed, this should be a very interesting year.
---
February 16, 2009 9:59 PM
It looks like the federal government might finally be cracking down on H-1B visa fraud. The controversial program, which many unemployed and underemployed IT workers will tell you is the reason they're not earning a decent living, has been under fire in recent years. And last week the U.S. Attorney's office in Iowa announced that the federal government has arrested 11 people in six states under suspicion of committing H-1B visa fraud. The U.S. Attorney has also indicted Vision Systems Group Inc., a New Jersey-based  IT services company on 10 criminal counts, including mail fraud and conspiracy (You might notice that all of the links on Vision Systems' web site appear to be inactive at the moment).
The H-1B visa system was designed to allow companies to bring highly skilled foreign nationals, particularly foreign nationals with IT skills, into the United States to fill jobs for which there is a shortage of domestic skilled labor. Companies are required by law to pay H-1B visa holders a salary equal to the prevailing regional wage for the role he fills. For instance, network administrators are paid more in New Jersey than they might be in Mississippi, so a company that hires a foreign worker to work in New Jersey should be paying that worker a New Jersey salary, not a Mississippi salary.
However, critics of the H-1B program, particularly Senator Chuck Grassley (R-Iowa), say that many companies are gaming the visa system, using the program to important cheaper foreign labor and displacing domestic workers. (Note that the U.S. attorney heading this particular investigation is from Grassley's home state). Critics say companies frequently forge documentation about the qualifications of these workers and violate the prevailing wage requirements of the visa program. Last October, Grassley released a report which suggested that as much as 20% of such visas could be fraudulent.
---
February 13, 2009 10:43 PM
If you're a network manager, chance are you've possessed a laptop with a packet sniffer or protocol analyzer on it. Just plug that bad boy into the corporate network and you can look at all the traffic that's going across the wire.
I'm sure you've worn a white hat while using such a tool, but has the thought crossed your mind at some point that one of your admins could go rogue with such a tool and cause some real trouble for you?
I recently talked to Steve Shalita, vice president of marketing for NetScout, about this worry. Back in the fall of 2007, NetScout bought Network General, the maker of one of the original packet sniffers, named (what else) Sniffer.
Shalita said NetScout is releasing a new version of Sniffer called Sniffer Global which introduces a server-based authentication point for all Sniffer desktop installations. Through this central server, network managers can set policies for usage of Sniffer technology.
"You can limit how far they can go into the packet," Shalita told me. "And you have the ability to, by user and with very granular detail, report on what that user has done out there on the network. The server is doing policy control and authorization of what they can do and reporting back to you."
Sniffer Global isn't a cure-all for potentially rogue packet sniffers on the network. It isn't backwards compatible with older versions of Sniffer. So you'd have to update all the desktops that have Sniffer on them. That means you'd have to find the ones you don't know about, too.  And of course, Sniffer Global's server won't identify packet sniffers made by other vendors, either. Instead, Sniffer Global's value is in establishing centralized control over sanctioned Sniffer PCs across the network.
---
February 13, 2009 10:10 PM
When I have conversations with network managers about whether they plan to upgrade to 802.11n wireless LAN technology, many say they're in no hurry. They're still getting plenty out of their existing 802.11a/b/g infrastructure, they say. And besides, all the legacy clients in their organization would just slow down the 802.11n clients, preventing users from enjoying the benefits of a faster wireless network. Access points are usually shared by multiple clients and clients can only transmit to an access point one at a time. This often means that faster 802.11n clients are stuck in a queue behind slower legacy clients that take much longer to transmit the same amount of data.
Several WLAN vendors, such as Meru Networks and Aruba Networks,  have developed technologies to solve this problem.  For instance, Aruba's Adaptive Radio Management software can shift WLAN clients to different radio frequencies and can analyze the 802.11x protocol used by the client. If the client is a faster 802.11n device, the software gives it priority
Aerohive Networks, a start-up known for its controllerless WLAN architecture, has found a new way to tackle this problem. In the latest version of its operating system, HiveOS 3.2, Aerohive has introduced a new feature called Dynamic Airtime Scheduling.  Rather than making airtime decisions based on protocol, Aerohive actually examines the airtime of the client's packets to determine how fast it is. This is relevant because the farther a client is from an access point, the slower its transmission. So an 802.11n client which is much farther away from an access point than 802.11g client is could actually be slower. The Aerohive AP will give priority to the .11g client since its signal is closer and thus faster. With this technology, Aerohive can also give priority to a fast 802.11n client over a slower 802.11n client.
Dynamic Airtime Scheduling also applies policy to the clients as well. For instance, a company can give airtime priority to employee devices over guest devices,
Niall Pariag, senior network administrator at Riverside Health Care Systems Inc., a network of hospitals and clinics based in Yonkers, N.Y., is in the process of replacing legacy Cisco infrastructure in his facilities with Aerohive 802.11n access points. He said Dynamic Airtime Scheduling solves a problem he's been worried about ever since he decided to upgrade to 801.11n.
"It solves the only quirk we had with the wireless network, that slow clients basically slow down fast clients," he said. "That's a concern we kept ignoring, because we knew we were going to cross that bridge when we got to it. We don't have that many clients connecting now, so it wasn't a concern."
Pariag said that in the future his company will be adding more and more clients to the wireless network, and airtime scheduling will become critical to him.
---
February 11, 2009 4:07 PM
If Sean Hannity can run a dating site just for his fans, surely there's enough interest out there for a geek-friendly "Match.com." (Please note, the only reason I would ever visit Hannidate would be to screen for people NOT to date. Fortunately the Hanni-pickings in Massachusetts are pretty slim).
Geek-friendly scifi blog io9.com has given some link love to a Chicago Sun-Times article about "Nerds at Heart," a series of Windy City geek gatherings where men and women herd together and look for potential mates. io9 highlighted a couple choice paragraphs about these gatherings that I just have to include here.
The game of Risk may not sound romantic to everybody. "I was playing; he was knocking my cavalry over into the ocean," remembers Flaherty. But it led to a first date at a book fair. And, eventually, love.

In April, their wedding-cake topper will depict them holding Wii controllers.
Now, I'm not aware of any geek dating websites out there, but surely there's a market for one. I'd love to find a woman who appreciates my passion for the Star Wars universe and George RR Martin books… someone who would help me sell off some of my 6,000 comic books on Craigslist for some extra money.
---