---
May 5, 2009 9:11 PM
Last week, Bridget Botelho blogged about how she had attended the New England VMware Users Group meeting in Newport, RI and found it to be a boys' club, sparsely attended by women. Botelho was made to feel like something of an outsider, especially when one (male) attendee asked her, "So, why do you write about technology? Wouldn't you rather be writing about fashion or something?"
Botelho's blog post (and subsequent comment thread) went on to speculate about the dwindling numbers of women in IT, particularly in VMware, professions, and cites some statistics to that effect.
Today I read Darryl K. Taft's related column on eWeek, "Do Alpha Male Geeks Scare Women Away from Programming?" The column drew from David Heinemeier Hansson's blog post on the same subject and discussed whether so-called "alpha-male geeks" and macho programmers might deter women from choosing careers in programming.
"Um… Alpha-male geeks? Is there such a thing?" you might be thinking. Taft and Hansson might agree. Wrote Hansson:
I just can't get into the argument that women are being kept out of programming because the male programmer is such a testosterone-powered alpha specimen of our species. Compared to most other male groups that I've experienced, the average programmer ranks only just above mathematicians in being meek, tame and introverted."
This got me thinking. As a female in the tech publishing industry (not to mention a life-long girl geek), I'm pretty accustomed to the boys' club feel of most tech conferences (not unlike comic cons). And while there's always going to be the contingent of gawkers and incredulous "whoa-it's-a-girl-I'm-going-to-spaz-out"-ers, I find that generally, these so-called boys' clubs are welcoming and respectful of female members. And like Hansson points out, most (male) geeks are meek. These days, most of them even know how to put on clean socks before they leave the house.
Of course, IT can be a weird space for women. At any tech show, we have leaders and experts like Padmasree Warrior, Danese Cooper and Lisa Phifer heading up keynotes and seminars, while scantily-clad "booth babes" parade around the exhibit hall. I don't see that dichotomy changing any time soon, no matter how many girls major in computer science or know how to secure your wireless network.
I don't have the answer why more women aren't in VMware, programming, or networking. I think there's probably some truth to the theory that IT becomes perceived by girls as "uncool," but the same might be said of any number of professions where women abound.
I do know that what I hear day after day from IT professionals would be enough to deter any sane person — male or female — from selecting a technology career. After all, who wants to be overworked and underpaid? Who wants to work long hours for little reward, only gaining visibility when something goes wrong? Who wants to deal with countless end-user complaints and co-worker headaches… technology that doesn't work how it's supposed to… vendors and carriers who don't deliver… bosses who don't understand what you're saying? Who wants to wade through the certification alphabet soup and pay hundreds of dollars for an arguably not-that-useful credential that expires in 3 years? And so on.
Maybe "why aren't there more women in IT?" is the wrong question to be asking, though. Maybe we should be asking women who are in IT why they chose that path, and how they are succeeding. That might be enough to convince others to follow suit.
May 1, 2009 6:58 PM
In March I noted that network management software vendor SolarWinds had filed an updated S-1 form with the SEC, a bureaucratic step towards making an initial public offering (IPO).
Today the Wall Street Journal reports that SolarWinds has set the terms of its IPO today. It will ask for a share price of $9.50 to $11.50 and it will make 12.1 million shares available to the market. SolarWinds hasn't announced the date that it will go on the market, but the Journal article noted that companies usually time their IPOs to occur about two weeks after they set their terms.
IDC has identified SolarWinds as having the eighth highest revenue share in the network management market, just behind such industry heavies as IBM, CA, HP and EMC.
---
May 1, 2009 3:21 PM
Dan Raffo, over at our sister blog Storage Soup, reports that Brocade is cutting between 5% and 10% of its workforce today. Sources told Dan that the job cuts will come mostly from the storage side of the business rather than on the IP networking side, which made a big splash this week when IBM and Brocade announced that IBM would OEM Brocade's Ethernet products. This is the first series of layoffs reported at Brocade since the storage networking vendor bought Foundry Networks last year.
---
April 30, 2009 8:53 PM
Aruba Networks emails me quite often with wireless LAN customer wins. Either it is signing more customers than other WLAN vendors, or it simply publicizes its wins more often.  Usually I don't bother to write about this customer news, but a couple of recent announcements have caught my eye.
First there was Aruba's announcement that Carnegie Mellon University has just completed the deployment of 1,540 802.11n access points across its campus. Aruba said that Carnegie Mellon was particularly attracted to the company's Adaptive Radio Management (ARM) technology, which simplified access points deployment and maintenance. The school was also attracted to Aruba's Policy-Enforcement Firewall (PEF), which provides identity-based security, Quality of Service (QoS) control and traffic management.
Meanwhile over in Australia, IBM announced that it had won a contract from the government of New South Wales, to design, deploy and manage wireless LAN infrastructure for 463 secondary schools. IBM will install Aruba technology in all of those schools, providing wireless connectivity to more than 200,000 students and 25,000 teachers. That's a big contract and a lot of access points.
---
April 29, 2009 3:47 PM
How appropriate. The swine flu hysteria is generating new email spam.  If Monty Python's Flying Circus was still in business, they'd put together a wonderful skit about this. (Spaaaaam, oh wonderful Spam!)
Cisco IronPort reports that messages about swine flu now make up 4% of global spam messages.
Here are some of the subject lines you will be seeing in your inboxes soon:
Swine flu worldwide
Swine flu in the USA
Swine flu fears
First US swine flu victims
Swine flu in Hollywood
Salma Hayek caught swine flu
Madonna caught swine flu
Those last two subject lines are particularly devastating to anyone who is a fan of bad 1990s comedies co-starring Matthew Perry or mediocre 1980s pop music.
---
April 28, 2009 4:08 PM
On the heels of today's huge news that IBM has signed an OEM agreement with Brocade to sell IBM-branded Brocade (formerly Foundry) switches and routers, Juniper and IBM are reaffirming their ongoing alliance.
I received a press release this morning from Juniper specifically detailing the joint work Juniper and IBM are doing in cloud computing, such as Juniper collaboration with IBM to develop a single data center fabric for cloud computing with its Juniper's Stratus Project.
Juniper also pointed out that the Brocade OEM agreement is only part of IBM's larger Dynamic Infrastructure announcement today that highlights a new series of products and services from IBM aimed at helping enterprises build next generation data centers and move into cloud computing. Juniper is a critical participant in IBM's strategy, Juniper points out..
In the Juniper announcement, IBM vice president for enterprise initiatives Jim Comfort said:
Juniper is an important supplier of networking products. IBM is already a reseller of Juniper's Ethernet switches and routers and we continue to look for opportunities to expand this relationship to provide increasing choice for our customers and the flexibility to support their dynamic infrastructure needs.
---
April 23, 2009 5:51 PM
This week Cisco announced a bunch of new cloud-based security and collaboration products, including a new cloud-based intrusion protection system (IPS) and Cisco ASA 5500 Series 8.2, with a new botnet traffic filter.  The company also announced that is re-branding the WebEx MediaTone Network, a series of eight data centers around the world that make up the WebEx cloud, as the Cisco WebEx Collaboration Cloud.  This cloud network now offers enterprise IT departments policy control over WebEx meetings, empowering IT to set policies about desktop sharing and file transfers. It also offers global load balancing and intelligent routing, making sure that users enter the WebEx cloud through the best ISP to the most convenient and least taxed data center in the network.
However, what caught my eye in this series of announcements was a new WebEx blade device designed for the ASR 1000 router series. The WebEx Node for ASR 1000 basically transforms Cisco's ASR 1000 router into a node on Cisco's WebEx cloud.
Here's how it works: Let's say a company wants to hold a WebEx training session for 500 employees. In the old days, each of these 500 employees would log onto WebEx individually across the wide-area network (WAN). With the WebEx Node blade, the ASR 1000 router acts as a broker between the users and the WebEx cloud. The blade establishes a single session with the WebEx cloud. The 500 employees connect through the corporate firewall to the ASR 1000 router and the router connects to the WebEx cloud. By having just one connection to the cloud, shared with hundreds of employees, an enterprise can reduce the amount of bandwidth consumed. This will be especially handy when a company wants to stream high-definition video or send voice-over-IP and/orlarge data sets through WebEx. Companies will avoid WAN bottlenecks and employees will enjoy a better user experience.
---
April 23, 2009 4:29 PM
Broadcom is making a $764-million hostile takeover bid for Emulex, a manufacturer of storage networking infrastructure, such as host bus adaptors and I/O controllers. Broadcom, a maker of wireless and wired networking semiconductors, appears to have Emulex's emergent Fibre Channel over Ethernet (FCoE) converged network adapters in its sites.
Cisco, Brocade and other networking vendors are evangelizing the concept of converged Ethernet for data centers, where storage and data networks are converged on a single network fabric. FCoE is a key element of this movement.  If it takes off, convergenced Ethernet could reduce the number of network connections on servers and simplify data center networking in general.
If Broadcom succeeds in grabbing Emulex, it would be well-positioned to produce the semiconductors that enable this new networking paradigm. Emulex leadership, however, seems uninterested in selling out to Broadcom. Broadcom first approached Emulex about a merger in January, but Exmulex said 'No thanks."
---
April 9, 2009 5:55 PM

Profile: Michael Morisy
Working on my story about learning games and the launch of Cisco Mind Share, I couldn't help but think of two other games I'd been pitched by vendors recently, one by NetQoS and the other by Cisco itself.
The former, Network Rockstar Challenge, was a Guitar Hero/Rockband-themed Flash game with some nifty production values: Professional voice over, slick art, the whole nine yards. They even give you two characters to choose from, complete with backstories and multiple outfits.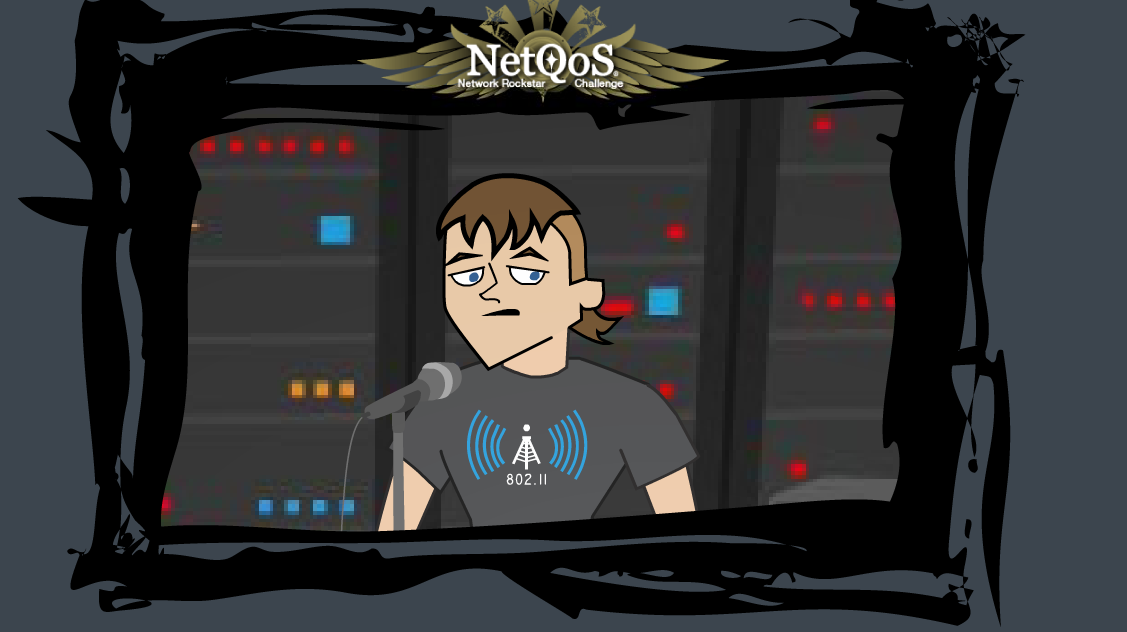 The long sound loading time and rock star trappings had me hoping for a network-themed rhythm game, but in the end it was a pretty standard 10-question quiz show. So much for my dreams of binary beat boxing.
Cisco's Edge Quest 2 has you pilot an ASR 9000 Series Router around 5 white rails, picking up green IP packets and network disruptions, which look just like IP packets but are red.
If you're curious, you can check out a somewhat chiding video review of the game's precursor, Edge Quest 1, at Network Performance Daily, which is oddly enough owned by … NetQoS. Or better yet, play it yourself at Cisco's website.
While both are priced right for this economy (Free!), user comments make me wonder how much time networking professionals are really interested in spending on corporate-sponsored timewasters, particularly if they're worried their jobs are on the chopping block.
As Erick Parsons, a networking professional, wrote back to me:
I'm still in class doing the CNAMS curriculum and am quite busy with that and work. When I catch up on ACL's and test for that (my first priority at the moment) I may find time to get to the mindshare game. […] I've only the demo right now and haven't had a chance yet to install it.
The game-vertisements lack much educational value, while longer games seem to be asking for too much of a commitment from some users. What's a bored keyboard jockey looking to better himself to do?
Maybe there is hope. The most fun I had was actually with another Cisco mini-game, the Binary Game. Your task is to knock out rising rows of binary equations by calculating their value. There's some handy guides and while I'll stick with my base 10 system, thank you very much, it strikes a great balance between learning and semi-mindless Flash game fun.
Games Networking Pros Play:
Have any more games to add to the list? E -mail me or leave a comment below!
---
April 6, 2009 3:50 PM
D-Link, a vendor of network and storage hardware for small and midsized businesses, announced last week that it will begin offering full lifetime warranties on its xStack switch line. This warranty applies to any switches bought on or after March 31, 2009. D-Link competitor Netgear also provides lifetime warranties on its switches.
Looking up the vendor food chain, HP ProCurve has been offering lifetime warranties on its hardware for a long time, and it extended that lifetime warranty to wireless LAN vendor Colubris when it bought that company last year.
In this economic climate, I wouldn't be surprised if other networking vendors introduce this kind of investment protection as they try to hold onto market share or attempt to steal market share from leading vendors like Cisco.
---