---
May 28, 2009 9:17 PM
At Interop, NetScout announced the integration of its Sniffer Global network analyzer product with Cisco's Mobility Services Engine. This integration gives network managers the ability to do location-based troubleshooting of wireless LAN networks. A user can find the location of a client device that is experiencing performance issues, determine what access point that device is using and discover all other proximal network activity that could be affecting performance.
In this video, Netscout's director of systems engineering Eric Gray demonstrates the integration.
May 28, 2009 7:31 PM
While walking the floor at Interop Las Vegas last week, I met with Brad Booth, chairman of the Ethernet Alliance, who demonstrated Fibre Channel over Ethernet (FCoE). In this video, you can see how the Ethernet Alliance used priority flow control and enhanced transmission selection to protect video traffic moving over FCoE. As Brad describes, this video features a NetApp Fibre Channel array  sending Fibre Channel and ISCSI traffic across an Ethernet network into two servers. The servers are sending streaming video to a monitor while a Finisar Xgig traffic generator is blasting the network with simulated traffic.
---
May 21, 2009 5:31 PM

Profile: SusanFogarty
While walking the expo floor at Interop Las Vegas this week, I was pleasantly relieved to see that the gloomy economy has not dampened the spirits of the networking industry. Although I have heard rumors that show traffic is down, it looks pretty healthy to me (certainly a far cry better than any of the New York events). And the mood is upbeat. In fact, several conference attendees have expressed to me their belief that the economy has "turned the corner" and they are thinking about what comes next.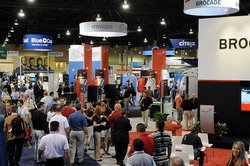 A survey conducted by vendor Network Instruments at the show seemed to validate that. Of 100 network engineers and IT executives interviewed, the survey found that 67% of respondents had not experienced layoffs in their IT departments in the past year, and 31% are continuing to roll out new technologies.
Of course, you have to assume that in a down economy, the attendees that make it to a conference are the lucky ones working in IT departments that can still afford to send their staff to events and investigate new products. But I was heartened to see that there were a significant number of these folks in attendance, and they were very interested in up-and-coming technologies, not just the tried-and-true stuff.
The bottom line has changed, however. While 10 and even five years ago, IT pros might have delved into a technology for technology's sake, that's unspeakable today. I would hazard to guess that every Interop attendee had the same ultimate goal in mind: saving money via technology and achieving ROI for their IT investments.
That's driving a lot of what networking pros have come to Vegas to learn about: virtualization, unified communications, cloud computing, 10 Gigabit Ethernet. These technologies are new ways to collapse more services onto one infrastructure, doing as much as possible with fewer devices and fewer people. While there may be an investment up-front, the long-term savings can be monumental if you plan correctly.
Attendees told me they are re-architecting their data centers, building out telepresence to cut back on travel budgets, and installing only wireless connectivity in branch offices, among other innovative ideas. The IT pros here are learning to think in whole new ways, and that makes them doubly lucky. Maybe we'll hit the craps table this afternoon.
---
May 21, 2009 2:52 PM
Mobile access is spotty. Booths are pretty empty, except where there's beer or boxing. People are talking about NAC, IT management, and cloud computing. They're cautiously optimistic about the economy. Vendors show off nifty devices and hawk T-shirts. Bottled water costs $3. And the booth babes are nearly naked.
No, I'm not in Vegas for Interop this week. I'm sitting at my computer in Massachusetts, where — thanks to social networking — I feel like I'm almost not missing out on the conference.
Journalists from my own team and rival publications have posted more content than I can read in one day. With the addition of Twitter, real-time updates with an off-the-cuff candor help create the same kind of ordered chaos, the hubbub and camaraderie, that exists at a real world trade show.
Meanwhile, voyeuristic Interop Webcams offer a live view of the show floor (yesterday, I watched a man wandering between booths while typing on his Blackberry).
Among their more serious (and frequent) tweets reporting on the sessions, IDC analyst Abner Germanow posted an amusing Twitpic of women boxing, while Network World editor Denise Dubie discussed the aforementioned scantily clad booth babes.
Information sharing, with a high dose of frivolity: Behold the power of Twitter. Analysts, journalists, vendors, and a few actual IT guys posted pictures, shared stories, and hashed out everything from beer to the businsess case for IT. In fact, just by chatting and "retweeting"posts with the "#Interop" tag on them, I unintentionally created the illusion that I was actually in Vegas! (Sorry to disappoint, but our other editors, Shamus, Rivka, Tim and Sue, are there.)
I am missing out on the vendor swag, though, and those experiences that only happen at a conference, especially in Vegas: Poolside vendor briefings, or chatting about open source routers until 2am on some roof deck. (Sigh.) So I am missing out, a little.
I'm also missing out on the whopping travel expense.
As fate would have it, yesterday I received an invitation to Cisco's upcoming Cisco Live (formerly Networkers) conference:
We would like to invite you to join us virtually for Cisco Live 2009 from June 30 to July 1.

Press and analysts will participate in an exciting and interactive virtual environment where they will have the opportunity to hear John Chambers, Padmasree Warrior and other senior executives outline Cisco's vision for the IT industry and the actions Cisco is taking to help our customers innovate.
Wait a second … Does that mean that press and analysts aren't invited to the "live" part of Cisco Live? I'm not sure how I feel about that. Padmasree Warrior has been touting Twitter as a collaboration tool — and my Interop experience this week has certainly proven that there's a lot to gain from a conference experienced virtually. We've held some very successful virtual conferences at TechTarget, as well. But I've also found that it's hard to immerse yourself in a virtual conference. You keep multitasking, getting pulled back to your "real" work. Or you spend half the day updating your version of Flash and just trying to get the darned thing to play on your computer!
Also, even in this economic climate, even with all I've said above, that doesn't mean that the virtual experience can ever compare with the real, live, one. Because at the end of the day, I'm missing out on really meeting the conference attendees, the network pros who read our site and are our reason for being. They're a little shyer on Twitter than press and analysts (and a lot shyer than vendor PR folks!) for some reason.
So if you're out there, in Vegas or cyberspace, send me a tweet and let me know your thoughts on Interop and our Interop coverage. I look forward to virtually meeting you.
---
May 20, 2009 5:20 PM
Aruba Networks announced this morning that it will now offer lifetime warranties on all its indoor wireless LAN access points. This will provide some nice investment protection to customers. It's pretty clear to me that the lifetime warranty approach that HP ProCurve has adopted is going to rub off on other other networking vendors who are vying for share of the market that Cisco hasn't locked up. It's also possible that Aruba is recognizing that ProCurve is now a serious competitor for WLAN business in the wake of its acquisition of Colubris last year. ProCurve extended its lifetime warranty approach to Colubris' entire product line after it closed the deal for the company.
---
May 15, 2009 9:25 PM
BusinessWeek reported yesterday that  Cisco is poised to make several acquisitions as it continues to diversify. The magazine noted that Cisco now competes in 30 different markets, many of them courtesy of acquisitions, such as Pure Digital, which gave Cisco a new toehold in the "Flip" video camera market. In an interview with BusinessWeek, Chambers said Cisco will enter 50 new markets within a year.
One of those markets, of course, is blade servers. Cisco announced its new Unified Computing System this spring, putting it in direct competition with companies that it has historically partnered with: IBM, HP and Dell. BusinessWeek noted that IBM alone sells about $3 billion worth of Cisco's network technology through its consulting services.  Since rumors of Cisco's move into servers started spreading, IBM has since increased its ties to Cisco's networking rivals. It has partnered with Juniper on its Stratus cloud computing project and it announced an OEM agreement to sell IBM-branded versions of Brocade's Ethernet switching and routing gear.
One analyst, Sam Wilson of JMP Securities, told BusinessWeek that the souring relationships between Cisco and the consulting arms of HP and IBM could force Cisco to develop its own consulting services. He said: "If push comes to shove" Cisco could simply buy Accenture, one of the biggest consulting firms on the market.
Cisco doesn't seem to be shy about making such a sizable acquisition, either. Cisco's mergers an acquisitions chief Ned Hooper told BusinessWeek that Cisco could easily afford a $10 billion deal right now. It has $33 billion in cash. But Hooper went on to say that Cisco will focus on smaller deals for now.
---
May 15, 2009 8:35 PM
During the IEEE 125th anniversary celebration on Monday, I had the pleasure of meeting IEEE President John Vig and shooting a brief video with him. Here, Vig discusses how the IEEE is involved in promoting standards of interoperability, and the importance of technological contributions made by technology professionals.
I also spoke with Technical Strategy Associates President and IEEE member, Dr. James F. Mollenauer. He took time out to talk about the development of 802.11 Wi-Fi standards and the importance of wireless standards as promoted by the IEEE.
---
May 13, 2009 2:50 PM
I am thankful for electricity.
That's what I said last Thanksgiving, and I'll say it again now. Without electricity, we'd have been sitting in the dark, eating turkey roasted over a spit. I'll come back to this point in just a minute.
On Monday evening, I attended an event at the Waltham, Mass. Westin celebrating IEEE's 125th anniversary. One of the themes of the presentation by IEEE president John Vig was the idea of celebrating the many contributions engineers and scientists have made towards a better world. Anothe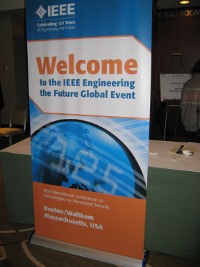 r point Vig emphasized was the fact that IEEE has expanded far beyond its original focus (on electrical engineering) and now includes not only electrical engineers but also computer scientsts and IT professionals, physicists, materials scientists and even medical doctors. Vig said that the spelled-out version of its name (Institute of Electrical and Electronics Engineers, Inc.) "no longer serves the organization well," so now they just go by the letters IEEE.
Vig also showed a video — "One voice for engineering, communication, technological innovation" — that featured a number of IEEE members speaking about the scope of technological innovation and the importance of IEEE. Vint Cerf, featured prominently, said "Everyone using the Internet is making use of an IEEE standard."
Vig was followed by William Kiczuk, Technical Director of IDS at Raytheon. Kiczuk spoke on Raytheon's "significant new thrust in cybersecurity," specifically through project Athena, a network-centric control, communications, computers, intelligence, surveillance and reconnaissance system. (Hmm, network in the weaponry, and it might turn into Skynet!)
The Raytheon portion of the presentation was aligned thematically with the concurrent Homeland Security Conference. There was not a huge network security presence at what I saw of the conference, but there was some fascinating technology and a poster session on homeland security. Most of the content revolved around detection and prevention or first response and communications in man-made or natural disasters.  showed me the "Hazmat Cam," an analog wireless video camera for first responders. The camera operates on an FM signal and transmits to an array of three antennas so the signal can be received despite thick walls and other barriers.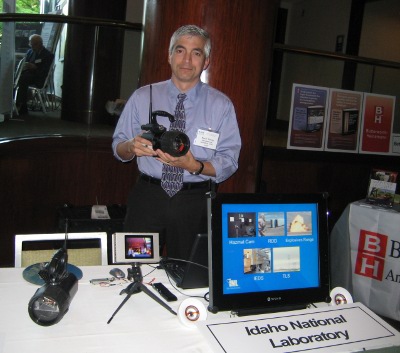 As I browsed some of the conference posters, which covered everything from gamma ray detection to biological weapons to school shootings, I started thinking about how the Internet can be good and bad when it comes to emergency communications. On one hand, you have the recent case of social networking (specifically Twitter) spreading a lot of confusing, inaccurate FUD about swine flu. As one of the posters at the IEEE event pointed out, with flawed communications systems, "the response may become a crisis itself."
On the other hand: Last Friday, a huge damaging wind storm blew through Southern Illinois, where I grew up. The storm, being called an "inland hurricane," knocked down trees and power lines, destroyed roofs and gas station canopies, and tied up traffic. It didn't make the national news and nobody around Boston has heard of it. I actually found out about the storm via Facebook: My friends who have moved out of the area began posting updates about the status of the storm and communications with their families. People were unable to get through on the phone in many cases. So social networking turned out to be a very helpful source of information. (Interestingly, I obtained the storm info link from my friend Scott, who was able to get online using his car inverter and cell phone, which he uses for storm chasing.) [UPDATE: Here are some photos of storm damage in Carbondale, IL.]
Over the weekend, my family took cold showers, cooked eggs on their propane grill and threw out all their spoiled frozen food. Now, Southern Illinois has just begun to get power — which means my mother can resume taking hot baths and watching John and Kate Plus Eight reruns. But more than four days without electricity is brutal! And these conveniences — readily available electrical power and hyperconnectivity via Internet — make me even more thankful for the contributions of engineering and science.
Happy 125th anniversary, IEEE!
---
May 11, 2009 2:57 PM
Bloomberg News is reporting that HP may make an acquisition soon to counter Cisco's move into the server market. Shaw Wu, an analyst at Kaufman Brothers, an investment bank and broker that specializes in the technology sector, told Bloomberg that Brocade and Juniper are two potential targets, along with storage vendor NetApp.
Bloomberg framed the potential acquisitions in terms of triggering revenue growth because one of HP's bread-and-butter markets, PC sales, is contracting the the recession. However, picking up Brocade or Juniper would have tremendous strategic value for ProCurve, HP's networking business.  ProCurve is generally perceived as the number two network switching vendor, but it lacks one key element from its portfolio: high-density, high-density 10/100 Gigabit Ethernet switches. Juniper's young family of EX switches would help HP ProCurve take a big step forward toward filling that gap.  Brocade's line of high performance switches, which it acquired with Foundry Networks last year, would also be an ideal fit.
Acquisition speculation has surrounded HP's ProCurve business for months, ever since HP put a renewed focus on building up its networking business to compete more directly with Cisco. Cisco's announcement of its Unified Computing System servers has only intensified the conflict between HP and Cisco.  Brocade and Juniper would be two rather large acquisition targets for HP. If the company wanted to acquire 10/100 GbE expertise on the cheap, it could target some of the smaller high-performance networking vendors on the market. As GigaOM noted several months ago, Arista, Blade Network Technologies or Force10 would make a lot of sense.
---
May 6, 2009 1:31 AM
When I saw that Gartner had published a new Magic Quadrant for enterprise local area network (LAN) infrastructure, I knew one thing was for certain. Cisco Systems would be THE leader in the market. The only question was for me was – how would the rest of the market shake out?
In this blog post I'll review this year's Magic Quadrant for the LAN market, and I'll compare it to last year's Magic Quadrant for Campus LAN infrastructure, which is essentially a measure of the same market.
As I wrote above, Cisco is THE leader in the LAN market, scoring high in both of Gartner's criteria for the quadrant: completeness of vision and ability to execute.  In their assessment of Cisco"s position, analysts Mark Fabbi and Tim Zimmerrman noted that Cisco maintains the broadest portfolio of LAN switching and WLAN technology on the market. The introduction of its Nexus switches have shown that Cisco is providing some leadership in addressing emerging connectivity demands in data centers.
However, Gartner cautioned that Cisco remains the high-priced vendor, with some workgroup switching products being twice as much as alternative products on the market. Gartner also said Cisco might be taking its customers for granted, especially those customers who believe in buying networking gear from more than one vendor. The analysts wrote:
We are hearing increasing concerns about Cisco's presales organization taking customers for granted, and not providing expected levels of service, especially for customers that have not endorsed an end-to-end Cisco solution.
The only other leader in this Magic Quadrant is HP ProCurve, which was a leader last year as well.  Gartner described ProCurve as the fasted growing LAN switch vendor during the past two years and when clients speak with Gartner about their shortlists for vendors, ProCurve is the the second-most-asked-about vendor after Cisco. Gartner praised ProCurve's integration into HP's Technology Services group, which gives it access to HP's broader sales force. It also praised ProCurve's low cost of ownership and the successful integration of the WLAN technology it acquired with Colubris Networks.
But Gartner cautioned that ProCurve still lacks high-end core switches (An acquisition of a high end core switching vendor like Arista Networks or Blade Network Technologies would do the trick!). The company also needs to expand its channel for larger sales opportunities. ProCurve has in the past been known as a good vendor for SMBs.
A third leader from last year's campus LAN Magic Quadrant fell down a notch in this year's quadrant. Foundry Networks, now known as Brocade, the storage networking company that bought Foundry last year, was classified as a visionary in this year's Quadrant, scoring high on its completeness of vision but scoring a little lower than last year in its ability to execute.
Gartner praised Brocade's integration of Foundry but said Foundry lost momentum last year due to its U.S.-centric and data-center-centric sales focus. Gartner said it wants to see market evidence that Brocade's integration of Foundry is successful and that Brocade can regain market momentum.  I have no doubt that last week's announcement of a new Ethernet switching OEM agreement between IBM and Brocade will go a long way toward helping Brocade regain some of that lost momentum that Gartner is looking for.
Gartner identified three other visionaries in this year's Quadrant: 3Com, Enterasys/Siemens and Extreme Networks.
Last year Gartner classified 3Com as a niche player, but it elevated the vendor to a visionary in this year's Quadrant, giving it higher marks for its completeness of vision. Gartner praised 3Com's revamped product lines and its growing market share in China and other emerging markets. H3C, 3Com's Chinese subsidiary, has a 35% market share in China, for instance. And 3Com has a very large, low-cost R&D workforce in China. 3Com recently told me H3C has 2,300 engineers in China.  But Gartner cautioned that 3Com and H3C have been, until recently, run as two separate companies. It will be important for the two to integrate. Also, 3Com has very little market penetration outside of Asia. Gartner warned that taking products developed for China and selling them globally will be a challenge.
Enterasys, which merged with Siemens Enterprise Communications last year as part of a Gores Group acquisition, maintained last year's position as a visionary. It drew praise from Gartner for it full complement of products from the data center to the access layer, its tightly integrated security technology, and good customer buzz around support and services. But Gartner said Enterasys's market footprint remains small and its distribution channel is limited. Marketing has also been weak, Gartner said, as the market waits for the new combined company Enterasys/Siemens to change its name.
Extreme Networks, the third visionary in the Quadrant, drew praise for broadening its XOS-based switch line and its policy-based configuration and open architecture. But Gartner noted that Extreme is struggling to maintain revenue and it remains one of the smallest vendors in the market. Gartner also cited some support issues affecting the company's install base.
Gartner identified two niche players in this year's Magic Quadrant. First there is Nortel, which was downgraded from its visionary status in last year's Quadrant. Gartner cited Nortel's bankruptcy as an impediment to the company competing for new business. Gartner is predicting significant loss of market share and revenue for the company as it remains in bankruptcy. Gartner also said Nortel needs a new core switching platform.
The second visionary, Alcatel-Lucent, drew praise for a solid product strategy and its growing market share and revenue; however, Gartner said the company needs to invest more in R&D to keep pace with the latest innovations in data center switching and wireless LAN technology.
Force10 Networks, which was identified as a niche player last year, was dropped altogether from this year's Magic Quadrant because it no longer meets Gartner's revenue requirements for inclusion, whch is 1% of ports sold overall or 5% of ports sold in a specific market segment.
Gartner also noted that Juniper Networks has entered the Ethernet switch market, but it hasn't earned enough of a revenue share to be included in this year's Magic Quadrant. Juniper's switches earned the company $56 million in 2008.
So there you have it, for what it's worth. Cisco remains on top, but the other players in the market continue to make moves. ProCurve and 3Com are on the rise. Nortel and Force10 are in decline. Everyone else is looking to take a step forward.
---