---
June 17, 2009 8:02 PM

Profile: Tessa Parmenter
We know earning a certification is no walk in the park. After you've joined a certification boot camp, read your certification books, created your practice labs and finished studying, you then have to pay someone to take an exam to earn the qualification. Well, this week, that's no longer the case!
If you want to take any Microsoft Certified Professional or Microsoft Dynamics exam, now is your chance to take it for free: SearchNetworking.com is giving away six Microsoft certification exam vouchers in our Career Success Story Contest.
In a job market that's more competitive than ever, we want to make sure our members are able to get the edge they need to succeed and even surpass the ranks of their peers. That's why we want you to tell us your story. We know our readers are extremely intelligent, successful and qualified professionals — we just want to showcase it.
Whether you've been able to keep your job because of a certification, or you know someone who has — telling us in 150 words or less can win you a voucher to take a Microsoft test for free. More details can be found in our Career Success Story Contest page or our certification and training expert, Ed Tittel's, Win an MS Voucher blog post.
In the words of Ed: "May the best story not only win, but inspire others to get their certification."
June 9, 2009 4:57 PM
3Com announced yesterday its first major customer win in North America since it launched its H3C brand globally last month. Quinnipiac University is deploying H3C switches from the core to the edge to serve its three-campus network and the school's 8,000 students, faculty and staff. The deployment includes several H3C S9500 core switches and more than 100 H3C S5500G edge switches. The school will also use H3C's new network management software Intelligent Management Center and 3Com's TippingPoint Intrusion Prevention System.
The H3C gear will replace the school's incumbent Cisco network, according to 3Com.  In a press release from 3Com, Quinnipiac's associate vice president for information services, Fred Tarca, said he wanted to keep costs down without compromising network performance, reliability and security.
This is a pretty good customer win for 3Com, which is making yet another attempt to break back into the enterprise market, this time via its H3C brand. H3C was a joint venture with Huawei, but 3Com bought out Huawei's share in the company a couple years ago. H3C has a broad portfolio of enterprise networking products which has enjoyed great success in China. 3Com recently relaunched H3C as 3Com's official global enterprise networking brand and is trying to keep head-to-head with Cisco and other market leaders.
---
June 5, 2009 5:55 PM
We don't spend a lot of time talking politics on The Network Hub, but I can't resist this one.
Sen. Norm Coleman (R-Minn.), who lost his re-election bid to comedian Al Franken and who has spent the last six months litigating the election results in Minnesota's courts, was caught on tape at some Republican shindig talking about how the GOP needs to do a better job of using new media to organize itself. He tells an interviewer in the clip below that his party needs to compete on "the Ethernet." These poor politicians. They spend all their time glad-handing campaign donors and making appearances on cable news networks and no time actually sitting at a desk working with a computer. The entire Internet thing has completely passed them by.  Just as former Sen. Ted Stevens demonstrated his complete lack of understanding of the Internet by saying it is a series of "tubes" that you can't drive trucks through, Norm has revealed that he probably hasn't spent much time surfing the web either.
Or perhaps I'm rushing to judgment. As blogger Josh Marshall points out, maybe Norm, whose teeth are disturbingly white in this video, meant that the GOP needs to brush up its skills on local area networking.
---
June 3, 2009 7:12 PM
Last week I held the original blaster that Harrison Ford – as Han Solo – used to shoot Greedo in Star Wars (Episode IV).
That's what I consider the highlight to a vacation.
Thanks to some business contacts that a certain friend of mine has, I was fortunate enough to receive a tour of the center of George Lucas's entertainment business empire in San Francisco, including LucasFilm's headquarters at the Presidio in San Francisco and the fabled Skywalker Ranch north of the city. It is no easy feat to get a look inside the homes of LucasFilm and its various divisions, such as Skywalker Sound and Industrial Light & Magic. I once read that Ronald Reagen's request for a tour of Skywalker Ranch while he was president was denied.
Continued »
---
June 1, 2009 3:45 PM
I'm not a big believer in relevance of the Dow Jones Industrial Average as a leading economic indicator, but Cisco's ascendancy to the 30-company list is certainly significant.  Cisco's addition came at the expense of bankrupt General Motors, which had been on the Dow since 1925. Only General Electric has been on the list longer.
The move means that the Dow Jones is no longer an "industrial average" per se.  IT companies now make up a large block on the list, with Cisco joining Microsoft, IBM and HP and Intel.  The Dow chooses companies for its list based on their reputation and their ability to generate sustained growth. For a long time, that meant reliable industrial performers like General Electric, 3M and GM. But in the 21st Century, Wall Street has clearly recognized that IT companies may have more potential to deliver wealth to investors than the makers of light bulbs, Scotch tape and pick-up trucks.
---
May 28, 2009 9:17 PM
At Interop, NetScout announced the integration of its Sniffer Global network analyzer product with Cisco's Mobility Services Engine. This integration gives network managers the ability to do location-based troubleshooting of wireless LAN networks. A user can find the location of a client device that is experiencing performance issues, determine what access point that device is using and discover all other proximal network activity that could be affecting performance.
In this video, Netscout's director of systems engineering Eric Gray demonstrates the integration.
---
May 28, 2009 7:31 PM
While walking the floor at Interop Las Vegas last week, I met with Brad Booth, chairman of the Ethernet Alliance, who demonstrated Fibre Channel over Ethernet (FCoE). In this video, you can see how the Ethernet Alliance used priority flow control and enhanced transmission selection to protect video traffic moving over FCoE. As Brad describes, this video features a NetApp Fibre Channel array  sending Fibre Channel and ISCSI traffic across an Ethernet network into two servers. The servers are sending streaming video to a monitor while a Finisar Xgig traffic generator is blasting the network with simulated traffic.
---
May 21, 2009 5:31 PM

Profile: SusanFogarty
While walking the expo floor at Interop Las Vegas this week, I was pleasantly relieved to see that the gloomy economy has not dampened the spirits of the networking industry. Although I have heard rumors that show traffic is down, it looks pretty healthy to me (certainly a far cry better than any of the New York events). And the mood is upbeat. In fact, several conference attendees have expressed to me their belief that the economy has "turned the corner" and they are thinking about what comes next.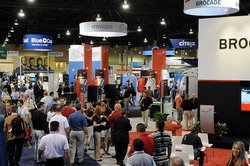 A survey conducted by vendor Network Instruments at the show seemed to validate that. Of 100 network engineers and IT executives interviewed, the survey found that 67% of respondents had not experienced layoffs in their IT departments in the past year, and 31% are continuing to roll out new technologies.
Of course, you have to assume that in a down economy, the attendees that make it to a conference are the lucky ones working in IT departments that can still afford to send their staff to events and investigate new products. But I was heartened to see that there were a significant number of these folks in attendance, and they were very interested in up-and-coming technologies, not just the tried-and-true stuff.
The bottom line has changed, however. While 10 and even five years ago, IT pros might have delved into a technology for technology's sake, that's unspeakable today. I would hazard to guess that every Interop attendee had the same ultimate goal in mind: saving money via technology and achieving ROI for their IT investments.
That's driving a lot of what networking pros have come to Vegas to learn about: virtualization, unified communications, cloud computing, 10 Gigabit Ethernet. These technologies are new ways to collapse more services onto one infrastructure, doing as much as possible with fewer devices and fewer people. While there may be an investment up-front, the long-term savings can be monumental if you plan correctly.
Attendees told me they are re-architecting their data centers, building out telepresence to cut back on travel budgets, and installing only wireless connectivity in branch offices, among other innovative ideas. The IT pros here are learning to think in whole new ways, and that makes them doubly lucky. Maybe we'll hit the craps table this afternoon.
---
May 21, 2009 2:52 PM
Mobile access is spotty. Booths are pretty empty, except where there's beer or boxing. People are talking about NAC, IT management, and cloud computing. They're cautiously optimistic about the economy. Vendors show off nifty devices and hawk T-shirts. Bottled water costs $3. And the booth babes are nearly naked.
No, I'm not in Vegas for Interop this week. I'm sitting at my computer in Massachusetts, where — thanks to social networking — I feel like I'm almost not missing out on the conference.
Journalists from my own team and rival publications have posted more content than I can read in one day. With the addition of Twitter, real-time updates with an off-the-cuff candor help create the same kind of ordered chaos, the hubbub and camaraderie, that exists at a real world trade show.
Meanwhile, voyeuristic Interop Webcams offer a live view of the show floor (yesterday, I watched a man wandering between booths while typing on his Blackberry).
Among their more serious (and frequent) tweets reporting on the sessions, IDC analyst Abner Germanow posted an amusing Twitpic of women boxing, while Network World editor Denise Dubie discussed the aforementioned scantily clad booth babes.
Information sharing, with a high dose of frivolity: Behold the power of Twitter. Analysts, journalists, vendors, and a few actual IT guys posted pictures, shared stories, and hashed out everything from beer to the businsess case for IT. In fact, just by chatting and "retweeting"posts with the "#Interop" tag on them, I unintentionally created the illusion that I was actually in Vegas! (Sorry to disappoint, but our other editors, Shamus, Rivka, Tim and Sue, are there.)
I am missing out on the vendor swag, though, and those experiences that only happen at a conference, especially in Vegas: Poolside vendor briefings, or chatting about open source routers until 2am on some roof deck. (Sigh.) So I am missing out, a little.
I'm also missing out on the whopping travel expense.
As fate would have it, yesterday I received an invitation to Cisco's upcoming Cisco Live (formerly Networkers) conference:
We would like to invite you to join us virtually for Cisco Live 2009 from June 30 to July 1.

Press and analysts will participate in an exciting and interactive virtual environment where they will have the opportunity to hear John Chambers, Padmasree Warrior and other senior executives outline Cisco's vision for the IT industry and the actions Cisco is taking to help our customers innovate.
Wait a second … Does that mean that press and analysts aren't invited to the "live" part of Cisco Live? I'm not sure how I feel about that. Padmasree Warrior has been touting Twitter as a collaboration tool — and my Interop experience this week has certainly proven that there's a lot to gain from a conference experienced virtually. We've held some very successful virtual conferences at TechTarget, as well. But I've also found that it's hard to immerse yourself in a virtual conference. You keep multitasking, getting pulled back to your "real" work. Or you spend half the day updating your version of Flash and just trying to get the darned thing to play on your computer!
Also, even in this economic climate, even with all I've said above, that doesn't mean that the virtual experience can ever compare with the real, live, one. Because at the end of the day, I'm missing out on really meeting the conference attendees, the network pros who read our site and are our reason for being. They're a little shyer on Twitter than press and analysts (and a lot shyer than vendor PR folks!) for some reason.
So if you're out there, in Vegas or cyberspace, send me a tweet and let me know your thoughts on Interop and our Interop coverage. I look forward to virtually meeting you.
---
May 20, 2009 5:20 PM
Aruba Networks announced this morning that it will now offer lifetime warranties on all its indoor wireless LAN access points. This will provide some nice investment protection to customers. It's pretty clear to me that the lifetime warranty approach that HP ProCurve has adopted is going to rub off on other other networking vendors who are vying for share of the market that Cisco hasn't locked up. It's also possible that Aruba is recognizing that ProCurve is now a serious competitor for WLAN business in the wake of its acquisition of Colubris last year. ProCurve extended its lifetime warranty approach to Colubris' entire product line after it closed the deal for the company.
---