---
October 29, 2009 3:23 AM
Ok, so Juniper spent A LOT of money unveiling its new logo Wednesday night. The networking company hung video signage over the front half of the NYSE, and took over the stock exchange floor with a gala that flowed with Johnnie Walker and shrimp.
But does the costly rebranding reflect the importance of this latest technology push? Depends on who you ask.
Juniper was still short on technology details, withholding the actual announcement until Thursday at the official launch. But executives milling about confirmed a super-powered Juniper chipset that one managed service provider at the event said would ensure huge amounts of transport to the millisecond.
That may be what Juniper is referring to with its new marketing tag: "The New Network."
Juniper insiders also confirmed the launch of an open API network-based application platform that will enable developers to spin their own apps all running on JUNOS, Juniper's OS that stretches across all of its networking and security products. One executive said Juniper "realized it needed a software strategy" but didn't want to "buy other companies to make that happen." An obvious swipe at Cisco.
If there is a data center equipment plan, it appears to come in the form of an OEM partnership which Dell announced Wednesday afternoon. As part of that agreement, Dell will sell Juniper's networking gear (it has a similar deal with Brocade), and the companies will deploy a common OS (most likely being JUNOS) and management platform. That could position Juniper to take on Cisco in the data center, but is still not the execution of the "data center vision" it promised last winter.
"They have a 'data center vision', but no real plan still," said Yankee Group analyst Zeus Kerravala, questioning where the news was behind all of the hoopla.
Kerravala also criticized Juniper for lacking a plan to deliver mobile data. Cisco bought into that strategy when it acquired Starent this month.
As for the rebranding – Juniper executives denied there was serious extravagance involved, and said it is all necessary.
"The company didn't have a marketing bone in its body before," said Juniper channel chief Frank Vitagliano. "This is perfect timing now that we are coming out of a bad economic time."
So while endless appetizer shrimp + Wall Street still equal excess amid a recession to some, a top Juniper marketing executive promised the company's brand re-launch was within the "typical marketing budget" … to which Kerravala responded, "What's typical?"
October 27, 2009 5:01 PM
Don't get your data center hopes up. Juniper Networks is still mum on the big announcement planned for Thursday — the one executives have called the most significant in the company's 12-year lifespan. But Forbes reported last week (based on a leak) that the big release is a new chipset that will double the throughput of any router on the market (read kick Cisco's butt).
The Juniper processors – dubbed Trio — will be launched alongside a new application server with open APIs for developers to create their own apps that sit on modules alongside some of Juniper's own, including a new bandwidth optimization function according to the article.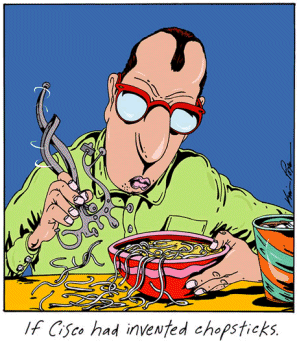 The cherry on the Sunday is yet another Juniper rebranding effort. Forbes got its hands on the new Juniper logo, which frankly is a little barebones in the pizazz department, though definitely not as strange as Juniper's old cartoon ad campaign, retired in February, that featured oddly misshapen engineers realizing Cisco had ruined their lives.
So is this all groundbreaking? Certainly beefing up the pipes to handle the ever-multiplying river of data crossing the net is crucial. And the speeds promised here are staggering. But whether this announcement is a game changer for Juniper remains to be seen. It's questionable whether companies can compete on speed and capacity alone when functionality and application delivery depend on so much more these days. It's also highly likely that competitors (yes, read Cisco again) will match the speed shortly.
Still, there may be plenty more to the announcement Thursday. We'll bring you as much detail as our capacity will allow.
---
October 26, 2009 7:05 PM
Extreme Networks, one of the smaller Ethernet switching vendors out there, has survived the recession so far, but its financial outlook has been dismal lately. Three weeks ago it Extreme warned Wall Street that its earnings would be down significantly for its first quarter, which ended Sept. 27. It's expecting earnings of $66 million, down from $83.5 million a year ago.
Now Extreme has hit the restructuring button has it tries to sail through continued rough waters. CEO Mark Canepa, who's been with Extreme since August 2006, has resigned. in order to "pursue other opportunities." He'll stay on board for a short time to help with the transition.
CFO Bob L. Corey has been named acting CEO as the company looks for a permanent replacement.
Extreme also laid off 70 people, about 9 percent of its workforce, in order to reduce quarterly operating expenses by $2.5 million.  This is part of an effort to make the company lean enough to break even with $70 million in quarterly revenue.
No details are available on where the layoffs came from within Extreme.
---
October 23, 2009 9:32 PM

Profile: Tessa Parmenter
When I first joined SearchNetworking.com I ran a survey asking you what the No. 1 security threat was in your industry. Your responses impressed me; even to this day I get haunted by the survey results: Across every vertical, a wild majority of networking professionals considered their own users to be their No. 1 network security threat.
Although these were findings from three years ago, the one thing that hasn't changed on the network is that people are still on it. No matter how technology changes, your users will be there. They necessitate a network, yet break the security of it. Why? There are all sorts of reasons, some of which you can resolve.
How you ask? Our network user management guide explains. In it we highlight several problem user scenarios, from the make-it-so CEO to the Internet novice who doesn't know the difference between the Internet and their website (yes, that was a The Website is Down reference). In these user profiles we determine their network threat level and how to mitigate their bad network behavior. But nothing could cover every user scenario. If you have a way of dealing with the 8th layer of the OSI model — people — let us know!
---
October 22, 2009 6:38 PM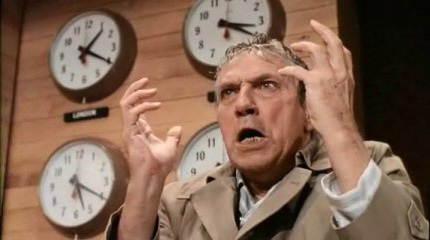 This is a story of a small-time vendor who, after years of being stepped on by a billion-dollar analyst firm, throws open the windows of its San Jose office and screams, "I'm mad as hell and I'm not going to take it anymore."
The question is, will anyone else join them?
ZL Technologies, an email archiving company who has languished in the niche corner of Gartner's Magic Quadrant for four or five years, is suing the analyst firm for $1.6 billion, claiming defamation, trade libel, unfair competition and negligent market interference, etc.
Gartner contends that it has a First Amendment right to express its opinions on technology markets. It's hard to argue with that.
As I have mentioned before, there are many people who dislike Gartner and its influence over the IT industry and claim that its Magic Quadrants are more about who you know and what you spend with Gartner than the quality of your product and your company.
My colleague Mark Fontecchio did a nice job of collecting some reaction to this lawsuit from the people who matter: IT decision makers.  It's clear that for all the ridicule that bloggers, out-of-favor vendors and competing analysts heap on the Magic Quadrant, the market measuring tool still has significant influence over buying decisions. One IT veteran said the Quadrant represents about 20% of the decision-making process while another said a CIO should always review a Quadrant with his CEO before buying a product.
IT executives have a fair amount of skepticism about the Quadrant but they still rely on it to some degree. Every time I write about one, the page views come pouring in. Cisco might be the leader for the 100th time in a row for enterprise Ethernet switching or wireless LAN, but everyone still wants to know the nitty gritty about the Quadrant.
So what could Gartner do to reduce criticism? Well, how about more disclosure? Exactly how does that magic box get drawn up? Maybe the mathemtaical model should be disclosed. How much money does each vendor on the Quadrant spend with Gartner?  How many hours has the analyst spent with each vendor? How many customers of each vendor were consulted? These are facts that inquiring minds want to know.
---
October 21, 2009 9:32 PM
Juniper Networks is planning a huge technology announcement next week. So big that the company has invited press to a gala Wednesday night and then a day packed with a press conference in the morning and executive break-out interviews all afternoon Thursday.
The company has pre-briefed every analyst in sight and clearly plied them with drinks, money or … something … because none of them will drop the dime on the announcement either.
What is clear is this: This announcement had better be data center related. After all, last February, Juniper announced it was working on the Stratus Project – a data center initiative meant to combine storage, compute, switching and networking all on Converged Enhanced Ethernet (CEE). But the announcement included no specific product details or actual release dates.
It appeared that Stratus was a slap back at Cisco, which "leaked" news of its upcoming blade server and Cisco Unified Computing data center architecture just a month earlier.
The thing is, Cisco followed swiftly (in March) with actual product announcements and release dates.
Juniper's non-announcement frustrated those in the networking community so much that one reader on NetworkWorld's Cisco Subnet Blog, wrote in:
"Juniper doesn't have anything or they would be releasing it! They got caught holding their imaginations and have no where to turn. 'I have a super special architecture that will crush all others, will blow your mind, run all OS's, run terabit Ethernet, and make coffee in the morning. Due out 2013.' Give me a break, its like little children on the playground."
That may have been a bit harsh, but it's time for Juniper to come forth with a solid data center plan if it really wants to be competitive. Since Juniper said that Stratus was meant to be an architecture that would be built on a number of vendor partnerships in combination with its existing technology, this very cryptic Juniper press invitation does lead one to believe the hoopla is, in fact, about the data center after all.
"This will be the company's most significant event in their 12-year history and will be hosted by Juniper's CEO, Kevin Johnson. The company will be unveiling new hardware and software products, new partnerships and new go-to-market programs as part of the event."
 Juniper set the stage, now it's time to put on the show. We'll be there to let you know if that actually happens this time around.
---
October 14, 2009 7:01 PM
As a follow-up to my post on analyst integrity, here is a rather visceral rant against Gartner from David Amsler, founder and CIO at ForeGround Security, an infosecurity consulting and services firm. Amsler's post is a somewhat cheeky response to Larry Chaffin's evisceration of Gartner at Cisco Subnet posted back in August.
Amsler's main argument is that Gartner is an arrogant organization that brings little value to the IT industry.  Well, his words are actually, "they truly don't provide any real value to our industry."  For proof of arrogance, he points to this privacy debate which broke out on Burton Group analyst Bob Blakeley's blog. He also deconstructs Gartner's ballyhooed Magic Quadrants, calling Gartner's method for constructing them "fishy."
I've never had a problem with Gartner, myself. I have had run-ins with vendors who were unhappy with Gartner (and my coverage of Gartner's research).  I find that most Gartner analysts — at least those who return my calls — are as knowledgeable as any other subject matter experts I talk to on a daily basis.
Since I'm a member of the press, people aren't always candid with me about their views on subjects like this. Or their candor is issued to me under the blanket cover of off-the-record comments, which means I can't share them with anyone.  In any case, I remain curious about this whole issue and I hope to hear from readers who have an opinion (whether on or off the record).
---
October 9, 2009 8:38 PM
Gartner VP and distinguished analyst Tom Bittman wrote a passionate rant on his blog yesterday defending his and his coworkers' integrity as analysts.
In my 14+ years at Gartner, I have never, ever allowed a vendor to influence my opinion with anything but facts. Period. They have certainly tried to influence me with non-facts. I can say this definitively – it has never worked.
Tom's rant has sparked an interesting debate among current and former analysts, bloggers and vendors in his blog's comments section. It's worth reading.
There has been plenty chatter in the blogosphere and elsewhere about whether analysts are offering any value to enterprise clients. Many analyst firms, such as Gartner, count both IT vendors and end user enterprises as customers. It's hard to serve both masters while maintaining an appearance of integrity. This is probably why Gartner has an ombudsman... the only ombudsman I know of in the analyst industry.
Gartner's use of an ombudsman doesn't protect it from attacks on its integrity. James Watters, for instance, suggested recently that IBM's favorable position Gartner's Magic Quadrant for Web Hosting and Hosted Cloud System Infrastructure Services was due to IBM being a very important paying client of Gartner.  Trapeze Networks came to me after I wrote about Gartner's last wireless LAN Magic Quadrant and suggested that Gartner had unfairly placed Meru Networks ahead of Trapeze because Meru's current VP of marketing is a former Gartner analyst and one of the authors of the MQ was very briefly an employee of Meru.
It's hard to prove your integrity. For some people, there just isn't enough proof in the world to erase any doubts.  Journalists face the same challenge. In my newspaper days people would occasionally accuse me of being a mouthpiece for politicians. I knew I was doing my best to write fair and balanced stories, but the accusations still stung.
Gartner's use of an ombudsman is significant, I think, although the office would have more impact if the ombudsman's blog were updated more than once a month. An ombudsman is the voice of the client (or in a the traditional journalism sense, the reader). Clients will have more faith in a an analyst's advice if the firm has someone on staff who tackles each and every significant attack on its integrity head-on, in full view of the public.
Gartner and other analyst firms should also disclose the nature of their paid relationships with the vendors that they evaluate for enterprise clients. This way, clients can understand the full context of the advice they are receiving.  Some firms do this. Others don't.
If you could talk to the CEOs of the leading analyst firms out there, what advice would you give them to help them establish that they are giving unbiased and independent advice to enterprises?
---
October 8, 2009 6:36 PM
Oracle CEO Larry Ellison dismissed the Wall Street Journal's speculation that his company (among others) was interested in buying Brocade while speaking at the comapny's annual shareholders meeting yesterday, according to MarketWatch's John Letzing, IBM, HP and Juniper remain potential suitors according to the Internet rumor mill.
Meanwhile, Extreme Networks' stock price took a relative beating on Tuesday after it lowered its earnings for its first fiscal quarter (which ended Sept. 27). Wall Street analysts were expecting Extreme to make $80.4 million but Extreme says it will be closer to $66 million. Extreme cited supply chain problems, which should scare customers. Other networking vendors have admitted to supply chain problems in the wireless LAN market, but I haven't heard anything about wired networking supply chain problems before. Extreme said it has lost some deals and had other delayed by the problem. Are Extreme's suppliers giving preference to larger networking vendors?
Extreme's market capitalization is at $231 million as I write this. It would come a lot cheaper than Brocade and would offer someone like HP ProCurve a nice complementary line of data center switches.
---
October 6, 2009 5:26 PM
A year ago Brocade was a buyer. Now its a seller and HP or Juniper might be buying.
Citing unnamed sources, The Wall Street Journal reported yesterday that Brocade Communications has put itself up for sale. This news comes less than a year after Brocade closed on its own acquisition of Foundry Networks, a $3-billion deal which gave the Fiber Channel storage networking market leader a broad portfolio of high-performance Ethernet switches and a variety of other data center networking products. Brocade has since inked some high profile OEM agreements with companies like IBM, creating a promising sales channel for the Ethernet products.
The Journal reported that HP and Oracle were likely suitors for Brocade. Oracle seems like a strange fit, but HP makes sense, given that Brocade's former Foundry switches would fill a gap in HP's ProCurve switching portfolio. ProCurve lacks a track record in high density Ethernet switches, something Foundry specialized in. The deal would also boost its storage business and give HP a much broader overall suite of data center products.
Now Journal blogger Michael Corkery speculates that Juniper might be a buyer for Brocade, too. Known more for its service provider routing business, Juniper recently rolled out its own line of enterprise Ethernet switches, but it has $2 billion in cash. A Brocade acquisition would give Juniper a much more established switching business, plus a lucrative storage networking business with deep and successful partnerships with IBM and EMC.  But Juniper's stated switching strategy is centered around the concept of having one operating system, JUNOS, across all of its networking products. Buying Brocade would force a complete change in direction.
---