---
May 4, 2010 2:44 PM
NCCM is becoming increasingly popular. Not only have enterprises recognized that NCCM products can help automate networks and reduce network failures. They've also recognized it as a means toward achieving better compliance with industry and government regulations.
This morning Netcordia, a highly rated network configuration and change management (NCCM) startup with about 330 customers, was acquired by Infoblox, a leading DDI (DHCP, DNS and IPAM) vendor.
Steve Nye, Infoblox's executive VP of product strategy, said he sees the NCCM and DDI markets coming together as enterprises gravitate toward network infrastructure management automation. He said both companies have been trying to solve the same problem: Manual changes to the network are the leading cause of network failures. "We approach this from the IP address management point of view and Netcordia approaches it from a device configuration point of view."
As a result, there has been plenty of M&A activity and consolidation in the NCCM space recently. In addition to the Netcordia-Infoblox deal,  IBM acquired NCCM vendor Intelliden couple of months ago. And last week EMC announced a deeper integration of its NCCM technology, Ionix Network Configuration Manager (formerly known as Voyence, a company EMC acquired in 2007) with its Ionix for IT Operations Intelligence. This integration essentially enables the product to alert and accelerate troubleshooting when network configuration changes affect network availability and performance.
April 28, 2010 5:04 PM
Cloud computing is all the rage at Interop this year. There are keynote sessions devoted to it, plenty of educational sessions. You've got a whole host of cloud vendors here. It seems like just about every vendor on the floor has found a way to jam the word cloud into their marketing material.
So who is adopting cloud computing? Well, if you include software-as-a-service (SaaS), which has been swept up into the cloud marketing vortex, cloud computing is taking off, I suppose. About 41% of Interop attendees are using SaaS products like Salesforce.com, according to a survey of 104 IT pros conducted at Interop by Network Instruments.
Twenty-nine percent of attendees have deployed a private cloud. I'd be interested in learning from these survey respondents what they mean by a private cloud. I talked to the CIO of a midmarket firm late last year who said he's basically been running a private cloud out of his data center for six or seven years… long before anyone was talking about the cloud. It's all in the eye of the beholder, I guess.
A small number (19%) of respondents said they are actually using the most-hyped of all cloud computing models, infrastructure-as-a-service (IaaS), from providers like Amazon.
So plenty of folks are using some shape or form of cloud computing. Granted some of them might have another name for it: SaaS, ASP, hosted service provider, etc, etc.
What sort of concerns do they have about the cloud? Network Instruments asked their survey respondents about that, too.
Twenty-two percent say they lack the tools to monitor and manage cloud activity.
Twelve percent say they are unable to resolve delays caused by cloud providers.
Twenty-seven percent are worried that cloud computing services will bust their Internet bandwidth budgets.
On the flipside, 33% of respondents see cloud computing as a way to lower infrastructure costs and 30% see it offering them more flexibility to deal with changing business demands.
---
April 28, 2010 2:12 PM
Cisco's Interop booth includes a presentation on Cisco Certified Refurbished Equipment. I wasn't aware that Cisco had its own program for refurbishing and selling used gear, but apparently it's had this program in place since 2001.
Prices for this certified used gear ranges from 25% (for newer products) to 65% (for older products) of list prices.
Companies like Network Hardware Resale have made hay the last couple years with the down economy. I wonder if the presence of Cisco's rather low-profile certified used equipment program at Interop is a response to this.
Clearly Cisco wants you to buy used gear from it. At the Cisco booth, it's showing how difficult it is to distinguish between legitimate Cisco products and counterfeit equipment. They have counterfeit silicon (collected by their "investigative team") at the booth, showing how similar they look.
---
April 28, 2010 1:58 PM
Extreme Networks and Force10 Networks are both showing off 40 Gigabit Ethernet (GbE) technology at Interop.
Force10 articulated its 40 GbE product roadmap in advance of the show, promising to have 40 GbE products from the rack to the core by the end of the year, but it doesn't have any specific product details or release dates to offer yet.
Extreme is demonstrating actual 40 GbE products at the show. It's showing the VM3-40G4X, a 4-port 40 GbE module (priced at $3,995 and available in the 3rd quarter). In the demo Extreme has one of the modules in Summit X650 stackable switch, providing 40 GbE uplinks to a BlackDiamond 8900 chassis with another 40 GbE module in it. Basically, this demo is supposed to show a top-of-rack to data center core 40 GbE configuration.
Shehzad Merchant, Extreme's senior director of strategy, said some of Extreme's customers have been running six 1 GbE links from single servers. They want to upgrade to single 10 GbE server links, but that will require 40 Gigabit aggregation and core layers. This module promises to give them that migration path.
It's only a matter of time before Cisco, HP and the rest bring their own 40 GbE products to market.
---
April 27, 2010 12:35 PM
During his keynote presentation at Interop Las Vegas 2010, Marius Haas, GM and SVP of HP Networking (the ProCurve brand has been retired along with 3Com), boasted of HP's $1.5 billion internal IT transformation, using nothing but HP hardware (including the newly acquired 3Com network infrastructure). HP consolidated 85 data centers down to six "next generation" data centers, decreased servers by 40%, consolidated applications from 7,000 to less than 2,000 and tripled its bandwidth.
Haas said this transformation was aimed at combating the 80:20 conundrum (the familiar notion that IT spends 80% of its time maintaining infrastructure and 20% of its time innovating). The key to fighting this, Haas said, is simplifying infrastructure by consolidating networks, storage and servers into modular packages that can be deployed within data centers. HP has the expertise to deliver it all, Haas argued, especially since HP's acquisition of 3Com. Haas emphasized that this vision includes an open architecture, but it's an open architecture that can be all HP.
This begs the question: Do you want to get all of your infrastructure from the same vendor? Many IT organizations are hesitant to depend on one vendor for everything. They don't want to get locked into one technology and get held hostage by their incumbent vendors.  Forget about getting servers, storage and networks from the same vendors. Some network managers like to have more than one networking vendor in their environment. They might pay premium for high end switches in their core, but go with a cheaper vendor at top of rack.
Cisco Systems has articulated a similar modular vision as it has expanded into servers with its Unified Computing System. Basically, you can buy a package of servers, LAN and SAN technology all from Cisco and plug it into your data center.
Obviously HP and Cisco have both decided to claim a larger individual footprint in each of their customers' data centers. They've been moving in this direction for a couple years now. The question is, will customers want to let a big vendor like Cisco and HP to own so much of their infrastructure?
---
April 22, 2010 12:32 PM
Network Hardware Resale, probably the biggest seller of used network equipment in the country, surveyed 1,200 North American enterprises who have bought used networking gear or "alternative maintenance services" over the past year. The company released the results this week, in advance of next week's Interop show.
The findings:
About 80% of those companies have used network gear in their production networks.
61% are expanding their networks with used gear.
40% will increase their spending on used gear in 2010.
There's not a big surprise here. Times are still tough and companies who have spent on used network gear in the past aren't afraid to do it again in the future.
Network Hardware Resale also sells "alternative maintenance services," basically a service aimed at competing with Cisco's SMARTnet maintenance program.  Consequently, this survey also focused on how enterprises support their networking gear. This is where it gets a little more interesting.
Forty percent of these surveyed companies say that they only buy Cisco SMARTnet maintenance contracts for their core network equipment. And 31% of respondents have cut or plan to cut maintenance spending on some network gear to save money. Almost 25% have replaced SMARTnet with alternative services from companies like Network Hardware Resale.
---
April 13, 2010 9:23 AM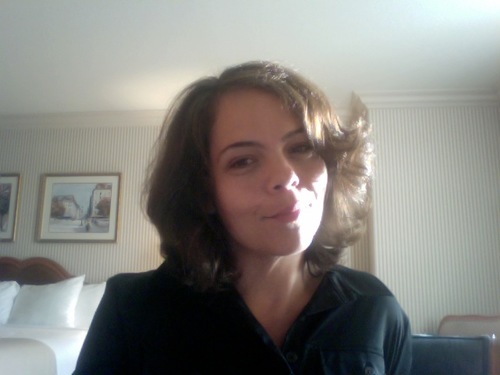 Profile: rivkalittle
After five years and 600,000 hits a month, the CiscoBlog.com has been forced by Cisco to change its name. The new name? CiskoBlog.com.
Cisco pulled trademark rank, demanding the name be changed by July 4. The blogger, a Cisco certified engineer, learned along the way that his certification required that he not violate the Cisco trademark:
"First off, Cisco is fully in the clear legally to do what they're doing. I've done a little research myself and even spoken with a couple trademark lawyers on this …
Despite finding this out, I was still really bugged about this move…especially with the hundreds (if not thousands) of other domains that use Cisco in their name. That is…until Cisco pointed out to me violating their trademark policy also violates their certification NDA agreement…What?!? Yep, it's true…buried there in the certification agreement you take every time you take a certification exam is essentially the statement, "I will not violate Cisco's trademark." (who knew?)."
It may be legal, but it's still lame. The CiscoBlog.com … ooh I'm sorry, CiskoBlog.com … is an engineer's blog filled with tips and support for Cisco products.
Cisco puts engineers through the ringer for certification (with purpose) and then cuts them off at the pass by doing things like limiting use of Cisco IOS simulators. Allowing engineers to use simulators or launch blogs with easily identifiable names may not earn the company money, but helps its corps of engineers (so to speak) become better. We're not asking that Cisco go all open source (god forbid), but come on, throw a bone.
---
April 5, 2010 10:57 AM
Two months ago I wrote a story about Cisco's Overlay Transport Virtualization (OTV) data center interconnect technology, which Cisco claims can take a lot of complexity out of data center interconnects and simplify the migration of virtual machines across data centers via technologies like VMware's vMotion.
Systems engineer Kenneth Hellmann read the story recently and took exception to some of the claims made.
I was just reading your "Cisco data center interconnect aims to fix vMotion network trouble". The following section left me speechless:

["Between them, you're running MPLS and a VPLS tunnel. That's complex. It's hard to configure. You have to have an MPLS network. You have to configure the VPLS tunnel between them as an overlay. VPLS configuration is notoriously complex. Then you have to optimize performance."

What's more, all that work with an MPLS and VPLS only sets up a connection between two data centers, Antonopoulos pointed out. If an enterprise wants to establish virtual server migration between three or more data centers, each data, engineers will have to build links between all of them. "Data center A will have to be connected to data center B," he said. "Data center B will have to be connected to data center C, and data center C will have to be connected to data center A."

Cisco's Griffin claimed that configuring a data center interconnect for virtual server migration between two data centers can take months with existing technologies, whereas the OTV feature can be set up in five minutes.]

I freely admit that I am a Systems Engineer for [REDCATED], so you may see me as biased, but those statements are just the purest of nonsense. I teach a 5 day MPLS Configuration class and the L2 VPN section takes 4 hours (which includes two labs). That is for VLL and VPLS. And everyone gets it. Why not…it's incredibly easy. For your own information, here are the configuration lines (over and above the normal configuration needed for an  OSPF router) to turn on MPLS and configure a VPLS between 3 sites (of course you must have a similar configuration on the other two PE routers):

router mpls

mpls-interface e 1/1

ldp-enable

!

vpls  Datacenter  20000

vpls-peer  192.168.2.1  192.168.3.1

vlan 10

tagged e 3/1

Yes, that's it. Now tell me, how does that correlate with the following statements in your article?:

1) "Between them, you're running MPLS and a VPLS tunnel. That's complex. It's hard to configure"

2) "VPLS configuration is notoriously complex"

3) "Cisco's Griffin claimed that configuring a data center interconnect for virtual server migration between two data centers can take months with existing technologies"

Do you reporters ever vet what you are told or is Cisco given a pass on everything they say? If a CNN reporter reports a third party story which later turns out to be bogus, he is publicly flogged. At the very least he writes a retraction.

How about you?
I won't be running a retraction or submitting to a public flogging, but I am happy to reproduce Kenneth's email here so his point of view can be shared.
I should also point out the first two paragraphs Kenneth reproduced from my story  are quotations and paraphrases of statements made by an independent third party, Andreas Antonopoulos, senior vice president at Nemertes Research, rather than a Cisco representative. I wasn't serving as a Cisco stenographer on this story.
Also, I'm an editor, not an engineer. So I can only rely on what independent third parties tell me about products and technologies. It's an unfortunate limitation, I freely admit.
On a related note, Abner Germanow of Juniper Networks pointed out that I should have mentioned in my original story that Cisco's OTV technology only works in a Cisco environment.
---
April 5, 2010 10:39 AM
Video. Video. Video. Yup, we keep hearing the drumbeat, too.
Although the jury's still out on how many enterprises are extensively using video (or plan to this year), Cisco would certainly like you to believe its ascent is as certain as the rising and setting of the sun.  And why not? More powerful networks = more ritzy equipment for them to sell, right?
In the event that I'm eating my cynical words over the next few months, here's an entertaining if not ominous look at what Cisco sees as the fate of enterprises that cheap out on video over WLAN:
---
April 2, 2010 10:10 AM
As we went to press with this week's story about the most recent supply chain backup at Cisco — part of a broader supply chain problem that has persisted for the past few months — we hadn't heard much in way of a response from Cisco executives about the six month-plus delays on Cisco's ASA firewalls and other networking gear customers and partners have been experiencing.
This came into my inbox Thursday around noontime ET (sadly, past deadline), from corporate spokesman John Earnhardt:
"As we mentioned during our last quarterly conference call, we have experienced longer lead times on several of our products. This was the result of increased demand driven by the improvement in our overall markets. And, similar to what is happening in the entire industry we are seeing some product lead time extensions stemming from supplier constraints. We continue to build upon our strong relationships with our suppliers to proactively manage our supply chain and minimize any potential impact to our customers and partners."
The statement is pretty much what Cisco wrote, as John mentions, in their Section 1A of their 4Q09 report about risk factors for investors.
As if the whole situation wasn't causing networking pros enough headaches, reps form Network Hardware Resale tell us that low supply is pushing prices up as well. Ouch.
Let's see of a show of (virtual) hands. Have you had any nasty backorders on networking gear — Cisco or otherwise? What kind of prices are you seeing?
---