---
May 27, 2009 5:22 AM
InformIT  has just released the VCP VMware flash cards, which is better to use as a preparation tool for VCP 310 exam.  The VCP VMware flash cards cover all the objectives of the VCP 310 exam.  Flash cards are always helpful as they happens to be the alternative learning format which are easier to access with a  unique approach  which complements the traditional self study formats.  This VCP VMware flash card is better to use at the later stage of the preparations for the VCP 310 exam.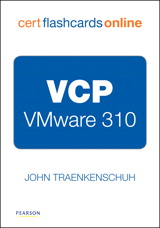 Published Apr 1, 2009 by Pearson Certification. Part of the Cert Flash Cards Online series.
Copyright 2009
Dimensions 5-3/8 x 7-21/32
Pages:
Edition: 1st.
ISBN-10: 0-7897-4214-4
ISBN-13: 978-0-7897-4214-8
VMware Cert Flash Cards Online is a custom flash card application loaded with 300 total questions that test your skills and enhance retention of exam topics. Questions are organized by exam objective, allowing you to focus your study on selected topics. You can choose to view cards in order or at random, and you can create custom sets from the entire bank of cards.
May 24, 2009 11:35 AM
Imagine you have a Cisco Catalyst 6500 Switch, you were asked to figure out the Serial number for the Supervisor Engine Installed in your Cisco Catalyst 6500 Switch , it can done by using issuing the following command  "show idprom module" as shown in the below example.
ITKE-DAC-6500-BB01#show idprom module 7
IDPROM for module #7
  (FRU is 'Supervisor Engine 720')
  OEM String = 'Cisco Systems'
  Product Number = 'WS-SUP720-3B'
  Serial Number = 'SAD084608JG'
  Manufacturing Assembly Number = '73-9740-01′
  Manufacturing Assembly Revision = 'A0'
  Hardware Revision = 4.0
  Current supplied (+) or consumed (-) = -4.50A
ITKE-DAC-6500-BB01#
---
May 24, 2009 7:52 AM
On May 1, 2009, Cisco announced the new Certification Online Support tool; the Online Support tool is now available in English, Japanese, Spanish, and Chinese. In addition to the new languages, the Support tool introduced new functionality. The latest version of the Certification Online Support tool includes a new support home page, a Top Answers section, and upgraded search capabilities with easy to find answer navigation.
---
May 24, 2009 7:45 AM
Cisco announced revised certification requirements for CCIE Routing & Switching (CCIE R&S), the expert level certification for network engineers. The new certification standards reflect the job skills employers look for at the expert level. To support the certification changes, the Cisco 360 Learning Program for CCIE R&S is also being updated with new lessons on MPLS and Troubleshooting, additions to the instructor-led workshops, lab exercises for self-paced practice, and new performance assessments.
Hear Maurilio Gorito's account of the v4.0 changes and what they mean for candidates.
---
May 19, 2009 5:58 AM
Cisco announces the launch of new Cisco® Catalyst® 4500 Supervisor Engine 6L-E optimized for high-performance enterprise access.
The new Cisco 4500 Supervisor Engine 6L-E is a high-performance, basic Layer 3 extension to the Cisco Catalyst 4500 Series, enabling rich media collaboration and energy and operational efficiency in the wiring closet.
The supervisor engine extends the Cisco Catalyst 4500 E-Series facilitating performance, enabling services, and protecting investments for enterprises and small and medium-sized businesses (SMBs) deploying business-critical applications. The competitive pricing on the supervisor engine makes it an ideal entry-point offering.
Product Overview
The Supervisor Engine 6L-E provides a fourfold increase in per-slot switching capacity from previous-generation basic Layer 3 Cisco Catalyst 4500 supervisor engines at 24 Gbps per slot. Primary Supervisor Engine 6L-E performance features include:
• Centralized 280-Gbps switching capacity with 225 mpps of throughput
• IPv6 support in hardware, providing wire-rate forwarding for IPv6 networks
• Dynamic hardware forwarding-table allocations for easy IPv4-to-IPv6 migration
• Advanced quality of service (QoS) support with eight queues per port, dynamic queue sizing, and hierarchical policing
---
May 19, 2009 5:32 AM
To celebrate Earth Day, Inform IT is offering a 40% discount on the list price of all their eBooks, plus Cert Flash Cards Online. Visit their Store for a complete list of eBook titles and enter the coupon EARTHDAY during checkout. Offer valid through 5/31/2009.

Articles and Sample Chapters
Articles and chapters by John Lamb, author of The Greening of IT: How Companies Can Make a Difference for the Environment
Green IT: The Key to Energy Efficiency
A discussion with John Lamb and associates at IBM about the significance as well as benefits of going green in your data center.
The Importance of Green IT
John Lamb explains the basic environmental impact of IT—including data centers' consumption of fossil fuel-based electric energy—and lays the foundation for solutions to those problems.
Collaboration Is Key for Green IT
In this chapter John Lamb describes how to continue collaboration among groups within your company to achieve global green IT success.
Article by Douglas Alger, author of Grow a Greener Data Center: A guide to building and operating energy-efficient, ecologically sensitive server environments, Rough Cuts
Top 10 Questions to Ask To Find a Great, Green Data Center Site
Douglas Alger provides 10 questions to ask about property being considered for your next data center that can help you choose a suitable site and put you on your way to a productive, green server environment.
Article by K.J. McCorry, the president and founder of Officiency, Inc., a professional productivity and efficiency consulting company. McCorry also serves on the board of the Colorado Sustainable and Environmental Business Association.
Becoming the Paperless Office
K.J. McCorry outlines the complexities of eliminating paper in the workplace.
---
May 19, 2009 5:09 AM
I was just looking for Network Management Systems over the net and figured out Solar winds is webcasting a webcast about IP address space management and some best practices to make things easier. They will cover the following
When to use public vs. private IP address space
Complexities caused by private address space
What you really need to know about IPv6 today
Best practices for assigning and tracking IP addresses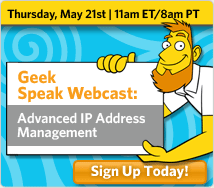 Topic: Geek Speak: Advanced IP Address Management
  Date: Thursday, May 21st, 2009
 Time: 11:00 am ET / 10:00 am CT / 8:00 am PT
So what are you waiting for Join them for their web cast on 21st of May, 2009. Register Now…..
---
May 11, 2009 5:31 AM
The Rough Cuts services offered from Safari Books Online gives you access to an evolving manuscript that you can read online or download as a PDF and print. This is the great service offered by Cisco Press as you can read the book as its written and get an early access to review or the prepare for any Cisco Certifications.

Check out these Cisco Press Rough Cuts:
• Interconnecting Data Centers using VPLS
• IP Design for Mobile Networks
• Grow a Greener Data Center
• Network Security Auditing
• Cisco IOS XR Fundamentals
• VoIP Performance Management and Optimization
• Cisco TelePresence Fundamentals
---
May 11, 2009 4:56 AM
Cisco is celebrating the 20th anniversary of Cisco Networkers as Cisco Live is Cisco's annual IT and communications conference. The conference features Networkers, their premier education and training program, and other special programs designed to meet the diverse needs of today's IT and communications professional from increasing technical proficiency to understanding the impact of technology on business.  Join Cisco Live at San Francisco June 27-July 2, 2009, for the 20th anniversary of Cisco Networkers.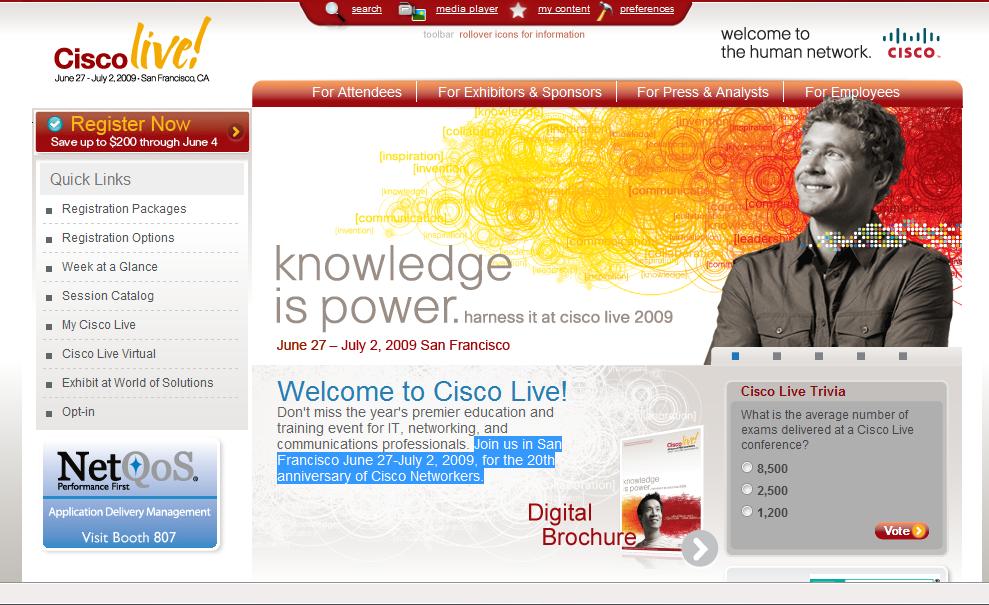 ---
April 30, 2009 4:14 AM
I am back from Singapore and Malaysia, I had great time there. The only thing I couldn't do is to post new topics to my blog. But I enjoyed my stay there. The power for Wi-Fi allowed to me to stay connected with the things happening around but only limited to airports and the hotels I stayed.
While roaming around in Malaysia I came across the place called Cyberjaya an I.T city where we can find major I.T Companies. Its a wellplanned city with excellent infrastructure.
---